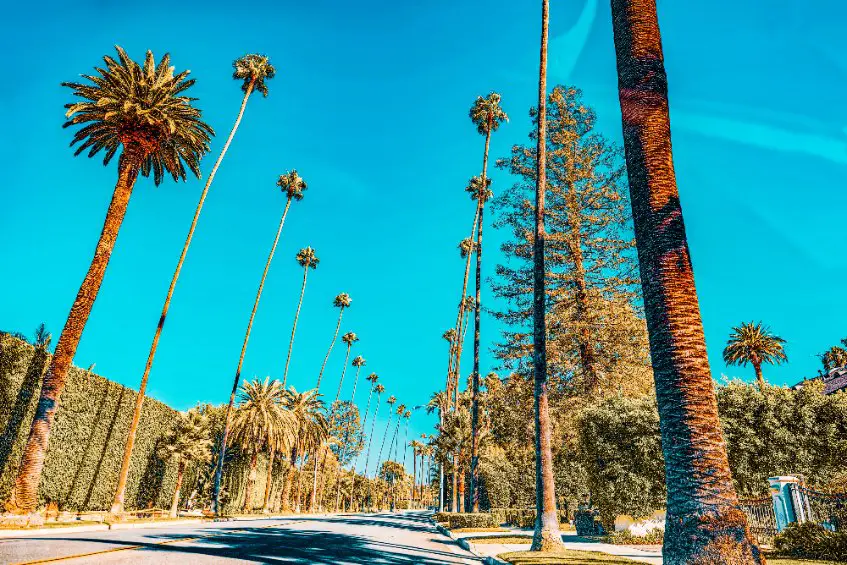 There are so many celebrities in Beverly Hills, but who currently lives and owns a home there? Below is a list of 9 celebrities that are very well-known A-list actors, singer/songwriters, models, and more. Many of these celebrities have done video interviews in their home, giving us a tour. They provide so much home design inspiration and each one has a unique feel of that specific artist or actor who lives there.
Read more below to find out more about the awesome celebrities who live in Beverly Hills!
1. Adele
Adele is an amazing performer who released new music in 2022 that was long-awaited. In the video below, she did 73 questions with Vogue and toured her house during the interview. She talks about the differences between living in Beverly Hills compared to living in England, and she shows us around her kitchen, her backyard, and other living areas in her home.
Adele has talked about how she is in a new chapter of her life with this album, her recent divorce, raising her son, and living a healthy life. She loves her close family and friends and likes to include them in her projects when possible. Everyone knows her most famous hits and she is an amazing, sweet, funny, and talented artist with core values focused on family.
2. John Legend and Crissy Teagan
John Legend and Crissy Teagan are married and have two children together. One of their biggest moments early in their relationship was when Crissy played the love interest in John's "All of Me" music video. He thought; why not hire his actual romantic partner who is a model instead of hiring another model? It worked out, and the video has over 2 billion views.
The couple balances work and family, and they love being parents of their children. They are both very accomplished and they enjoyed the process of making their home uniquely theirs.
In the video above, Crissy is answering 73 questions for Vogue while touring her home. In their home, you will see a beautiful piano and on the wall, there are shelves with John's Grammys and other awards. The couple is proud of their achievements and encourages each other in their goals and they inspire each other to do their various projects.
3. Taylor Swift
Taylor Swift is a very accomplished and well-known artist around the world. Recently, she earned her doctorate degree from New York University. In the 73 questions video by Vogue below, she mentions that one of her aspirations in life was to earn her Doctorate Degree. She mentions that Ed Sheeran, one of her best friends, has one and that jokingly he looks down on her for not having one.
The video has almost 34 million views, and it came out in 2016. Little did she know that in 6 years she would be in a steady relationship, re-recording albums, and earning her honorary doctorate degree, which she earned in May of 2022.
Tylor Swift is busy re-recording her early albums and recently released This Love (Taylors Version) and Wildest Dreams (Taylors Version) from her 1989 album. Taylor's fans are good at picking out the easter eggs she leaves in her posts, her videos, and almost everything she does. The recent rumor is that she will release Speak Now (Taylors Version) and 1989 (Taylors Version) at the same time. Only time will tell if this is true!
4. Jennifer Anniston
Jennifer Anniston is known for being in the famous TV show Friends. She stars in many movies, and in many of them, she stars alongside Adam Sandler, who is a long-time friend of hers. They produce some great comedy on screen, so if you are ever bored and do not know what to watch try finding one of her films to watch, you won't regret it.
In the video above, architects talk about the design of her home and you will see photos of her home. It is beautiful, peaceful, and full of natural and vintage touches to balance out her modern home. Her goal was to make a home that felt zen, and she definitely accomplished that.
She has sold this beautiful home since the interview was done but owns another one in the L.A. area. She enjoys interior design and making her home feel like her. It needs to fit her needs as well as be a sanctuary from her busy life so that she can relax and feel at home when she is home.
5. Jennifer Lawrence
Jennifer Lawrence is a phenomenal actress who has earned Best Actress in the Acadamy Awards (Oscars). She is now a mom, and she did some interviews while pregnant. A film she starred in called Don't Look Up is on Netflix and while doing the premiere she wore a beautiful sparkly gold/neutral-colored gown that made her baby bump look divine.
While doing press for the movie, she told Stephen Colbert that she is taking a break from movies and acting to focus on her life, which makes sense considering she was becoming a mom.
Jennifer is known for being a funny, talented, relatable actress who is very personable in her interviews. When receiving her Oscar, she tripped on stage and since then, she has a funny history of tripping "'round the world", which is the most relatable thing I can think of. She owns a home in Beverly Hills and tries to keep her personal life very private, especially since entering this new stage of being a mother.
6. Katy Perry
Katy Perry

has a beautiful home in Beverly Hills, that she is recently trying to sell. As of yet she still owns the beautiful $19,500,000 home, and the design combines the feel of Los Angeles while also being inspired by other cultures. Her backyard has been designed to feel relaxing and has the aesthetic of South France. Her home has spacious living areas and a beautiful kitchen. Overall, it is a wonderful home.
Katy Perry does a lot of work in L.A., so it makes sense that she has had a home there for many years. But in recent years, she has been spending more time in another California home with movie star Orlando Bloom and their daughter. The couple works together to raise their young daughter, and they enjoy living together as a family when possible.
So, it makes sense that her expensive home in Beverly Hills is going on the market because when you want to live with your family, you don't necessarily need another home that isn't too far away.
7. Ashton Kutcher and Mila Kunis
Ashton Kutcher and Milia Kunis have been married since 2015, and together they have two children. Their family has grown and any interview or public appearance they do is so fun and sweet. They build a home together, and it was based on an old chandelier. A quick story about it is below:
As you can see behind Mila in the interview, their home is inspired by the rustic barn style and they included lots of natural wood in the design. It makes their home feel warm, inviting, and very homey. They both work in the film business, so having a family home for them located by their work in Beverly Hills is important.
8. Cristina Aguillera
Christina Aguilera

is an amazing singer who has a powerful voice. She is an artist who everyone knows at least one of her songs, so it is no surprise that she owns a home in Beverly Hills, close to recording studios and other work. Her home is big and beautiful, and the style is influenced by old Hollywood, so it has a lot of vintage pieces.
On her website, you can find tour dates and go attend a show. She also posts her music videos and the latest news about her on her official website. She is a great performer

and has a list of places she will be singing in the summer of 2022.
9. Sandra Bullock
Sandra Bullock

is a popular, well-known, and Oscar Award Winning actress who everyone knows about. She has acted in 59 movies and shows and has expanded her career to also produce movies. She has also been able to write and direct a short film. Everyone knows her acting, but not everyone knows that she is really into real estate.
She owns a home in Beverly Hills that is large and was one she bought after her divorce, as well as another Beverly Hills home

. But, she also owns other homes in the L.A. area, Texas, Malibu, New Orleans, and more.
Currently, she has talked about taking a break from acting to focus on her family, as she has two kids and she wants to take time to be a mom and not travel so much for work. She has made so many movies that she can easily take time away from filming, but she might return later if a great project is offered to her.
Related Topics:
If you like the article above, here are some other similar articles you should check out!
9 Celebrities Who Live in Hidden Hills, California

13 Best Neighborhoods in San Bernardino, California

9 Famous Celebrities Who Live in Anaheim, California