In a town like Denton, Texas, with a bustling population that covers a large area, public transportation is necessary. Luckily, they have several options from longer train rides to quick bus trips.
There are three main systems of public transport in Denton, Texas: DCTA, DART, and Trinity Metro. These systems provide a variety of bus and train transport to help people access the city of Denton and beyond, allowing residents to connect as far as both Dallas and Fort Worth.
While navigating several different options for public transport can be intimidating, being prepared for the road doesn't have to be stressful! Whether you're looking to travel locally within Denton or make your way out to Dallas for a night in the city, Denton's public transportation has several options to make travel simple and stress-free.
What to Know About the DCTA
The DCTA, or Denton County Transportation Authority, provides both bus and train services in the area, as well as a rideshare service.
Denton Connect is the main bus service. It features 6 different routes that connect to each other throughout the city. The bus route features several stops, some of which are time points; these are specific stops along the route that the bus is scheduled to arrive at by a certain time. The buses run approximately every 45 minutes from their time points on weekdays. On Saturdays, the buses run every hour, and they don't run on Sundays.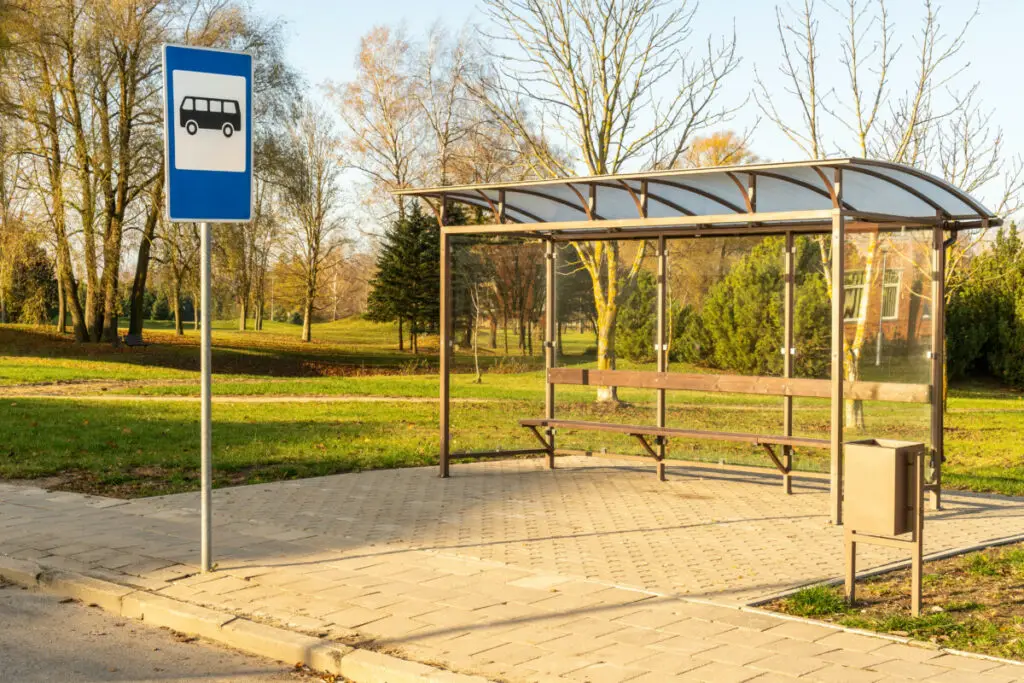 The DCTA A-Train has five stations throughout Denton County, which run Monday through Saturday. Two of these stations are located in the city of Denton: the Downtown Denton Transit Center and the MedPark Station. These two stations are available to ride from for free.
Because the train serves the larger Denton County area, it travels out as far as Carrollton, Texas. These other stations feature stops throughout Lewisville and end with the DART Trinity Mills Station in Carrollton, where riders have the option of connecting to the DART's Green Line.
GoZone On-Demand is an uber-like service that allows people to book rides within Denton and in designated areas of Denton County. Unlike the bus and train, GoZone operates 7 days a week, and one ride costs $0.75. This can be paid through the GoZone or DCTA app or with exact cash.
The video below captures the basic aspects of riding DCTA services.
What to Know About DART
The DART transportation is a larger Dallas area train and bus system; it stands for Dallas Area Rapid Transit. Its main connection to Denton is the train that connects the city to Dallas, Texas.
There are 5 different train rails available with DART. The one that connects to Denton is the Green Line, which connects as a transfer station with DCTA's A-Train in Carrollton. These trains run approximately every 15 minutes on weekdays and approximately every 20 minutes on Saturdays.
While the Green Line is the main train that serves Denton residents, the other train lines still provide connecting options in the Dallas-Forth Worth area.
The Red Line runs from Plano to Downtown Dallas.
The Blue Line runs from Rowlett to Garland to Downtown Dallas and also travels to the UNT Dallas campus.
The Orange Line, unlike the other railways, has a route that changes from weekdays to weekends. This line travels from Plano (it has the same starting point as the Red Line) to the DFW Airport during the week, and on Saturdays, it only travels from the LBJ/Central station, which is located in Dallas, to just south and west of Garland and Richardson.
The Trinity Railway is another train service with DART, which is covered in the section below.
Because each of these railways meets up at some point along their routes, Denton residents can even travel beyond Dallas if needed. For instance, one could take the Green Line to the Downtown Dallas area (where there are several stops) and switch over to the Blue Line in order to travel to Garland.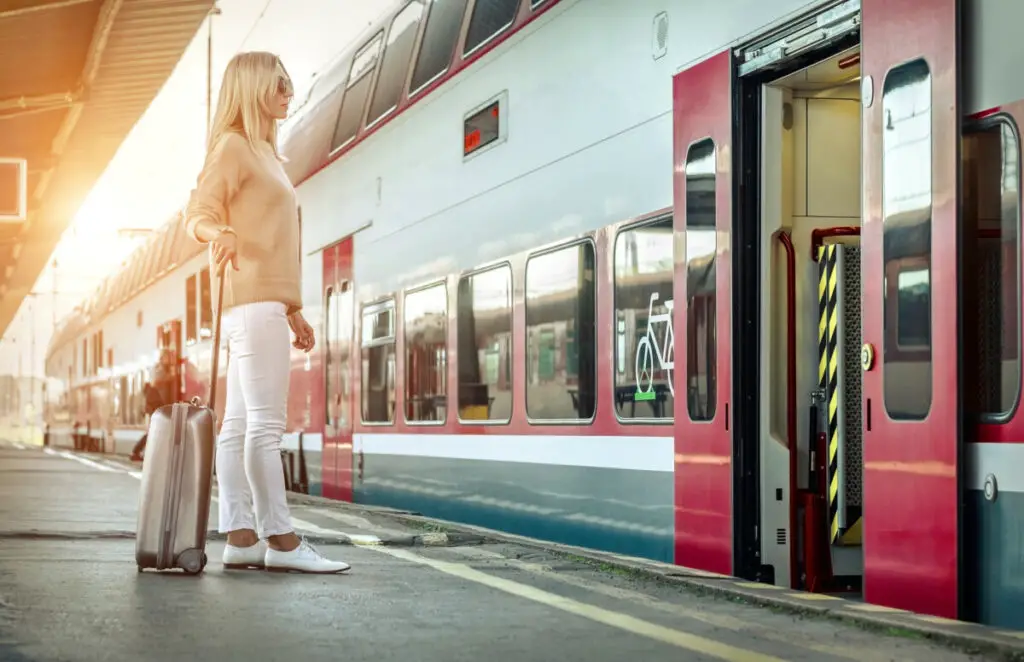 DART also has a large bus system

that serves not just Dallas but travels out to surrounding cities. However, its buses don't reach the Denton area. Denton residents wanting to use DART buses have the option of taking the A-Train to Carrollton or driving out to their nearest station, which is also in Carrollton.
The DART GoPass app is a helpful tool for riders. It can be used to purchase tickets, which can come as daily and monthly purchases, along with several other options. It also has GPS functionality, which allows riders to check the status of trains and buses along their routes.
Another mobile feature from DART is a site that provides riders

with tools such as trip planning for any travel service, bus and train schedules, rail maps, and much more. The informative feature can help make riding DART services a less stressful experience.
I was able to talk to a DART rider about their experience using the service, both the bus they take and the app experience.
Regarding the GoPass app, he stated that people would have different opinions on its user-friendliness. While it took him a while to learn how to use the app, he feels more comfortable with it now.
Other information provided by the rider is reflective of typical experiences on public transportation. With DART, no food is allowed on board, and bike racks are available.
What to Know About Trinity Metro
Trinity Metro is its own train and bus service that is based mainly in Fort Worth, although it does feature travel options that can span across the Dallas-Forth Worth area. Its service works in conjunction with DCTA and DART. DART features a rail service that runs from Dallas to Fort Worth, which is the Trinity Railway Express.
With DCTA, Trinity Metro provides a bus service that connects Denton and Fort Worth. Known as the North Texas Xpress, this train runs from Fort Worth, through Alliance, and into Denton. It is only a weekday service that runs from 6 am to 6 pm.
Biking
For those that want to get around town without a car but don't want to take a bus, Denton also has accessible options for bikers on its roads. While the city doesn't provide public-share bikes, the inclusion of bike lanes and other routes of travel for bikes is a means of public transportation to protect bikers that allows people to choose an alternative to driving.
Throughout Denton, bikers have various options for where they can ride. Some roads are equipped with bike lanes on the side of the road that is intended for only bikers to use.
Other roads are marked as a shared roadways, where bikers and drivers will be using the same lanes. Similarly, Denton provides shared sidewalks, which are wide sidewalks that give enough space for walking pedestrians and bikers to share.
Accessibility
Both DCTA and DART boast accessible services, although not all riders have found the services to be successful. Both services state that they are ADA-compliant in both bus and train services and that they offer paratransit services.
Pricing Comparisons
Prices for both DCTA and DART vary based on the time that a ticket is purchased, the time period that a pass is purchased for, and other factors. The prices listed below are the basic prices for people purchasing local passes.
| | |
| --- | --- |
| DCTA Pricing | DART Pricing |
| Day Pass: $3 | Day Pass: $6 |
| Weekly Pass: $15 | —————— |
| Monthly Pass: $48 | Monthly Pass: $96 |
Comparison of prices (right to left) of DCTA, DART, and Trinity Metro services
Statements from Locals
While several options for public transportation exist in Denton, not all residents are aware of their options. Additionally, the services are not without imperfections.
One former Denton resident that I spoke to stated that they "didn't think there is much public transport," while another former resident of the area stated that "public transportation is pretty limited despite having a train [connected between Denton County and Dallas] and some bus stations."
A current resident of Denton provided some information regarding recent updates to Denton's public transportation. Regarding the GoZone service, they stated that it was introduced to replace buses, but is not an effective service. They noted that the drivers aren't cautious on the road and that riders often wait a long time for drivers to show up. Other GoZone reviews have similar complaints about the timeliness of the service and recommend other rideshare options for people on a schedule.
Other reviews on these services note ways in which accessibility and communication with disabled riders can be improved, especially regarding DCTA's GoZone service. Because communication about rides isn't always efficient between drivers and passengers, and because of the realistically long wait times, the service can sometimes be more frustrating than it is helpful for disabled and elderly passengers.
When riding with any of these services, the best way to be prepared is to know the needed route, where and when it is available, and how much it will cost. DCTA and DART alike want to provide the best options for Denton residents, as shown by their many options for transport throughout the week, and throughout the larger Dallas area.
Related Topics:
If you like the article above, here are some other similar articles you should check out!
Is there Public Transportation in Dallas, TX?

17 Reasons Not to Move to Fort Worth, Texas

Moving to Florida vs. Texas 16 Pros and Cons