Charlotte, North Carolina is a charming southern city located in the southern part of North Carolina. The city is known for its cultural sites such as the Levine Museum of the New South, Discovery Place, the Mint Museum, and the NASCAR Hall of Fame. If you're looking to visit or move to Charlotte, you may be thinking about the different transportation options.
There is a public transportation system in Charlotte, North Carolina. The system consists mainly of bus and rail routes, but the city is also bike and pedestrian friendly. Charlotte has a low population density, which means it takes commuters a bit longer to get from point A to point B.
That being said, let's talk about the transportation options available in Charlotte- namely the bus and rail systems, biking, and walking. We will discuss the cost both in money and time of traveling through each of these options so that you can see if using public transportation in Charlotte would be in your best interest. We'll also talk about what you'll need to know concerning accessibility to navigate public transportation in the city with ease.
What the City Says
Bus
If you are looking to travel by bus in Charlotte, there are two main busing systems- CATS and the Park and Ride. Let's take a deeper look at the pros and cons of these different busing options as well as the areas they service.
CATS stands for Charlotte Area Transit System. The CATS bus mainly services Uptown Charlotte, which is the city center, but it does have some routes outside of the hub. In order to see which bus route you would need to take for your commute, you can look at their system map. Checking the bus schedule can also make sure that you will get where you want to when you want to.
Park & Ride is a service that tries to get more people to use public transportation services. Commuters drive their personal vehicles from their homes or the suburbs to a designated parking lot just outside the metropolitan area. From there, users can take other forms of transit to get to wherever they need to within the urban center. The city provides a table with available Park and Ride locations.
Rail
Charlotte, North Carolina also features a light rail service called the LYNX Blue Line

. This line services an 18.9-mile-long track and runs every day, generally from 4:50 am to 2 am. The route stops at 26 stations, 11 of which are park-and-ride lots, which help minimize the traffic downtown. Like with other forms of public transportation, you will want to check the map

and schedule

to plan your trip.
All of the busing and rail options are fairly inexpensive. Below is a table with the costs for the different bus passes and fares

available to commuters.
| | | | | | | |
| --- | --- | --- | --- | --- | --- | --- |
| | One Way Pass | Round Trip Pass | One Day Pass | Weekly Unlimited Pass | 10-Ride Pass | Monthly Unlimited Pass |
| Adults | $2.20 | $4.40 | $6.60 | $30.80 | $30.00 | $88.00 |
| Seniors 62+, ADA-Disabled, & K-12 | $1.10 | $2.20 | $6.60 | $30.80 | $30.00 | $44.00 |
Public Transportation Fares
Biking
The city of Charlotte is really pushing for more citizens to start commuting by bike. They say that being bike-friendly is a tell-tale sign of a city having a healthy infrastructure and population. The program they have put in place to do so is simply called the Charlotte BIKES plan

and focuses on the "6 E's of creating a bicycle-friendly city", which are,
Equitability: Making sure that bicycle efforts are being made throughout all of Charlotte, especially in underserved communities.
Engineering: Ensuring that all bicycle facilities are engineered well, thus creating a safe and comfortable environment.
Educating: one of the most important "e's" is making sure bicyclists and drivers know and follow the rules of safe driving and riding.
Encouraging: Creating and fostering a culture or environment within the city that is friendly to bicyclists and influences more people to bike.
Enforcing: Making sure everyone not only knows but follows traffic laws to promote both safety and accountability.
Evaluating & Planning: See what is going well and evaluate so that the city can work with citizens to create an even better bicycle network.
The city has made great efforts to make the city more bike friendly such as adding more bike lanes and installing bike racks on other public transportation platforms like CATS and the LYNX Blue Line. Here is a map

of the different bike routes in Charlotte. As a result of their efforts, Charlotte, North Carolina is rated as a bronze-level Bicycle Friendly Community by the League of American Bicyclists.
Walking
In addition to its BIKES plan, the city of Charlotte is striving to make walking a more common mode of transportation through its WALKS Pedestrian Plan

. Everyone who commutes anywhere walks as part of their commute, whether it is a half-mile walk from their home to the bus stop or a few feet from the parking lot to their work, everyone walks. The city is currently investing in improvements in sidewalks and street crossings.
The main problem that Charlotte is facing in creating a pedestrian-friendly city is that after World War II, the original infrastructure was expanded to suit car traffic, not foot traffic. Despite this drawback, the city is becoming more and more accessible to pedestrians and was given a silver award for Walk Friendly Communities.
What Locals Say
While locals do agree that public transportation is getting better, they also agree with government officials that the city has a long way to go before commuters could rely solely on public transportation.
One Charlotte local gave his opinion about whether or not you could live in the city without a car by saying,
"You need a car in Charlotte. Can you live without a car and rely on public transportation? You can, but it's going to be incredibly inconvenient. Plus, I feel like you miss out on so much of Charlotte if you try to rely on public transportation."

– Charlotte Resident
His comments reflect a common complaint with public transportation in Charlotte- that it can be inconvenient, inconsistent, and unreliable. He also touched on the point that public transportation is limited as to how far and where you can travel. Most people find that you end up spending more time waiting for or riding the bus or rail. Another Charlotte native said,
"There's an app to track bus schedules and to pay for bus fare. It shows how chaotic the whole system is. That said, you can definitely get from point A to B with some practice. The buses also run to nearby towns, which is nice if you live just outside the city."

– Charlotte Native
While an app that tracks the buses can be a great tool, it still means that you will have to plan ahead and learn the routes well so you get where you need to on time. From personal experience, I know that getting familiar with a new or different public transportation system is definitely a process of trial and error that many people would prefer to avoid.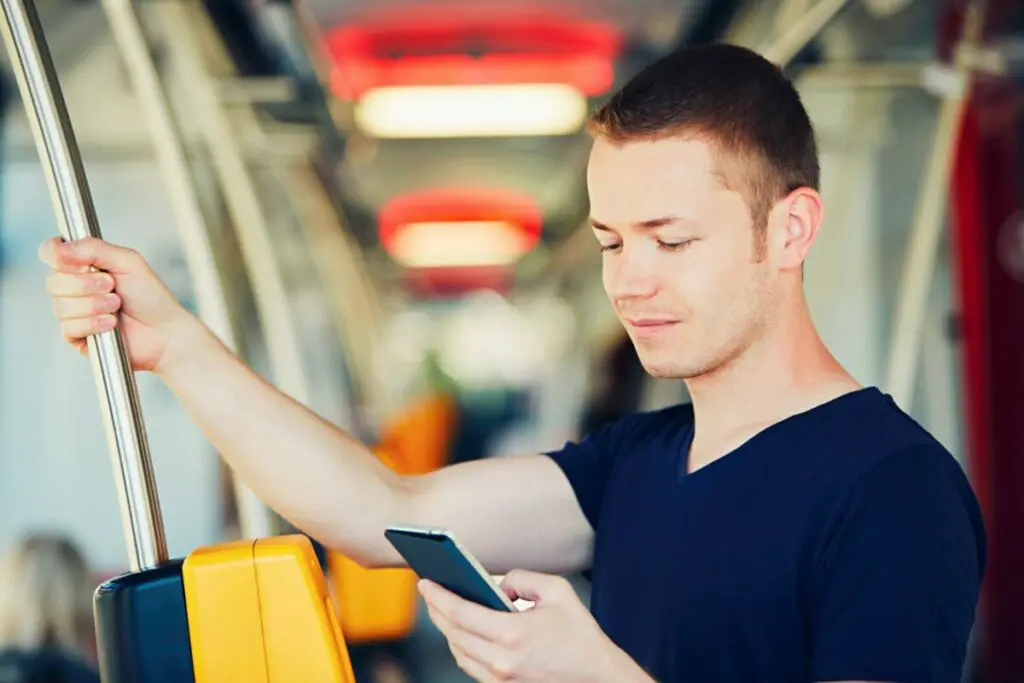 Many people that want to avoid this learning curve opt to get around by biking. One avid biker that lives in Charlotte commented,
"I honestly think most people that complain about Charlotte not being bike friendly haven't tried. Bike lanes, etc. aren't ideal, esp. compared to some other cities… but it's entirely manageable. And between the rail trail and greenway system you can go really far north or south without much issue."

– Bicyclist from Charlotte
Overall, most locals agree that the public transportation systems in Charlotte are a good option, but only if you live close to a line or Uptown and you can afford to spend that much time commuting.
Accessibility
In order to provide public transportation to all Charlotte citizens regardless of disability, the city has a system of special transportation services, more commonly known by the acronym STS, that provides transportation to those that may need special accommodations. In order to qualify to ride these STS routes, you will need to fill out and send in an application.
Factors that the government uses to determine if you are eligible or not include:
Your ability to physically get to and from the bus stop as well as board and exit the bus.
Your cognitive ability to navigate the bus system.
Your age
Location (distance to bus stop, lack of services in area)
Overcrowded buses
Along with physical accessibility, there are certain areas where it traveling by public transportation makes more sense than others. Some of the best areas to live in if you are planning on traveling mainly through public transportation include:
NoDa: NoDa is just north of the city center and is the city of Charlotte's arts and entertainment district.
South End: South End is a mix of the old and new, with bright clubs and pubs housed in historical buildings. This area has been dubbed "the heartbeat of Charlotte".
Uptown: Uptown is the central business district and the urban core of the city. This area features many public and private events that range from wine and cheese pairings through local shops to entertaining improv shows.
Related Topics:
If you like the article above, here are some other similar articles you should check out!
17 Reasons Not to Move to Charlotte, North Carolina

13 Best Family Neighborhoods in Winston-Salem, North Carolina