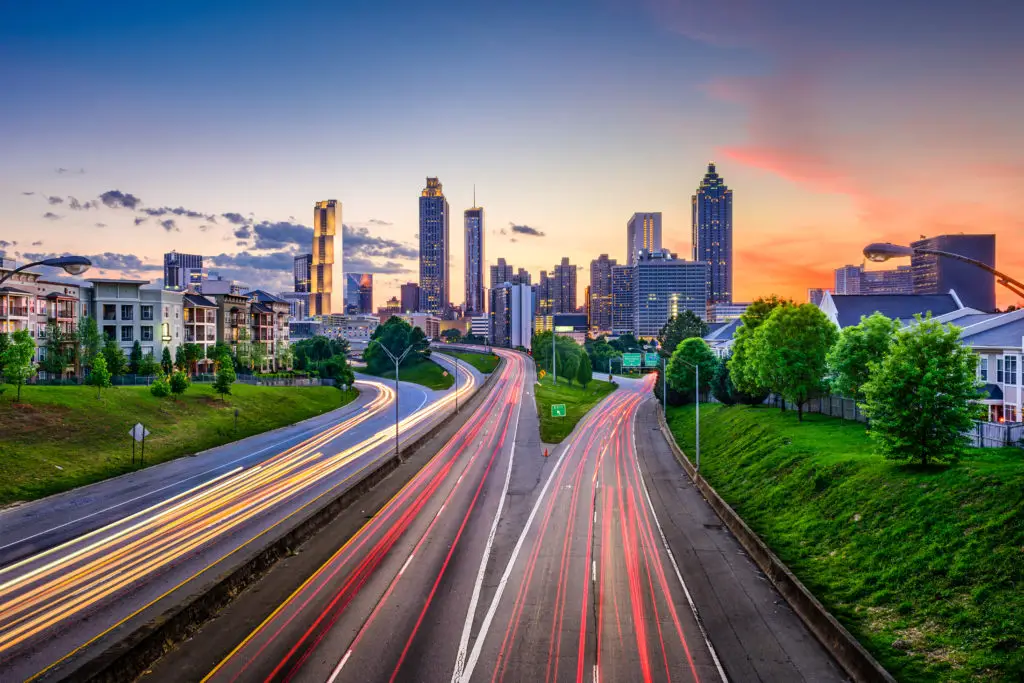 The Atlanta Georgia Metropolitan area is home to over 6 million residents, many of them celebrities. Famous folks move to the area for a variety of reasons most accrediting the city as either their hometown or inspiration.
While it is not shocking to know celebrities live in a city as big as Atlanta, it may surprise you to find out who you might walk past in the local Target. Keep reading to find out who nine of Atlanta's most famous residents are below!
1. Dwight Howard
NBA basketball star Dwight Howard is an Atlanta Native. In 2016, Howard was traded from the Houston Rockets to the Atlanta Hawks. After signing a three-year deal worth well over $70 million the Atlanta-born player decided it was time to purchase a house in his hometown.
Howard's home resembles a castle more than anything you or I would call a house. The 35,000 square foot home is located on a well-manicured estate of 15 acres.
Although you would expect a property as large as this to require an entire staff of gardeners and maintenance men, there is only one man who takes care of the whole estate.
One unique fact about Dwight Howard is his love for reptiles, specifically snakes. After purchasing his home in Atlanta, he reached out to his friends from the hit TV show "Tanked" to build an atrium for his new snakes.
In the video below you can see the moment Dwight sees his new tank for the first time!
Dwight's largest snake, Cleopatra, will grow to be nearly 60 feet long and 200 pounds!
If you stumble across this celebrity while in Atlanta, be sure to ask him about his snake collection.
2. Cardi B and Offset
Cardi B, although originally from the Bronx in New York, now calls Atlanta home. She and her husband Offset have chosen to raise their daughter Kulture in the Georgia capitol.
When the couple first moved to the area it was reported that they were purchasing multiple homes at a time. In total, the couple was reported to have purchased around five homes.
In December of 2020, the celebrity couple purchased a mansion in Chastain Park for nearly $6 million. Their new home has 22,000 square feet occupied by five bedrooms, seven full bathrooms, four half bathrooms, a four-car garage, a massive wine cellar, and even a gun range!
The mansion is located on a six acres of land just north of Buckhead.
If you find yourself in the Chastain Park area, take a drive down Highcourt Road and you will surely be in awe passing by Cardi and Offset's $6 million mansion.
3. Ludacris
Ludacris is best known for his hit rap albums and role in the Fast and the Furious movies.
Ludacris, also known as Christopher Bridges, moved to the Big Peach at the age of nine and has since called the city home. He, his wife, and his four children live in a 10,000 square foot home in South Fulton.
The rapper's first home located in Atlanta was featured on MTV's show "Cribs". He passed the bachelor pad on to his mom after a major face lift from designer Rachel Oliver.
Ludacris' new family mansion is on 22 acres of land and cost only $2.8 million.
The home has a variety of outdoor activities including a large pool, a life-size chessboard, a tennis court, a full size tennis court, and a private man-made lake.
Rapper and actor Ludacris accredits the city of Atlanta with being his musical inspiration and that it keeps him grounded. He also mentioned he has no plans to leave the city.
Check out both of his Atlanta homes in the video below!
Other rappers and music artists include T.I., Big Boi, Yung Joc, Andre 3000, Usher, Young Jeezy, and many more!
4. Justin Bieber
In 2014, pop star Justin Bieber began house hunting for a home in Atlanta. For three months Bieber lived in a mansion owned by his producer, Dallas Austin.
After Bieber's house hunt ended, the 5,500 square foot mansion was listed with a monthly rent of $20,000. This temporary home is built to resemble a spaceship and has been the set for several movies.
While Justin searched Atlanta for his new home rumors began to spread that he was specifically interested in a property in the Buckhead area. This mansion was listed for nearly $11 million in 2014 but was sold in 2017 for only $7.15 million.
Although the buyer of the home was not disclosed, many believe Justin Bieber cashed in on the 16,000 square foot home.
The 2010 home has seven bedrooms, nine full baths, four half baths, a 34-foot pool, a gym, a theater room, and a garden area. Somehow all of these amenities, and many others, all fit onto a 1.45 acre, gated lot.
5. Elton John
United Kingdom born singer Elton John spends equal time in both the U.S. and the U.K.
With over 300 million records sold, this best-selling artist has no problem affording multiple homes. His home in Atlanta is different from the rest of the celebrity homes detailed above.
Rather than living in a large mansion, Elton John lives in a high-rise condo where he enjoys living a "normal" life. While the artist could live anywhere in the world, he has enjoyed living in the Big Peach since 1991 due to the local's southern hospitality.
While technically not a mansion, Elton's condo on the 36th floor is over 12,000 square feet and is comprised of seven individual units. One unit has been converted into his own personal art gallery.
Elton's Atlanta condo was designed by Stan Topol and Fred Dilger after being sent around the world to gather inspiration by John. The color scheme for the home was entirely based on a small pink flower provided to the designer team.
If you come across Sir Elton John while in the Buckhead area, be sure to show him some of that southern hospitality that brought him to the city in the first place.
6. NeNe Leakes
As a star of "the Real Housewives of Atlanta," it is little surprise that Linnethia Monique "NeNe" Leakes would have a home in Atlanta.
In addition to her time on the "Real Housewives of Atlanta" NeNe's fame comes from being an actress, author, and fashion designer.
Leakes' home is the most expensive of all the housewives and was purchased for just over $2 million in 2015. Located in the Duluth area, the home is 10,000 square feet and has six bedrooms, six full baths, and two half baths.
The home is a part of the Sugarloaf Country Club giving Leakes and her family access to a 27 hole golf course, three private lakes, an Olympic-sized swimming pool, and 14 tennis courts.
Affectionally referred to as "Casa Leakes" the interior of the home is primarily white. Although the home already has access to a massive swimming pool and outdoor lakes, the Leakes' backyard has been designed to give off a "resort-like" feel. This means plenty of outdoor seating around both a pool and a spa.
Watch the video below to get a quick tour of this million dollar estate!
7. Dwayne "The Rock" Johnson
Dwayne Johnson started as a professional wrestler and football player. Even after leaving these jobs to pursue a career in acting and producing, Dwayne's ring name "The Rock" was stuck.
The Rock's move to Atlanta was fairly recent, taking place in only 2019. For $9.5 million, Dwayne "The Rock" Johnson became the proud owner of a 46-acre equestrian property. While the property is immaculate, the star of the estate is the home itself.
Dwayne's new eight-bedroom home is 14,000 square feet. Features of the home include a wine cellar, a saltwater pool, a library, a large barn and riding arena, nine bathrooms, a gym, and a 150-year-old caretaker's cottage.
Rumor has it that the pro-wrestler / famous actor purchased this property entirely in cash.
Unfortunately, it appears that The Rock's time in Atlanta will be short-lived. In January of 2021, the $9 million estate was listed at only $7.5 million. In fact, many are unsure if Johnson spent any time on the property. For the duration of his ownership, he was also renting a property closer to the heart of Atlanta.
At $2 million below purchase price, The Rock will be losing quite a bit of money on the purchase.
8. Shaquille O'Neal
Famous NBA star Shaquille O'Neal purchased a two home property in the Atlanta area for $1.5 million.
This home is beautifully crafted and the inside is filled with charming, elegant décor. Together the two structures combine to make this an 8 bedroom, 10 bathroom property.
The main home features several upscale amenities including a game room, a home theater, and a personal gym. The property also features a three-stall horse barn and workspace.
Both homes have separate entrances but share a backyard. The backyard pool features multiple water features and a hot tub area.
The Georgia home is located in McDonough only 30 minutes south of Atlanta.
Check out the inside of this elegant home for yourself in the video below!
9. Jeff Foxworthy
Jeff Foxworthy, a famous comedian, has called Atlanta home for his entire life.
While not much is known about his current home, just last year Foxworthy listed his mansion on the market just below $3 million.
Foxworthy and his wife, Pamela Gregg, purchased the four-acre property in 1997. After three years of construction, the couple moved into their dream home. Although this 14,600-square-foot mansion was once the couple's dream home, they have decided to downsize to a nearby house.
The mansion was listed as having five bedrooms, nine bathrooms, a four-car garage, and an exquisite outdoor entertaining area.
Although leaving his dream home, Foxworthy will not be leaving the Atlanta area and is still reported to lead a Bible study each week at a homeless shelter in the city.
Related Topics:
If you like the article above, here are some other similar articles you should check out!
17 Reasons Not to Move to Atlanta, Georgia (Voted by the Locals)

13 Best Family Neighborhoods in Atlanta, Georgia

Is Atlanta, Georgia a Liberal City?