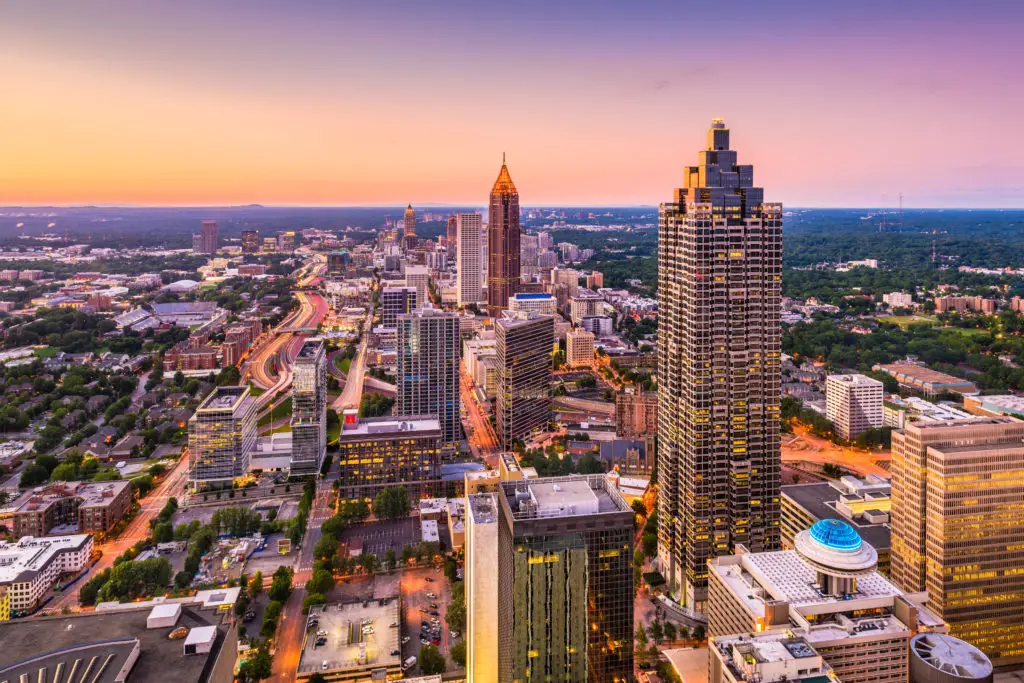 Like many big cities, Atlanta is surrounded by many different suburbs and neighborhoods. With so many options finding the right neighborhood for your family to live in can prove to be difficult.
Family-friendly neighborhoods should be safe, have outdoor areas for kids, and be in close proximity to a school. However, if you do not live in the area or do not know anyone who does, finding a neighborhood of this description may be hard.
So we found out that information for you! After speaking with a few Atlanta locals, we have determined the 13 best neighborhoods for families to live in. Find out what those are below!
1. Alpharetta
Alpharetta is by far one of the best neighborhoods for families with children. This is due to the high-ranking schools in the area.
In addition to quality schools, Alpharetta is a great neighborhood because it has all the amenities of a big city but the safety of a small town. Children will love the green areas and parks to play in while parents will enjoy a diverse nightlife for date nights.
Alpharetta's population of 65,000 people is primarily composed of families and young professionals.
Family-friendly activities include visiting the Avalon ice skating rink, the Alpharetta history walk, the farmers market, the Big Creek Greenway, and the drive-in concert.
2. Milton
Milton is located just north of Alpharetta with only half the population. While there is less nightlife and amenities in Milton, residents of Milton only need to take a short trip in the car to access all of Alpharetta's amenities.
Because Milton is further out of town, homes are more spread and families are closer to more of the outdoor activities Georgia has to offer.
Like Alpharetta, schools in Milton receive some of the best ratings not just in Atlanta but in the entire state of Georgia. This neighborhood is perfect for families looking to enjoy a mix of city and suburban life.
3. Johns Creek
The next door to both Alpharetta and Milton is the Johns Creek neighborhood.
Some of this area's best features are the many different parks and nature preserves to explore. This incredible outdoor-centered neighborhood is only 30 minutes from the heart of Atlanta giving parents a shorter commute.
Another important member of the family, the dog, will enjoy getting to socialize at the off-leash dog park in Newtown Park.
If you are still not convinced Johns Creek is the place for your family, this might win you over. In USA Today's 2017 list for the 50 Best places to live in the United States, Johns Creek came in third place. This is largely because of the incredible school districts and the frequent real estate deals.
4. Peachtree City
Unlike the above-mentioned neighborhoods, Peachtree City is actually located south of the city of Atlanta. A bit further from the city, this neighborhood has plenty to offer families who live there.
This small town features many businesses that are geared towards children. These include Georgia Outdoor Laser Tag, Starlite Family Fun Center, and even a kids gym.
In addition to roads, this quiet neighborhood has streets built specifically for golf carts. Many families enjoy driving a golf cart around the neighborhood on a warm evening.
The schools in Peachtree are focused on academics rather than athletics but receive good ratings from parents.
5. Decatur
Decatur is located close to downtown with only a 17 minute drive from the heart of Atlanta.
Because this neighborhood is so close to the city residents enjoy a more urban lifestyle than they would in a traditional family neighborhood.
One feature of Decatur families and the other residents enjoy is the Dekalb Farmers Market. This large market allows residents to get fresh, local foods and support businesses owned by their neighbors. The market is open from April to December once a week.
While parents will enjoy the fresh foods, children will enjoy the many activities designed just for them! These include the Decatur Toy Park as well as the annual Beach Party.
Although Atlanta is a few hours from any beach, once a year Decatur's downtown is filled with sand for kids to have a beach party. This is something you do NOT want to miss!
6. Suwanee
Tucked behind Johns Creek is the Suwanee neighborhood. In the last few years, young families have been flocking to Suwanee.
Some of the attractions for these families are the open green spaces, proximity to Lake Lanier, affordable housing, and the many community events.
Children will enjoy immediate access to PlayTown Suwanee and Treetop Quest Gwinnett.
PlayTown Suwanee has been described as a "Super Playground" and is located directly on Main Street. Even if you live in one of the neighborhoods adjacent to Suwanee a trip to PlayTown Suwanee is well worth the drive.
7. Tucker
Tucker is only a short drive from Decatur and has been a place for residents to escape the downtown life there.
This neighborhood features the Dekalb County school district which attracts young families with its high rankings.
With many of Tucker's new residents migrating from the Decatur area, they are happy to learn that this more cozy, family neighborhood is only a short drive from their favorite activities such as the Dekalb Farmer's Market and the Main Street Beach Party.
For parents looking to entertain teenagers, one highlight of living in Tucker is being only a short drive or bike ride from the Northlake Mall.
8. Berkeley Lake
Although Berkeley Lake is closer to Atlanta than some of the other neighborhoods mentioned it actually has the smallest population of them all. With less than 2,000 residents Berkeley Lake offers families the big city life with a small-town feeling.
Berkeley Lake is home to many retirees and is safe for families. Schools in Berkeley Lake receive high ratings.
Because homes are located within walking distance of the lake, they are typically sold at a higher price tag. However, this higher price tag gives you access to the bliss of rural life and the excitement of living in a populated area.
9. Lake Claire
Lake Claire is one of the neighborhoods closest to downtown Atlanta. Residents can access the center of the city with either a 10-minute drive or a short commute on the Metropolitan Atlanta Rapid Transit Authority (MARTA).
Families who enjoy outdoor recreation will enjoy exploring the areas around Lake Claire Park, Frazer Forest, and Cator Woolford Gardens.
Watch this video to learn more about the Lake Claire area.
Because this neighborhood is located so close to downtown there is plenty of activities for older children and parents to enjoy. Lake Claire is also only a few minutes from Decatur and residents can enjoy the many attractions there too.
10. Tyrone
The neighborhood of Tyrone is located about 30 minutes southwest of downtown Atlanta and only a few minutes north of Peachtree City.
One attraction for families to enjoy in Tyrone is the Legacy Theatre. The theatre opened in 2006 and features many family-oriented performances. There are even a series of children's and youth productions to help inspire the younger generation to jump into the world of theatre feet first.
Other options for families in Tyrone are the many different parks to explore. Schools in the area also receive strong recommendations from parents.
11. Sherwood Forest
Sherwood Forest is located 20 minutes directly north of downtown Atlanta and sits just outside the tightly packed streets of the city limits.
This neighborhood is another one with a smaller population than most of the others. Although Sherwood Forest has fewer people, its location provides residents with immediate access to a vibrant nightlife.
Sherwood Forest has several quality schools and is a safe area to raise children. Violent crimes in the area are well below the national averages. The most common crimes in Sherwood Forest are property crimes; however, these too rank well below the national averages.
12. Roswell
Roswell has been described as one of the "coolest" suburbs in the United States encouraging individuals and families to live there.
The neighborhood features several festivals for families throughout the year aimed at bringing the community together. The most popular event, Alive after Five, is a block party hosted once a month from April to October. Parents will enjoy spending date night at this lively event.
There is plenty of outdoor space for residents to explore in Roswell and the neighborhood is located close to the Chattahoochee River.
Perhaps the only downside to living in Roswell is the price of homes. Houses in this area tend to sell for upwards of $300,000.
13. Collier Hills North
Another neighborhood just outside of the tightly packed city is Collier Hills North.
Collier Hills North is within the reach of the Atlanta public transportation system but residents looking to drive themselves are only 24 minutes away.
The area around this neighborhood features a variety of parks and recreational areas. For those more interested in sports and athletics, you will be happy to learn Collier Hills North borders the Bobby Jones Golf Course and Bitsy Grant Tennis Center.
Schools in Collier Hills are above average; however, if you are looking for schools with exceptional ratings you do not have to travel far from this neighborhood to enroll your child in them.
Related Topics:
If you like the article above, here are some other similar articles you should check out!
Is Atlanta, Georgia a Liberal City?

17 Reasons Not to Move to Atlanta, Georgia (Voted by the Locals)

9 Famous Celebrities Who Live in Atlanta, Georgia