The city of Nashville Tennesee became labeled as the capital after choosing between it, Murfreesboro, and Knoxville long ago. Because of its roads, water, and state prison, Nashville has become a beautiful and popular capital city in the United States. With its popularity has come some danger, but there are neighborhoods near the city that are fit for families to dwell within.
Here are the best 13 neighborhoods for families near Nashville Tennesee!
1. Franklin
There is a nice city right outside of Nashville city named Franklin Tennesee. Without traffic, it is about a 29-minute drive. There are beautiful buildings designed with old-fashioned architecture giving the town a historical look. It not only appears to be a family-friendly neighborhood but the restaurants, housing availabilities, safety and more will prove it.
The safety in Franklin is more ideal for safety than in other surrounding neighborhoods. Frankin is 50% safer than the other cities in the United States. The chance of becoming a victim of violent crime in Franklin is 1 in 428 compared to 1 in 149 in the whole state. Franklin's safety rate is more typical for a family neighborhood.
There are a lot of fun activities that happen in Franklin each year. Festivals, holiday celebrations, historical celebrations, and more are going on all year. It is great for families to spend time together in an active environment.
2. Lockeland Springs
Lockeland Springs is a suburb north of downtown Nashville. It appears as is a subtle and comfortable neighborhood. It is comfortable and casual. Perfect for a humble and quiet family. It is named after the largest mansion owned by the Lockeland family, and there is also a spring in the neighborhood.
This town is safer than 32% of the cities near Tennessee.
Lockeland Springs Park is a small and unique park in the area. Those who have given reviews have labeled the park as "lush" "green" and "wonderful." There is a cute fairy garden within it. It is a great park to visit with a family.
There are lots of shops, restaurants, bars, and more. There are book clubs, running clubs, and mom clubs too.
3. Germantown
From the name of the city, Germantown, you could assume that it is a historic town with European architecture. There is a railroad track going through the city with beautiful buildings alongside it.
Germantown is in the 65th percentile for safety, meaning that 35% percent of cities are safer and 65% are more dangerous. This is in the account of all the cities in the United States. Those who live near Germantown say that the northeast side of the town is the safest.
Germantown is 44% safer than other U.S. cities. There is a 1 in 984 chance of being a victim of a violent crime while it is a 149 in the state of Tennessee.
The income rates in this town are great, and there are a lot of family homes in the neighborhood.
There are often farmers' markets going on near the city, and there are a couple of famous restaurants within the town.
Something fun to do in Germantown is to go on the Magnolia tours.
4. Sylvan Park
Sylvan Park is a beautiful place perfect for an active family. However, it is not as safe as some of the other neighborhoods. However, the community and state are active in trying to keep it safe and make the necessary changes to make it a safer environment.
The community of Sylvan Park is known to be friendly and service-oriented.
It is a smaller town with little shops and bars to go to. There is a salon, natural food market, and other small local shops.
Sylvan Park is a great location for an active family because of Richland Greenway, CLimb Nashville, the McCabe Community Center, and Centennial Park.
Availabilities for homes are more optional for single families. New apartment-style homes are being built and becoming available. 
5. Belmont-Hillsboro
Belmont-Hillsboro is also not as safe as some other cities. It has a national crime rate average of 62% and it can be hard to get housing. Employment, schools, and amenities are great.
It's a beautiful area with nice houses and landscaping. There are restaurants and shops nearby for families to enjoy. For example, there is Emmas Family Restaurant and Piggy's Place Barbeque.
There is a large mansion in Belmont that you can purchase tickets to and take a tour of. This is one of the more popular things to do in the city.
More activities near the town include the Belcourt Theatre, Music City Cryo, and Fannie Mae Dees Park.
6. Englewood
Englewood is a small town in the state that is great for raising a family. It is away from the city but only a short distance. From Nashville, it is about 171 miles away. It's about a 3.5-hour drive.
Englewood is in the 19th percentile for safety, but most locals feel safe there. The north part of the city is considered to be the safest.
The community is known to be considerate and caring. There is an Englewood City Hall and Textile Museum.
A new community pool opened on May 28th, 2022.
Eagleville has a famous Cotton Mill by the name of Eureka Mills.
Employment opportunities are great in Englewood. The cost of living is less than in most other cities.
There are about 16.8 students per teacher in the schools.
7. Buena Vista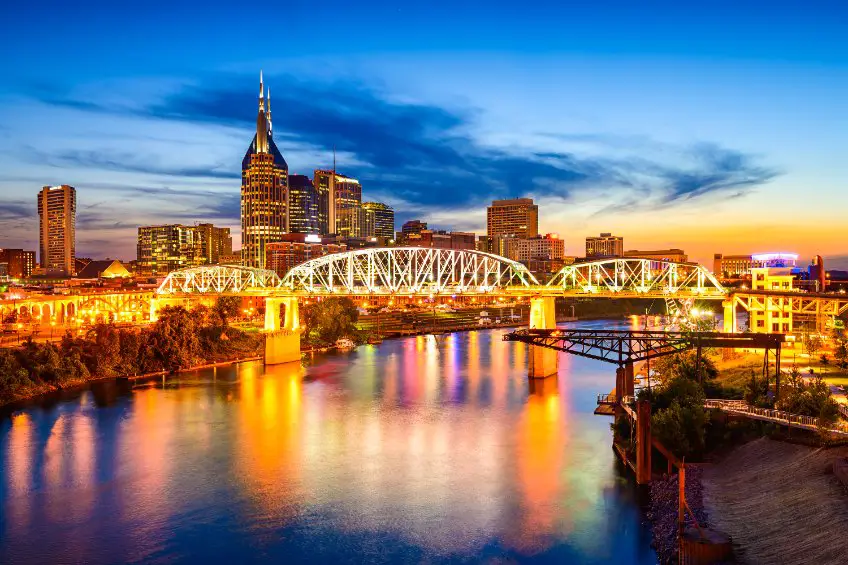 Buena Vista is a small, humble, and historic town. If you search images you will see that is appears very old-fashioned. This can be great for a new family since the city isn't so busy and you could find a home with good privacy.
Unfortunately, Buena Vista is a city that is not as safe as the others. It is in the 6th percentile for safety. The northwest part of the city is safer.
Near Buena Vista, there are many family-friendly activities such as Mega Adventure tours, and whitewater rafting classes.
8. Green Hills
Green Hills Tennessee is a desirable part of Tennesee. It is safer than 83% of the other cities in Tennessee. Again, the north part of the city is the safest.
This part of Tennessee is popular and full of things to do. there are desirable brands for sale throughout the shops and there is a mall.
Bluebird Cafe is a famous cafe in the area.
There are lots of local bands that play music throughout the town. It would be a great family activity to attend one of those concerts.
9. Oak Hill
Oak Hill is in the 33rd percentile for safety among the states. As usual, the north part of the city is known to be safer.
There are large and small homes in the area with green and lush landscaping. Riverwood Park and the local cemetery are nearby.
There are delicious steak houses in Oak Hill Tennessee such as Longhorn Steakhouse and Bob's Steak and Chop House.
The community is involved and sends out newsletters almost every month to the locals. Recycling is a popular thing for the residents of Oak Hill.
10. Brentwood
Brentwood looks like a small and simple town that not many people live in or visit. There are not any larger stores within the city but you can get your groceries in the nearby cities.
Brentwood has a population of about 42,876 and is in the 66th percentile for safety. More middle-aged people live in this neighborhood.
There are large and expensive homes in the area.
Brentwood has a lot of parks and other recreational facilities for families to stay active and get involved. They celebrate National Trails Day at the Brentwood shopping center and S.O.A.R camp for boys and more.
There is a mall and other shopping centers nearby.
11. Belle Meade
Belle Meade is in the 67th percentile for safety.
Belle Meade is famous for the Belle Meade Plantation. You can take a Belle Meade Tour with a complimentary wine tasting. There is also the Belle Meade "Journey to Jubilee" Guided History Tour.
The community leaders in Belle Meade care about the locals and send out newsletters with updates.
Belle Meade has bike trails and parks. There is a Saturday outdoor program and Bike Club.
12. Greenbrier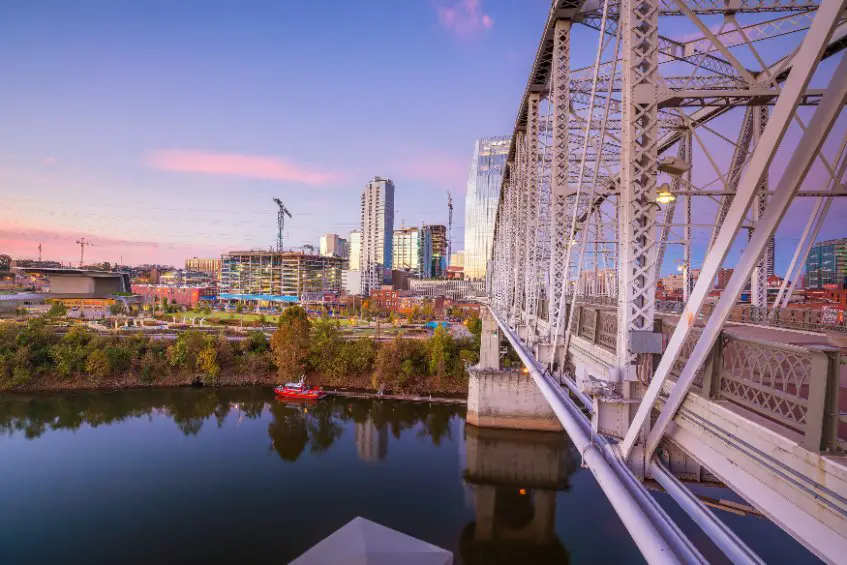 Greenbrier looks like a small courageous town. It is green and spacious. There are large rick style homes with land surrounding them.
This neighborhood is 64% safer than other cities in the United States.
The community cares about the safety and education of the locals, and there are outdoor activities including the Greenbrier Campground and golf course.
There is a county Health Council that cares for the health of the community. They also have veteran services.
There are a lot of great elementary schools in the area.
13. Eagleville
Eagleville is a safe and ideal town for a family. It has a kind and tight-knit community away from the big city. It is in the 62nd percentile for being a safe neighborhood.
Several local activities take place in the small town of Eagleville. There are yummy restaurants such as Maple Street Grill Eagleville, Las Fiesta, and Grindstone Cowboy.
It is a green and spacious area where small families dwell in their humble homes.
Related Topics:
If you like the article above, here are some other similar articles you should check out!
17 Reasons Not to Move to Nashville, Tennessee

9 Famous Celebrities Who Live in Memphis, Tennessee

13 Best Family Neighborhoods in Knoxville, Tennessee