Clovis, California is known as a really nice place to live in. With a nice marriage between country land and city, it is home to over 115,000 people and is one of the fastest growing cities in the US.
Clovis is also known to be family-friendly, most of its residents are younger families. That being said, there are over 151 neighborhoods, many of which are suitable for a family. That being said, we have found the best ones and talked about them below.
1. Harlan Ranch
Harlan Ranch

is a distinct neighborhood that was made for everyone. It emphasizes the importance of community by hosting events for its residents. Monthly events like a movie in the park are hosted for community members. There is a pool and clubhouse that are exclusive to members of the community, and virtual classes are also held for their residents. This neighborhood has parks that are exclusive to members, which is nice because it makes it safer for the kids. This area is all around directed towards being the perfect place for raising a family.
2. Quail Lakes
Quail Lake

is on the edge of Clovis, and it is so out in the country that it has a slight "middle of nowhere" vibe. However, once you enter the gated community it is a different story. This neighborhood is centered around community, and there are frequent activities for individuals and families to participate in.
Quail Lakes is a very safe neighborhood, which contributes to its level of family friendliness. There are even security guards at the gates that only allow people who live there.
An influential factor of this neighborhood is that it is located right next to Wild Water Adventure Park. This can be both a positive and a negative. If you have children that need things to do then this is a fantastic location, but if you are looking for a quiet neighborhood, this water park might be too noisy to live by.
3. Tarpey Village
Tarpey Village

is located between Fresno and Clovis but falls into the Clovis Unified School District. 52% of the residents here are traditionally married couples. 76.5% of all households consist of families, this statistic came out to be 982 families in the 'village'. 25% of the people residing here are children under the age of 18. These statistics show that this neighborhood primarily consists of families, which makes it a great place to live if you want to raise a family.
4. Dewolf
The most influential perk of this area is that it surrounds a conjoined elementary, middle, and high school. This is super convenient for parents of children in any of these age groups.
It is also the perfect mix between country and city life. Some houses in this area are very country-like with large yards and extending property, while others are just large and nice houses. This sets a good tone for the school nearby because although it is a regular high school, it has an AG program that allows students to raise animals.
5. Temperance-Ashlan-Locan
This neighborhood is within walking distance of Clovis East High school, Reyburn Middle School, and Reagan elementary school, but it is not extremely close to the schools. This is actually nice because sometimes when you live too close to a lot of schools the noise can be too much to bear, so living a little distance away creates that sound barrier.
This neighborhood is pretty central to the schools and parks in Clovis, California.
6. Old Town Clovis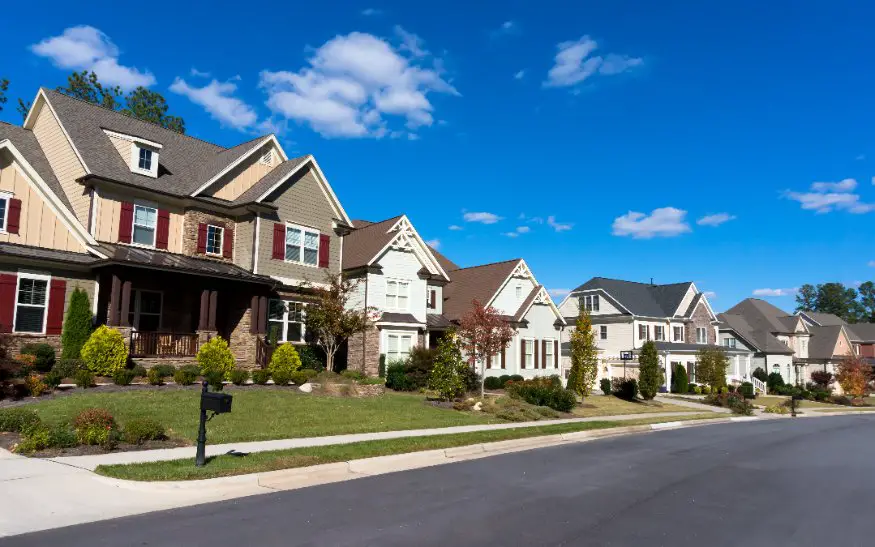 Old Town Clovis is a relatively large neighborhood that is in the center of Downtown Clovis. Some cities like their neighbor Fresno, have a downtown area that is run down and has become ghetto or filled with poverty. This is not the case in Clovis. Old Town Clovis is a really cute area that has an antique/vintage vibe to it. Most of the area consists of small shops made of brick.
Old Town Clovis is a great place for families because although it looks older and quieter, there is a lot of life and activity in this neighborhood. The local farmers market takes place in the center of the neighborhood every week, and there are vendors and food and music and there are always a lot of families. Sometimes there will even be activities for the kids to do. This is also a great area because the nearby middle school is very close within walking distance.
Another aspect that adds to the value and family friendliness of this area is the fact that the police station is located across the street from the middle school. This increases your child's safety at school and the safety of the area in general. The only downside to this is that you might hear police sirens often.
7. Loma Vista
Loma Vista has a very central location, and while it is not necessarily close to many schools, it is in convenient proximity to most things. One aspect that attributes to the family friendliness of this area is that there are 3 parks nearby. They are called Pasa Tiempo Park, Wooten Park, and Shannon's Park.
The last attribute that makes this area family-friendly is that the Red Bank Elementary School is nearby. This is known to be a really good school.
8. Lamonica Stadium
This neighborhood is across the street from two schools: Clovis High School and Clovis Elementary School. This makes it a prime location for families because there are schools very close nearby that cover a wide range of ages. If you live in this area, you wouldn't have to move for better schools or at all. Your child could have the opportunity to go to school with the same children all the way through their adolescence.
This area also provides a nice place for your child to make friends. Being so close to the school, it is more likely that the residents of this neighborhood will be younger families with children that your kid can become friends with. It is also a really nice location because your kids could easily walk to school. The only downside to this area is that it is so close to the high school that you can hear when they are hosting football games or other activities.
The DMV is also really close to this neighborhood, which is convenient for families who have kids that are old enough to start driving.
9. Buchanan High
As you can imagine, Buchanan High is the neighborhood that is home to Buchanan High School. This area is primarily made up of families and is known to be a little bit of a richer location. It costs more than the average to live here, and that is evident in the superb homes. Because this is a richer area, the high school is richer as well.
Out of all the Clovis high schools, Buchanan is known to be where the rich kids go. If your children are into sports, this would be a great area for you to live. The high school really focuses on its sports teams and is locally known for being the ones to beat.
10. Sierra Bicentennial Park
Debatably the best park in Clovis, this neighborhood is home to Sierra Bicentennial Park. This ensures that families will be highly interested in this area because not only is it a beautiful park, but it is located near a great school. Another aspect that makes this area family-friendly is that it is constantly being developed, as many houses are being built in this neighborhood.
Having such a great park so close by is a huge perk to this neighborhood because when you have young and busy children, sometimes it is necessary to release energy at the park, and this one has so much to do. There are many different opportunities for play for different interests and likes, it has a variety of swings, jungle gyms, monkey bars, a large field, and much more.
11. Dry Creek Trail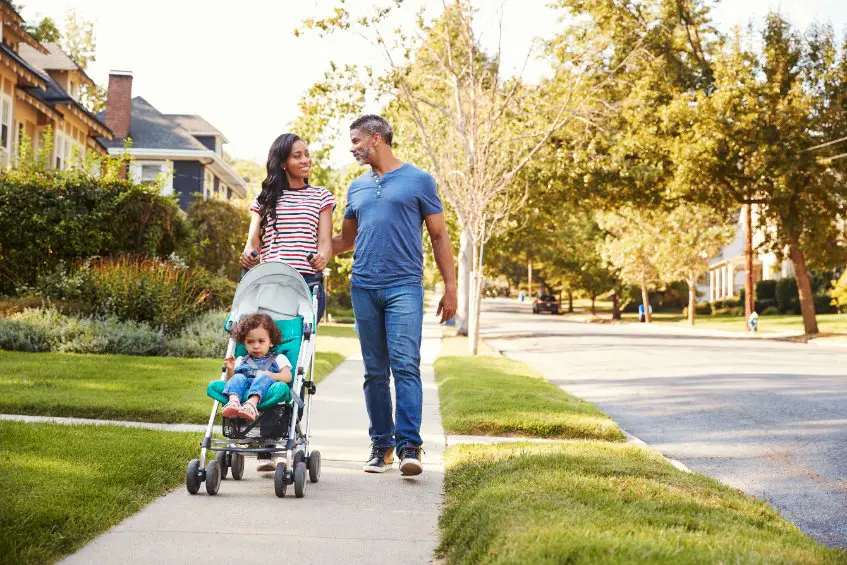 This neighborhood was voted by residents to be a "Neighborhood Favorite" in 2021. This is a perfect location for a family because it does not really have a high density of people, but there are businesses and stores all around the area. There is a wide range of things to do from automotive services to science and engineering schools, elementary schools, restaurants, and more. There is also the Dry Creek Trail, which provides a nice easy, and enjoyable path to walk or jog down.
This is just a peaceful, not highly populated neighborhood that has a lot of things to do in general for families of all ages.
12. Willow and Nees
The Willow and Nees neighborhood is quite a large one. One of the biggest perks of this area is that it is the neighborhood that hosts Candy Cane Lane each year. This is the town's biggest Christmas celebration every year. It consists of the entire neighborhood decorating their house and linking their lights to Christmas music. As people walk through the neighborhood, they can hear the songs play throughout the whole neighborhood.
This can be both a perk and something you dread. As a homeowner you would either have to take part in the Christmas decorations each year, making sure your house is up to par, or you would have to be that one house in the whole neighborhood that didn't decorate.
Either way, this is a neighborhood that is full of families and has a strong community feeling to it. This area also includes a park and a large shopping center, both of which are nice things to do for families.
13. Copper Countryside
This area is honestly one of the most ideal places to live in Clovis. It is a large country area where each house has a beautiful property. One downside to it is that because it is in the country, most of the roads are big, busy roads that are highly trafficked and have higher speed limits, which might be dangerous for young children.
Despite that downside, this is one of the best areas to live in. This neighborhood is across the street from a conjoined elementary school, middle school, and high school! All three schools make up one campus, and the community college is just across the street from the high school!
This is a great place for education because your children can grow up with the same people and not have to worry about moving for academics. It is also a great opportunity because the high schoolers have the opportunity to take college courses and all they have to do is walk across the street.
If you are looking for convenience, a fancier neighborhood, and a great education, then this is the place for you. Because of all these great things, the prices of homes here tend to be higher than the average, but they are worth the price.
Related Topics:
If you like the article above, here are some other similar articles you should check out!
17 Reasons Not to Move to Fresno, California

9 Famous Celebrities Who Live in Fresno, California

13 Best Family Neighborhoods in Fresno, California