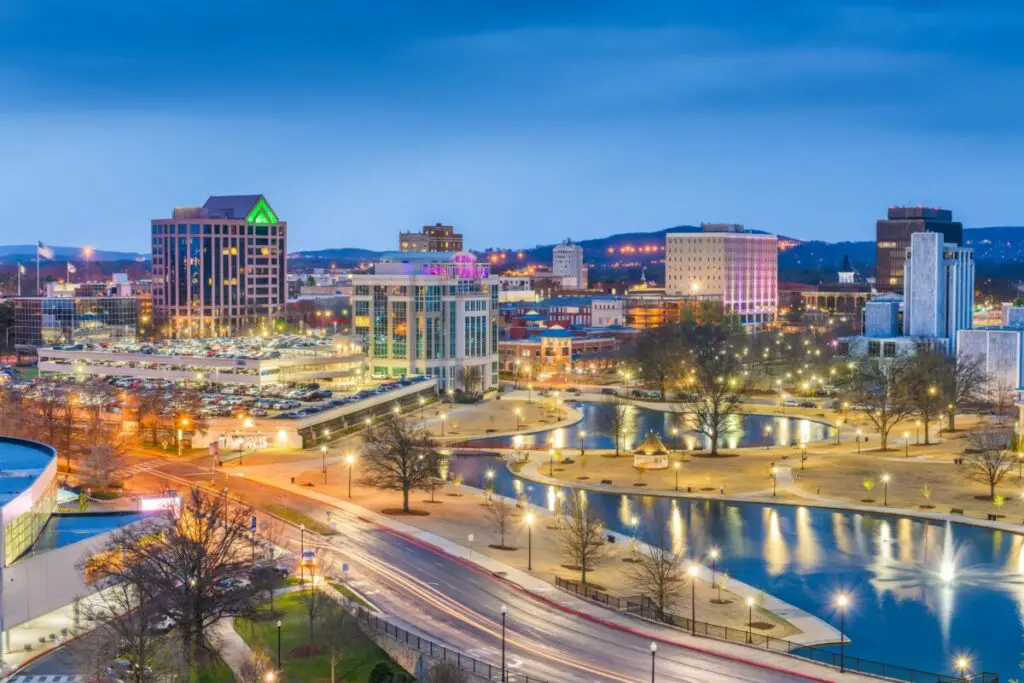 Are you considering moving to Huntsville, Alabama but aren't sure of what the crime rates are in the city? If so, then you have come to the right place. Keep reading to find out more about crime in Huntsville, Alabama!
Huntsville, Alabama has high crime rates, and is only safer than 6% of US cities based on overall crime reports in the area. There are many dangerous neighborhoods and areas in the city that are best to avoid, but there are also some safer neighborhoods as well.
Learn about these crime rates, different categories of crime, the frequency of crimes in the city, and more about crime in Huntsville in the article below. It will also address the subject of geography in terms of the safest and most dangerous neighborhoods in Huntsville to help prospective newcomers in their searches for homes in the area. Knowing about crime in a city is essential, so make sure to keep reading!
Overview of Crimes Committed in Huntsville
In terms of overall crime reports and statistics, Huntsville is actually a really dangerous city. To help put this into perspective, the city's crime rates were compared to those of other cities across the nation. This study showed that Huntsville is only considered to be safer than a mere 6% of cities in the United States. Yes, that also means that Huntsville is more dangerous than 94% of US cities!
In annual crime reports, there are approximately 1,659 violent crimes committed in Huntsville, and 7.72 violent crimes committed per 1,000 residents. As is common in most areas, property crimes are far more common in the city than violent crimes. There are around 34.76 property crimes per 1,000 residents in Huntsville, and a total of 7,474 property crimes are reported annually. This adds to a total of 9,133 crimes that occur in Huntsville on an annual basis, and an alarmingly high rate of 42.48 crimes for every one thousand Huntsville residents!
Property Crime Rates
Property crimes are the most common type of crime committed in Huntsville, and the city shows much higher occurrences of these than the United States or the state of Alabama on average. While in Huntsville, you have a 1 in 29 chance of becoming the next victim of a property crime, which are far worse odds than the 1 in 48 chance each person in Alabama experiences. This is calculated based on the number of property crimes committed annually in relation to the number of people in the state or city.
In the United States as a whole, there is an average of 19 property crimes committed per 1,000 residents. This is lower than both Huntsville city and Alabama's averages. The state of Alabama has an average of 20.93 property crimes reported per 1,000 residents, which is only slightly higher than the national median. However, the city of Huntsville reports 34.76 property crimes per 1,000 residents, which is 1.7 times higher than the Alabama average, and 1.83 times higher than the national average for the United States!
Statistics on Violent Crimes
When in Huntsville, Alabama, each person has a 1 in 130 chance of falling victim to a violent crime. The state of Alabama has far better odds with every person in the city witnessing a 1 in 225 chance they will become a violent crime victim. There are approximately 7.72 violent crimes committed in Huntsville per 1,000 residents. This is higher than both the national and state averages which are only 4 and 4.44 violent crimes respectively.
Most Dangerous Areas
Most locals agree that there aren't really any specific neighborhoods that can be considered to be dangerous overall. However, there are several parts of the city that do experience higher crime reports. Huntsville residents encouraged those working to avoid crime to keep away from the following parts of the city after dark, as the crimes are generally committed after sunset.
the area from University Dr to Winchester Rd, then Mooresville Rd to Research Park Blvd.
University Dr to Johnson Rd, and Memorial Pkway to Patton Rd and Jordan Ln
West of Jordan Ln
These are some of the tips given by locals, but referencing a crime map will help immensely in the search for information on safe and dangerous areas. However, most locals really do agree that there aren't many highly dangerous areas and that the majority of crime occurs more among the community that is involved in it: prostitution, drug deals, and abuse. Most people shouldn't be overly worried as long as they don't get into the wrong crowd quickly or go looking for sketchy areas late at night.
Safest Neighborhoods in Huntsville, Alabama
Even though there are many dangerous parts of town, many neighborhoods in Huntsville are considered to be very safe based on their low crime reports. When looking at moving to Huntsville, these are the neighborhoods that you will want to look into first, as they will provide a safer place for you to live during your time in the city. These parts of town are also well kept and many of them are closely situated to shopping centers, parks, and other popular locations. Many of these safe neighborhoods in Huntsville are listed below.
Mountain Brook
Little Mountain and Hampton Ridge
Hobbs Island
Mooresville
Magnolia Park and Cobblestone Cove
Camelot
Willow Bend
Lake Pointe and Arbor Woods
Anslee Farms
Old Monrovia Acres and Jacobs Pointe
Even though these areas are known to have lower crime rates, be aware of the fact that there are still crimes that occur there. No area is guaranteed to be completely immune from crime, even though these neighborhoods really are among the best in the area when working to avoid it.
Why Does This Matter?
Knowing about the crime within a city is essential before moving to or visiting the city. You could be saving your family from a lot of pain and heartache by knowing more about the crime rates. Therefore, knowing Huntsville, Alabama's crime rates could make or break your family's happiness!