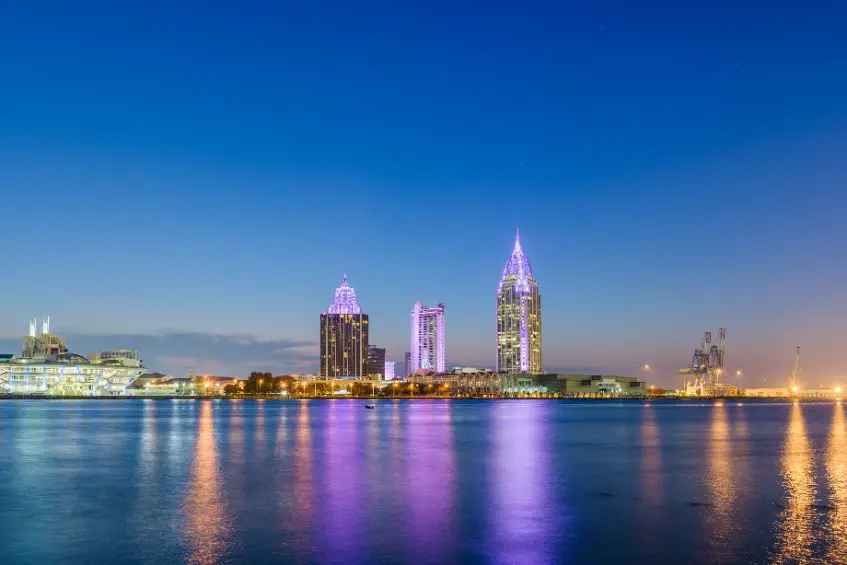 Mobile, Alabama is a gorgeous gulf coast city with a rich history. It's a fantastic place for those that love the water and good seafood. It maintains a lot of the southern charm that people talk about. Alabama is one of the most southern states and is known for its religious and conservative population, but is Mobile conservative?
Mobile, Alabama is a conservative city by a narrow majority. Mobile votes republican in most of their elections, but they do vote to elect some liberals to local seats. The laws and politics in Mobile, Alabama tend to be centered around conservative beliefs.
There's a lot that goes into making a state conservative or liberal, so we'll go into what makes this a more conservative city to live in. We'll go into the voting history of the area and some of the policies that conservatives find important to see how the city stacks up.
Information About Mobile, Alabama
Here is some basic demographic information gathered about Mobile, Alabama during the 2020 census.
Population Estimate 2021: 184,952
Race: Black 51.1%, White (non-hispanic) 42.1%, Hispanic/Latino 2.7%, Asian 1.8%
Median Household Income: $43,456
Mobile, Alabama has a rich history. The city has been a colony of the French, British, and Spanish over the years before being taken by the United States in the War of 1812. Alabama was later part of the Confederate States during the Civil War before being defeated by the Union. Mobile is known for being the place where Mardi Gras celebrations started in the south. There are still large parades and celebrations for Mardi Gras even though New Orleans is better known for the holiday now.
Mobile is the only port city in Alabama and has plenty of access to water. Residents here enjoy nearby beaches and seafood from the Gulf. Steel production is a large part of the economy of the city.
Mobile is one of the few large cities in the country where there is a black majority. Black people comprise 51.1% of the total population of the city. Most residents online say that different racial groups in the city tend not to interact too much, but when they do, everyone is friendly to each other. The divide does come out in the voting and politics of the area though.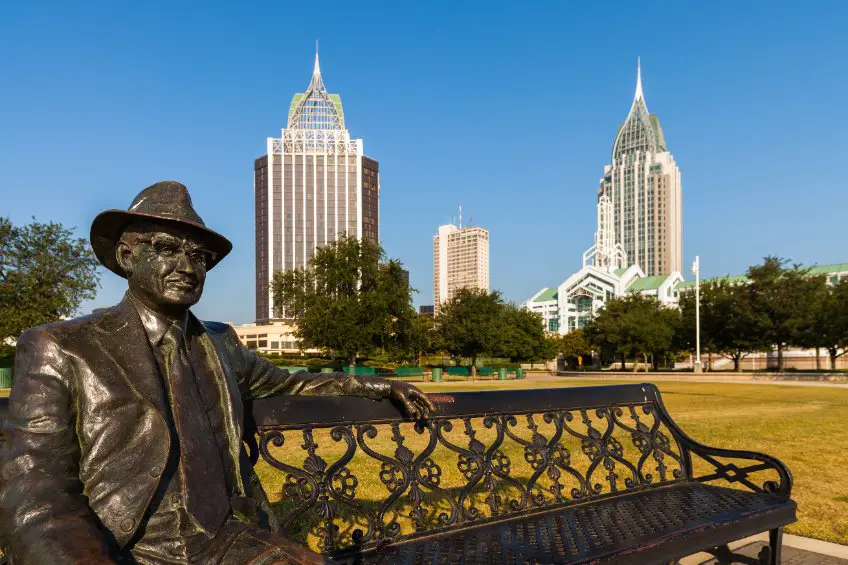 Federal Elections
Mobile County tends to vote republican in most elections. In the 2020 presidential election

, Mobile county voted 55.3% for Donald Trump (R) and 43.4% for Joe Biden (D). The 2016 Presidential Election, was a similar story with 55.1% of voters voting for Donald Trump (R) and 41.8% voting for Hillary Clinton (D).
Mobile county voted by a similar margin for the republican candidate in the 2012 election as well. Alabama as a state has voted solidly for the Republican candidate since the 70s.
In the 2020 senate race, Mobile county voted 52.7% for Tommy Tuberville, the Republican candidate. He ended up winning the state-wide race against the Democrat incumbent Doug Jones. Doug Jones had won a special election in 2017 against Roger Moore, who was an unpopular candidate.
The 2017 special election had a lower turnout state-wide but Mobile County in that election did vote for the Democratic candidate Doug Jones with 56.3% of the vote and only 42.3% for the Republican Candidate. This was an anomaly for the county.
Mobile is part of Alabama's 1st congressional district, which covers Mobile County, neighboring Baldwin County, and part of the counties to the north. In the 2020 election, the district voted 64.4%

for the conservative candidate and 35.6% for the liberal candidate.
State and Local Elections
Alabama has had a republican governor since 2002. The current governor of the state was elected in 2018. In Mobile County, she received 52.3% of the vote, while her opponent took 47.7%

of the vote. In the state overall, she won with 59.6% of the vote, while her competitor garnered only 40.4%.
Republicans tend to win statewide despite the races in Mobile county being much closer. In the city of Mobile, there are a lot more democrat voters compared to the area surrounding the city. Because of this, the city does have some liberal representatives in the state legislature. Currently, there is one liberal state senator from Mobile and 4 liberal Representatives

.
Alabama had a Democratic majority in its legislature for most of its history until 2010. Republicans now hold a supermajority in the legislature, enough to override a veto should the governor change parties. This has led to the state passing much more conservative policies.
Mobile currently has a Republican mayor named Sandy Stimpson. While he is a republican he does seem to be a more moderate republican based on his online statements.
The city council in Mobile has also recently undergone redistricting, which resulted in 4 city council seats

representing majority-black neighborhoods. Given that Black Voters have tended to vote for Democrats, you might start to see more liberal policies being passed in the city.
Religion
Alabama is part of a region in the US known as the Bible Belt, and religion is still a very important part of life in the area. The majority of adults in Mobile consider themselves to be religious

and many of those attend their local churches.
While there are religious people in both political parties many of the values and policies that are important to religious people have fallen out of favor in liberal circles. Conservatives tend to view religion as a very positive thing in society and many conservative values have their origin in Judeo-Christian traditions. The opposite is true for liberal voters who tend to view religion in a negative light and see it as having too much influence in American politics.
There is a divide within the democrat party between religious and secular voters that follows more racial lines. Black and Hispanic/Latino Democrats still tend to view religion positively, unlike their white counterparts. Since most of the Democrat voters in Mobile are Black, there is still a very friendly atmosphere around religion in the area.
Due to the religious nature of the majority of people in Mobile. Many residents on the liberal side of the aisle still hold some values in common with conservatives resulting in a more moderate atmosphere in the area.
Taxes
Alabama has a fairly low tax burden compared to many other states. The income tax rate and property tax rates are both fairly moderate. Mobile, however, has a fairly high sales tax rate since the city itself charges a 5% tax on sales made in the city.
Mobile, AL has a very high sales tax rate. The total combined sales tax for Mobile is 10%.
State Sales Tax: 4%
County Sales Tax: 1%
Mobile City Tax: 5%
Alabama has a graduated income tax rate that ranges between 2% and 5% depending on the income level. This is a fairly moderate rate compared to other states.
Mobile, Alabama has a property tax rate of 0.55%, which is a fairly moderate amount compared to the rest of the country.
Guns
Alabama is a very conservative state when it comes to gun laws. The state has passed a permitless carry law that will allow you to carry a concealed weapon in Alabama without a permit. That law will take effect on January 1, 2023. Until then, you still need a concealed carry permit in order to carry a concealed weapon for self-defense.
Alabama does not have any restrictions on magazine capacity or the type of gun that can be purchased. They also do not require a special permit to purchase a handgun or any form of state registration for firearms. There are no state Red Flag laws in Alabama.
One important consideration, however, is how local officials view guns as well. The current sheriff of Mobile County Sam Cochran has been vocally against

the permitless carry law that was recently passed and does not seem to view firearms favorably.
Abortion
Alabama has been one of the strictest states on abortion for some time. Abortion was banned outright in Alabama after the Dobbs v Jackson case was decided in June of 2022 overturning Roe v Wade. You are not able to get an abortion anywhere in the state, including in Mobile.
Abortion is also banned in the neighboring states of Mississippi and Georgia, though Florida's law on abortion is currently more liberal.
Alabama had a history of being against abortion before the 2022 ban, however. The state passed another ban in 2019

, going against the federal policy of following Roe v Wade's precedent.
What Parts of Mobile are More Conservative?
Some parts of Mobile tend to be more conservative than others. If you're looking for a more conservative area to live in Mobile, the South Western portion of town tends to be more conservative than the northern portion of town. If you're interested in living in the area but want to live in a more conservative area, you could also consider neighboring Baldwin County in the cities of Fairhope and Daphne.