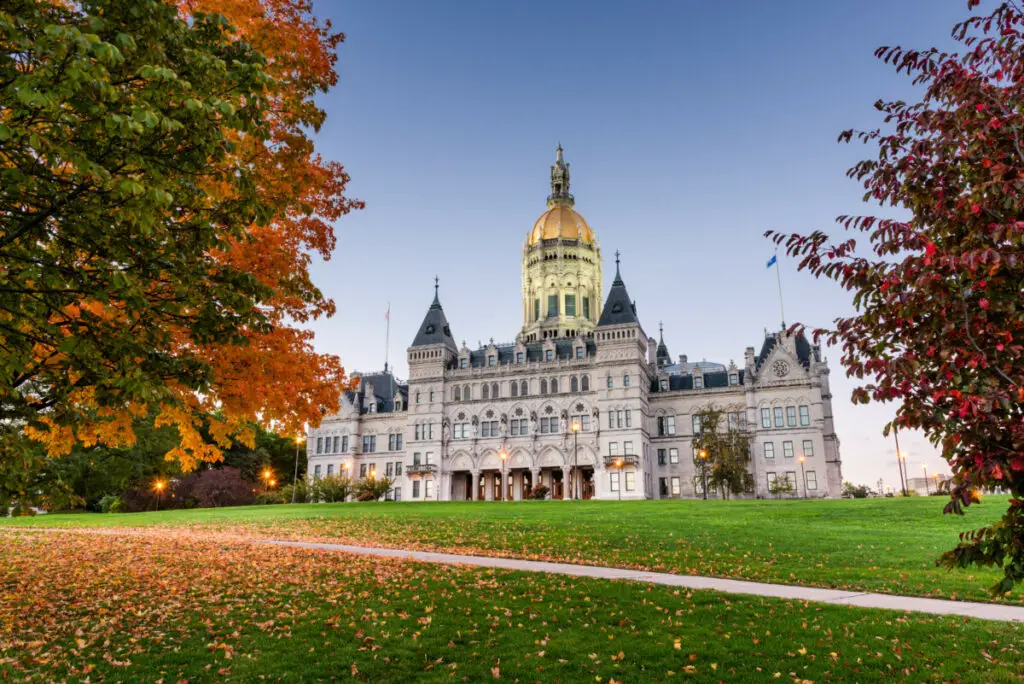 Hartford, Connecticut is a beautiful metropolitan city. It has many different attractions and amenities that invite people to come and enjoy the area. Here are nine celebrities who have been influenced by their time in Hartford.
1. Jenna Dewan
Jenna Dewan was born on December 3rd, 1980, in Hartford, Connecticut. She moved around a lot as a child but developed a love for performing. She was a cheerleader in high school and as an adult continued to develop different skills. Her first debut in media was dancing in music videos. She would be featured in music videos by Janet Jackson and would even be one of her backup dancers in her "All for You" tour in 2001. She also was featured in Danskin's magazine to model dance attire.
After her time with Janet Jackson, she would go on to have her big break into television and film. She co-starred with Channing Tatum in Step Up. She would eventually costar with him in other films like 10 years. She also participated in many other films like The Wedding Year as Jessica and Set Up as Mia. Some television shows she was a part of include American Horror Story: Asylum, The Resident, and The Rookie. She continues to make a big impact in the media.
2. Thomas Ian Griffith
Thomas Ian Griffith was born on March 13th, 1962, in Hartford, Connecticut. He grew up in the area and enjoyed going to high school at South Catholic High School. While he was in high school, he learned Tae Kwon Do and earned a black belt as an eighteen-year-old. After graduating, he then went to the College of the Holy Cross and studied there until his junior year. Although he was very successful at the school and was on the dean's list, he left because he found his passion in film. After moving to New York, he went on to star in a TV show called Another World. He went on to star in The Karate Kid Part III as Terry Silver.
This was a kickstart to his film acting career. He would go on to star in Hollow Point, Vampires, XXX, and many others. He also would be a part of other television shows, like The Secret of Giving, Rock Hudson, In the Heat of the Night, and Wiseguy. Griffith also has been a producer and story writer for shows like Grimm. His legacy with the film is remarkable!
3. Eriq La Salle
Eriq La Salle was born on July 23rd, 1962, in Hartford, Connecticut. He was born and raised in the area with his three other siblings. He went to high school at Weaver High School and also attended Artists Collective Inc. During his childhood, he developed many performance skills that allowed him to go to Julliard. He was there for 2 years and then transferred to New York University's Tisch School of the Arts. After he graduated with a bachelor's degree in Fine Arts, he went on to act professionally.
He immediately was hired to perform in a production of Shakespeare in the Park's Henry the VI. As a young professional, he would also be on stage on Broadway, Off-Broadway, and in other productions. His first big break in the film was as Daryl Jenks in Coming to America. He also would act in television shows as well. His most well-known role is as Dr. Peter Benson in ER. He was a part of the cast until their 8th season but has made additional appearances through the years. His most recent work has been as a producer and director. Throughout his career, he has been nominated for a wide variety of awards. His work as a performer and director has been highly appraised and appreciated.
4. Tony Todd
Tony Todd was not born in Hartford but grew up in the area. He went to Hartford Public High School and Artist Collective Inc. After he graduated, he went through a variety of higher education opportunities. He began with the University of Connecticut. Then he transferred to Eugene O'Neill National Actors Theatre Institute and studied theatre. He also studied with the Trinity Repertory Company.
All of this preparation made it possible for him to shine on stage and in film. He has been a part of over one hundred different productions and has been awarded many awards. Some productions that people might recognize him in include the Final Destination movie series, Aida, Hatchet, The Young and the Reckless, and even some video games like Call of Duty: Black Ops II. His resume is extensive and although he retired in 2021, there are a variety of productions that he has already completed that will be released in the upcoming years.
5. Ocean Vuong
Ocean Vuong wasn't born in Hartford but made it his home at a very young age. His family had to flee Vietnam as a young age for his mother's safety. He was the first person in his family to learn how to read. After he graduated, he went on to get a B.A. in English and an M.F.A. in Poetry from colleges in New York. He has been publishing books and poems since 2011. His most well-known book is On Earth, We Are Briefly Gorgeous. This novel is almost a reflection of his and his family's life as a mixed-race family immigrating to the United States and their experiences. It is written in the form of a letter and is dedicated to his family, who are unable to read. He was also selected as one of the authors of the Future Library Project. His contribution to this project will be unseen until 2114, like the other pieces in this project. As of 2022, he will be a Creative Writing professor at New York University.
6. Suzanne Collins
Suzanne Collins was born in Hartford, Connecticut, on August 10th, 1962. Due to her parent's career choices, she would move around many times as a child. After she graduated high school, she went into higher education. She graduated with a bachelor's degree with a degree in Theatre Arts from the Alabama School of Fine Arts in Birmingham, another bachelor's degree in Fine Arts with a double major in theatre and telecommunications from Indiana University Bloomington, and a master's degree in dramatic writing from New York University Tisch School of the Arts.
With this extensive background, she started her career as a screenwriter for Nickelodeon. She has written for a variety of shows like Little Bear, Clarissa Explains It All, Clifford's Puppy Days, and Wow! Wow! Wubbzy!. Her most famous work is the Overlander series and the Hunger Games series. Something cool to know is that Suzanne Collins wrote the film adaptation for her own books. She has been given many awards for the books she has written and continues to make a big impact in writing.
7. Dwight Freeney
Dwight Freeney was born on February 19th, 1980, in Hartford, Connecticut. When he began his football career, he was a letterman who played four different sports. He earned four letters for baseball, four for basketball, three for football, and one for soccer. He still continues to hold the record for the highest number of sacks at his high school and the school has even retired the number 44 in his honor.
After high school, he was given an athletic scholarship to attend Syracuse University. He would play football for them and still returns for summer workouts and to help the team and team members as a mentor. In 2002, he was drafted by the Indianapolis Colts. He performed so well in his first year, he was runner-up for being the NFL Defensive Rookie of the Year. In 2006, he even helped them to win the Super Bowl. Since then, he has played for the San Diego Chargers, Arizona Cardinals, Atlanta Falcons, Seattle Seahawks, and the Detroit Lions. He retired in 2018 on a one-day contract with the Colts.
8. Tyrique Jones
Tyrique Jones was born on July 3rd, 1997, in Hartford, Connecticut. In high school, he would play basketball and found great joy and a career in it. He was considered a four-star recruit by ESPN and Rivals.com. This led to him being highly sought after by many different schools like Florida State University, Cincinnati, and Texas Tech. He chooses to play for Xavier as a power forward. In 2020, he would sign for foreign leagues outside of the United States. He is currently playing for Turk Telekom in the Basketbol Super Lig in Turkey.
9. Eric Mangini
Eric Mangini was born on January 19th, 1971, in Hartford, California. He would play football in high school and in college. During the end of his junior year at Wesleyan University, he began to coach a football team titled Kew Colts. This attracted opportunities to be an assistant coach for many professional teams. Eventually, he would become a head coach for teams like the New York Jets, Cleveland Browns, and San Fransisco 49ers. After his coaching career, in 2011, he would announce that he would be an analyst for ESPN.