Greenwich is a quaint yet fairly well-known town in southern Connecticut. It is a popular place to visit and an even more popular place to live. It has lots of excitement to offer as well as views.
Lots of famous celebrities make Greenwich their home and here are 9 of them. Read more to find out which celebrities call Greenwich their home and what ties they have to the town.
1. Glenn Close
Glenn Close is probably one of the most well-known and iconic actresses, especially in the 90s and early 2000s. She is known for her roles in Fatal Attraction, Tarzan, 101 Dalmatians, and Guardians of the Galaxy. Glenn has been wowing audiences with her performances for decades. She was actually born in Greenwich in 1947 and was raised there. She owned a home in Greenwich for 30 years. Glenn recently bade farewell to the city when she moved to Minnesota with her sisters in 2022. She truly enjoyed growing up in Greenwich and loved being so close to nature. Glenn believes that growing up in the country had, "given me a kind of resilience and strength that I might not have had, had I not had that early childhood."
"The farmhouse, which sits on 10 acres of land, dates to 1910. According to Page Six, Close is leaving New York entirely."

– Greenwich Time
2. Terry Crews
Terry Crews is another famous entertainer, NFL player, and comedian. His best-known credits are White Chicks, Brooklynn nine-nine, and The Ridiculous 6. Terry Crews was not born in Greenwich, but in Flint Michigan. Crews owned a home in Greenwich for a short while. He liked living there and appreciated the small community and privacy the town offered. Currently, he lives in Pasadena with his wife.
3. Alice Cooper
Alice cooper is a famous singer and Rockstar from the 70s and 80s. He still rocks on and performs around the country although not as popular as he once was. Cooper was born in Detroit, and later moved and grew up in Phoenix. Back in 1971 Alice Cooper and his band required a place to practice. They bought out a mansion in Greenwich rather than New York City, to rehearse and write rowdy music in. They created two albums in that house as well as getting ready for a tour. Cooper recalls how shocked Greenwich residents were to know they had a Horror Rock band living in their midst but they were still able to have a good time. Alice Cooper hasn't lived in that house for a long time but he still owns it and has close ties to Greenwich.
"We were going to live in New York City," Cooper recalls, "but instead we leased this big big house on Greenwich, right next door to Bette Davis. In 1971 we were so out of place there. But it was just right for us. If you were going to make a horror movie, you'd get this house. It had big stairways, long hallways. "

– Alice Cooper
4. Mel Gibson
Mel Gibson, a name that nearly anyone would be able to recognize. He has been in countless shows and movies over the last few decades. Some most notable are Braveheart, Signs, and Pocahontas. Mel Gibson was born in New York and grew up in Sydney Australia. He lived in Greenwich for 15 years from 1995 to 2010 and called his mansion Wayne Manor. It is a massive 75 acres and sold for over 13 million. The home was built in 1927 and Gibson enjoyed living there very much. He has since moved but still returns to the area often.
5. Ron Howard
Ron Howard is a famed actor, producer, and director with credits in hundreds of shows and movies. He is most famous for producing Arrested Development, A Beautiful Mind, and directing Apollo 13, just a few of his beloved works. Howard and his wife wanted the opportunity to raise their kids away from New York City and somewhere more secluded. They settled in Greenwich where they raised their 4 children for 20 years. Growing up the family had countless animals like horses, llamas, chickens, and dogs. The house is 17,000 square feet and worth over 27 million. Howard has lived in many different homes in Greenwich and it is a place he loves.
"…from the little I can see, looks lovely; impressive but not showy.' As Howard described his house, 'Yes, as gilded hamster cages with velvet wheels go, this ones not bad.'"

– Nicki Swift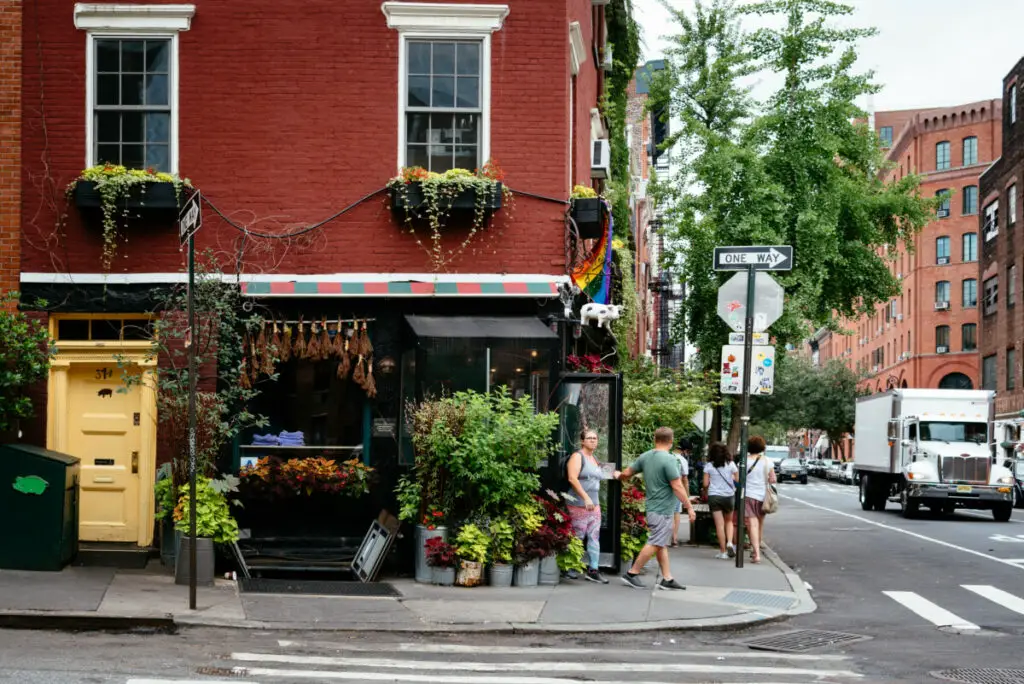 6. Bryce Dallas Howard
Bryce Dallas Howard has followed in the steps of her father as an actor/director and grew up with her family in Greenwich. This actress is known for her roles in Jurassic World, The Help, and The Village. She has also recently directed Disney shows The Mandalorian and Boba Fett. Howard enjoyed growing up in Greenwich and she was able to have a somewhat normal life, going to public school and University. "I still walk in the woods behind our house and feel the same sense of magic and mystery that I did as a child," she says. "There's a depth of feeling and presence there, like a walking meditation without distraction." She moved away a few years ago and just recently built a home in L.A with her husband. Howard and her family still love to visit the beautiful area and spend time making new memories.
"I feel very connected to the kind of life there. There's an elegance about Greenwich. I really enjoyed being raised there,"

– Bryce Dallas Howard
7. Adam Sandler
Adam Sandler has been making a name for himself as an actor and comedian for decades. He is a very predominant person for all generations. Sandler is known for his movies The Waterboy, Hotel Transylvania, and the Grown Ups franchise as well as a cast member of SNL. He was born in Brooklyn and grew up in Manchester NH. He recently owned a home in Greenwich, however, details are hard to find due to privacy and secrecy. Sandler was seen in the city stopping by at a deli. He has been in the area and can often be spotted in Greenwich. Sandler has even done a tour of his childhood home and visits his mother there often.
8. Zack Snyder
Zack Snyder is a well-known director and has done films such as 300, Wonder Woman, and Man of Steel. He was born in Wisconsin but grew up in Greenwich. The director lived there during school until he married and moved to
Pasadena. Snyder and his wife have lived in Pasadena with their 8 children and no longer live in Greenwich. With such a busy schedule it was convenient for the director to be close to Hollywood and his career.
9. Tom Bergeron
Tom Bergeron is a famous comedian and host working on ABC shows like America's Funniest Home Videos and Dancing With the Stars. He was born in Massachusetts and spent all of his childhood in Haverhill and Greenwich. He enjoyed growing up there and often does charity work for the schools. Bergeron started out by hosting radio shows and slowly advanced his career to be a TV star. He currently owns a home in Greenwich with his wife Lois and their two daughters. The family has enjoyed living in Greenwich and they plan in staying for a while yet.
"For years, he successfully demanded that he tape shows in Hollywood, so he could keep his home with his wife Lois and two girls in Old Greenwich, Conn."

– SeaCoast Online
Greenwich is a very popular place for celebrities that want a quieter life. NYC and LA can be so crowded and it is hard to have privacy. Greenwich is beautiful and private, providing a place for children and families. There are a lot of celebrities living in there and only 9 of them are listed here. Celebrities have been living in Greenwich for decades and I predict that they will continue to do so. It is a perfect little paradise.