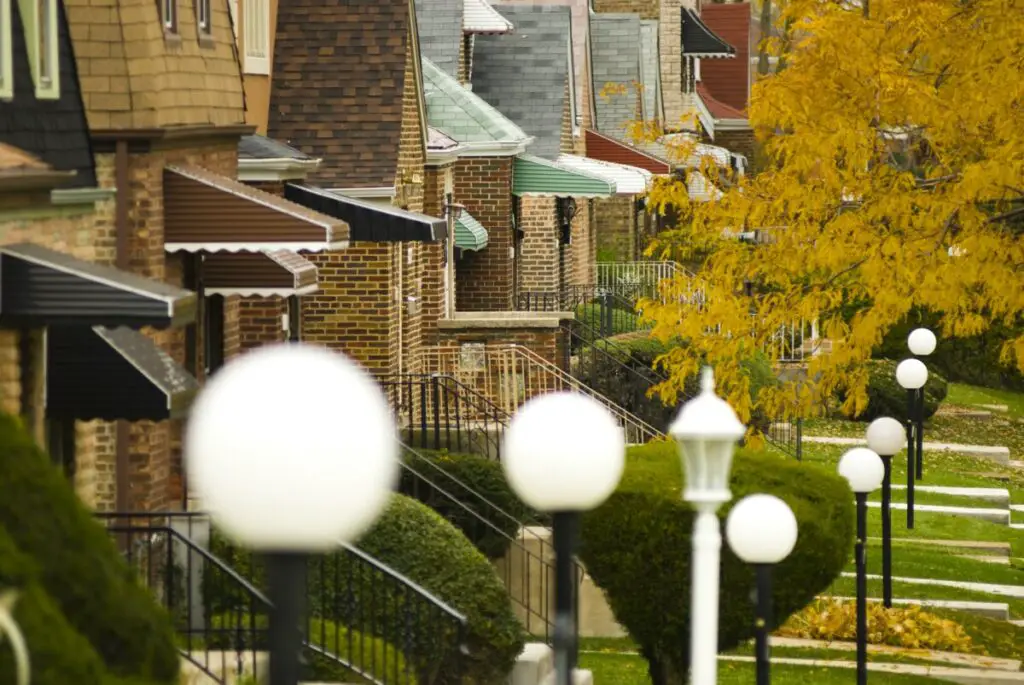 Naperville is one of the best places to reside in the state of Illinois. It offers safe areas with lots of things to do. It also ranks highly in the Midwest's top 10 places to live. With a population of 150,916

, it's the 4th largest city in the state. So, with all these families in the city, which neighborhoods are the best?
There are many different factors that make a neighborhood stable enough enough to raise a family in. Here are 13 top-tier neighborhoods in Naperville.
13. Hobson West
Voted as 2021's Neighborhood favorite, Hobson West is one of the best. With a population of 863 residents, they all find it to be one of the best places in Illinois for families.
The median home value

is $695,000, with 97% of the population owning their homes. Most of the residents have similar goals in mind when it comes to establishing roots to raise their families. The local public schools are highly ranked in every grade and are close enough for an effective commute.
Hobson West is well-maintained and has safe surroundings and friendly neighbors. Not to mention the ability to walk almost everywhere nearby to restaurants, stores, and coffee shops. Some of the common interests

in the neighborhood contain gardening and landscaping, swimming, BBQ and grilling, bike riding, and hiking. There are low crime rates and consistent social gatherings for individuals and children to love throughout the year.
12. Inverness
Inverness

is a suburb with a population of 7,959 residents and is not only one of the places to live in Naperville but one of the best places to live in the state of Illinois. The median home value is $648,200, which guarantees a quality of life will be purchased along with the home. It is a flourishing community, with 97% of residents owning their homes.
Inverness has several public and private schools for all ages, and they take pride in providing top-tier learning opportunities. The neighborhood is calm and perfect for families. Though not littered with facilities, it's near enough to enjoy those in the surrounding areas. There are also several neighborhood gatherings each year for social comradery. The crime rates are also incredibly low, making it a nice and safe environment for all, especially families.
11. Downtown Naperville
Downtown Naperville is a sweet historic neighborhood with several local businesses housed in buildings from as far back as the 1800s. It's got beautiful outdoor recreation areas for families to enjoy together and has that lovely small-town feel without being isolated.
10. White Eagle
White Eagle is a subdivision of 43,667

people, and 85.71% of the total households are occupied by families. Since its founding in 1987, thousands have found this area to be perfect for raising children. In this neighborhood, 87.25% of people own their homes, with the average value ranging from $200,000 to $1,300,000. With new homes being built, real estate values continue to increase.
White Eagle also has top-rated public schools

that show 59% of students are at least proficient in math and 61% in reading. This neighborhood is filled with amenities for everyone to enjoy like parks, a golf course, a country club, tennis courts, and a pool. Additionally, there are beautiful trails to walk, stores, and a shopping center. The crime rates are also low to provide a stress-free living to all residing there.
9. Stillwater
Stillwater is a beautiful family-friendly neighborhood with large houses and backyards, giving children plenty of space to learn and grow and play. It is among the pricier neighborhoods in Naperville but is well worth the price.
8. Ashbury
Asbury is a beautiful community with a population density of about 5,922 people

per mile. About 99% of homes here are owned, and 70% belong to households with children. With over 1,000 homes in this subdivision, the value ranges from $350,000 to $600,000, making it a great place for first-time homebuyers. 87.25% of homes are owner-occupied.
So far, there is only one public school within the Ashbury boundaries, which is an elementary school

for grades k-5, but there are many top-ranked schools close by.
There's an aquatic center, swim club, restaurants, and a clubhouse, as well as activities put together by the community for the residents. It's perfect for families everywhere!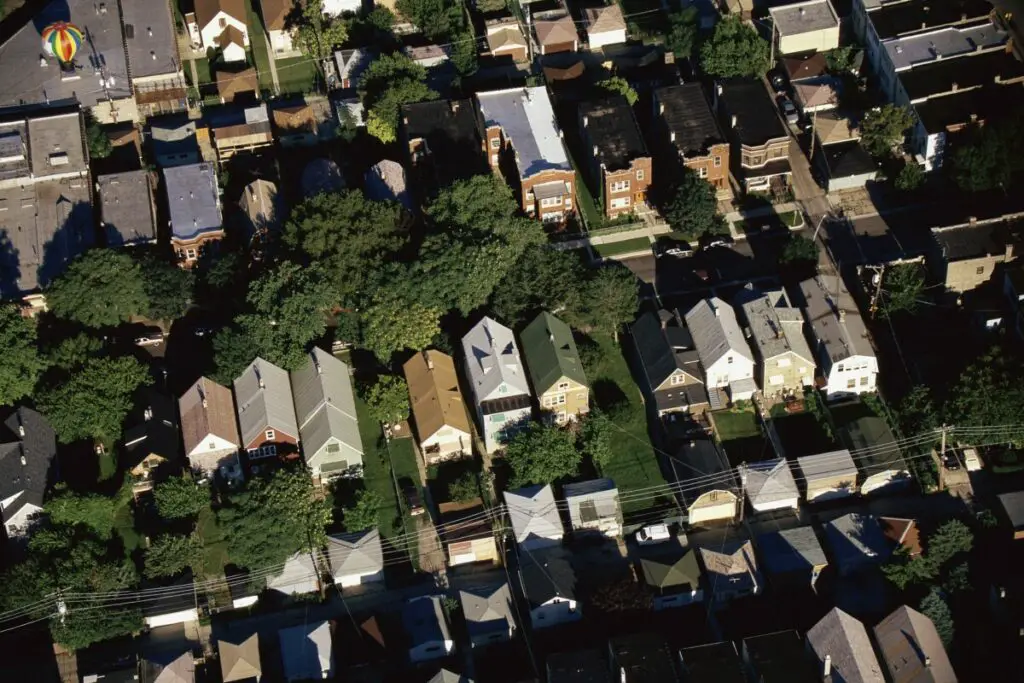 7. Century Farms
A very scenic subdivision that has over 38,785 residents, Century Farms is one of the best places to live in Naperville because of its beautiful surroundings and pleasant environment.
Century Farms home values range from $550,000 to $730,000. There are 15,780 total households

, 61.15% of which are family households and 29.51% with children. Though this area doesn't have any schools within its boundaries, is within close proximity to District 203 schools.
With a city park, three ponds, a city park with a merry-go-round, and several natural habitats to explore, there are plenty of activities to keep the families living there happy, healthy, and entertained. It also has friendly and helpful neighbors that regularly prepare social gatherings. The crime rates are low, and it could be considered one of the safest areas to reside in for individuals and families.
6. Cress Creek
Cress Creek is a family neighborhood located near three lovely lakes. It is also next to the McDowell forest reserve which is full of beautiful trails and waterfalls for families to explore.
5. Harmony Grove
Since its somewhat recent founding in the late 1990s, this neighborhood has been found to be fantastic for families due to the affordable rates and the spacious homes with enough room for everyone. Harmony Grove's homes are beautiful and range from $300,000 to $500,000. About 99% of homes in this subdivision are owned, and 70% of the households

have children.
There are also plenty of amazing schools to attend within incredibly reasonable distances. Not only that, but there are several options in every category from pre-K all the way up to college. The school district prides itself on being highly rated

.
The range of ages is remarkable in this area as the total population is about 1,445 people and a median age of 30. There's easy access to parks and playgrounds, not to mention the friendly environment and enough neighbors to plan various amounts of get-togethers throughout the year!
4. South Pointe
South Pointe is full of lovely, reasonably priced homes perfect for raising a family. It has highly-rated schools and most residents own their homes.
3. Riverwoods
This well-known community is home to over 39,261 residents and has been a valuable development since the 1980s. The average competitive home price range from $450,000 to $650,000. Family households take up 80.59% of the total homes, 40.29% of those belonging to families with children. Approximately 35,125 of the total people living there lived in the same house they did last year.
Riverwoods offers top-rated public and private schools, and River Woods Elementary School was voted #8

in Best Public Elementary schools in Illinois. According to state test scores

, 69% of students are at least proficient in math and 79% are proficient in in reading. This neighborhood is also one of the safest and offers enjoyable amenities like a clubhouse, pool, tennis courts, and parks. It's filled will friendly people that hold events regularly for the people to get to know one another.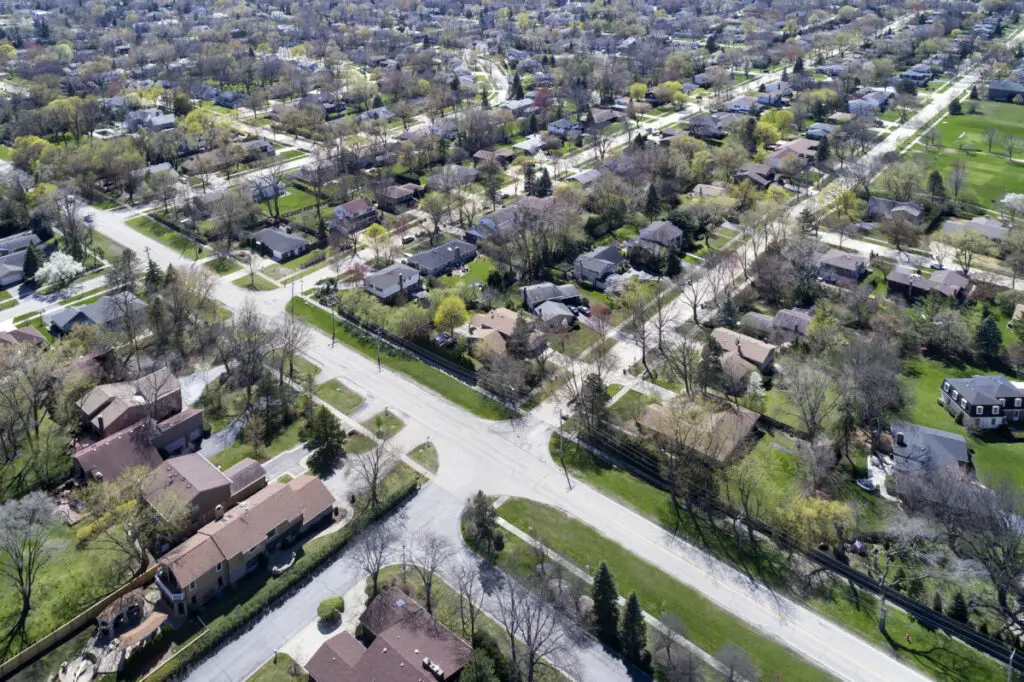 2. Winding Creek
Winding Creek

is one of the most idyllic areas in Naperville. Containing more than 39,261 residents with a median age of 41, 80.59% of those are family households, and 40.29% have children as well. The pricing for the average home within this area is $430,000 to $530,000.
Winding Creek has a few highly rated schools for kids but is also in close enough proximity to other schools.
Since the founding of this neighborhood in 1979, it's prided itself on maintaining strong community ties among its residents and dedication to the upkeep of its homes and landscapes. There are dozens of grocery stores, cafes, and restaurants. There are also parks and gyms that will soon be provided and contribute to the overall charm of Winding Creek.
1. Tall Grass
Tall Grass is one of the newer subdivisions in Naperville, having been built between the late 1990s to the mid-2010s. Since then, they've established themselves as a beautiful environment for both couples and families with children of all ages. About 83% of homes in this area are owned, 4% are rented, and 13% are vacant, giving families anywhere a chance to settle down in a beautiful area. The price ranges for homes here are also incredibly affordable, with prices ranging from $450,00 to $900,000.
Tall Grass is settled nicely in a highly rated school district with a ton of schools

to give children effective environments for learning, as well as provide peace of mind to parents. There are options available to give variety to all ages and walks of life. The most options are elementary schools, perfect for the young, growing families in Tall Grass, Illinois.
This is one of the nicest communities with lots of fun amenities for everyone to enjoy! There's an aquatic center, plenty of parks and playgrounds, tennis courts, a volleyball court, and a clubhouse. The annual resident turnover is only 22%, with population demographics filling in every age group. The population is 615

, so it's equiped to provide the welcoming small-town feel, with just the right amount of neighbors to help out, and there is room to grow!