St. George, Utah is a gorgeous place known for its beautiful scenery, its community, and the slower pace. However, there are many things that people should be aware of before deciding to set down final roots in any city. Here are 11 factors that people should consider before retiring in St. George specifically.
1. Cost of Living
The cost of living in St. George can be a little pricey. In comparison to the United States average, the cost of living in St. George is higher. The only aspect of living that is cheaper in St. George than in other areas of Utah or the United States as a whole is transportation. When looking at housing costs, being in the Metropolitan part of St. George costs much more than being in the suburbs. However, for the location and the amenities offered in St. George, the numbers make sense. Especially considering that the neighboring cities of Santa Clara and Washington are even more expensive than St. George.
2. Safety
St. George is significantly safer than the majority of cities in the United States. In fact, the crime rate in St. George is 45 percent below the national average. It is over fifty percent below the state average! These numbers point to the city being a safer community than most. When breaking it down into violent and property crimes, the numbers drop even further than before. It is highly likely that St. George, Utah is one of the safest cities in the state of Utah.
3. Housing Costs
Housing costs are rather high in the area. When browsing housing options, as of October 2022, the range for available houses was anywhere from the high 300,000's to over a million dollars. The homes that were near a million had many bedrooms and bathrooms. Many people who retire decide to downsize and there are some places that state that there are houses in St. George that are available for less than 100,000 dollars. When browsing those homes, it is clear that the ones around 100,000 dollars are more likely to be trailers with a foundation than a proper home. These homes often have stairs, which is unfortunate considering seniors do not typically do well on stairs. People need to be aware of the costs and be willing to look into alternatives if the price is too high or will be inconvenient of difficult as they age.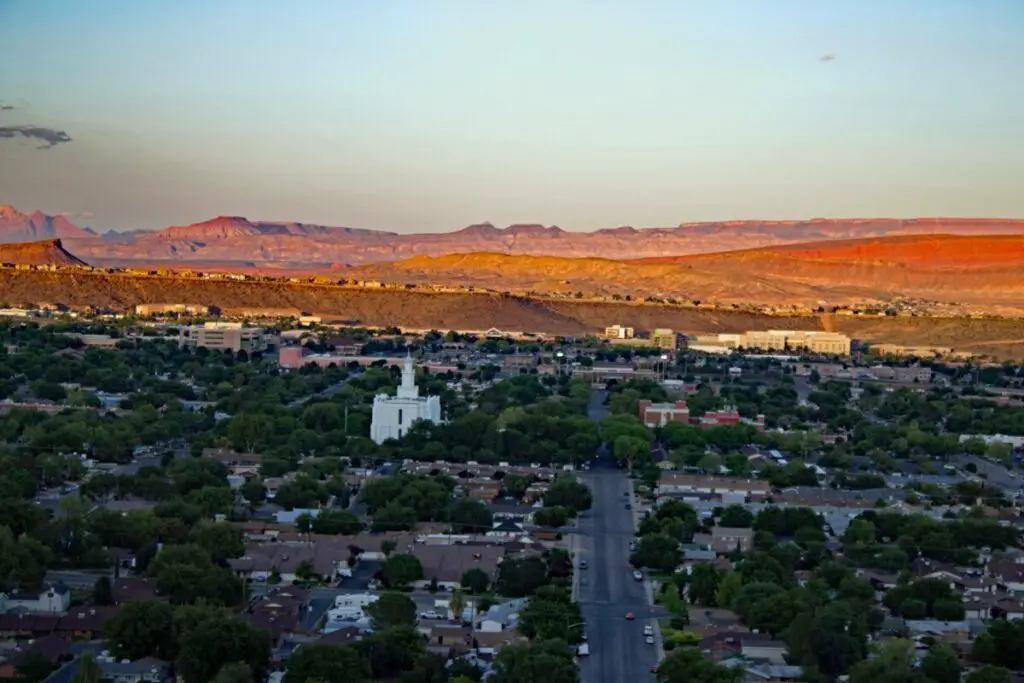 4. Health Care
There is a large number of health care options. There are colleges with labs and hospitals in the area. St. George also has a wide range of health care options to support a wide variety of needs, like in home nurses, hospice, and chiropractors. People who have a likelihood or fear of getting less healthy as they age would appreciate the 20+ options available within the city of Saint George.
5. Available Senior Assisted Living/Nursing Homes
St. George has a variety of options for people who are retiring. There are some senior communities in the area that are praised for being gorgeous and well maintained, like Sun River and Entrada at Snow Canyon Country Club. Sun River has an 18-hole golf course attached to it. This community also has high end sports and fitness facilities that allow residents to enjoy an active lifestyle. Entrada at Sow Canyon Country Club is a gated community with similar amenities. Some things that make the Entrada unique is the size of the homes. The properties can be found to be over 10,000 feet.
Beyond these higher end, senior-only communities, there are more options for retirement. Usually, people choose to live in smaller homes near family. That is feasible, as there are home nurses and hospice workers local to the area.
6. Available Entertainment
St. George has a wide variety of activities and entertainment spots. For people who enjoy being outside, St. George has access to some amazing mountains like the Pine Valley Mountains and to the Mojave Desert. This gives retired people many opportunities to continue maintaining their health in locations that are inherently beautiful and worth exploring. They also have paved trails for those who are less athletically available or people who want to have a more relaxing experience. The city is also considered the golf capital of the state of Utah. The area has 13 different courses, with some going through undeveloped areas and others privately owned and maintained. There are also many resorts and clubhouses that are attached to these golf courses.
For people who do not enjoy being outside, there is still plenty to do and see. In town, there are restaurants, theatres, and shops. There are also some colleges nearby, which leads to people coming into town for college performances and sports. The area is also known for the Shakespeare Festival. There is also a lot of local history that has been preserved, such as Ancestor Square.
7. Nature Spots
There is a plethora of spots in nature that are worth exploring as a retiree. The Red Hills Desert Garden is one of the most well-known spots in St. George. It is gorgeous with the red soil and the variety of cactus and succulents on the pathways. There are even some pavilions of red rocks that people can relax in. There are also other places like Pioneer Park, Red Cliffs National Conservation Area, and the Thunder Junction All Abilities Park. The all-abilities park is a wonderful place for retirees with grandchildren as the park is built so children with all levels of development can play. This means it will be easier for grandparents to play with their grandchildren as well. The area is full of nature spots and adventures!
8. Transportation Options
The transportation options in Saint George are a little limited, but not to the point where it is impossible to travel if a retiree doesn't have a car or cannot drive. There is a municipal airport which handles regional flights. This airport can also connect to bigger hubs, like Las Vegas or Salt Lake City. This makes it possible for a retiree who wants to travel to see family or go site seeing to be able to do so.
For retirees who can't drive, who don't want to, or anticipate that driving might be a future issue, there is a bus system that runs through the area Monday-Saturday from 6 am to 8 pm. This can make it difficult if people want to travel on Sundays, but there are also private transportation options life Lyft, Uber, and other rideshares. The amount of public transportation is smaller than other places, but it is still feasible to get where a person needs to go.
9. Social Opportunities
The area is abundant in activities for seniors. One of the cool and unique parts of the area is the fact that the St. George Senior Center offers classes and clubs for people over the age of 60 for free! If people are under the age of 60, they simply pay a small fee but can still participate. Some of the fun activities offered include yoga, Tai Chi, square dancing, tap dancing, painting, pickleball, and knitting. They also offer free classes and groups like computer skills, memory skills, widow support groups, and even driving assistance. All of these programs offer older retirees unique experiences that allow their lives to continue to be enriching and purposeful.
Beyond this, there is a strong religious atmosphere that can draw some people together. Some churches have big social events and gatherings. The people tend to be open to socializing with neighbors and are family friendly as well.
10. Political Atmosphere
For some people, the atmosphere is a bonus. For others, this might be a huge drawback. St. George is known for being moderately conservative. The county it resides in is Washington county, which is strongly conservative. The area has voted for the Republican presidential candidate for over 20 years, and the candidates have won the vote by over 10 percent. In the 2020 election, around 70 percent of the people in St. George voted for the Republican candidate. For people who have more liberal views, they should expect to be the minority. Usually, people are nice about political differences. But it is still important to consider local politics when retiring. The way people vote can impact the taxes of an area and a retired person's ability to pay for their living costs.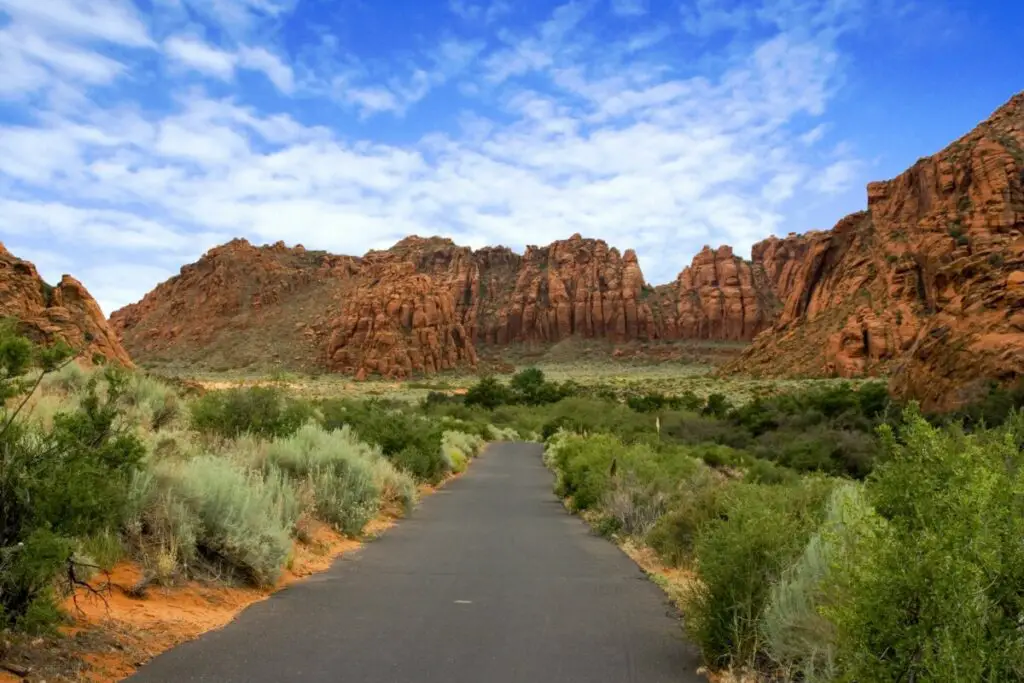 11. Demographics
Retirees with a desire to be around people their own age are likely to find what they are looking for in St. George. Although the city has a lower average age than the United States, it also has a much higher percentage of people over the age of 75 than other places. This place has many more families/multiple person households than other areas of the nation. The area mostly has people who are white or Hispanic, although there are a few that have pacific islander heritage as well. It is likely that people who live in St. George will find people of similar backgrounds and perspectives.
With these 11 reasons in mind, it becomes easier for a retiree to make the best decision for them and their circumstances. Whether St. George is the best place for retiring or not, it certainly is a charming place to live!