Washington D.C. is where pretty much all of the monumental political decisions within the United States happen- hence all the monuments a person can find there. As the government is busy making history, so are the people. Are the voices within the District of Columbia liberal or conservative?
Washington D.C. is not a conservative city. It is overwhelmingly liberal. In the 2020 presidential election, 92.1% of voters within Washington D.C. voted Democrat, 5.4 % voted Republican, and 2.5% voted independently. The city of Washington D.C. almost always leans liberal.
To learn more about the political opinions of residents in Washington D.C., keep reading.
Understanding Washington D.C.
Before diving into what makes the capital of the United States liberal rather than conservative, it is important to understand how it operates.
While Washington D.C. is not a city or a state, it has attributes of states, cities, and counties. This makes it kind of hard to pin down when it comes to what laws residents have to follow and not follow. Because of this, there is a movement to make Washington D.C. a State.
As explained by a

w

e

b

site

advocating for The District to become the 51st State, Washington D.C., "…operates as a state while also performing functions of a city and a county."
In many ways, Washington D.C. functions in a similar manner as other places in the United States. Residents within the Capital pay taxes and serve in the military and on juries.
The controversy is that residents pay high taxes, yet have no votes in Congress

, and therefore feel suppressed in having a say in what federal laws they must adhere to.
Although the capital does not have all of the same rights as the rest of America, it does follow laws that fall under the Constitution. Because of this, we can still study school systems, Medicaid programs, federal block grants, workforces, demographics, politics, and voting history in areas other than Congressional voting.
Voting History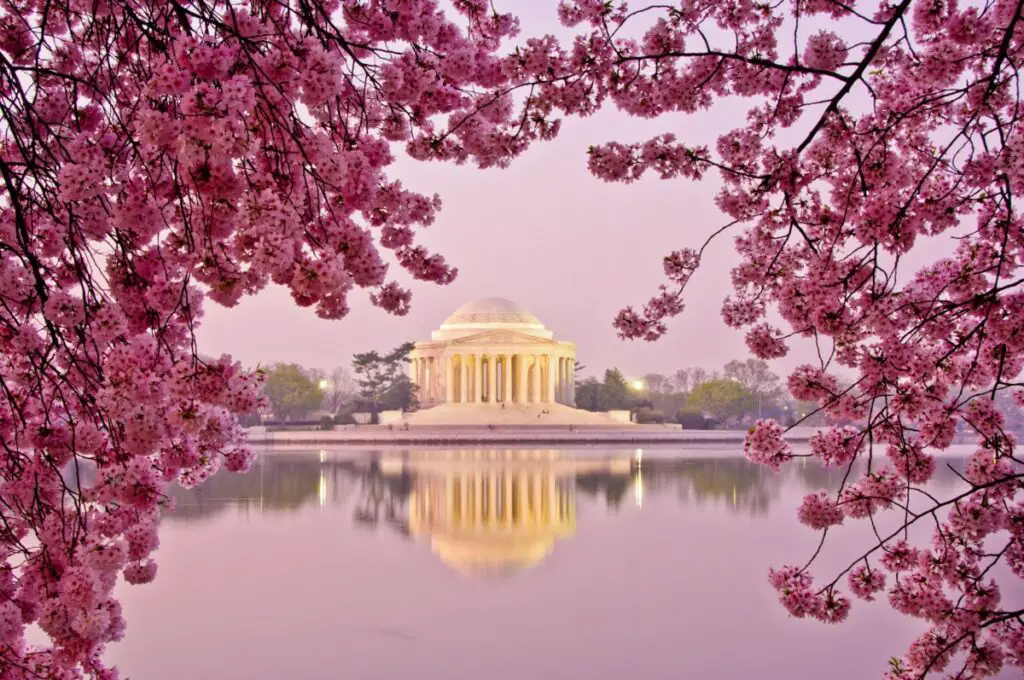 Currently, President Joe Biden, who ran under the Democratic Party, lives in the White House representing the American people. As previously stated, the Democratic vote was won by a landslide in the 2020 presidential election

, with the Democratic party receiving 92.1% of the votes in Washington D.C. On the other hand, the Republican party received 5.4% of the votes, and 2.5% of voters voted Independent. However, this isn't the first time the democratic voice has overruled the republican opinion in Washington D.C.
In 2016, the results of the presidential election between Hillary Clinton and Donald Trump

were also staggeringly separated. 90.9% of voters within Washington D.C. voted for Clinton, who was affiliated with the Democratic Party, while 4.1% were in favor of Trump, who was running under the Republican Party. Despite Washington D.C.'s landslide-casting voting towards the liberal viewpoint, Donald Trump won the 2016 presidential election.
Historically speaking, Washington D.C. is reliably liberal. In fact, it has been voting for the democratic party since the year 2000.
Elected Leadership
While residents cannot have votes in congress, the District of Columbia does hold local elections for the mayor and city council members.
Voting preferences within these elections are no different as far as leaning conservative or liberal, however. In step with presidential election voting trends, the city is represented and run by elected government officials belonging to the Democratic party.
Out of the 13 members of the City Council, 11 of them are Democratic, 2 of them are Independent, and none of them are Republican.
Here is a little insight into the leaders of Washington D.C.
Mayor Muriel Bowser

belongs to the Democratic party. Her responsibilities include overseeing the public school system and running the local jail, Medicaid, and more. She has focused on things such as reducing unemployment, investing money into housing, providing a soccer stadium and a basketball arena, and raising the minimum wage.
Chairman Phil Mendelson

belongs to the Democratic Party. He has spent much of his time on topics such as regulating gun laws, legalizing same-sex marriage in 2009, and approving the Racial Equity Achieve Change (REACH) Act, among other things.
Pro Chair Tempore Kenyan R. McDuffie

belongs to the Democratic party. He has spent much time working within the Department of Small and Local Business, focusing on criminal juvenile justice, and the REACH Act, as well as being involved with many other matters.
2 out of the 4 at-large councilmembers, Anita Bonds

and Robert C. White, Jr

, belong to the Democratic party. The other two are registered as Independent.
There are 8 Ward Councilmembers, all representatives of the Democratic Party.
Listing of Washington, D.C.'s Current Ward City Councilmembers
If a person were to look at a map of Washington D.C.'s political leaning, it would be a sheet of blue. To say the least, conservatives do not have much presence within the capital. While living in Washington D.C., a Republican could easily feel out of place and like their opinion did not count or matter. This is interesting because surrounding states are red-leaning

, so in one of the surrounding states, someone who thinks liberally might feel the same way.
Demographics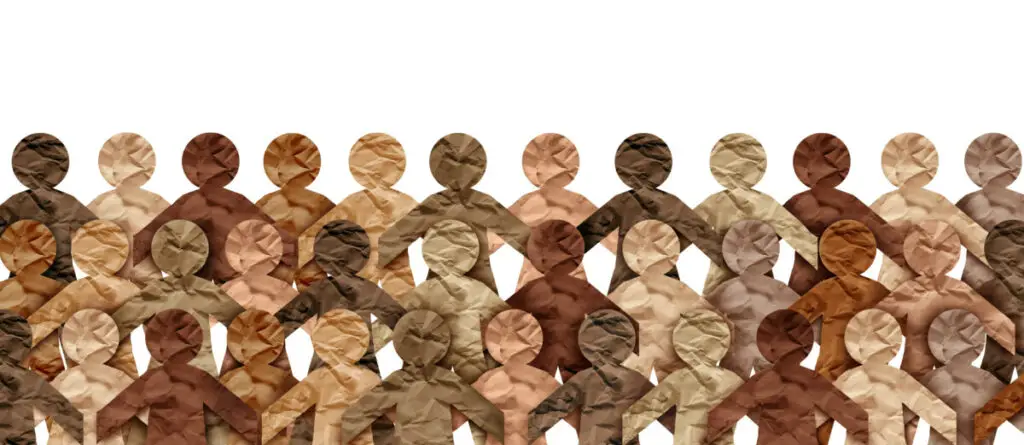 Many know that demographics play factor in voting results, but it may come as a surprise at how impactful they really are. Let's dive into them and look into what those numbers actually mean.
Population and Voter Turnout
In 2020, there were about 701,904

people living in Washington D.C. At the same time, roughly 344,356 voters within Washington D.C.

participated in the presidential election between Joe Biden and Donald Trump

. This means about 49% of The District of Columbia voted during the election. Out of these people, about 90% voted Democratic. The ratio of blue to red is statistically skyrocketed.
Race and Ethnicity
The significance of race and ethnicity regarding politics is extremely impactful on whether an area's voter turnout will be left-leaning or right-leaning. Familial history impacts culture, opportunities, education, beliefs, tradition, world experience, diversity, moralities, and in many ways, everything that stands between a person and their vote.
Research indicates that groups who are more ethnically diverse are more likely

to have democratic beliefs, whereas conservatives are more commonly of caucasian descent.
Reports have shown that the majority population of citizens in Washington D.C. are Black or African American. Data collected from 2019

shared the following numbers regarding percentages of inhabitants within the District by race or ethnicity:
44.1%: Black or African American (Non-Hispanic)
37.3%: White (Non-Hispanic)
5.23%: White (Hispanic)
4.03%: Other (Hispanic)
4.02%: Asian (Non-Hispanic)
2.69%: Multiracial (Non-Hispanic)
1.29%: Black or African American (Hispanic)
Other races and ethnicities including Asian (Hispanic), Multiracial (Hispanic and Non-Hispanic), Native American & Alaska Native (Hispanic and Non-Hispanic), and Native Hawaiian & Other Pacific Islanders (Hispanic and Non-Hispanic) were also documented to be smaller than 1% of the population.
Washington D.C. is unique in the sense that minority groups of people within the United States make up the majority population of the District. It is also a unique place in how diverse it is compared to most areas in the United States which predominately consist of Caucasians.
These demographics contribute to the diversity of people and culture within the area and also contribute to the reduction of diversity in viewpoints, as nearly everyone has democratic beliefs.
Gender
Historically speaking (as well as currently speaking

for that matter), women have been proven to have higher voter turnouts than men. Specifically in the United States, this has been the case since 1984

. The 2020 presidential election

was no different, as more women participated in the election than men did.
Interestingly enough, women tend to be more left-winged

and likely to vote against conservative ideals. Should a woman be right-winged, the probability of her being of white descent is much greater.
Focusing on the United States capital, about 52% of all the residents

in the District are female. Additionally, it has been reported that educated women tend to lean Democratic rather than Republican.
Education
People with higher education or who have a bachelor's degree or above have been shown to be more likely to vote democratically. Data reveals that as of 2022, about 60% of residents living in Washington D.C.

who are 25 years old or above have earned college degrees.
Age
Trends in younger generations are being proven to vote more liberally, and trends in older generations have been shown to vote more conservatively. The majority of dwellers in Washington D.C. are part of the Millenial or Gen Z generations. Both of these generations tend to vote liberal

rather than conservative.
Washington D.C. is definitely not a conservative city, so if you are a Republican and live in Washington D.C., you may feel out of place, and elections in the city likely won't end in the result that you want.