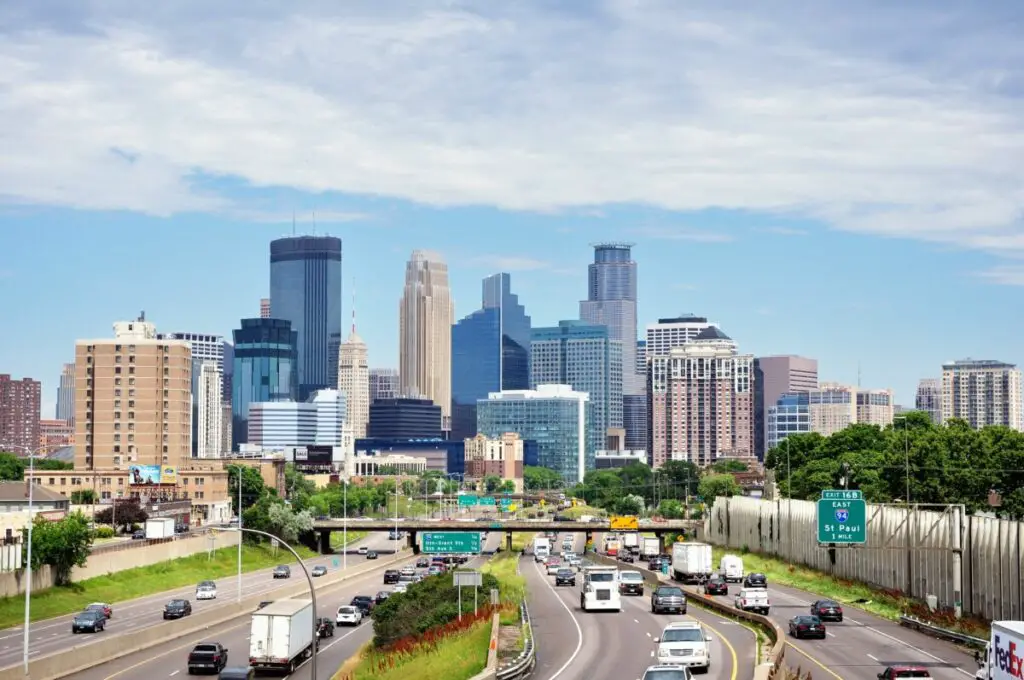 Widely known as one of the twin cities, Minneapolis, Minnesota

was developed under the rich influence of its European Founders. Home to over 1,000 lakes and a captivating cityscape, Minneapolis has over 30 million tourists

a year, but is there a public transportation system for tourists and residents to use?
Minneapolis, Minnesota has 3 main ways of public transportation: METRO light rail, METRO bus rapid transit, and the Northstar Commuter Rail. There is also the famous Skyway path that is available for those wanting to travel by foot. METRO transportation is available every day for all daytime hours.
Although Minneapolis is only 57.5 square miles, there is still a critical need for helping individuals travel from place to place. This is why Minneapolis has created a state-of-the-art public transportation system. Keep reading to find out more!
METRO Bus Rapid Transit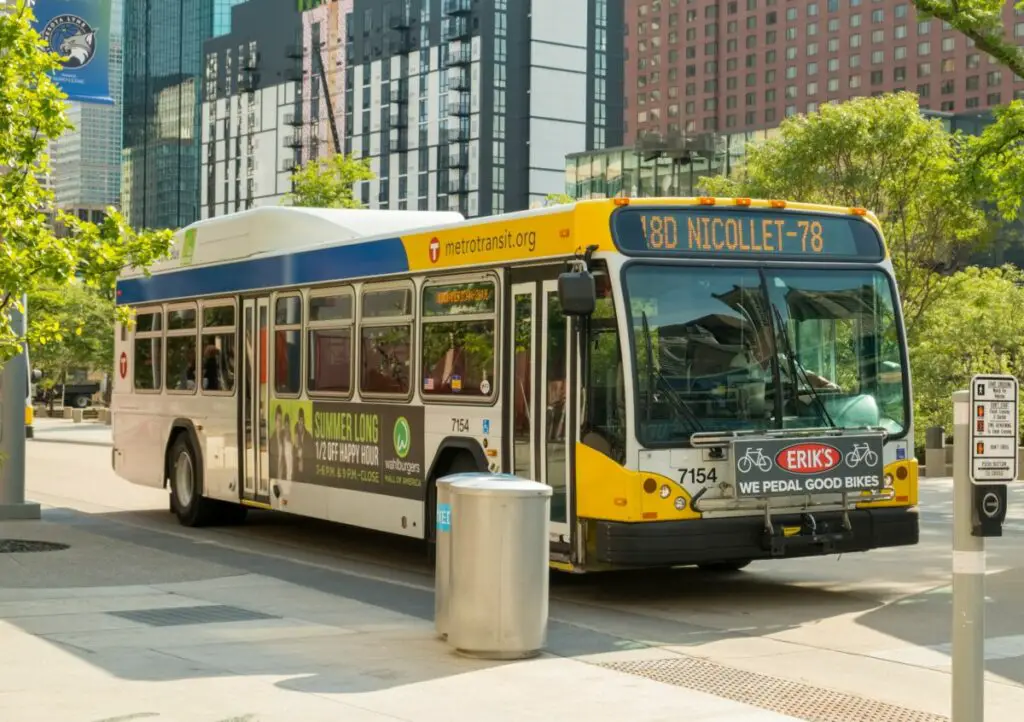 In Minneapolis, the bus system has 40 routes to help individuals get from place to place. The bus transit is made to be easy and affordable for all passengers. There are 4 main routes that allow individuals and families to travel with ease. The METRO Bus Rapid Transit system is made to be a stepping stone with connections and transfers to the other public METRO systems allowing for ultimate access to all of Minneapolis.
Route
The METRO Bus rapid transit system has 4 main routes. These routes and quick loops can take you from city to city and everywhere in between.
A Line
The A Line follows a backward L-shaped loop. Starting in Roseville it travels south right in between Minneapolis and St Paul before making a 90º turn westward into Minneapolis at Highland Park.
C Line
The C line starts at the Brooklyn Center and travels south until it reaches downtown Minneapolis.
Orange Line
The Orange Line begins in downtown Minneapolis and travels south along the I-35W highway. The Orange line links Minneapolis, Richfield, Bloomington, and Burnsville together.
Red Line
The red line starts at the Minneapolis St Paul International airport and travels south into Bloomington, where the Mall of America is located. From there, the red line connects with the METRO light rail blue line.
Schedule
METRO Bus Rapid Transit's hourly schedule varies from station to station. The best way to see what time you should catch your bus is by going online to the trip planner

and putting in your trip destinations. This will create a personalized travel schedule for you and your party.
While each bus route has times that may vary, there are some things that are certain. The typical schedule for buses marked "Free Ride" and traveling to Nicollet mall is 5:00 am-1:00 am.
Fare
| | | |
| --- | --- | --- |
| Local Bus/METRO Standard Fare | Non-Rush Hour | Rush Hour* |
| Adult (ages 13-64) | $2.00 | $2.50 |
| Reduced Fare (applies to Youth (ages 6-12), Seniors (age 65+), and Medicare holders) | $1.00 | $2.50 |
Passes are good for 2 1/2 hours after card activation
Rush hours *Monday-Friday, 6-9 am & 3-6:30 pm
| | | |
| --- | --- | --- |
| Express Bus Standard Fare | Non-Rush Hour | Rush Hour* |
| Adult (ages 13-64) | $2.50 | $3.25 |
| Reduced Fare (applies to Youth (ages 6-12), Seniors (age 65+), and Medicare holders) ) | $1.00 | $3.25 |
Passes are good for 2 1/2 hours after card activation
Rush hours *Monday-Friday, 6-9 am & 3-6:30 pm
When traveling to Nicollet mall, look for buses marked "Free Ride.

" These buses travel to Nicollet mall free of charge for any passengers, any time. If you find yourself on another bus in those downtown areas, the fare is only $2.50.
METRO Light Rail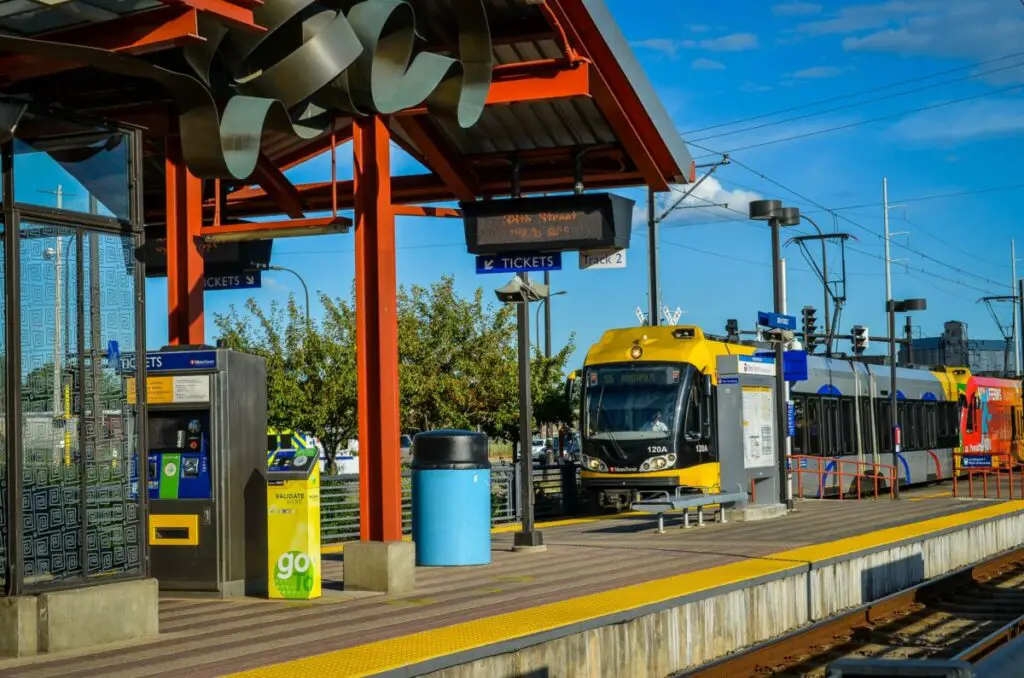 After 50 with no Streetcar, the city of Minneapolis brought back and re-established its METRO Light Rail system. This system has been in full operation since 2004 and has increased public transportation by hundreds of people each day.
Routes
With only 2 routes, the Light Rail has kept transportation simple and easy. Creating a comfortable environment for travel, the light rail lets passengers sit back, relax, and enjoy traveling through the beautiful city of Minneapolis.
Blue Line
The METRO Light Rail starts in downtown Minneapolis and travels south through the heart of the city. With 19 stops, the blue line takes passengers through the Minneapolis St Paul International Airport as well as to the Mall of America before turning around and doing it all over again.
Green Line
The Green line starts right next to the Blue Line in downtown Minneapolis. After traveling parallel for 5 stops, the Green line shoots eastward taking its passengers across the Mississippi river and towards St Paul and the Union Depot.
Schedule
The Minneapolis METRO Light Rail follows the same schedule every day. This ensures that individuals are constantly able to travel to their desired destinations.
| | |
| --- | --- |
| Sunday-Saturday | 12:09 am-11:32 pm |
Fare
| | | | |
| --- | --- | --- | --- |
| 6-Hour Pass Fare | Adults | Reduced Fare | Mobility |
| Monday-Friday | $4.50 | $3.50 | $2.00 |
| Weekend | $4.00 | $2.00 | $2.00 |
Valid for six hours on buses and light rail from time of purchase from a METRO ticket machine or activation on the Metro Transit app
Commuter Rail
For those traveling long distances and wanting to avoid the hassle of stopping at a bus stop every block, the commuter rail is for you. The city of Minneapolis understands that long-distance travel requires a new form of transportation. Thus, the Northstar was created.
Looping North and South, the Northstar and Northstar Link allow passengers to get from one city to the next with this in minutes. Traveling at 80 Miles per hour, the Minneapolis commuter rails

can get you to your destination in a timely fashion.
Routes
To keep things simple, there are 2 commuter rails: North Star and Northstar Link. Both commuter rails provide comfortable seating, tables, bike loading racks, and park-and-ride options at station stops. With the goal of getting you to your destination, the commuter rails are safe and efficient.
Northstar Link
For those that live just outside the Minneapolis area, the Northstar link allows for individuals north of Minneapolis to hitch a ride and come to town. Starting in St. Cloud Minnesota, the Northstar Link runs south until reaching its final stop in Sherbourne County next to Big Lake. This station meets up with the Northstar, which will cover the final distance into Minneapolis.
North Star
Starting off where Northstar Link left off, from Big Lake to Minneapolis, the Northstar finishes the job and takes passengers into downtown Minneapolis.
Schedule
The Northstar

Link commuter train begins operation at 4:27 pm and makes continual trips until 5:30 pm Monday-Friday with a round trip time of 52 minutes.
The Northstar Link begins operation at 4:45 am and continues all day until 5:15 pm Monday-Friday. It does not operate during the weekend.
Fare
To account for each station stop, there are individual fares from each station in downtown Minneapolis. For rides between stations, there are specific rates.
| | | | | |
| --- | --- | --- | --- | --- |
| North Star Commuter Rail (one-way Fare; Monday-Friday) | Adults | Reduced Fare | TAP* | Mobility |
| Big Lake to downtown Minneapolis | $6.25$ | $6.25 | $4.00 | $2.00 |
| Elk River to downtown Minneapolis | $4.75 | $4.75 | $2.50 | $1.50 |
| Ramsey to downtown Minneapolis | $3.75 | $3.75 | $1.50 | $1.25 |
| Anoka to downtown Minneapolis | $3.25 | $3.25 | $1.00 | $1.25 |
| Coon Rapids-Riverdale to downtown Minneapolis | $3.25 | $3.25 | $1.00 | $1.25 |
| Fridley to downtown Minneapolis | $3.25 | $3.25 | $1.00 | $1.00 |
| Station to Station | $3.25 | $3.25 | $1.00 | $1.00 |
Adults (ages 13-64) | Reduced Fare: Youth (ages 6-12), Seniors (ages 64+), Medicare Holders | Mobility (those with disability)
Skyway
The Minneapolis Skyway is one of Minneapolis' most unique features. Connecting 80 city blocks, The Skyway is the largest second-level bridge in the world. This intricate enclosed system is 9.5 miles long and can take you anywhere

you need to go in the city.
Protecting any pedestrian from weather conditions, the Minneapolis Skyway allows for individuals to enjoy the many sights in Minneapolis, from above. The two-story wonder was established in 1963 when it connected the Roanoke Building to the North Star Center. This original and reinforced sky path still stands today.
As one skyscraper was built after the other, each one added its piece to Skyway eventually growing the path to the 9.5 miles that it is today. The Skyway allows you to travel carefree through Minneapolis.
And what is one twin city without the other? Minneapolis' twin city, St Paul, is connected by the Skyway, allowing any guest to walk from one city to the next. 
Paths
The expansive skyway system creates a way for individuals to get from place to place in the city without the hassle of walking on the road or sidewalks. During the winter months, the roads and sidewalks in Minneapolis are covered in ice and snow, making it nearly impossible to walk outside on the street safely. The skyway system was created to be a substitute for the sidewalk during those winter months. Almost anywhere you would get to by sidewalk, the skyway can do the same.
Although you can travel anywhere in Minneapolis

from the skyway, there are popular entrance points that make traveling more convenient. Some of the most popular entry points are: Target Center, Target Store, Wells Fargo, and the US Banking Building.
Schedule
While the skyway paths are always open and available, the buildings they connect have closing hours. The typical open hours for the Minneapolis skyway follow general store hours.
| | |
| --- | --- |
| Monday-Friday | 6:30 am-10:00 pm |
| Saturday | 9:30 am-8 pm |
| Sunday | 12:00 pm (noon)-6:00 pm |