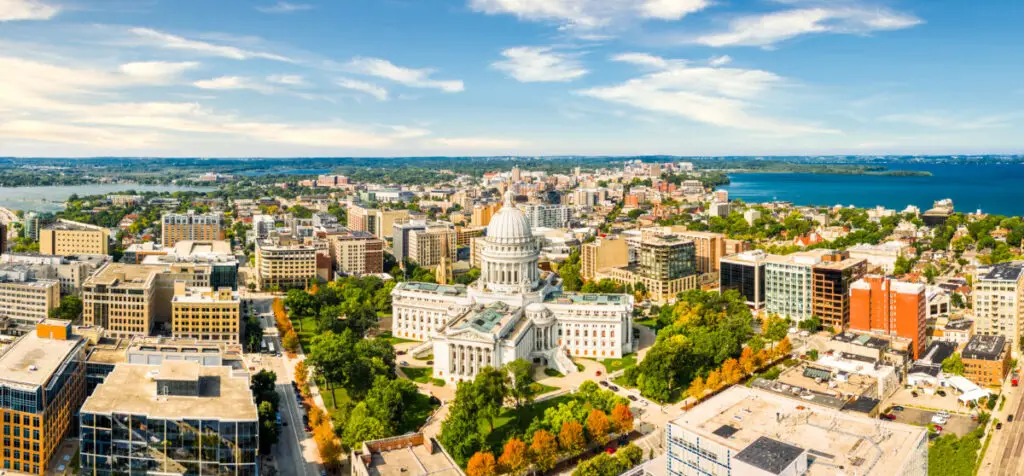 Whether you know it as the Mad City, the City of four lakes, or because of its historical tie to James Madison, Madison, Wisconsin embodies true American beauty and charm.  From touring the striking Capitol building, and museums, to the air shows, botanical gardens, parks, and lakes parks that surround it, Madison, Wisconsin proved that she deserves your time and attention.
Madison, Wisconsin has public transportation by way of a public Metro bus system that runs all day every day (hours may vary) as well as taxis available for city travel and for those near the airport. The University of Wisconsin-Madison also has on-campus shuttling available free for students.
As you can see Madison, Wisconsin has established a system to encourage tourists and locals to get out and see all the amazing things the city has to offer. With the metro, taxis, and campus shuttles ready and available, anyone in Madison can get to where they need to be in the easiest and quickest way possible. No need to worry about where to park, or how much it would cost, because Madison's public transportation allows you to have a stress-free relaxing time while traveling.
Madison City Metro
The #1 stop for public transportation is the Madison City Metro. Anywhere you need to be in Madison, the city Metro can take you there. Since 1995 the Madison Metro has been getting people to the places they need. 
Looking to the future, the city of Madison has approved and is actively implementing a newly redesigned system that will improve the current public transportation method (available 2023). With the addition of their Bus Rapid Transit (available in 2024), current travel time will be reduced and this specific transport will make stops in downtown Madison and select University of Wisconsin-Madison campus areas.
Route
Madison City Metro has over 80 stops all around the city. Anywhere you could think of visiting, the Metro can get you there. The last 5 stops on the Metro route leave you on the University of Wisconsin-Madison campus. These stops are free of charge and available to students and guests.
Fare
The Metro provides cheap and affordable transportation. Standard fares for adults are $2.00 with discounts and frequent rider passes available.
| | |
| --- | --- |
| Standard Fare Cash Tickets | Cost |
| Adult | $2.00 |
| Youth | $1.25 |
| Senior/Disabled Fare* | $1.00 |
| Child (under 5 with a chaperone) | Free |
| 2-4-6 Weekend Holiday (Buy from Driver) | $6.00 |
| 1-day Pass (Buy from Driver) | $5.00 |
| | |
| --- | --- |
| Passes | Cost |
| 31-Day | $65.00 |
| 31-Day – Senior/Disabled* | $32.50 |
| 31-Day Low Income (Restrictions May Apply)* | $28.00 |
| Youth Pass (Semester) | $165.00 |
| Youth Pass (School Year) | $315.00 |
| Summer Youth* | $35.00 |
| | |
| --- | --- |
| 10-Ride Cards | Cost |
| Adult | $17.25 |
| Youth | $11.25 |
| Senior/Disabled* | $10.00 |
*In order to qualify for certain discounted rates, seniors/disabled individuals must complete an eligibility form. There is also a form available for individuals seeking low-income approval for rates and alternatives.
Schedules
To best help meet the needs of the riders and drivers, the Madison City Metro is available to the public during specific hours. While some holidays alter the hours of bus services, routes will 2-78 will continue running during specific holiday times. However, during certain holidays, Routes 80-84 will observe the holiday and have "no shuttle service" available.
| | |
| --- | --- |
| Monday – Friday | 6:15 am – 6:00 pm |
| Weekend and Holiday | 8:00 am – 4:30 pm |
The University of Wisconsin-Madison Campus Shuttle
From work to school, there's always a need for transportation to get from place to place. The University of Wisconsin-Madison has a way for its students to get from one side of campus to the other. UW-Madison has its very own campus shuttle to help its students be on time to class. With 4 diverse routes, students can be where they need to be, and when they need to be there. These shuttling services run through campus as well as in the neighboring areas to help students and faculty get to their homes and apartments, as well as to classes and school events.
Routes
80 All day (northwest housing/campus access)
Route 80 follows a route that will take you from Eagle Point housing division (just northwest of campus) to the Southeast Residence Halls and everything in between. Route 80 loops around each individual area of campus so students can get to their classes anytime they need to. Beyond just the classes, Route 80 stops by the Kohl Center Arena, Bascom Hill Admissions Office, Camp Randall Stadium, the University Hospital, and the Housing and Dining Services Building to ensure that students have easy access to all the University resources and Facilities. Regardless of what classes you have or which college you attend, the University shuttle can drop you off at the front doors each day.
Hours: All-Day
81 Evening and late nights (east side housing)
While for some living on campus is not very realistic or desired, the east side neighborhoods are filled with apartments and houses that can meet every need. Route 81 is the campus route that runs through these beautiful streets of Madison shuttling students home after long days of studying. Route 81 contains stops in or near: Southeast Residence Hall, Bascom Hill Admissions Office, State Langdon, Mansion Hill, James Madison Park, First Settlement, Basset, Mifflin West, and the Kohl Center Arena. Ensuring students can make it home, Route 81 has all housing taken care of on the southeast parts of campus. 
Hours: Evening/Late Night
82 (campus central)
Route 82 is the route to rule them all. Making one continuous loop around campus, students have almost immediate access to transportation to any place on campus. Route 82 has 25 stops that run along the outside border of campus giving students the fastest and easiest means of transportation from building to building for classes or sporting events. Route 82 runs passed each student resource building and is a short walk toward the inner areas of campus. Each college on the University of Wisconsin-Madison campus is accessible from this route. This route helps shuttle students around campus, eliminating any unnecessary stops.
Hours: Evening/Late Night
84 (north campus/northwest housing)
Similar to that Route 80 and 81, students on the northwest side of campus need adequate transportation back to their homes and apartments as well. Without the hassle of making extra stops on campus, like on Route 80, Route 84 goes directly from the northwest corner of campus and up to the Eagle Heights residence division. Route 84 also has stops available for students at Lakeshore Residence Halls, as well as at the University Hospital.
Hours: 9:00 AM – 6:30 PM
For those individuals that do not have immediate access to the University shuttle, the City of Madison Metro runs through Routes 80-84 to ensure each passenger is able to get to the University if necessary. The City of Madison Metro also allows free fares for those stops on campus. (see The City of Madison Metro schedule previously mentioned for any information about scheduling and hours)
Schedule
Each route has its own individual hours, ranging from all-day shuttling services to evening and late-night stops. This is to ensure students are able to access each part of campus at any time of the day and during any time of the semester.
Holidays can alter the start times and finishing times of bus routes, and at times may even cause the canceling of shuttle services. The University shuttle observes all major holidays and this results in no available shuttling services.
Fare
The University of Wisconsin-Madison is aware of the unique financial situation of each student and because of this, they provide free fares for all routes on campus 80-84. This is to encourage and incentivize students and faculty to take public transportation and to make the commute to school more convenient.
Taxi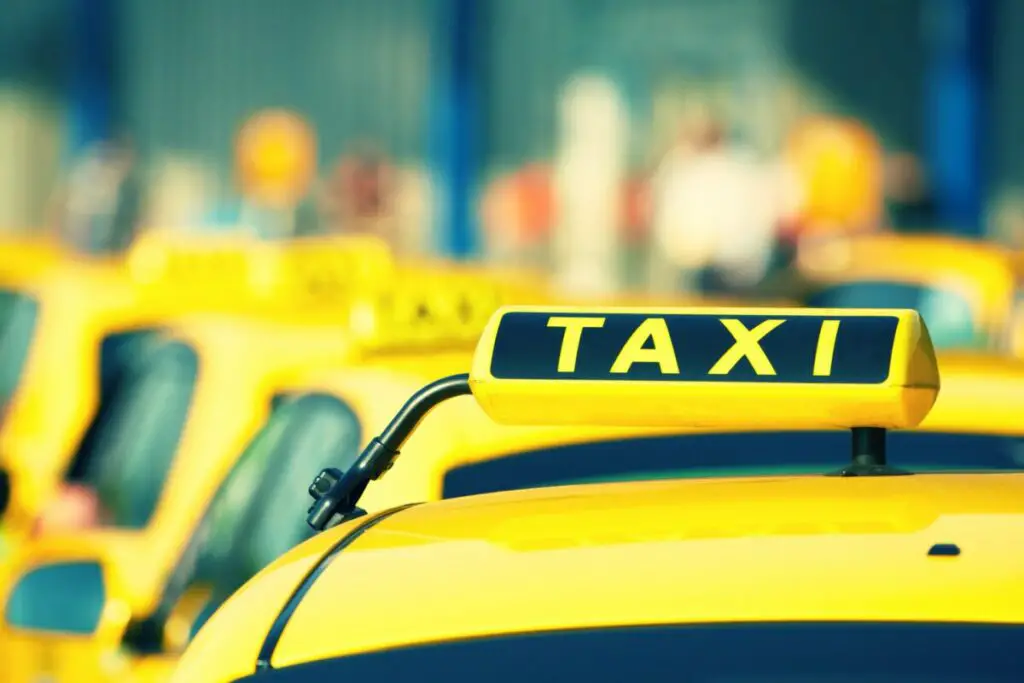 When shuttling does not work, there are always more personalized ways of travel. The City of Madison has several Taxi services that can meet you wherever you are and take you to a specific destination. While buses and shuttles can only take you to general locations, Madison's Taxi services can pinpoint locations and help you to get exactly where you need. 
Taxis are always stationed outside of the Dane County Regional Airport in Madison, Wisconsin, and will be available for any passengers' that are in need of a ride.
If you find yourself in the city with no taxi in sight, the Union Cab Co-op of Madison, Madison Taxi, or the Green Cab of Madison are one call away and will be there in minutes.
Taxis are a more private means of transportation and help you avoid the potentially long wait times at bus stops. With 24-hour service and professional and experienced drivers, you can get to your destination faster and avoid the hassle of parking your car.
Fares for Taxis are available with each Cab driver and payment options can be discussed upon arriving at your destination.
Finding transportation in a new place can seem intimidating, but Madison, Wisconsin has public transportation available for everyone at cheap and affordable rates. For locals, students, and tourists, the Madison City Metro, University Shuttle, and Taxi Services all work together to get you where you need to be.
Related Topics:
If you like the article above, here are some other similar articles you should check out!
13 Best Family Neighborhoods in Milwaukee, Wisconsin

9 Famous Celebrities Who Live in Madison, Wisconsin

Is There Public Transportation in Minneapolis, Minnesota?