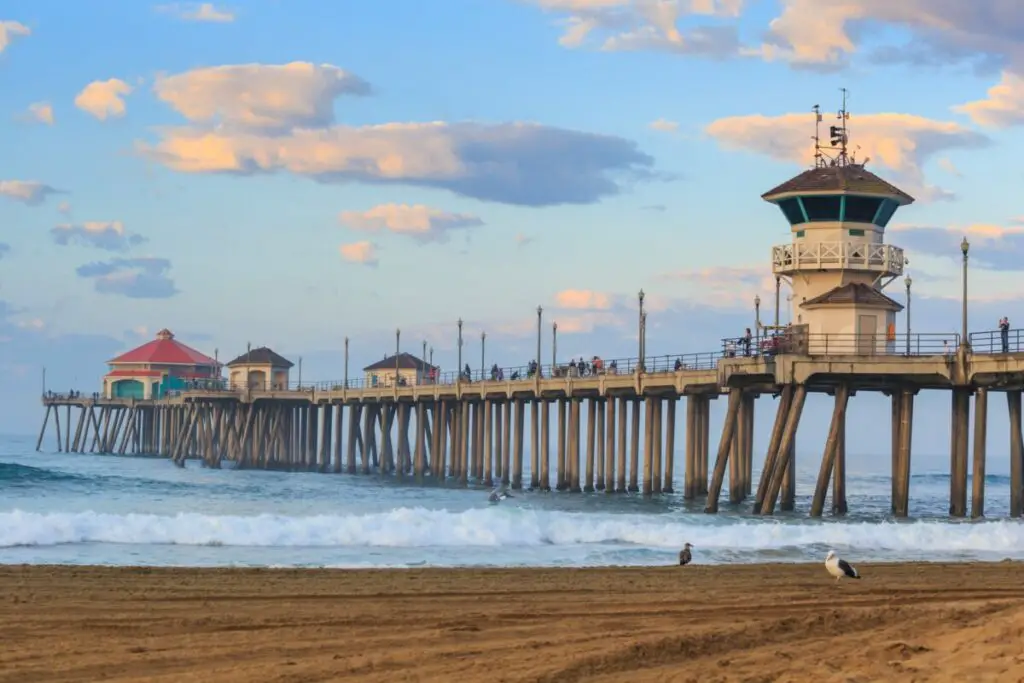 Traveling to Huntington Beach, California is extremely fun, but it can be difficult to have as much fun as possible without a car. You can always rent one, but sometimes renting a car simply isn't within the budget. So, is there public transportation in Huntington Beach, California?
There is public transportation in Hungtington Beach, California. It includes a bus and Amtrack system. The bus system in Huntington Beach is quite extensive. People can also use rideshare services or rent a bike to travel while in Huntington Beach without a car.
There are many places to go when visiting Huntington Beach, but how can you fit all of these places and activities into your vacation budget? Well, you can do that by using the various transportation systems below while on vacation.
Bus
Using the bus can work great for your vacation schedule. However, bus goers are typically people who are residents of the city. However, the bus system in Huntington Beach, California is great for vacationers are well as commuters.
The bus goes to the John Wayne Airport, which is super convenient for people who are traveling to Huntington Beach via plane and don't want to rent a car. There are a few other bus stops in the city that can take you closer to your hotel or Airbnb or other vacation rentals. This can be a great alternative to car rides because it is cheaper than single rides with ride-sharing apps. You will be able to fit more fun activities and extravagant meals into your trip by keeping these other traveling costs low.
Many of the buses in Huntington Beach stop

at various beaches, which is great when you are taking a beach vacation and don't want to fight to find a parking spot close to the ocean.
To ride the bus, you will need to pay the fare. Luckily, the fare for Hungtington Beach buses is relatively cheap at $2

per person per ride. If you plan on using the bus multiple times in one day, you can purchase a day pass for $5 ($4.50 if you pay ahead of time). There are also various discounts for seniors and disabled people

, but they vary depending on the type of bus pass you want to purchase.
Train
Using the train is great for those staying outside of Huntington Beach but are wanting to visit the city during their trip to California. Many families will want to stay somewhere they can get cheaper hotels or vacation rentals, and they want to stay somewhere where they can go do a lot of different things while on their trip. So, using the Amtrack train system will work well and get you to your many fun destinations.
The train is also perfect for those who need to commute to work daily or weekly. In California, it is common to commute 30 minutes or more to work, and if that is the case for you, using the train might be helpful. You may be able to avoid that dreadful California traffic, which would be a win.
The price of your Amtrack ticket

will likely vary depending on where you are traveling to and from, so plan your trip ahead of time. Luckily, Amtrack trains are oftentimes quite affordable, and you can even bring your cat or dog with you if you pay an additional fee of $26.
The train is fantastic for taking you to wherever your vacation takes you. If you are commuting to work this is perfect as well. But, it can also take you down paths that are beautiful and where no cars can go, so you have the opportunity to see sites that others can't. You can see the ocean for miles at a time, as well as beautiful trees and buildings.
Uber, Lyft, and Taxis
Huntington Beach, California has a large fleet of taxis at your disposal, which is useful when you want to get to your hotel from the airport or from your hotel to various places in the city. However, many people find that taxis are quite expensive, especially if you have a lot of people in the car. If you want to use a taxi in Huntington Beach, simply call a taxi service or flag one down on the street.
You could also use Uber or Lyft, which are two of the most popular rideshare services available. What is great about Uber and Lyft, along with other apps, is you can get rides and get food delivered to you and your family! So, whether you will need a ride to the airport, a ride from the beach, or you are craving some In-N-Out, utilizing these apps on vacation is very useful!
Uber and Lyft also allow you to calculate an estimate of how much your ride will cost, which will help you stick to your budget while on vacation.
Bike Rentals
While renting a bike may not be considered public transportation, you can definitely use a rented bike to get around Huntington Beach, California, especially because it is sunny almost year-round.
If you are visiting Huntington Beach and are close to everything you want to see and visit, you will likely walk or ride a bike everywhere you want to go. You will be close to the beach, restaurants, shopping, and much more. So, you will be able to make your trip fun without needing to rent a car. From time to time you might use a car to get around, but you might not have to!
Walking
It is extremely to walk around Huntington Beach, as there are many sidewalks and areas where cars are not allowed. However, you may have to dodge bikes and other pedestrians, especially when you are on or near a beach.
Pedego
Pedego

rents out electric bikes for you to ride and enjoy the California sun. They are open from 10 am-5 pm every day, and they have rates for riding per hour and riding per day. The rates also change depending on the type of electric bike you rent, so some bikes are more expensive than others. You can spend $20-$30 per hour or $75-$100 a day.
Surfboard and Bike Rentals
You can rent electronic bikes through the Surfboard and Bike Rentals

company as well. You can call ahead, and they often ask you to, or you can see the options they have in person. They mainly operate on the beach, renting bikes and surfboards to people walking by. You can reserve things ahead of time, or find one of their locations and get it whenever you please.
If you rent a bike through this company, you will only have to pay about $15 per bike per day rather than per hour, which is quite cheap if you plan on using the bike all day. However, this may not be the best deal if you only plan on using the bike for a few hours. This company also has bundle deals where you can get a towel (or multiple towels) depending on the package that you choose.
If you don't want to ride a traditional bike, you could also rent an electric one. However, electric bikes are much more expensive than traditional ones at about $75 for 4 hours or $125 all day.
This company also rents out surfboards, as the name suggests. While renting a surfboard may not be the best thing to do when trying to travel around Huntington Beach, it will likely be useful while you are at the beach.
Fun Wheel Rentals
The Fun Wheel Rental

company is great for taking a group of people out while staying in the shade. Have you ever seen multiple people riding a bike that has an umbrella attached in a movie or TV show that is on the beach? Well, the Fun Wheels Rental company rents out those types of bikes.
Their bikes have four wheels and can fit up to 4 people in them at a time. Luckily, if you aren't with family members or friends, they also have bikes made for 1-2 people that you can use instead. They also rent out surfboards, beach supplies, electric bikes, and more. They offer a plethora of services, and they have prices that are consistent with the ranges above. This is extremely fun, and you can ride along the beach while looking over the ocean.
You will find them located by the pier, and you can rent from them in person or plan ahead and set up your rentals ahead of time on their website. However, keep in mind that during the summer, rentals will be limited because the demand increases quite significantly, so it may be hard to rent one of these bikes if you visit Huntington Beach during the summer.
Overall, there are a few public transportation options that you can choose from when living in or visiting Huntington Beach, California. If you don't own a car, live far away from your workplace and need to be in the office regularly, or simply don't want to sit in California traffic, you should definitely utilize one of these public transportation options.