Garden Grove is a city in California right at the border of Los Angeles and Orange County. Sitting in the heart of this urban area, residents and visitors often need to rely on public transportation to get around the city. Luckily, Garden Grove provides a variety of options for people to get around the city.
Garden Grove, California has a wide-ranging public transportation network. This network starts with a series of bus lines that cover each area of the city. The bus lines are supported by rail lines that connect Garden Grove to nearby cities. An upcoming streetcar will tie these two closer together.
However, it can be difficult to familiarize yourself with a new system, especially if you are new to the city. To help you adjust more quickly to how Garden Grove runs their public transportation, I've included some basic information about each of these options. Information, the price of the fare, estimated trip times, and popular destinations are included below.
How to Ride the Bus
The type of public transportation that people may be the most familiar with is buses. Since we grow up riding buses to school, they are familiar to us and we understand how they work. Buses are popular in cities because they can share the road with personal vehicles and do not require specialized infrastructure.
By increasing the number of buses on their streets, cities hope to reduce traffic and emissions from standstill traffic. This is especially important in the Los Angeles area, which is known for having some of the worst traffic in the country. Luckily, Garden Grove has a lot of buses that you can choose from.
The buses in Garden Grove are designed to cover the much area as possible. To do this, there are bus lines that run in a grid pattern, some of them running west to east and some running north to south. To help you better understand how these buses run, I've broken them down into two groups depending on each way that they run. I'll include some destinations that you might be interested in along each route as well.
North and South Bus Lines
Here are each of the north-to-south bus lines in Garden Grove. The first line is the westernmost of the lines, and the final one is the one on the eastern edge of the city.
Line 21: This line runs along the border between Garden Grove and Los Alamitos. The line runs along Valley View Street starting in the north at Buena Park Station. Following Valley View, the route runs south through the city and eventually goes to Huntington Beach.
Line 25: This bus line is very similar to the previous line. Starts at the same station before heading south down Knott into the heart of Huntington Beach.
Line 29: Runs every 15 minutes during rush hour. Connects the Fullerton and Goldenwest Transportation Centers.
Line 33: Runs south from Fullerton Transit along Magnolia.
Line 35: Runs south along Brookhurst Street
Line 37: Another rush hour line heading down Elucid.
Line 43: Starts at Fullerton Transportation Center before heading south all the way down to Newport Beach.
Line 47: The line starts at Fullerton before running to the southeast. Also a rush hour line.
West and East Bus Lines
Here are the lines running west to east. The first line is the furthest north and the last is the one at the southern border of Garden Grove.
Line 50: Runs every 15 minutes during rush hour and connects passengers to the Artic Metrolink Station.
Line 54: Another one of the rush hour lines, this one connecting you to the Orange Metrolink Station.
Line 56: Runs down the center of the city on Garden Grove Blvd. Links up with the Orange Station.
Line 60: Runs along the southern edge of the city. The line ends at the Santa Ana Metrolink Station.
To ride one of these buses, you will need to pay the fare for a local bus trip. A ticket will cost you $2 when boarding for a single trip. If you would like, you can also buy a day pass for $5 and ride as much as you want.
You can pay your fare while boarding the bus. Fare can be paid in cash as long as it is in coins or bills smaller than $10. Make sure to have the exact change while boarding, as the machine is unable to provide you with change. If you want to pay with a credit or debit card, you will need to purchase a ticket ahead of time online. If you purchase a day pass this way, you can get a discounted day pass for only $4.50.
How to Use the Metrolink System
Instead of needing to make a small trip around the city, you might need to travel to one of Garden Grove's neighboring cities. The best way to do this is to use the Metrolink system. The Metrolink is a collection of rail lines that connect cities in Los Angeles and Orange Counties to downtown Los Angeles. These lines can be used to ride into Los Angeles or away from LA depending on your needs. The closest Metroline runs east of Garden Grove, so you will need to find another way to get to the stations.
Luckily for you, OCTA, the Orange County Transportation Organization, has arranged a partnership between the Metrolink rail lines and the city bus system. As long as you have a Metrolink ticket for that day you are able to ride a bus that connects to a Metrolink station completely for free. By using the Metrolink, not only are you saving money on gas and repairs on your own vehicle, but you can also ride to and from the Metrolink Station for free!
The price of a Metrolink ticket will depend on how far you are planning on riding. Trips farther away will cost you more than a short trip to Anaheim, for example. Something to keep an eye out for is discounts on tickets. Common promotions are cheaper tickets on the weekend and discounted passes during the holidays.
There are a variety of places to the north, east, and south that you may want to ride on the rail system to. I've included some of these below, as well as an estimate of the ticket prices and the total travel time. Each of these trips starts at the Orange Metrolink Station, one of the closest stations to Garden Grove.
If you are heading north, you will almost immediately pass through the city of Anaheim. A trip from Orange Station to Anaheim will take only 5 minutes. The cost of a ticket is $2.50 for a single ride or $5 for a round trip. If you want to head further north into downtown Los Angeles, that trip will take you 1 hour to complete. A ticket will cost $9 or $18 depending on your plans for the day.
Heading east, you can make your way to Riverside along the rail line. A ticket to Riverside is a bit more pricy costing $20 for a round trip or just $10 for a ride out. The trip takes the same amount of time as it does to ride to Los Angeles, as it takes 1 hour.
If you plan on heading south, you may be looking to travel to San Clemente so you can visit the beach. A trip to San Clemente from Orange Station will take 45 minutes. The price of its ticket is $9.50 for a single trip or $19 for an out and back.
How to Ride Amtrak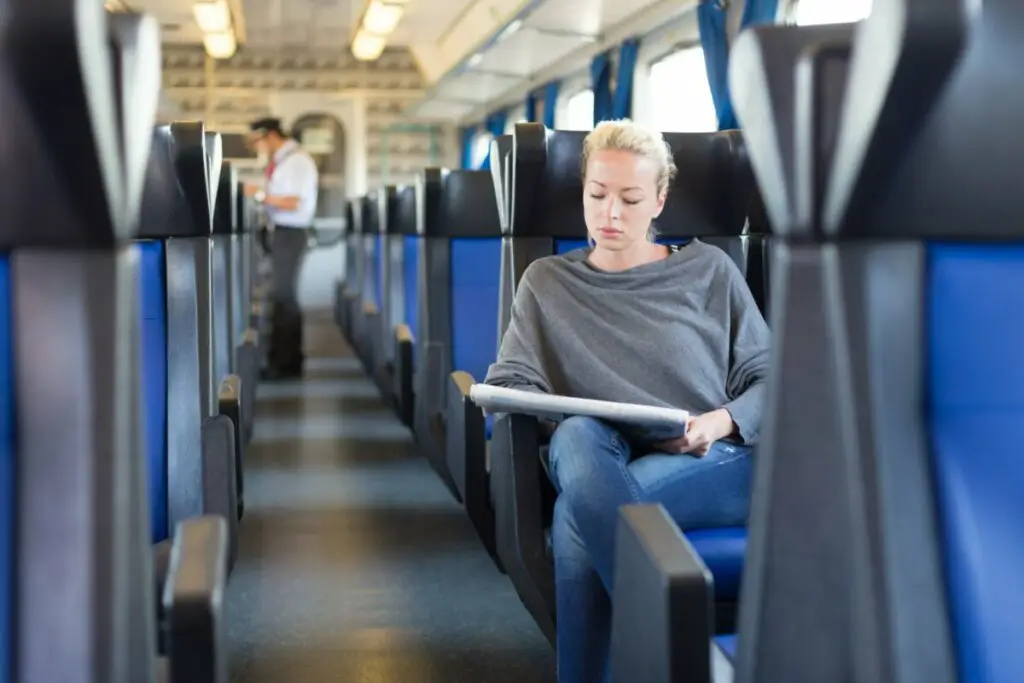 Another way to get around the area around Garden Grove is to take a ride using the Amtrak rail system. The Amtrak system is similar to Metrolink in that it is a rail line connecting multiple cities in California together. The biggest difference is that Amtrak is best used for longer trips, while Metrolink is excellent for short quick trips.
The closest Amtrak station is to the east in Santa Ana. One concern with using Amtrak is that while you can get a free ride to the Metrolink Stations, you are unable to do so at an Amtrak station. Keep the cost of a bus ticket in mind while looking a the price of Amtrak tickets. Speaking of tickets, here are estimates for trips you might be considering.
A trip to Los Angeles will take just under an hour (56 minutes) and costs a hefty $17 for a one-way ticket. A trip to San Bernadino to the east takes roughly the same amount of time and costs $16 a ride. If you want to ride all the way up to San Francisco, a trip will take over 11 hours and cost you $70.
How to Ride the Streetcar
Another way that you will be able to get around Garden Grove soon is by using the Orange County Streetcar. This streetcar is a partnership between multiple cities to help citizens to be more mobile around the city and to bridge the gap that sometimes occurs between existing forms of public transportation and people's residences.
To help alleviate some of these "last miles" concerns, the streetcar will connect neighborhoods in Garden Grove and Santa Ana. The biggest benefit of this streetcar to people in Garden Grove will be that it will provide easy access to the Metrolink and Amtrak rail lines. It is expected to be completed in 2024.