Denver is one of the largest cities in the US, so it's normal to wonder if it has high-quality public transportation.
Denver has several forms of public transportation that run all throughout the city. Denver has buses, a railroad system, and facilities at every stop with amenities for commuters like parking spots and bike racks. There is even transportation that goes to the airport and back.
Continue reading to learn about the various forms of transportation that Denver has to offer. We've got all the answers you need!
Buses
There are hundreds of bus routes and thousands of bus stops to choose from in the city of Denver. They run all throughout the city and the surrounding suburbs, making it easy to commute to work and back every day. Faires aren't too high with a local ticket costing $3 and a regional ticket costing $5.25. There are also discounts for seniors and young children. Active duty members of the military ride for free. If you are riding to the airport, your ticket will cost you $10.50. This is a much better option than paying at least $30 for an Uber or Lyft to the airport. The buses are quick and easy to use, all while not breaking the bank.
The bus routes run through Denver and to surrounding cities. Some of these cities include Aurora, Centennial, Westminister, Broomfield, Boulder, and Lakewood. There are several stops, making them easy to find and easy to get to your destination once you get off. Most buses run from 5 am to 10 pm every day of the week, except for Sundays when they run from 7 am to 7 pm. They run every day of the year, including holidays. On big holidays like Christmas and Thanksgiving, the bus schedule follows a Sunday schedule of 7 am to 7 pm.
There are several facilities at most bus stops with amenities for bus riders. The facility in central Denver has bike racks and bike lockers for commuters to store their bikes before they get on the bus and head to work. There are also park and ride stations where you can park your car near the bus stop, for a small fee and sometimes nothing at all.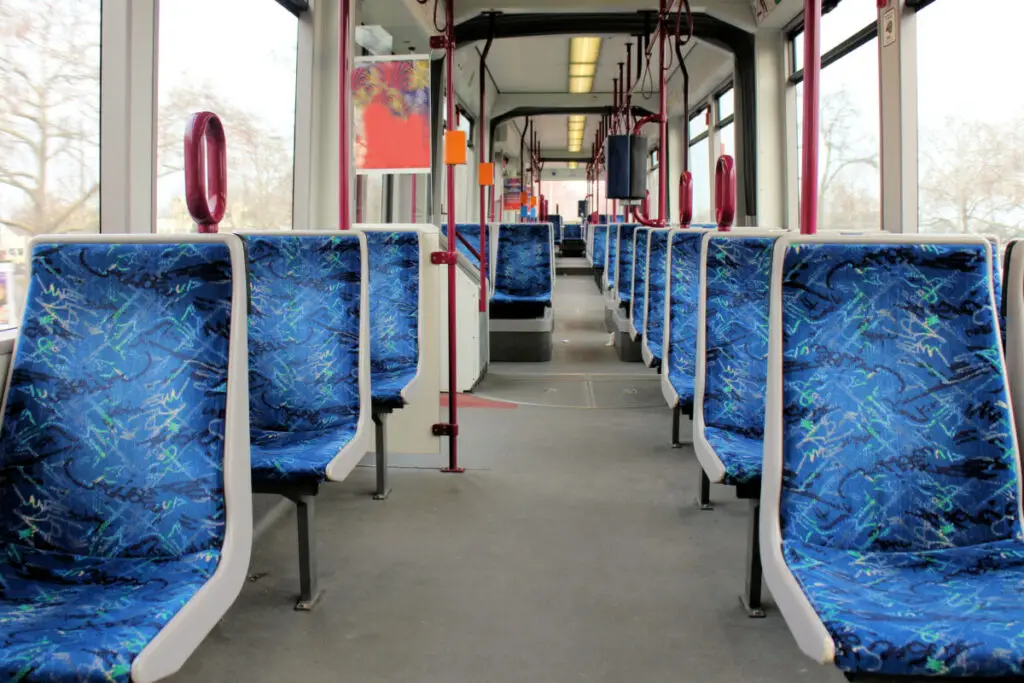 Light Rail
The light rail has several routes and 50 stops to choose from through the metro area, including the airport. Prices to ride the train are the same as a bus ride. $3 for a local ride, $5.25 for a regional ride, and $10.50 to go to the airport. Whether your ride is local or regional depends on how far you travel and how many zones you cross. Of course, there are discounts for senior citizens, and young children, and no cost at all to active duty military for the United States.
The trains have a few different routes, running east and west to the union station, airport, gateway park station, colorado station, Pena station, blake station, and Peoria station. They run anywhere from 3 am to midnight, sometimes as late as 2 am. The trains are a great way to get around town. Just make sure to check your stop beforehand as times and schedules are subject to change over the months and years. The trains run every day of the year, with limited times on major holidays and Sundays.
Airport Rail
There are a few different options for getting to the Denver airport through public transportation. No matter where you are in the Denver metro area, the ride to the airport will cost $10.50. The SkyRide bus runs every hour, throughout the day. There is one route that runs from Boulder to the Airport and another that runs from Arapahoe County to the Denver Airport. The Skyride is fully equipped to take you to the airport with several storage compartments on the bus to store any of your luggage whether it be a suitcase, duffel bag, or skis if you just finished up your ski trip. The bus drivers will then help you with your luggage as you descend the bus.
The next option is the A-line train. It runs every fifteen minutes throughout the day and every 30 minutes in the early mornings or late nights. Just like the other buses and trains, it runs every day of the week and every day of the year. The A-line starts and stops at the Union Station with a destination of the airport. It runs through Aurora, Park Hill, Central Park, Green Valley Ranch, and of course downtown Denver. With the train being level with the station, you can roll your luggage right onto the train without dealing with inconvenient steps. Once you are on the train there is plenty of storage for your luggage.
If the A-line doesn't run through your current location, you can take the R line train to an A-line connection at Peoria station. No matter where you are in Denver, you can get to the airport smoothly and safely.
Mall Ride
If you are already in the Denver area and need to get somewhere downtown, take the free mall ride! The mall ride is a system of electric buses that takes you to different areas in downtown Denver like restaurants, shops, museums, and other popular sights. The best part is, it's free! You won't have the liberty of stopping anywhere you want and having a private ride like a taxi or uber, but it will get you where you need to go eventually.
On weekdays the bus departs from Union Station at five am and runs downtown from 6 am to 6 pm. The last one departs from Union Station around 1 am. On the weekends the first bus leaves union station between 5 and 6 am, running every 4 to 15 minutes. The last bus departs the union station at 1 am. One thing to remember about the mall ride and the buses is that schedules can be impacted by a few different factors. These factors include weather, traffic, medical emergencies, and other passenger needs.
Bikes and Scooters
In recent years, getting around town on an electric bike or scooter has become extremely popular. Recently companies like Lime and Lyft have come to Denver! Before these companies come to a city, they need to get approval, and so far these are the only two companies that the city of Denver has approved.
Riding electric bikes and scooters is fairly easy, especially with these companies. You can find the scooters anywhere in the city, but the electric bikes do need to be parked at certain stations for charging purposes. All you need to do is choose your company and download the corresponding app. The app will then help you locate a bike or scooter within the city. Once you find your vehicle you can enter payment information into the app, scan the scooter to unlock it, and start riding! It is so simple and easy to use, as well as easy to get around. Since these bikes and scooters have more capabilities than normal rides, there are a few rules. Make sure to wear a helmet, stay in the bike line, and be considerate of those around you
Lyft scooters go up to 15 miles an hour and in Denver, they will cost around 30 cents per minute. along with a $1 fee for using the scooter. (Source) Lyft bikes are the same cost as scooters, with a $1 unlock fee and 30 cents per minute.
Lime also has electric bikes and scooters for a similar price. One benefit of the bikes is that they will sometimes have a basket in the front to carry your groceries, backpack, or whatever it may be. No need to worry about going too fast, as Lime vehicles are capped at the speed limit. The scooters cost $1 to unlock and 15 cents per minute. For more information about vehicles in Denver, you can download the app for prices and specific locations. Electric bikes and scooters are a great way to get around if you are only needing to travel a short distance in the city.
What the Locals Say
Something to remember is that public transportation is not always perfect. Residents have said it is not their favorite and they often resort to using their car. The buses don't stop at every mile, so you will still need to do some walking. Just like everything else in life, we need to be prepared for things not going our way. This includes bus schedules and rides to the airport. The buses may not always be on time, but they will get you to your destination.
Something nice about Denver public transportation is that it runs through the suburbs outside of Denver, not just the major city itself. You can take a bus or train and you won't have to drive too far into the city for work. Many locals say that the city plans on expanding the system to run more routes than just north or south to downtown.
Related Topics:
If you like the article above, here are some other similar articles you should check out!
11 Things to Know Before Retiring in Denver

13 Best Family Neighborhoods in Denver, Colorado

Is Colorado Springs, Colorado a Liberal City?