Are you trying to figure out the best way to get around Chandler? Well, you're in the right place. Here is what you should know about public transportation in Chandler, Arizona.
Chandler, Arizona has public transportation in the bus system provided by Valley Metro. The buses travel along all the main streets of Chandler north of Highway 202, and the system serves the entirety of Phoenix. There is also an active carpooling community, as well as rideshare and taxi services.
Though the buses only serve the north side of Chandler, they're not the only way to get around. After discussing the bus system, we'll look at Chandler's on-demand ride service as well as other transportation options.
Valley Metro
Valley Metro is the system that is responsible for public transportation in the area around Chandler. They run buses, streetcars, and rails, but there are only a few bus routes in Chandler, and they're only in the northern part of the city. The bus routes can be pretty useful for that part of Chandler, but if you don't live in the north side of Chandler, you are out of luck for the most part when it comes to public transportation.
For more customizable services throughout the greater part of Chandler, you'll want to check out the new on-demand shared ride service Chandler Flex.
Routes Available
Valley Metro has 4 types of bus routes

available in Chandler: Frequent, Regular, RAPID, and Express.
Frequent buses come every 15 minutes on weekdays and every 30 minutes at night and on weekends. Chandler has one Frequent bus route, Route 112, which runs north and south on Arizona Avenue.
Regular buses each stick to a schedule. These buses run on nearly every notable street in Chandler north of Highway 202. They include Route 156 on Chandler Boulevard, Route 140 on Ray Road, Route 96 on Dobson Road, and Route 104 on Alma School Road.
The RAPID bus is a service that provides fast and frequent transportation at peak hours of the day. The only RAPID bus running through Chandler is the I-10E, which makes just one stop at the 40th St/Pecos Park & Ride before going straight to downtown Phoenix, so you'd only use it to get to and from Phoenix quickly.
Express buses are buses for quick and direct commutes. Route 542 has one stop at the Chandler Park & Ride before going straight to Downtown Phoenix. Route 541 makes several stops along Knox Road and Alma School Road, then goes to Phoenix as well.
Planning Your Trip
Valley Metro's system map

is easy enough to use if you know the general area you want to be, but not so much if you don't know the street name or address to look for. So, what's the quickest way to find the route you need?
Despite the fact that Valley Metro has its own built-in trip planning tool, I recommend using Google Maps to find the transit route you need. It's simple and intuitive, and you can easily make adjustments as needed. Just put it your starting location and destination, then select the Transit method of travel. It'll show you which bus stop to go to and how far to take it.
Where Google Maps has the upper hand over Valley Metro's tool is that you can tap a location to use if you don't know the address. Just find it on the map and tap it to add it to the directions. Valley Metro's tool appears to have the same kind of functionality, but it goes by coordinates rather than addresses and doesn't work as well.
To customize your trip, you can specify the time you want to leave or the time you want to arrive, and the results will give you an itinerary to follow to get there on time. You can also set preferences such as fewer transfers, less walking, and accessible vehicles.
Alternatively, you can use the Valley Metro app

. The app has the added bonus of letting you track your bus's location in real-time. You can also save your favorite stops and get notifications about your ride.
Paying Fares
When you get on the bus, you'll have to pay the fare either with exact change or by showing the driver your bus pass. Credit and debit cards are not accepted at the farebox, so if you don't have exact change, you'll be out of luck. So, what can you do to make paying fares more convenient?
To save time, money, and stress, it is likely a good idea for you to get a pass. Passes give you access to a lot more rides per dollar when compared to always just paying for the single ride fare every time. Choose the pass based on how often you expect to ride the bus to get the best value.
Passes can be bought in multiple ways. You can buy them at the Ed Pastor, Central Station, Metrocenter, and Sunnyslope transit centers. You can also purchase them at certain retailers and online

. Online passes can't be printed or downloaded. Instead, they are shipped to the mailing address you provide.
You can use a normal Local pass on RAPID and Express routes, but an extra fee will apply, which you'll have to pay with exact change. If you expect to ride RAPID and Express often enough, it might be worth it to get an Express/RAPID pass instead of the Local pass.
Reduced Fares
Some people can get reduced fares

. People who qualify for reduced fares are youth ages 6-18, seniors ages 65 and older, Medicare card holders, and people with disabilities.
When you pay the reduced fare, you will have to present proof that you qualify. This includes when you buy the single-ride fare and when you show your reduced-fare pass when boarding.
Documents that show proof of qualification and identification are Arizona driver's licenses and non-driver IDs, current school IDs with a photo, and Medicare cards. You can also get a Valley Metro Reduced Fare ID card by using the appropriate identification documents to apply. There's a $5 fee to get the card.
Chandler Flex
Maybe the bus doesn't fit your transportation needs. Maybe you need something that is quicker and more customizable, or maybe you're not close enough to the bus stop you need. With Chandler Flex, all of those problems are solved.
Chandler Flex

serves a greater portion of the city than the bus service does, stretching all the way from Chandler Boulevard to Chandler Heights Road. It's an on-demand service that can take you to any destination within its service area, whether that's work, your favorite park, the library, or a bus stop. It even takes students to school for free!
To book a ride, you can either set up an account on the Chandler Flex app or call them. After providing the pickup and dropoff details, they'll give you some options to choose from. After you've chosen the ride, head over to the pickup point they give you. You might have to walk a bit, but no more than a block.
The app provides you with a picture of the car, its license plate number, and the name and picture of your driver. Be aware that rides may be shared, so there may be another passenger.
As for fares, rides are free during the promotional period. After that, one ride will be $2, though you can add an additional passenger to your ride for just $1 extra. Middle school and high school students ride for free with their student ID cards, and seniors aged 65 and older will only pay $1. Wheelchair-accessible riders will also only pay $1.
Other Transportation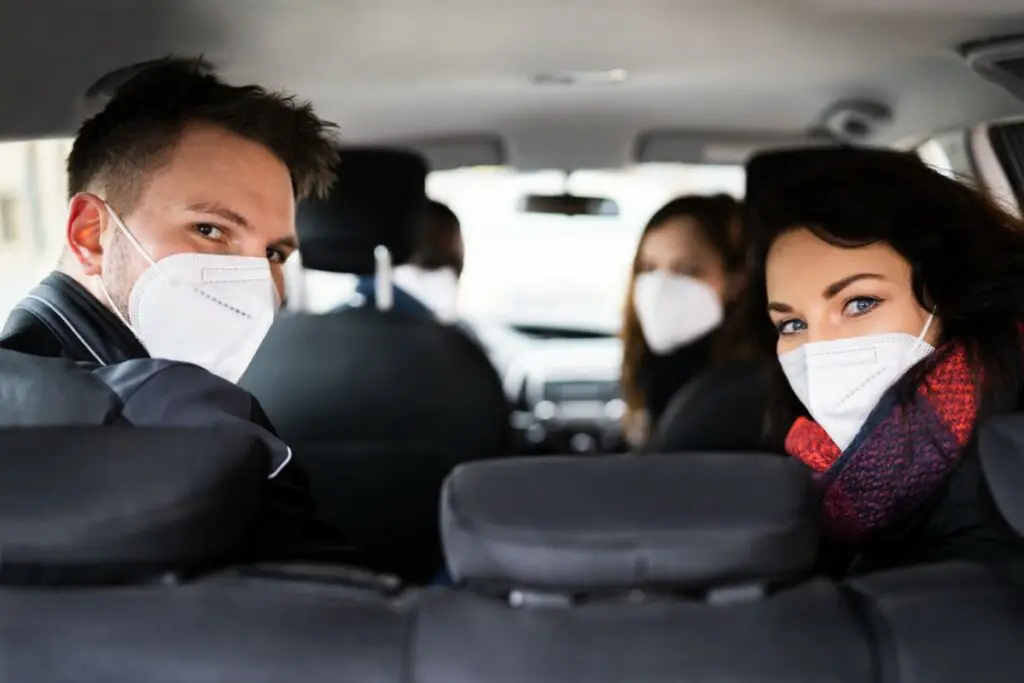 Carpools & Vanpools
If you want cheap, frequent transportation, it might be ideal to set up a carpool or vanpool. If you can't find a carpool with neighbors or coworkers, you can use a tool called Share the Ride

to find a carpool ride match. Put in the details of your commute, and it will show you all the rides that come close. Just make an account to be able to contact the listed rides.
Valley Metro also has a vanpool

service where they drive 6 to 15 people to work together.
Carpooling and vanpooling reduce the number of cars on the road, so your transportation contributes less to pollution and road congestion. It also reduces your stress about getting from one place to another, and you will spend less on gas. Altogether, it's a great commute solution.
Ridesharing and Taxis
For a more private transportation service, you may choose to call a rideshare service or taxi. There are a few taxi companies that serve Chandler, but it might be difficult to find one that you like. Some of the services listed on Yelp and Google are actually closed, but a few that are still around include Gigi's World Kids Taxi, Chandler Budget Transportation, and Arizona Taxi.
You can also get an Uber or Lyft driver if you want a process that's possibly cheaper and more convenient.
Biking
For short trips, you may just want to ride your bike to get to your destination. If that's the case, you're in luck because many streets in Chandler are bike accessible. This is a great option for when your trip is only a few blocks and you don't have to carry anything that would make biking awkward.