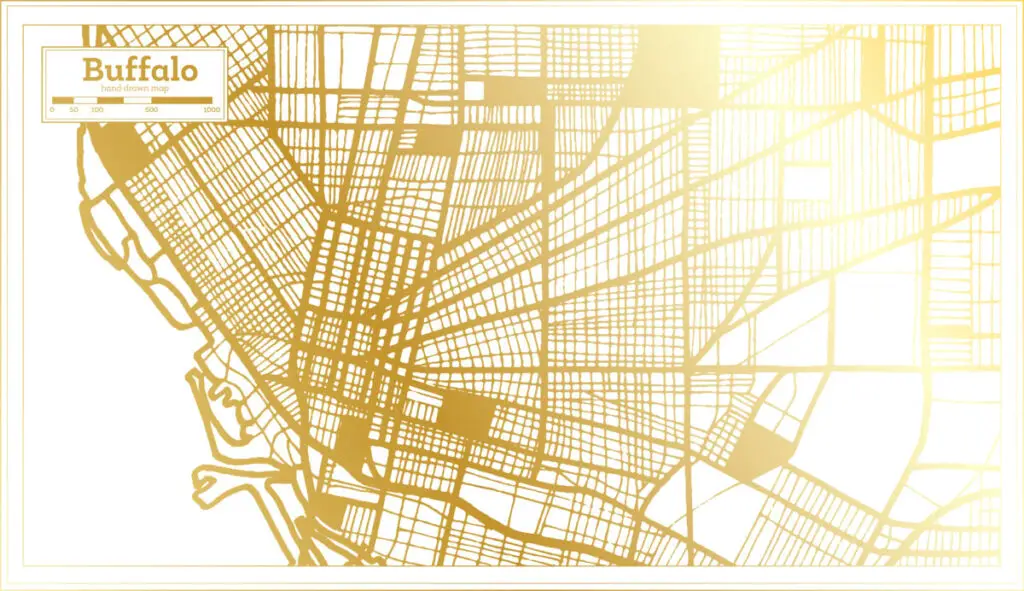 Buffalo, New York, the 2nd largest city in the entire state of New York requires some clever knowledge and a tough attitude to be able to navigate the buildings among almost 256,000 people. Not to mention the millions of people that visit the city every year. So, what is the public transportation system like in Buffalo, New York?
Buffalo, New York has public transportation comprised of buses and metros. The buses and metro serve the entire city and tickets can be purchased online, on the bus, or at ticket machines around the city. Buffalo is also served by the Buffalo Niagara International Airport.
Overall, Buffalo has a great public transport system that reliably services thousands of people a year. To learn more about it, keep reading.
History of Transportation in Buffalo
Buffalo was first settled in 1789 after it was purchased by means of the Holland Land Purchase. Its growth, however, is entirely credited to transportation.
When a plan for the Erie Canal was submitted to join the Great Lakes with the Hudson River, and by literal extension the Atlantic Ocean, in the late 1700s, Buffalo was chosen as the terminus. The Erie Canal, while now mostly obsolete, fostered extensive growth across all of New York State, with Buffalo being a special example. Before the Canal, Buffalo was little more than a village, but with it now being in a position of great facilitation of good between the canal and the midwest, it grew to what it is today.
The origin of the bus system can be traced back to 1834, just two years after Buffalo became incorporated. Back then it was a horse and cart service, but it steadily grew from there. Over the next 60 years, Buffalo became more connected to other cities through the railway and expanded its horse and cart system. It was reported in the 1870s that the horse-cart system carried over 5 million

people every single year.
By the 1890s, horse-cart became less popular, and in their stead, electric street cars took over. The trolleys allowed continuous transportation from Syracuse to Buffalo and served millions of people every year. The immense power of faster travel manifested itself when a person could travel by the Erie canal or train from New York City to Syracuse, then ride the electric railways to Buffalo, and then go by boat all the way to Wisconsin.
However, the prestige and effectiveness of the electric railway system died by the 1930s as the Great Depression put public transportation services out of business. A few natural disasters added to the already deteriorating system, and slowly, public transportation died away.
But a rival was not far away. In the 1960s, with the increase in suburban population and the invention of better radios and air conditioning, Buffalo experienced a public transportation revival. In 1979 the metro line was completed, and since then, it has continued to be improved each year.
Metro Buses and Rail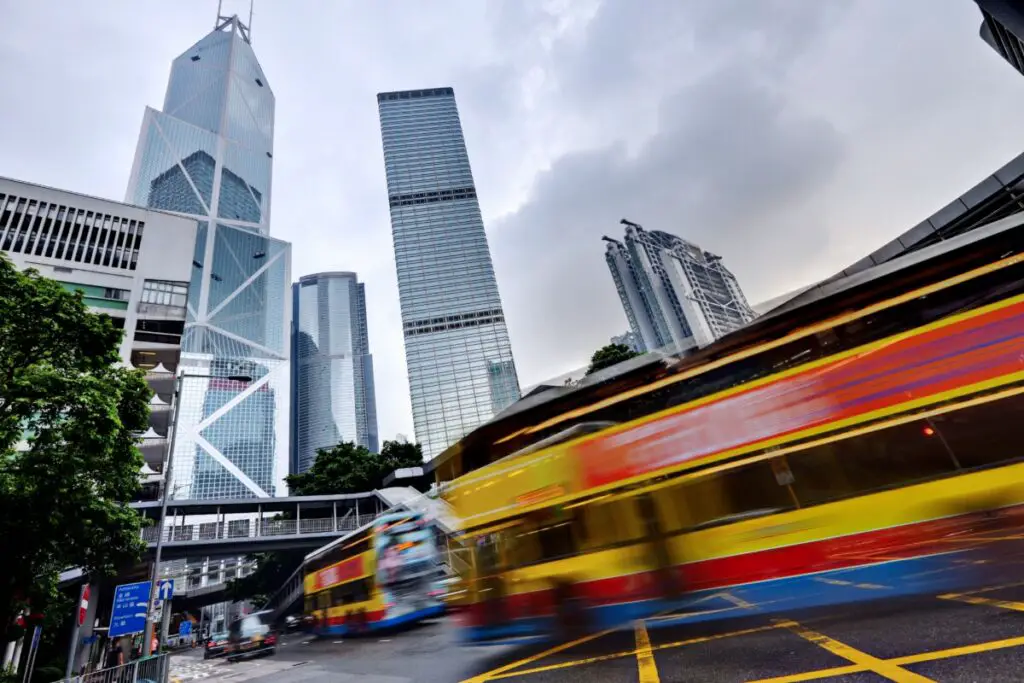 Maybe somewhat confusing, the Niagara Frontier Transportation Authority (NFTA) refers to the buses as well as the rail lines as the metro. That's not how every city sees it, but just know the metro can refer to either system.
The NFTA boasts of having 323 buses in use and many of them are run on clean energy instead of diesel. That includes 99 that run on compressed natural gas instead of petroleum. There are 47 bus routes and a staggering 3,900 bus stops. Buffalo does quite well in supplying the city with a large amount of availability.
Everything that is desired to be known about the Bus fleet of Buffalo can be found in this 2022 report

. Right now, one of the main focuses is getting back to pre-pandemic numbers. The buses still serviced over 10 million rides, but almost all of their numbers are still down due to the pandemic. Challenges include fewer bus routes, fewer stops, and fewer buses. 2022 saw a great improvement over 2021, but there are still shortages.
One of the more direct impacts is a lack of new buses. Generally, the NFTA gets new buses every year to replace older ones, but no such refreshment happened this past year. The buses are still reliable, but eventually, new buses are going to have to be brought in.
Similar problems presented themselves to certain safety metrics like employee injuries and environmental impact. Because bus drivers are driving more each year, they are more likely to get into an accident and have to drive diesel buses more often. Again, this is all an improvement from last year, but it is important to understand that the bus system isn't quite back to normal.
The buses, despite the pandemic, have actually remained about as on time as ever, hovering around 82%. The parameters for being considered on time is being no more than two minutes early or four minutes late. Inside this 6-minute window, the drivers/bus are considered on time. I myself am less inclined to consider a bus four minutes late on time, but it still isn't bad. If 82% of the buses are arriving within essentially 3 minutes of the listed time, that isn't all that bad.
The rail line is much more strict when it comes to punctuality. The window that is considered "on time" is just one minute late and zero minutes early. The metros were reported to be on time 87.5% of the time, though in the past that statistic is closer to 90%. The metro and bus are typically more on time on Sundays and around 5 am or midnight.
The rail line covers 6.4 miles and has 27 rail cars. It has been described as reliable, but due to the pandemic, it isn't as reliable as it was beforehand.
It's also useful to know that in the department of customer relations, the metro system does a wonderful job. The 2022 report has many more statistics than what most people even know to ask for, but it is noteworthy that the average caller waits only 9 seconds to talk to a representative and speaks to them for an average of 1 minute and 39 seconds. Complaints have also been trending downwards for the last 5 years, which is an amazing feat considering what obstacles are in their way.
Buffalo Niagara International Airport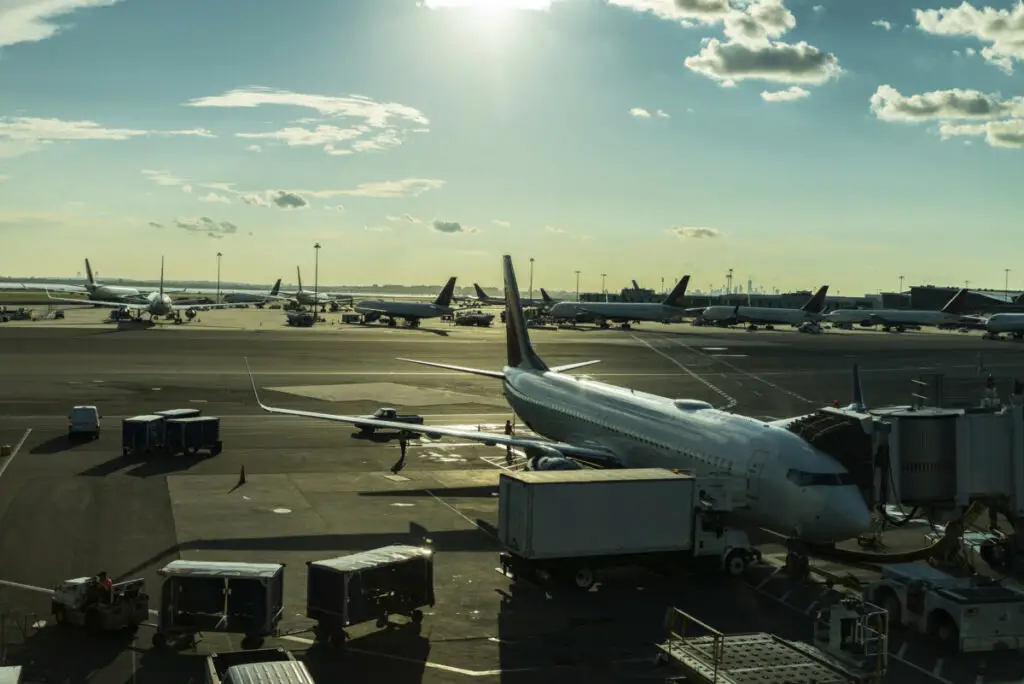 Built in 1926, the Buffalo Niagara International Airport serves a surprisingly important role in travel between The United States and Canada. Not only is it heavily used to fly between the two countries, a surprisingly large number of Canadiens travel to Buffalo in order to use that airport. In fact, somewhere (depending on the year) between a third and a half of all travelers are coming from the other side of the US-Canada border.
It is the third busiest airport in New York state, having over 2.5 enplanements in 2019. It falls well behind the John F. Kennedy Airport and LaGuardia Airport. It only has two runways, however, so it is can be common to have delays.
One consistent problem that is always looming is the weather. Buffalo gets yearly winter storms with some much worse than others. It is common to have snow storms cancel and delay many flights during the winter. The same is true across the state, and so it can be a huge struggle to try to find an alternative route.
However, I can speak from experience to say that it is a blessing to be able to have several other primary airports that aren't too far away. The Rochester and Syracuse airports are only about 3 hours away from each other, and the Toronto Airport is also only roughly 60 miles away. If something goes wrong with the Buffalo Niagara airport, there are other options close by. The only problem is that often when a snow storm hits Buffalo, it probably is hitting Rochester and Toronto as well.
Overall, the Buffalo Niagara airport is a charming and reliable airport that offers a better experience than most others, in my opinion.
Trains
Though not used as frequently, there is a train/rail system that covers the entire state of New York and can be accessed in Buffalo. The system can take you pretty much anywhere in the state and can be used effectively in a pinch due to previously mentioned storms.
There have been many times when people trying to fly into Buffalo, Rochester, or Syracuse have had their flights canceled and instead fly into New York City and take the train to their desired destinations. Beware, however, as the train from New York City to Buffalo will likely take around 8 hours.
In the end, thousands of people exclusively use the public transportation system of Buffalo, New York in order to navigate the city, and the trains and planes used to get to and from Buffalo to many other cities around the State and country are reliable and easy to use. As long as you remember all the public transportation systems have to deal with labor shortages and winter storms, you will not be dissatisfied with what is offered.