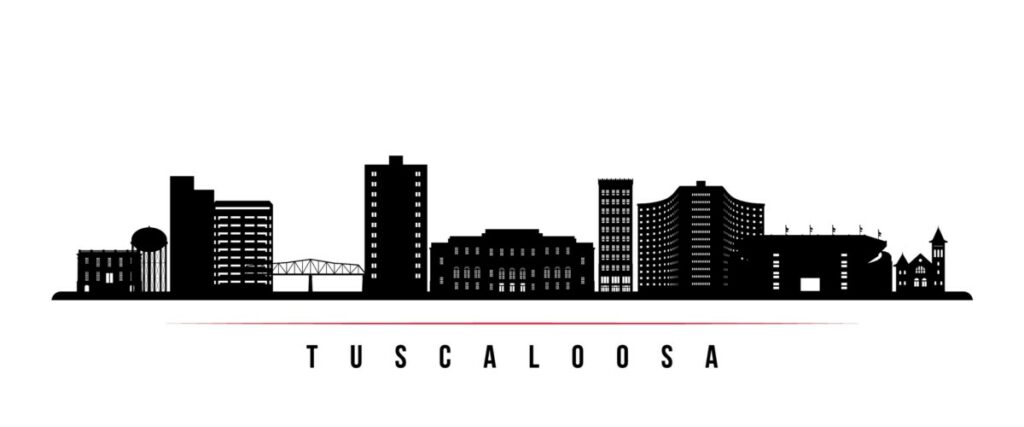 Home of the University of Alabama, Tuscaloosa is a popular and loved place for all football lovers. With fairly warm weather year-round, a booming job market, and a low cost of living added to this as well, it is no wonder that everyone wants to move there! Even though Tuscaloosa has many great attributes to offer, it is just like any other city in that there are negative factors to consider as well.
Tuscaloosa, Alabama has high crime rates that exceed the state and national averages in overall reports, as well as those of violent crime and property crime reports. It is statistically shown to be safer than only 8% of cities in the United States.
Be sure to research the crime reports throughout Tuscaloosa or any other city you are researching, before moving there. Crime maps can be referenced with the use of statistics as well to know which crimes are the most and least common to occur in specific neighborhoods or parts of a city. More information on the crime rates in Tuscaloosa, Alabama is provided in the subsequent subheadings.
Crime Report Summary
As decided in the review of all crime reports made in cities across the United States, Tuscaloosa is only safer than approximately 8% of cities in the nation. And for those wondering, yes, this also means that Tuscaloosa is more dangerous than 92% of US cities. This is not a large surprise after viewing the number of cases reported on crimes within the city, regardless of the type of crime.
There are a total of 3,931 total crimes that are reported annually on average in the city of Tuscaloosa. This makes for a high number of 39.47 crimes committed per 1,000 residents that are recorded as living there. Even though this covers all types of crime, these numbers are concerningly high for a single city to be producing at an annual rate.
Of these nearly four thousand overall crimes, there are approximately 441 that are violent crimes of any kind. Some examples of violent crimes include murder, rape, robbery, and assault. Based on violent crime totals, there are 4.43 violent crimes committed per 1,000 residents of the city as a whole. The property crime rates in Tuscaloosa are far higher than this! For every 1,000 recorded Tuscaloosa residents, there are approximately 35.04 property crime reports annually. This adds to a total of around 3,490 property crimes in Tuscaloosa over the span of a year.
In Tuscaloosa, there are 56 crimes reported within the city for every square mile it has within the city's boundaries. This is a full 2.1 times more crimes than are reported per square mile of the United States on average. Tuscaloosa also exceeds the average in the state of Alabama for crimes committed per square mile. There are approximately 4.7 times more crimes committed per square mile in Tuscaloosa than the state average, which is only a total of 12 crimes per square mile.
Property Crime Rates
Property crimes are generally crimes of lesser degree than violent ones. Some examples of property crimes include burglary, theft, motor vehicle theft, arson, shoplifting, vandalism, and trespassing. There are far higher reports of property crimes than violent ones in nearly any area, and this includes Tuscaloosa as well.
A person that is inside the city of Tuscaloosa has a claim to a 1 in 29 chance that they will be the next victim of a property crime within the city. These odds are two times worse than those offered by the state of Alabama, which receives considerably fewer crime reports in relation to the number of residents there. While in the state of Alabama, every person has a 1 in 48 chance that they will be the next victim of a property crime committed there.
Approximately 35.04 property crimes are reported annually per 1,000 residents of Tuscaloosa, Alabama. As a whole, there are 19 property crimes reported annually in the United States on average per 1,000 residents. This is a lower average than both the state of Alabama and the city of Tuscaloosa. In the state of Alabama, 20.93 property crimes are reported per 1,000 residents.
Tuscaloosa Violent Crime Statistics
The violent crime statistics in Tuscaloosa, Alabama are higher than those of the United States and the state of Alabama's record on average per capita. For example, there are only 4.44 violent crimes reported annually per 1,000 residents in the state of Alabama as a whole. This is just higher than the national average of only 4 violent crimes per 1,000 residents recorded in the United States. The city of Tuscaloosa shows that there are approximately 4.43 violent crimes recorded for every 1,000 residents there.
All people who are in the city of Tuscaloosa have a 1 in 226 chance that they'll become the victim of a violent crime while there. This is just barely above the odds offered to each person in the state as a whole for violent crimes. In Alabama, every 1 in 225 people fall victim to a violent crime.
The Safest and Most Dangerous Neighborhoods in Tuscaloosa
Some parts of every city are more dangerous than others. Generally, lower incomes and higher poverty levels can be attributed to areas that experience more crimes. These areas are marked in red on the majority of crime maps. Many such maps and statistics show that the more populated areas of the city do have higher crime rates overall.
In terms of the safer areas in Tuscaloosa, there are many neighborhoods that experience the lower end of crime reports and are generally considered to be among the safest in the city overall. Several of these neighborhoods, streets, and areas are listed below to help those researching the city know which areas are likely to be among their most desirable in selecting a new home.
Stokes
University
Taylorville
Englewood
Community Park
Sherwood Drive and the University of Alabama
Munny Sokol Park
Buttermilk Rd and Bradford Blvd
Hwy 69 S and Kauloosa Ave
Rice Mine Rd NE and Crown Pointe Blvd