Pennsylvania is one of the oldest states in America. This has led to a complex and diverse state with a rich history in politics and industrialization. Pittsburgh adds to that diversity with its voting choices.
Pittsburgh, Pennsylvania is a liberal city, most likely due to its industrial history and urbanization. The city of Pittsburgh and the state of Pennsylvania have not voted conservative in recent years. Pennsylvania is a swing state and has swung between Republican and Democrat candidates for years.
How does Pittsburgh compare to its home state? What about the rest of the country? What kind of culture has developed in one of the United States' oldest cities?
Recent Voting History in Pittsburgh
The city of Pittsburgh is run by a mayor, who is supported by a City Council

of nine members, one for each of Pittsburgh's nine districts. Each of these political figures is voted for by the city's residents and serves a temporary term. The mayor as of 2022 is Edward Gainey, a registered Democrat who was voted in January of 2022 after elections held in November of 2021.
His term as mayor is set to last until January of 2026. His predecessor was a registered Democrat named Bill Peduto. The City Council is run by a team of entirely registered Democrats as of 2022, and while some of the members have only been part of the team since 2020, there are some who've been on the Council since 2008.
Aside from the mayor and City Council, Pittsburgh is guided by a series of Constables. These Constables are many Democrats but have a few nonpartisans, Libertarians, and Republicans in as well to add variety. To contact Mayor Gainey, you can reach him at 414 Grant Street, Suite 512, Pittsburgh, PA 15219, or call 412-255-2626.
How Pennsylvania Compares
Pittsburgh is steadily liberal, but how does that compare to Pennsylvania as a whole? Pennsylvania is actually an interesting case because while most cities are blue dots surrounded by red country, Pennsylvania is actually a swing state. Swing states are states that don't have a steady history of voting Democrat or Republican. Swing states are more likely to decide the outcome of an election, and Pennsylvania is no exception.
The Keyston

e State

has voted for the winner of an election more than three-quarters of the time in the past one hundred years. Pennsylvania's voting choices have been almost perfectly split half Republican and half Democrat in the past century, but in the most recent two decades have been heavily Democratic. Pennsylvania has voted Democrat over eighty percent of the time in the last twenty years and voted for Joe Biden in the 2020 election, showing a strong Democrat streak in the state.
This doesn't mean that Pennsylvania will turn totally blue – Pennsylvania has always been a tilting balance between the two blue cities sandwiching the red country – but it is a possible indicator for the future. Pennsylvania has a large blue city at either end – Pittsburgh, and the City of Brotherly Love, Philadelphia.
Like Pittsburgh, Philadelphia has been a big name in US history since day one. It was a major city during the founding of America and has continued to be a big name in manufacturing, much like Pittsburgh.
Between these two cities, however, is a large expanse of rural land that leans redder or more conservative. Perhaps because these cities are so far apart, the state of Pennsylvania doesn't reliably lean right or left. Being a swing state is big deal in America, and Pennsylvania makes the most of it.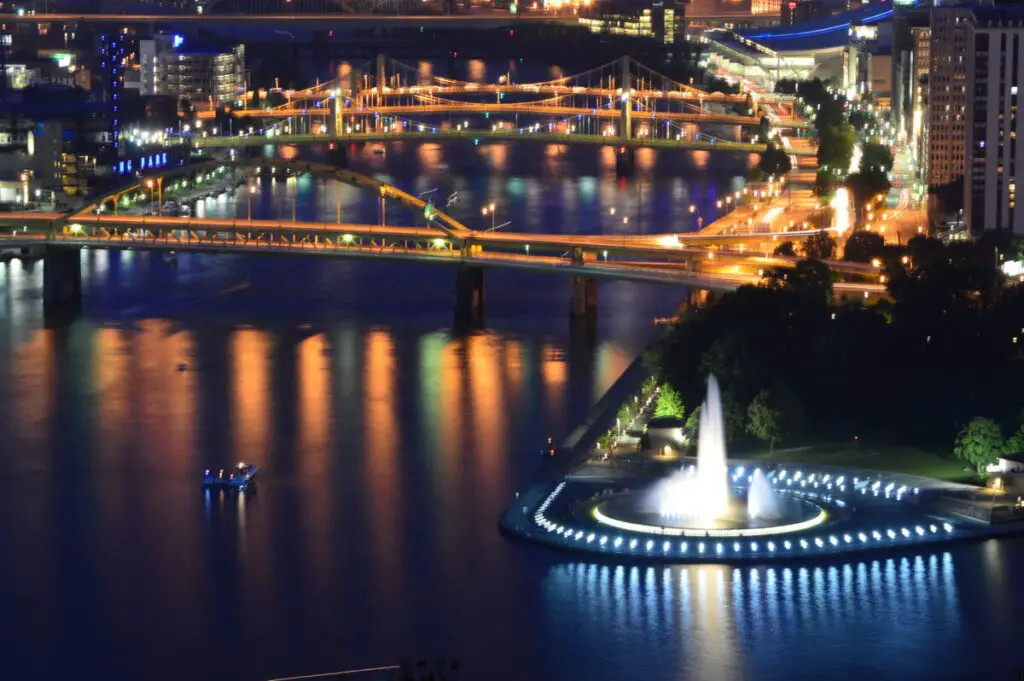 What it Means to Be a Swing State
Pennsylvania is a swing state, and that doesn't just just mean the state has a lot of playgrounds! A swing state is a state that doesn't have a reliable history of voting right-wing or left-wing and could vote blue or red in an election.
These states are given a lot more attention than non-swing states in elections, because politicians know they can count on those other states, and need to win over votes here. Swing states also give a more accurate depiction of how the country feels about political candidates because voters there vote based on how much they actually like a candidate rather than just following tradition.
You can look to swing states to get a better idea of who is going to win an election, and if they aren't voting for your candidate, you might want to find out why. Looking at the most highly populated cities in swing states can be a powerful indication of which way the state will lean. As the second largest city in Pennsylvania, Pittsburgh is an important area to be aware of in political elections and will affect the overall voting outcome of the state as a whole.
Polarization is a big problem in the US, especially recently. The past few elections have driven large gaps between people with different political views, gaps that are only worsened by the media, which often perpetuates polarization to gain more blind support for political candidates. Polarization may be beneficial for politicians, but it's horrible for Americans trying to see from opposing points of view and find a middle ground.
Swing states are a great example of what can be accomplished when states don't let themselves become polarized. This allows people in individual cities, like Pittsburgh, to form an individual opinion and really make an impact on an election, rather than states that consistently vote for the same party. Politicians try harder for them and are more motivated to become better leaders.
Pennsylvania has a history of demanding more than the best from its citizens, for better or for worse. This has led to a city that has remained at the top for hundreds of years. For now, Pennsylvania is a state to watch during any election, with an incredible history and promising future as a staple in American cities that influence the entire country. The largest cities in the state such as Pittsburgh, Philadelphia, and Allentown have the majority of the state's population and make an enormous impact on the outcome of voting within the entire state.
Voting Statistics in Pittsburgh
The recent voting statistics

in an area are the quickest way to get an accurate depiction of the political views and majority amongst the population of a specific city or county. Pittsburgh, for example, shows a strong liberal lean.
In the most recent Presidential election, held in 2020, 59.4% of voters in Allegheny County supported the Democratic Party candidate. Only 39% of participating residents in Pittsburgh voted for the Republican party candidate, and the 1.5% of voters that remain voted Independent in this election.
Clearly, the area is strongly liberal in voting tendencies, as is shown by the large majority of participants who supported the Democratic party candidate, who received nearly double the number of votes as the Republican party. This information is also relevant because of how recent it is.
Looking at the voting history of an area can be helpful in determining the residents' overall political views today, but the most recent elections are the best way of knowing this. It is also helpful to look at the statistics of a Presidential election, or another large and important election because more residents participate as voters in these than in smaller and local issues.
Financial Contributions
Another useful tool in determining the political views of an area is through the consultation of the financial contributions made within the city that were made towards individual political party campaigns over the last few years. Pittsburgh, for example, shows its liberal views through the financial contributions

that have been made in a recent time period.
Over the last four years, from 2018 through 2021, a total of $19,268,769 were given to political campaigns run by the Democratic party and liberal views within the city of Pittsburgh. This was received from a total of 59,965 individual contributions made, making an average of $321 given per contribution. These liberal ideals received significantly more support than their Republican and conservative opponents' efforts within the city.
Republican and conservative campaigns received only 7,037 contributions over the same four-year time span. In funds, their total was $6,385,795 received in the city of Pittsburgh, Pennsylvania. The average amount of money given per contribution for these Republican party and conservative campaign efforts was approximately $907 per contribution made.
These financial contributions are a clear indication of the strong liberalism present within Pittsburgh. In total, the Democratic party and liberal campaigns received $12,882,974 more than the Republican and conservative campaigns in the same city and time period. This is nearly three times more support received. Liberals also recorded a total of 52,928 more contributions made, which is an overwhelming 8.5 times as many as the conservative campaigns.
Such an incredibly large difference in the amounts of money and the amount of contributions made is a blatantly obvious indication of the political views in the city of Pittsburgh as a whole.
Over the last four years, the residents have shown 8.5 times more support in contributions and 3 times more support in the number of finances given to Democratic and liberal campaigns than to their opponents. Not only does this show a strong liberal majority within the city today, but it also shows that this has been a pattern in the area over the last four years, and potentially even longer!
Related Topics:
If you like the article above, here are some other similar articles you should check out!
Is there Public Transportation in Pittsburgh, PA?

17 Reasons Not to Move to Pittsburgh, Pennsylvania

13 Best Family Neighborhoods in Philadelphia, Pennsylvania