Oceanside is one of the most picturesque areas to visit in California due to its sandy beaches, iconic wooden pier, and growing reputation for great food all across San Diego county. With this city being as popular as it is, would it be considered a conservative or liberal city?
Oceanside, California is a liberal city. In the last six presidential elections, two were in favor of the Republican party, and four were for the Democratic party. Oceanside's mayor, Esther Sanchez, is a Democrat. Though mayoral elections are nonpartisan, her policies and stances are liberal.
With this city having so much to offer, why is it important to know if this top-tier area is liberal? See why Oceanside's political views contribute to what makes this city desirable to live in below.
Demographics
Located just off the coast of the Pacific Ocean, Oceanside is considered one of the most affordable San Diego beach communities. Once a small military town, it has now flourished into a delightful area filled with things to experience, such as art and food.
Since its founding in 1888, Oceanside has had a steady increase in population

. Its greatest leap was from the years 1980 to 1990. It's grown by 4.53% since the census in 2010 and is only expected to keep this rate of increase for the next decade.
It's home to thousands of couples and individuals with very low family percentages, as it caters more to a relaxing environment with a median age of 37 years old.
There is also a range of diversity within the community that shows in the following demographics:
White: 68.21%
Two or more races: 10.98%
Other race: 7.41%
Asian: 7.26%
Black or African American: 4.38%
Native American: 1.12%
Native Hawaiian or Pacific Islander: 0.63%
Mayoral Voting History
Mayor Esther Sanchez had a monumental win for several reasons, as she was the first woman and first Latina mayor

voted into office in Oceanside. She has made her stance on her political party even though the mayoral elections are meant to be nonpartisan. She is a proud Democrat.
Since she was sworn in, she has shown great pride in the progress of Oceanside's accomplishments. Some of her main concerns while in the office are dedicated to finding solutions for environmental issues, controlling development, and making sure there's equity with the city's diverse communities such as the LGBTQ+ and Latino communities

.
Studies have shown that democrats with more liberal stances believe that global warming is a serious issue that will harm them in their lifetime, as well as other environmentally troubling topics. This group also believes in same-sex marriages being legally valid, as well as giving the same treatment as heterosexual couples and individuals.
These policies reflect both the entire state of California, as well as Oceanside's viewpoints on what they find most important to address and work through. This is why solving those environmental problems, as well as involving and finding more equity in those minority environments, are so crucial to Esther Sanchez.
Presidential Voting History
With the citizens of Oceanside coming from all walks of life, and the steady increase in numbers over the years, it's interesting to see how much of the majority vote has stayed the same when it comes to presidential elections.
There are 87.87%

of California's residents that are eligible to vote are registered. Of that, 46.1% are Democrats and 24.2% are Republicans. The other 29.7% are Independent or don't associate with one political party. Within the county of San Diego, where Oceanside is located, 52.% of residents are registered, only 27.1% are for the Republican party, and 35.7% are for the Democratic party.
This city follows the trends of San Diego county by voting for the Democratic party, especially in the four most recent presidential elections, and after 2000 and 2004 went, Republican. California overall votes blue, but a little bit of Southern California votes red every now and then.
Liberal Views
Oceanside has very strict gun laws

. These laws state that no one can have their firearm on them in public, nor are they allowed to discharge it at any time within the city. This liberal viewpoint goes against what most conservatives would say is a right given by the second amendment.
While still residing in an overall liberal state, Oceanside continues to practice laws that are enforced by California as a whole, such as abortion and gay rights. The people show their similar views by continuing to vote their majority agreement with the laws that support these areas of focus.
Healthcare is also a hot topic in the conservative and liberal debate, with the democrats going for a governmental funded healthcare system. While a large majority of Democrats believe that the federal government should be responsible for guaranteeing access to health insurance, they're often unsure of the most effective way to reach it.
Oceanside follows those same patterns and only offers clinics and hospital services, all funded by the federal government. The health insurance plans they work with are mainly only government-supplemented plans like Blue Cross Blue Shield, Medicaid, and Medicare.
However, even though most Democrats are in overwhelming support of legalized marijuana within the cities and states, Oceanside's Code of Ordinances prohibits any smoking of tobacco, weed, or plants within the city boundaries. Weed and other substances have a very strong smell, and with so many kids out and about at the beach, the city wants to prohibit anyone from smoking, getting high, and potentially harming others.
Plus, the number one thing you can do for your health is to not smoke, and avoiding secondhand smoke is important as well. So, making sure kids and families at the beach are not breathing foul air is important for health and safety.
In Oceanside, the homeless population is mainly composed of people with drug addictions. They go in and out of jail when they are caught with drugs, and the police spend a lot of time making sure they are okay and out of harm's way for themselves and others.
So, prohibiting drugs that can be smoked within the city helps the homeless population decrease. If you compare the homeless rates from Oceanside to L.A., the numbers are drastically different. Oceanside

has roughly 300 homeless people, and L.A.

has about 66,000 homeless folks.
Senate
The California Senate has been under the Democratic party control since 1970 and hasn't broken the streak since.
The state senate works alongside the Governor in establishing the state budget, passing bills on public policy matters, raising and lowering taxes, and voting to uphold or override gubernatorial vetoes.
Currently, California has a Democratic trifecta and a democratic triplex, which is when the party controls the offices of the governor, secretary of state, attorney general, and both chambers of the state legislature. They've been able to hold that title for seventeen years, with no republican trifectas ever.
This ensures that most of the tax laws and policies passed in California will reflect their liberal views, as well as the votes of the people.
House of Representatives
The House of Representatives is also under Democratic jurisdiction.
These representatives are, like the federal government, split up into branches in which their main duties are to create, modify and update laws. With the control given to democrats, most of the laws currently in motion as well as in practice, reflect the viewpoints of the liberal side.
With Oceanside being in the 49th congressional district, it's no surprise that their representative, Mike Levin, is also a member of the democratic party.
Taxes
Democrats are more likely than Republicans to favor raising tax rates

on household income over $250,000. Seven-in-ten Democrats and Democratic leaners (71%) say these rates should be raised, including 31% who say they should be raised by a lot.
Knowing this information, the taxes compared to more conservative states and the national average are higher more often than not in the majority of liberal places. This makes it easier to see cost drawbacks for individuals and families living in these cities.
For instance, income taxes are at 9.3% in Oceanside, the United States average is around 7.3%.
Minimum sales tax

rates in Oceanside are at 7.8%, which is higher than the United States average of 5.09%, though with only 18 states being below this number, the 0% in Alaska brings down the overall total. Compared to the average liberal state at an 11.25% sales tax rate, it's slightly lower, but still considerably higher in general.
Economics
Most of Oceanside's economic climate

is in businesses, manufacturing, distribution, agriculture, tourism, and biotech industries.
Its focus falls on creating new jobs through business expansion and retention, building new prospective retail stores and restaurants, increasing public relations, and capitalizing on tourist markets like hotels and commercialization.
Since the more liberal view of the economy goes in favor of freedom of markets, the economic progress in Oceanside shows more of its goals aimed toward a more liberal agenda.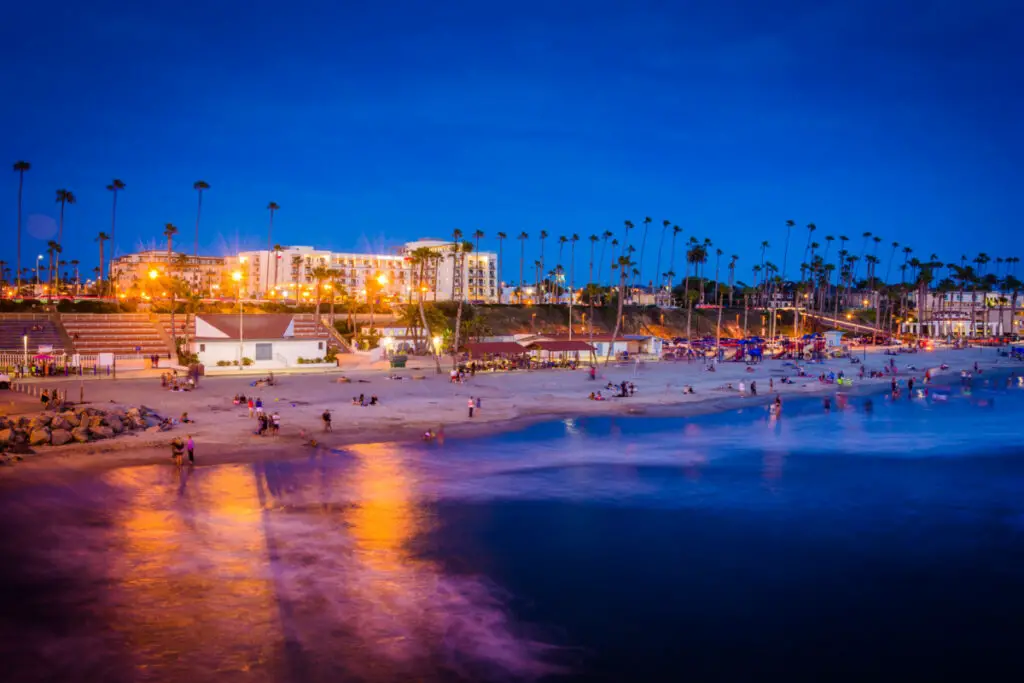 The average household income in Oceanside is $91,604 with a poverty rate of 9.63%. The median rental costs in recent years come to $1,803 per month, and the median house value is $538,200. The median age in Oceanside is 37.7 years, 36.1 years for males, and 39.4 years for females.
Liberal stances go for opposing government intervention, as well as protecting free trade and open competition which is something Oceanside profits on.