In Florida, there is a large portion of people who are republican, and the state is split almost 50/50 in regards to political parties. Although Miami tends to be one of the more liberal sections of Florida, it's recently been a close call when it comes to elections.
Miami, Florida is a moderately liberal city. A little over half of the residents in Miami voted democrat in the last presidential election. Miami-Dade County is a liberal-leaning county, and the Miami-Fort Lauderdale-West Palm Beach metro area is more liberal.
We have done the research and have all the information you need to know about Miami, Florida! So, keep reading to learn more about Miami residents' political parties and where they stand.
How Liberal is Miami, Florida?
You may be wondering just how liberal Miami, Florida really is. In the last presidential election, the Miami-Dade county voted 53.3% Democratic, with a remaining 46.0% Republican vote. Since the year 2000, Miami has voted Democratic in every single election. The voting history of the city shows that people are always leaning right, but the statistic for the most recent election isn't that far from the United States average.
If there was a scale depicting your political party affiliation, where the most liberal was 1 and the most conservative was 10, Miami would sit around a 3. Miami-Dade County is liberal-leaning, placed at a 4. Miami-Fort Lauderdale-West Palm Beach Metro Area is somewhat liberal and placed at a 3. Due to this placement, Miami is considered "moderately liberal." This is based on recent voting in national elections, federal campaign contributions from residents, and consumer personality profiles.
Although the people of Miami are liberal and vote democratic, it's about the same amount as the US average, meaning it's not extremely liberal and there's a wide mix of Republicans in there as well.
Has Miami Always Been Liberal?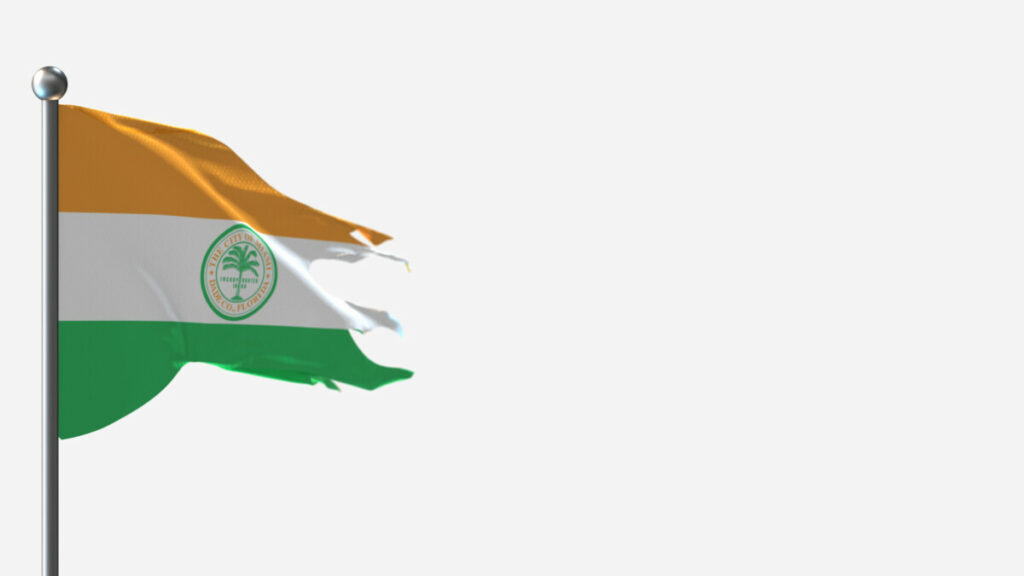 While Miami votes Democratic each year, there was a dramatic shift towards the Republicans in the most recent election. In 2016, Hillary Clinton received votes from 63% of people in Miami, and only 33% of people voted for Trump. But, the following election was a lot closer with 53% of residents voting for Joe Biden and 46% for Trump. With such a big swing in a big county, it was a crucial factor in Trump winning Florida.
In general, America as a country has become more left-leaning as time goes on. This could explain how Miami has also been steadily growing more liberal up until this past election.
How Hispanic voters have recently swung right In Miami
Many different researchers and observers of the shift in Florida have wondered why Miami went from blue to more in the middle. Miami-Dade is Florida's largest county, and its demographics are about two-thirds Hispanic individuals.
From the year 2016 to 2020, Trump just about doubled his vote from residents of Miami-Dade county. The specific numbers show that his votes went from 333,000 votes in 2016 to 617,000 votes in 2020. It seems that this was a pattern that occurred throughout multiple states and cities. Many Hispanic voters shifted to the right side for the 2020 presidential election. Other Latino-heavy areas that experienced the same thing were Rio Grande Valley, Texas, Clark County, Nevada, Paterson, New Jersey, Milwaukee, and more.
Roughly 72% of Miami-Dade's registered Republican voters are Hispanic, and a large number of them are Cuban-American. Non-Cuban Hispanics make up half of the Latino Vote in Miami, and usually lean Democratic. This includes various immigrants from the Spanish-speaking Caribbean, and Central and South America.
This might be because Trump visited South Florida often and Republicans branded Democrats as "socialists." This targeted the Hispanic voters, and Biden didn't reach out to these voters until it was too late.
Miami's Plotics Compared To The State Of Florida
Has Florida as a state's political stance always been the same?
Florida has been a swing state for a very long time, and no presidential candidate has won by more than five percentage points in the past century. Both houses of the legislation have been run by Republicans since 1997. There have been a large number of both Democrats and Republicans that exist in this state for decades, but conservatives have been growing since COVID.
Florida was one of the states that didn't have as many restrictions during the time of the virus, which really gravitated towards the right-leaning citizens. Republicans enjoyed this in Florida, and the Democrats not so much.
Here shows what people in Miami were voting for over the past elections:
| | | | |
| --- | --- | --- | --- |
| Year of Election: | % Voted for Democrat Party: | % Voted for Republican Party: | % Voted for Independent Party: |
| 2020 | 53.31% | 45.98% | 0.71% |
| 2016 | 63.22% | 33.83% | 2.94% |
| 2012 | 61.65% | 37.91% | 0.44% |
| 2008 | 57.81% | 41.7% | 0.49% |
| 2004 | 52.89% | 46.61% | 0.5% |
| 2000 | 52.58% | 46.3% | 1.12% |
This chart shows the interesting slope that Miami has curved over time. They were very moderate around 2000, then they went farther away and had a lot more democratic votes, and then went back down pretty fast. The residents have stayed pretty middle-of-the-road, but there was a long moment of Republicans shrinking and Democrats increasing.
This graph shows the voting history of the State of Florida: (maybe move to a different section)
| | | | |
| --- | --- | --- | --- |
| Year of Election: | % of Democrat Votes: | % of Republican Votes: | % of Independent Votes: |
| 2020 | 47.76% | 51.11% | 1.14% |
| 2016 | 47.41% | 48.6% | 4% |
| 2012 | 49.9% | 49.03% | 1.07% |
| 2008 | 50.91% | 48.1% | 0.98% |
| 2004 | 47.09% | 52.1% | 0.81% |
| 2000 | 48.84% | 48.85% | 2.32% |
Compared to the state of Floridas voting history, Miami has been a lot more consistent with voting blue, while Florida as a state has swung back a forth quite a few times.
Miami voting politics compared to the state of Florida, and the US average:
% Democrat:
Miami: 53.3%
State of Florida: 47.8%
United States: 51.3%
% Republican:
Miami: 46%
State of Florida: 51.1%
United States: 46.8%
% Independent / Other:
Miami: 0.7%
State of Florida: 1.1%
United States: 1.9%
Miami Compared To Other Cities In Florida
Florida is known as a purple state, meaning it swings. It's split almost half and a half between the two parties and it goes back and forth from voting blue or red. Most of the citizens living in Florida are Republican with more conservative views.
Surrounding Miami in other cities and towns that are even more liberal than Miami. Just North of the city, areas like Fort Lauderdale, Coral Springs, Miramar, Lighthouse Point, Deerfield Beach, and more are considered very liberal. The left-leaning places in Florida are basically; Tallahassee, Orlando, Tampa, St. Petersburg, West Palm Beach, Fort Lauderdale, and Miami. Pretty much everywhere else you go is mainly conservative.
Much like other states, it's fairly liberal in cities and larger populated areas of the state, while more right-leaning people are living in the countryside and less populated towns. An example of some of the most conservative places in Florida includes Macclenny, Live Oak, Gulf Breeze, Lake City, Panama City Beach, Milton, Starke, Perry, and more.
For the most part, Miami is circled by more liberal-filled towns and cities, and one would have to go inland or north to be in a conservative place.
Here are some politically similar places in Florida, and what amount of people fall under each party:
Orlando, Florida – Orange County:
% Democrat: 60.9%
% Republican: 37.8%
% Independent or other: 1.3%
Broward County, Florida – (Lighthouse Point, Coral Springs, Miramar, Deerfield Beach)
% Democrat: 64.5%
% Republican: 34.7%
% Independent or other: 0.8%
Hillsborough County – (Tampa, Brandon, Plant City, Rearview, Ruskin, etc.)
% Democrat: 52.7%
% Republican: 45.8%
% Independent or other: 1.4%
Here are some politically different places in Florida, and what amount of people fall under each party:
Baker County – (Macclenny, Glen Saint Mary)
% Democrat: 14.5%
% Republican: 84.6%
% Independent or other: 1%
Suwanee County – (Live Oak, Branford, Wellborn)
% Democrat: 21.3%
% Republican: 77.8%
% Independent or other: 0.9%
Miami's Republican Mayor – Francis Suarez
The current mayor of Miami, Francis X. Suarez, happens to be a Republican, however, the office of the Miami mayor is nonpartisan. Suarez was reflected in November, with 79% of the vote. He advocates for an agenda that focuses on low taxes, combating homelessness, and encouraging school choice and a well-funded police department, which are some reasons why the population of Miami is favorable of him.
Mayor Suarez hopes to better the lives of Miami residents by focusing on transportation and connectivity, resiliency, and job creation through tending to the growth of technology and innovation. He wants to expand affordable housing, tackles the poverty pandemic, and reduce the amount of crime.
Interestingly enough, even though Miami is a more liberal city, the Mayor himself is a Republican. Although Francis Suarez has been the residing Mayor since 2017, the residents have kept him in and the Miamians have been shifting towards the right-wing themselves recently.
Is Florida's Governor a Democrat or Republican?
The Flrodia Governor, Ron DeSanti, is a Republican. When COVID hit, DeSanti's politics weren't very favorable by the Democrats which drove down his numbers. He wasn't fond of lockdowns or cautious measures regarding the virus and had a soft-anti vaccine stance. Although, this endeared him to conservatives in Florida and across the country.
Related Topics:
If you like the article above, here are some other similar articles you should check out!
17 Reasons Not to Move to Miami, Florida

9 Famous Celebrities Who Live in Miami, FL

17 Reasons Not to Move to Tarpon Springs, Florida