It's common to associate the state of Kentucky with a more conservative crowd. Although it is a red state and in the south, it also has some liberal areas. Louisville, the largest city in the state, is one of the few Kentucky cities that happens to have more democrats than republicans.
Louisville, Kentucky is considered a somewhat liberal city. The last presidential election voting polls show that 58.9% of the population are democrats and 38.8% are republicans. Over the years, the majority of people have voted Democratic, and the numbers have increased each year.
Keep reading to learn more about the political side of Louisville.
How Liberal Is Louisville, Kentucky?
Louisville, Kentucky is in Jefferson County, which is moderately liberal. According to the results

of the 2020 presidential election, 58.9% of people voted Democrat, and 38.8% of people voted for the Republican Party. This is slightly over the national US average, as the national average is that 51% of citizens are Democrats.
Interestingly enough, the county is more liberal than the metro area of Louisville. On a scale from 1 to 10, where 1 is the most liberal and 10 is the most conservative, Jefferson county falls between 3 and 4. The Louisville Metro Area is actually leaning conservative and lands in between a 5 and a 6. This is why Jefferson county is moderately liberal, and the city of Louisville is considered somewhat liberal.
This city has headquarters for both parties, but there have been a large number of Democratic mayors in the past few decades. There are still a good amount of Republicans that live here, but the amount of republican votes has been lessening over time. What makes Louisville more liberal is the strong democratic voting history, and the Democratic party is highly active.
The people of Louisville have contributed a lot of money to political committees. For example, from the years 2018 to 2021, there were 71,668 contributions to the Democratic party and liberal campaigns. A total of $13,504,802 was donated with an average of roughly $188 per contribution.
However, the republicans of Louisville

made quite a few contributions as well. There weren't as many, but each contribution was a higher amount. In these same years, there were 19,569 contributions to the Republican party and conservative campaigns. This totaled $11,495,559, and the average contribution was $587 per person.
Has Louisville, Kentucky Always Been Liberal?
Jefferson County has voted Democratic in every presidential election since 2000. While it has voted Democratic for the past 20-plus years, it used to be a lot closer of a vote. In the 2000 and 2004 elections, there was a difference of around 1-2% between republican and democratic voters. Ever since those elections, Louisville has consistently had more and more democratic voters each election.
In contrast to the rest of Kentucky, Louisville is growing more liberal over time and has been voting blue for the past 14 years.
This table shows the voting history of Jefferson County, where Louisville is located:
| | | | |
| --- | --- | --- | --- |
| Election Year: | % Voted Democrat: | % Voted Republican: | % Voted Independent: |
| 2020 | 58.87% | 38.84% | 2.29% |
| 2016 | 54.05% | 40.72% | 5.24% |
| 2012 | 54.83% | 43.71% | 1.47% |
| 2008 | 55.34% | 43.38% | 1.28% |
| 2004 | 50.44% | 48.78% | 0.78% |
| 2000 | 49.48% | 47.97% | 2.45% |
Has Kentucky as a State Always Been Conservative?
Kentucky has voted republican and been more conservative than liberal for the past 30 years in a row. It's even been slightly growing more conservative over time when it comes to votes. The past 3 elections have had more Republican

votes each time and fewer Democratic voters.
Here is a table showing the past presidential election voting history in Kentucky:
| | | |
| --- | --- | --- |
| Year of Election: | % Voted Democrat: | % Voted Republican: |
| 2020 | 36.1% | 62.1% |
| 2016 | 32.7% | 62.5% |
| 2012 | 37.8% | 60.5% |
| 2008 | 41.2% | 57.4% |
| 2004 | 39.7% | 59.6% |
| 2000 | 41.4% | 56.5% |
| 1996 | 45.8% | 44.9% |
| 1992 | 44.6% | 41.3% |
| 1988 | 43.9% | 55.5% |
| 1984 | 39.4% | 60% |
| 1980 | 47.6% | 49.1% |
| 1976 | 52.8% | 45.6% |
How Liberal is Louisville Compared to the State of Kentucky?
Like most densely populated cities, Louisville is the most liberal part of the state. The state of Kentucky is strongly conservative. It's considered a 9 on the scale from the most liberal (1), to the most conservative (10). Most locals

would describe it as a very conservative place to be, besides Lexington and Louisville.
The culture is very Christian, and you can find Christian churches all over the place and expect other residents to be spiritual as well. People show strong southern hospitality and are friendly towards you, even if you don't know them.
Once you get outside of Louisville and Jefferson County, almost the entire state is very conservative. There are very few cities with a high number of democrats because the rest of the state is filled with far-right-leaning people. The population is slightly more liberal than the US average, and it's a lot more liberal than the rest of the state.
This shows Louisville's past voting poll compared to Kentucky's as a state and the US:
% Voted Democrat:
Jefferson County: 58.9%
State of Kentucky: 36.1%
United States: 51.3%
% Voted Republican:
Jefferson County: 38.8%
State of Kentucky: 62.1%
United States: 46.8%
% Voted Independent or Other:
Jefferson County: 2.3%
State of Kentucky: 1.8%
United States: 1.9%
How Liberal is Louisville Compared to Other Cities in Kentucky?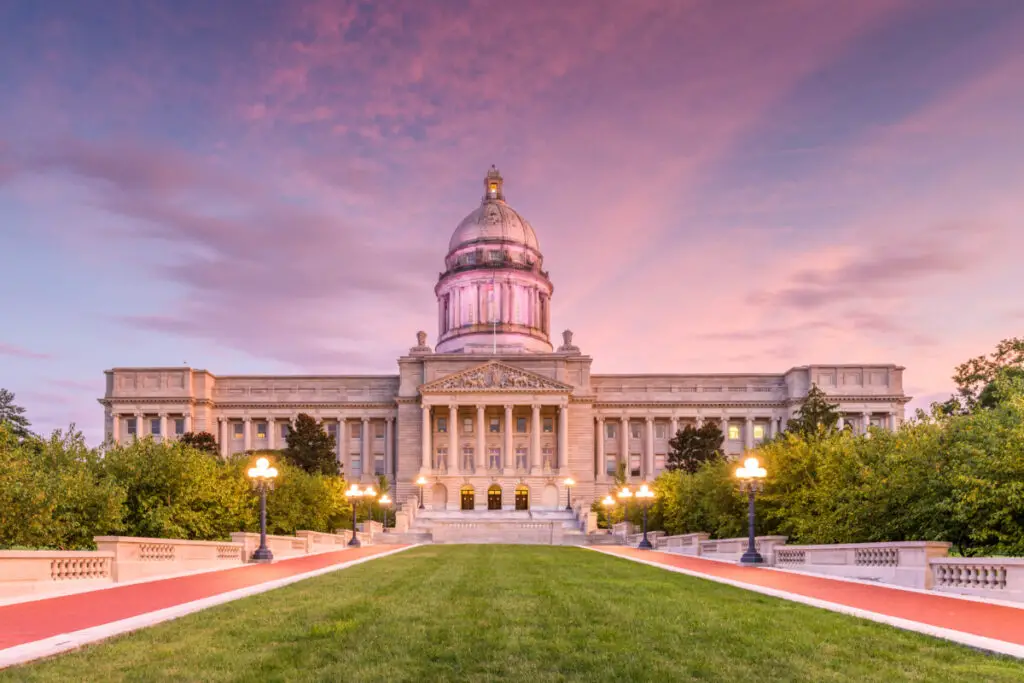 There are mainly 2 other cities that lean liberal rather than conservative in Kentucky: Lexington and Frankfort. This could be due to the fact that they are the largest cities in the state, and more dense and highly populated areas tend to be more liberal. Within Jefferson County, there are liberal towns like Shively, Rolling Hills, Green Spring, Middletown, and Heritage Creek.
Here are other cities in Kentucky with a larger Democratic population:
Lexington
Lexington has a strong democratic leader with a strong democratic following. The mayor is openly gay, and Lexington is the second-largest city in Kentucky. This city is part of Fayette County, which as a whole is moderately liberal.
The city of Lexington on its own is leaning liberal and is slightly less democratic than the county is altogether. It still is one of the most liberal areas of Kentucky and is just about tied with Louisville. However, Lexington was more conservative from 2000 to 2008 but has grown in democratic voters immensely since 2000. Louisville has voted democrat

consistently since 2000.
Past election voting poll for Fayette County:
% Voted Democrat: 59.2%
% Voted Republican: 38.5%
% Voted Independent: 2.3%
Frankfort
Frankfort

is the capital of Kentucky and is made up of both democrats and republicans. If you are someone on the fence about politics, this is a great place to live because you can learn about both parties equally. It is a part of Franklin County, which is considered a leaning-liberal area. Frankfort itself is somewhat conservative. Although it's not a majority liberal city, it's still one of the more democratic areas compared to the rest of the state.
Past election voting poll for Franklin County:
% Voted Democrat: 48.5%
% Voted Republican: 49.5%
% Voted Independent: 2%
Here are smaller towns in Kentucky that are more Republican:
Richmond
Richmond

is one of the biggest Republican centers in the entire state of Kentucky. It's one of the larger cities in Kentucky and is a part of Madison county. The Richmond-Berea Metro area alone is considered very conservative and is a 10 on the scale of the most liberal (1) and most conservative (10). Richmond is inside Madison County, and Madison county as whole lands on an 8, which shows that the residents of Richmond are strongly conservative.
Past election voting poll for Madison County:
% Voted Democrat: 35.4%
% Voted Republican: 62.2%
% Voted Independent: 2.3%
Elizabethtown
Elizabethtown

is the 10th largest city in Kentucky and has an active Republican party. As a part of Hardin County, the whole county is strongly conservative, placed as a 9 on the scale of the most liberal (1) to most conservative (10). The Elizabethtown-Fort Knox Metro Area is also strongly conservative, between 9 and 10.
Past Election voting poll for Madison County:
% Voted Democrat: 37%
% Voted Republican: 61%
% Voted Independent: 2.1%
London
London

is a city in Laurel County, which is one of the most conservative

cities in Kentucky. Out of the seventeen micropolitan areas in Kentucky, London is the largest. You might have heard about this city since it is home to the annual World Chicken Festival, which celebrates the life of Colonel Sanders. They also have the world's largest skillet.
Past Election voting poll for Madison County:
% Voted Democrat: 15.9%
% Voted Republican: 82.7%
% Voted Independent: 1.4%
The Democratic Mayors of Louisville
Greg Fischer has been the mayor of Louisville since 2011 and affiliates himself with the Democratic Party. Before Greg Fischer was Jerry Abramson

, who was also a democrat and was in office from 1986 to 1999 and from 2003 to 2011.
In fact, mayors of Louisville

have been democratic more often than Republicans in the past. Starting way back in 1865, Lousiville mayors were consistently democrats. Since then, there have been about 33 liberal mayors and only 9 republican mayors.
Overall, Louisville is a somewhat liberal city in a very conservative state.
Related Topics:
If you like the article above, here are some other similar articles you should check out!
9 Famous Celebrities Who Live in Louisville, Kentucky

Is Frankfort, Kentucky a Liberal City?

17 Reasons Not to Move to Jackson, Mississippi