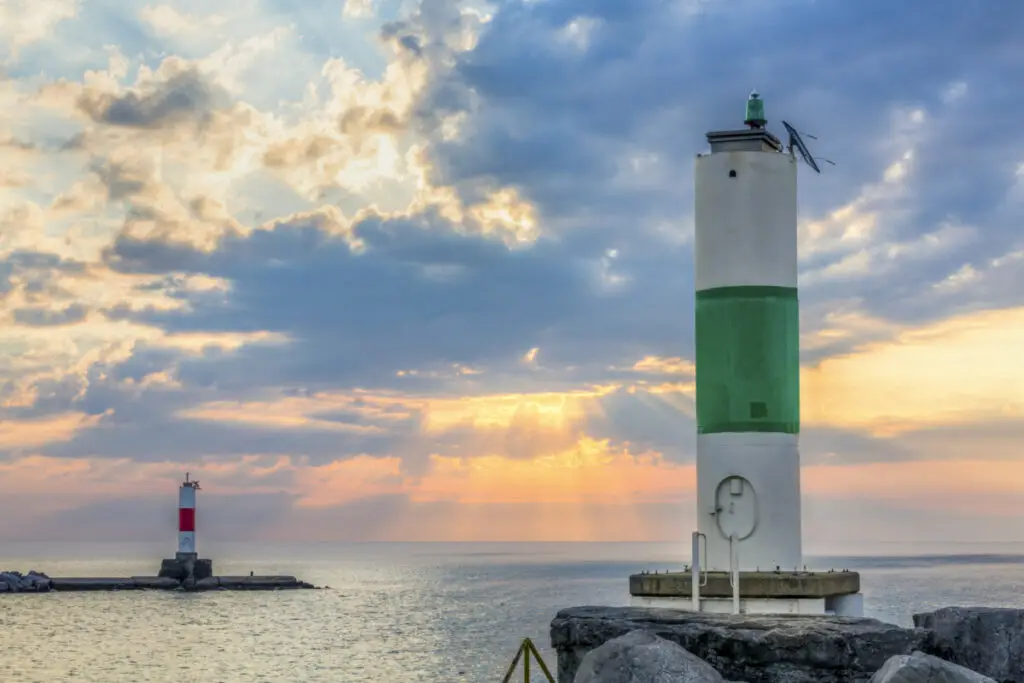 Kenosha, Wisconsin, home to some of the best cream puffs in the world, landed on the public radar a couple of years ago, though not for its delectable desserts. With political unrest and riots that were publicized, this southeastern Wisconsin town gained quite a bit of notoriety and has left people wondering what the political climate really looks like.
Kenosha, Wisconsin is a moderately liberal city. In the past eight presidential elections, Kenosha county has voted for the Democratic candidate for six of those elections, with the exception of the last two elections in 2016 and 2020.
As someone who lived in Kenosha during the time of riots, unrest, and uncertainty I saw a lot of attitudes evolve in my community. Kenosha is an engaging place to live because of its people and the ever-adapting political views. Make sure to keep reading if you want to know more!
Voting and Political History of Kenosha
Wisconsin is considered a swing state politically. President Trump won the state in 2016 against Hillary Clinton, who didn't campaign in the state before the election. However, Wisconsin was won by Biden in 2020, even though both candidates had visited the state that year.
Kenosha county voted in favor of Donald Trump, the Republican candidate, both in 2016 as well as in 2020. This was surprising given that Kenosha County had consistently voted Democratically since the presidential election in 2000. However, politics on the city level, county level, and state level can look very different in Wisconsin, making it named a swing state for good reason. The city of Kenosha voted Democratically in 2020, supporting presidential candidate Joe Biden when it had previously supported President Trump in the 2016 election.
John Antaramian serves as the current mayor of Kenosha. He was born in Kenosha and received his education at UW-Parkside, a university just outside of Kenosha in the bordering town of Somers, Wisconsin. Antaramian is affiliated with the Democratic Party and was first elected as mayor in 1992. Antaramian served for 16 years and then pursued other interests. In 2016, he ran again for mayor and has been serving in that capacity ever since.
Being that Mayor Antaramian was born and raised in Kenosha and has served the community for so many years, he has endeavored to better the community to the best of his ability with incentives to help Kenosha residents. Mayor Antaramian has enthusiastically supported the development of the Kenosha Innovation Neighborhood (KIN) which aims to provide collaboration between the rising generation and more experienced generations.
"The Innovation Center will provide enhanced opportunities for the community in education, workforce training, and entrepreneurial and economic development. Nearly everyone agrees that innovation is the way an organization grows. The right location can help make that happen."

Kenosha Mayor John Antaramian
The hope is that the Innovation Neighborhood will be the new home for Lakeview Technology Academy, where students can interact with others from higher education facilities. It's also the hope that the Innovation Neighborhood will grow to include, shops, businesses, affordable housing, and park space for recreational activities. Adults will be able to use the Innovation neighborhood to expand their professional abilities as well.
Antaramian was also happy to announce the installation of Fiberoptics in Kenosha that will allow residents to have access to high-speed Internet. Of course, not every citizen will be required to purchase and use this internet service, but Mayor Antaramian hopes that this will allow residents to develop alongside technology as a community.
Additionally, Mayor Antaramian created the Kenosha Action Roadmap to Inclusion, Equality, and Equity in response to the killing of George Floyd in Minneapolis. This initiative's goal is to address the systematic racism in Kenosha with the help of local faith leaders. Some of the goals that are outlined by the initiative are strengthening community-police relations, developing future leaders, and creating an equal criminal justice system.
Mayor Antaramian and the counselors involved with this project recognize that in order for this initiative to be successful, it will need to be adopted by the community and make their own. They hope that as the people of Kenosha come together to overcome racism the community will heal with love and move forward to a brighter future.
Mayor Antaramian is a leader in the community and contributes to social reform through his initiatives and presence in the community. During his time as mayor, he has run unopposed for office, indicating that the people of Kenosha agree with the way he conducts himself and city affairs.
Recent Events
While Kenosha county has been known as a supporter of Democratic candidates for many years, recent events have had the opportunity to impact political attitudes and beg change in local residents.
I'm sure we all remember the summer of 2020; COVID-19 was still raging, and people were confused, anxious, and unsure about what the future would hold. I moved to Kenosha at the time, but despite the chaos, many people welcomed me to the community and made me feel at home. Coming from California, it was different to have people randomly stop to talk to me in grocery stores or at my apartment complex just because they hadn't seen me before. It was hard to not fall in love with the city.
Earlier in the summer of 2020, the murder of George Floyd

incited outrage and protests across the nation. Racial tensions

inflamed and it seemed that communities became increasingly polarized as the summer continued. On the heels of this tragedy, Jacob Blake, a black resident of Kenosha, was shot and ultimately paralyzed by police officers who were trying to arrest Blake for an outstanding warrant. Blake was wanted for a number of charges and the police responded to a call from Blake's ex-girlfriend who said he was at her house.
At a time when people ached for justice, Kenosha residents took to the streets to protest racial injustice and police violence. I remember these protests as predominantly peaceful demonstrations, where family, friends, and the community came together to advocate causes close to their hearts. People marched in the streets and held signs. They yelled for change and came together to advocate for the safety of everyone in their community.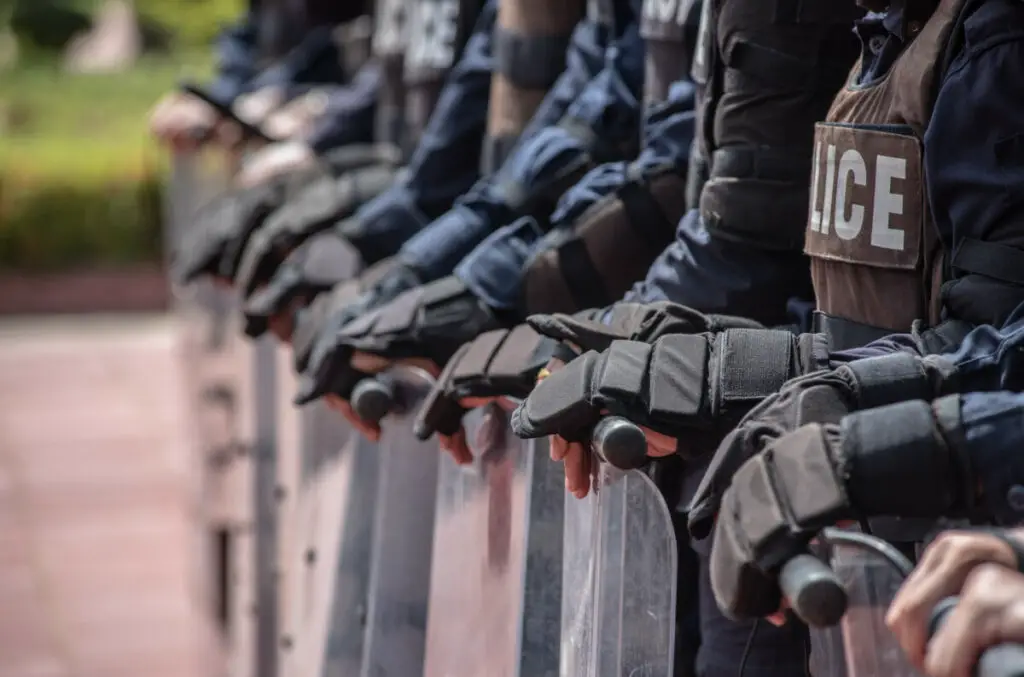 However, these political demonstrations were not the ones that were publicized. Instead, riots that started in the evenings and often went through the night and caused the destruction of buildings, homes, and businesses were plastered on front headlines. As I talked to my neighbors, they were devastated to see their homes, or the homes of friends and loved ones destroyed.
Many residents felt that the destruction wasn't caused by Kenosha residents, but by violent protestors bused in from neighboring places. Tragically, two Kenosha residents were killed in these riots, and an already grieving community was at a loss for what was happening in their city.
Both President Trump and then-presidential candidate, Joe Biden, visited Kenosha after the riots. At a time of heartbreak and uncertainty, these leaders took advantage of an opportunity to show support for people in the community. With a presidential election that would happen four months later, I'm sure the riots and these visits weighed heavily on voters' minds as they voted for candidates they thought would help not only their nation but also their healing community.
Ultimately, Kenosha county voted in favor of Trump in the 2020 election, however, the city of Kenosha overall voted in favor of President Biden.
Moving Forward in Kenosha
After the riots, families, and friends gathered in downtown Kenosha to clear debris and help business owners whose shops had been vandalized or destroyed. The plywood that was used to barricade doors and windows on homes, restaurants, and other local organizations was painted and decorated.
Encouraging messages, beautiful artwork, and rally cries were all painted downtown as a testament that Kenosha was more than these tragedies and that no matter the trial, people have a remarkable way of coming together to support one another. The residents of Kenosha care about each other and want to maintain the sense of community that they create and thus vote in a manner to best preserve that.
Kenosha is a dynamic city that's home to a diverse group of people, beliefs, and political sentiments. Yes, Kenosha is moderately liberal, but Kenosha shows that political attitudes are subject to change, especially as people react to local events.
With its voting and political history and in light of recent events, it's fair to say that Kenosha's political attitudes are evolving. As we all ingest local and national events our consciences seek peace through change that we can affect through our political system. Though Kenosha county has voted in favor of the Republican candidate for the past two presidential elections, it seems that liberal attitudes still pervade the city of Kenosha.
Whether you typically have a conservative or liberal point of view, you will feel comfortable living here, as there are people of all political opinions living in this city. You will easily be able to make friends that have the same political opinions as you, which is a comfort to many people.
Related Topics:
If you like the article above, here are some other similar articles you should check out!
9 Famous Celebrities Who Live in Milwaukee, Wisconsin

Is there Public Transportation in Milwaukee, Wisconsin?

13 Best Family Neighborhoods in Milwaukee, Wisconsin