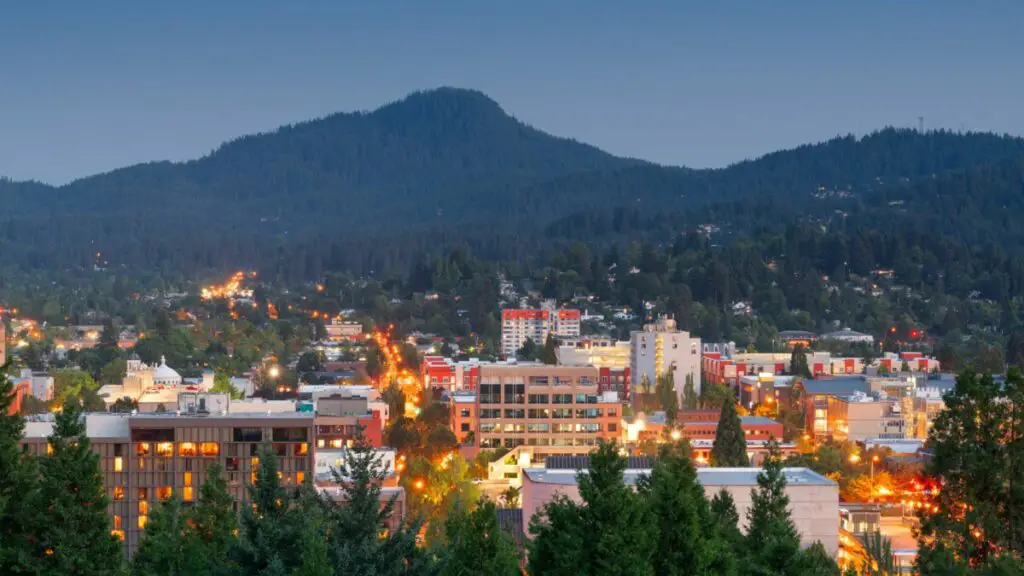 When making the move to the beautiful pacific northwest state of Oregon, there is a stereotype of the state being strongly liberal. Is the stereotype true, or is Eugene, Oregon a conservative city?
Eugene, Oregon is not a conservative city. However, there are many conservative and white nationalist organizations working in the city, even though 60.5% of residents are registered as democrats. Eugene, Oregon is home to many liberal arts schools and is considered a left-leaning city.
Eugene, Oregon has so much to know about and understand regarding its political trends. If you want to learn more about Eugene's political habits, keep reading. We have the information you need to know about the political affiliation of the residents of Eugene, Oregon.
Why Eugene is Not a Conservative City
States such as Oregon and Washington are known for being liberal-minded. Eugene is another city that fits this bill. Known as the Emerald City, Eugene is a college town where 65% of residents want more gun control, 55% are willing to pay higher taxes for better services, and 47% are vocal about issues concerning the environment

when surveyed.
Eugene

, Oregon is very open to the LGBTQ+ community and is shown as the 22nd most gay-friendly city in the nation. While Eugene, Oregon is left-leaning, there is room for those on the right side of the political spectrum. This city is politically charged, but it's not quite as aggressive as it may sound. Most families are living in the suburbs and are content with politics, but as you get into the city, there may be more vocal citizens that feel like it is a safe space to share their political opinions. Those opinions happen to be liberal, but there are residents that are conservative, and both sides make their voices heard.
There is actually quite a bit of common ground between conservative and liberal Oregonians. In one survey, 12 out of 25 topics between right and left Oregonian respondents found significant levels of agreement

. There is support to create a health system that rewards good health rather than profit off sickness, greater city transparency in health care pricing, and the majority agree that climate change requires less driving, simple living, and a 90% reduction in carbon emissions by 2050.
What are the Political Issues that Eugene Faces Today?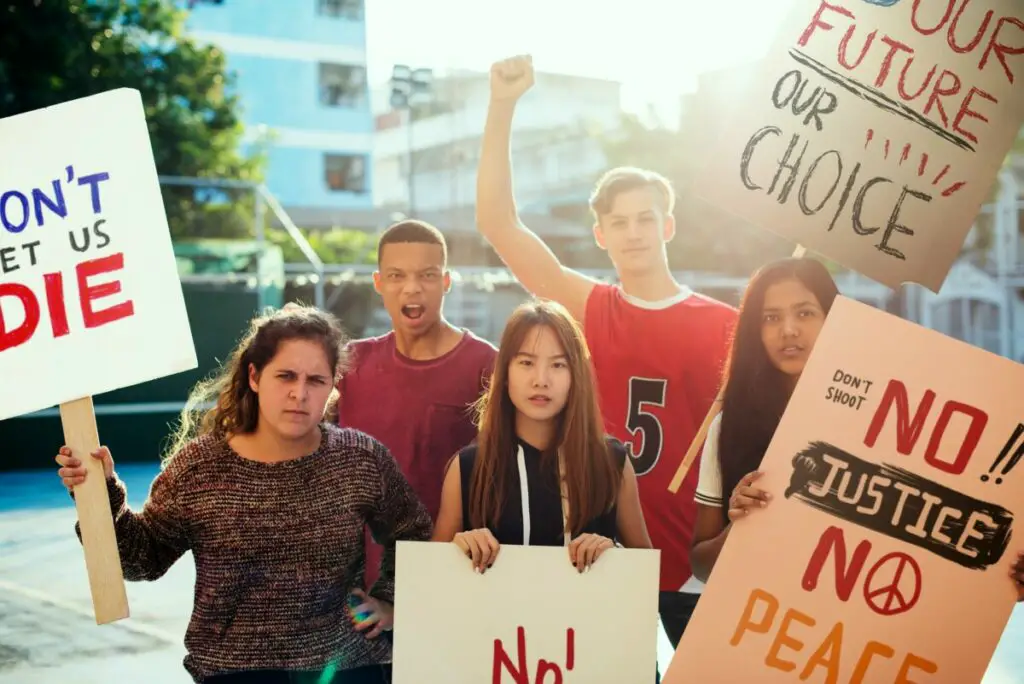 Homelessness
Homelessness

is a major issue in Eugene. In fact, it had the nation's highest homelessness rate in 2019, with 432 homeless individuals per 100,000 people. There has been a 12% increase from 2014 to 2019, with Washington as the state with the seventh-highest homeless population.
In Eugene, there is also a lack of affordable housing

and health resources. This results in more than 3,000 people experiencing homelessness in Eugene, and more than 2,000 of them do not have shelter at night. There is also a high rate of mental and physical health issues as a result of drug abuse.
There are charities and organizations set in place to help the homeless population. The Crisis Assistance Helping Out on the Streets, otherwise known as CAHOOTS

, gives support for non-emergency situations. There is medical assistance provided, but it is more centered on social work such as referrals, family relationships, and housing.
The Community Outreach & Response Team, also known as CORT

, is connected to the Eugene Police Department and helps homeless people to gain therapy and medical attention so they can get their life on track.
Harassment and Racial Profiling
However left-leaning the city may be, there is evidence of racial discrimination specifically towards citizens that are black and African American. There are multiple proud and strictly organized white nationalist groups, many of whom have used the iconic Skinner Butte, a local mountain, as a meeting point. Because of these incidents, the City of Eugene is sometimes called the "Hate Crime Capital" of Oregon.
Eugene City Councilman Greg Evans is the Chief Diversity Officer and had many racial profiling experiences, despite living and serving the city of Eugene, Oregon for about 40 years. Evans has had garbage thrown at him, pulled over by policemen despite following traffic laws or sitting in the passenger seat, and inappropriate language yelled at him in public.
To combat commonly reported events such as this, Eugene

is the only city in Oregon that has an office dedicated to the reporting of hate crimes and provides support for victims. This could be the reason for such high reports of hate crimes. Some government employees believe that these well-counted reports have been used against Eugene to give them a bad reputation. Regardless, there are reported incidents of white males harassing Jewish and Latino residents. Most of the reported physical violence and harassment is directed toward black and African American residents of all ages.
What is the Culture of Eugene Like?
Eugene is almost like a bubble, and many people come back because they say they cannot find the same lifestyle anywhere else. Life is described as slow-paced with quality friendships, food, and many outdoor activities available. As many moves are, it takes time to adjust to the culture of the city that you recently moved to.
Eugene has a good reputation and is ranked 46 of the best 100 places to live in America. Eugene is also known as "TrackTown USA", as many track stars are from this small town. There are plenty of locally owned coffee shops, local breweries, and hiking or skiing options available.
Eugene is also considered a "hippie town". The use of marijuana is legal in Eugene, so there is a large number of marijuana dispensaries, thrift shops, and coffee shops. There are high trends of spiritual movements in town, and these kinds of cultural phenomena are offshoots of a left-leaning movement.
University of Oregon
The University of Oregon

was founded in 1872 with studies in Latin, Greek, philosophy, theology, and math as the main curriculum. Today there are a vast amount of options, ranging from architecture, law, music, journalism, and arts just to name a few. The University of Oregon is known to be environmentally friendly and mainly uses solar power to power the campus, even though it rains for 9 months out of the year in Oregon.
The University of Oregon has a reputation for being very liberal, but conservative students feel that regardless of political or cultural views, most of the student body has an open mind and does not exclude others. This school is highly recommended for those who are willing to hear new ideas and be challenged in their thought processes. The University of Oregon receives an "A-" grade from Niche.com

and is the top public university in Oregon. Some students say that the school is very conservative, but the common consensus is that The University of Oregon is a reflection of the city of Eugene and leans liberal.
Based on 108 responses, 52% of University of Oregon students identify as democratic, 9% as republican, 20% as independent, 3% as a party not mentioned, and 16% as neutral with politics. Based on 199 responses, the University of Oregon

is classified as 48% liberal, 29% progressive, and 23% moderate, conservative, libertarian, or unsure.
These kinds of statistics show that while the culture of this area is more liberal, there are still about 20% of students who may think differently. While not the majority, the entire area does not have one mindset, and you will not be outcasted for being different in thought.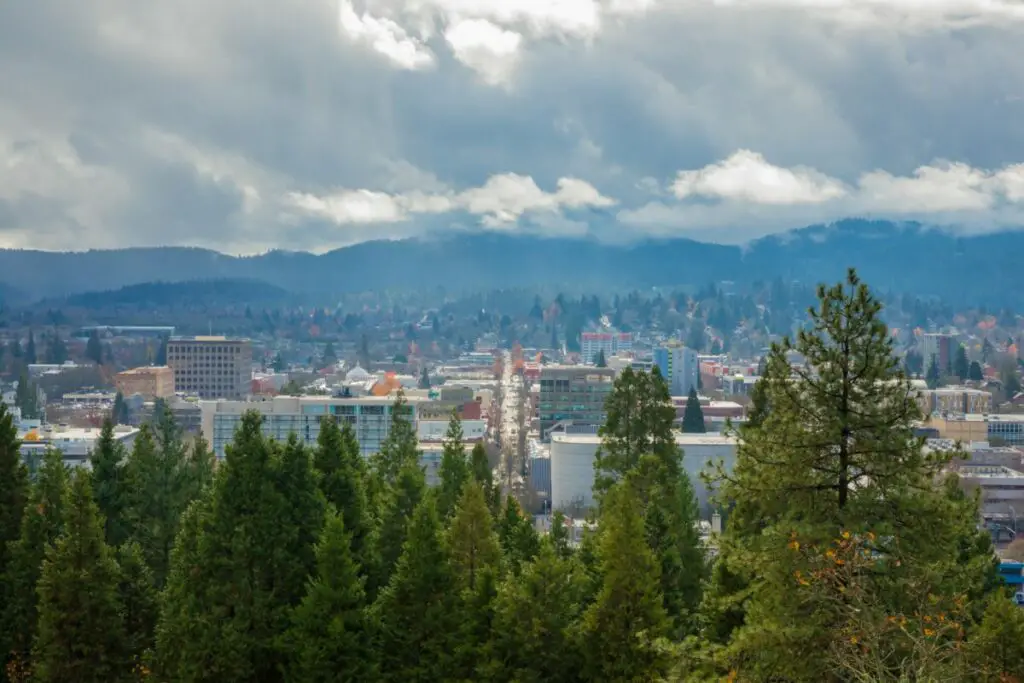 The Political History of Eugene
The land was originally inhabited by the Kalapuyan people. They were a nomadic people

who maintained camas fields and according to archeological evidence, they may have been in the area for approximately 10,000 years. Due to industrialization, disease, and the lust for gold, French fur traders took over the area.
Between 1830 and 1841, the Kalapuyan people lost 92% of their population, which completely altered the demographic of the valley. The remaining indigenous people were forcibly placed in Indian reservations, specifically the Grand Ronde reservation, in 1856. The land was eventually settled on and claimed by a man named Eugene Franklin Skinner in 1846. The location was named Eugene City.
The indigenous people warned Skinner that the land would flood, but he did not believe them until the rainy season occurred. Despite geographic troubles and the settlement being referred to as "Skinner's Mudhole", Eugene City relocated slightly and was officially founded in 1853. A ferry service was set in place in 1862, which boosted the economy and attracted settlers. Eugene's original econom

y was based on agriculture, foresting, distilleries, mining, and after 1872, education. In 1889, Eugene City was renamed, and the name has not changed since.
Oregon as a whole was Republican until 1954 when a change in government

was set in place. After a few switches between Democratic and Republican authorities, Oregon voters have consistently favored Democratic policies since 1988. Today, 50.1% of Oregon residents are Democratic.
In the 1970s, there was a large increase in activism including gay rights and racial equality. In the 1990s, the Whitaker district located in downtown Eugene focused on climate change activism. Today, there are many active neighborhood programs that keep environmentally friendly laws in place.
Related Topics:
If you like the article above, here are some other similar articles you should check out!
17 Reasons Not to Move to Eugene, Oregon

17 Reasons Not to Move to Corvallis, Oregon

Is Gresham, Oregon a Liberal City?