Buffalo, New York is the second largest city in the entire state, but it is often forgotten. Besides buffalo wings and the Buffalo Bills, there is little else from the city that is in pop culture, making it less known to the world. But Buffalo holds great political influence both in its own area and the state, but is the city liberal or conservative?
Buffalo, New York is a very liberal city. The culture, diversity, and preferences of the residents are defining features of this city, all of which are liberal in ideology and practice. Buffalo has had a democratic mayor since 1966 and typically votes for the Democratic presidential candidate.
Buffalo has been ranked as one of the most liberal cities in America, beating out much larger ones like Portland, Oregon. The liberal ideology that is favored in Buffalo can be seen in many different areas.
Mayors of Buffalo
Liberalism and conservatism take on different meanings when speaking across history. Policies and issues are different as were political tactics and sentiments. Despite the great changes that have gone on in politics, nearly half of all mayors in the history of Buffalo have been Democratic, as there have been 29 of them. Republicans hold the next highest number of mayors in Buffalo, as there have been 15 of them. Since 1934, only 9 years of mayoral office have been held by a non-Democrat.
The last Republican mayor of Buffalo, New York was elected in 1962 and served for just 3 years.
The longest-serving mayor, Byron Brown, who was elected in 2003, beat the opposing Republican candidate by 37 points, showing how lopsided the city is in political views. Brown would win his second term election unopposed and his third and fourth similarly.
The mayor tends to be a voice of the people, and as Buffalonians consistently call for liberal policies like increased welfare, the mayor tends to support and implement those calls.
City Council
The Buffalo Common Council of Buffalo works with the mayor of Buffalo in order to make laws and policies for the city. Currently, the council has 9 members

, all of which are democrats.
With all the recent turmoil within Buffalo, the city council has been busy creating legislation to help meet the liberal ideals of the residents. The Common Council recently passed a resolution that calls on the federal government to enact "Sensible Gun Control Legislation

".
Many recent movements also include educational reform, improved city infrastructure, and increased taxes (by 3.5%

).
As with any city council, most policies are passed unanimously, but also most legislation is not so easily defined by political ideology. Every city, regardless of how the citizens vote, needs new roads, better schools, and save money where they can. Therefore, simply viewing policies passed by city councils doesn't give a tremendous amount of insight into how liberal or conservative a city is.
Most of the divisive issues that separate liberals and conservatives are decided on a national or state level, but there are still several issues that are evidential. One of these is taxes. Liberal cities tend to collect higher taxes than conservative cities. Buffalo is no exception, and its high tax rate is a great indication of its being liberal, and the city council recently voting to increase taxes is a great piece of evidence.
Voting for President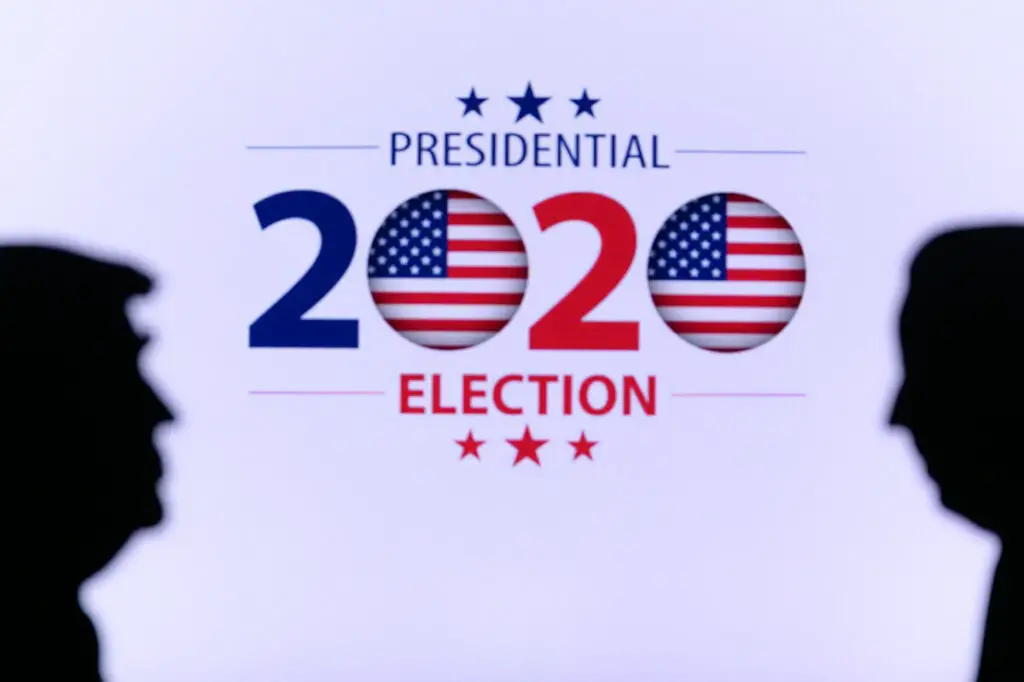 The citizens of Buffalo, New York are even more set in liberalism for the President of the United States than they are for the mayor or their own city. In the 2020 US presidential election, most areas of Buffalo voted for the Democratic candidate, Joe Biden, by more than 90%. There was even one area where over 99% of residents voted for Biden.
The same trend is true in the 2016 elections when Donald Trump beat Democratic leader Hillary Clinton. In fact, for most of Buffalo's history, the residents have voted for the Democratic candidate. Recent presidential elections tend to be more about hating the other candidate than loving the candidate of your own party, but primaries can give insights into what policies and practices are preferred by Buffalonians.
On every political issue, Biden held traditional liberal views. He wanted to codify Roe vs. Wade, decriminalize cannabis, create some free college, reduce carbon emissions, pass the Equality Act, and increase funds for the poor. These are all values heavily believed in by Buffalonians and many of the citizens have taken it into their own hands to help make several of these ideas realized.
Demographics
One trend that is consistent across America, though not the world, is that cities with a more diverse population tend to be more liberal. This is especially true of African-Americans, who overwhelmingly vote for the Democratic candidate each presidential election. According to a report by Vox, more than 90% of Black voters voted for the Democratic candidate in each of the last three elections, with 97%

voting for Obama in 2012.
As Buffalo's population has become more diverse nearly every year since its founding, Buffalo has tended to become more liberal with that trend.
The 2020 census showed that less than 50%

of Buffalo residents are white and nearly 37% are white with 12.3% Hispanic and 5.9% Asain. Essentially all minority groups for in favor of liberal-leaning candidates, so as the number of minorities increases, Buffalo tends to lean more and more liberal.
Black Lives Matter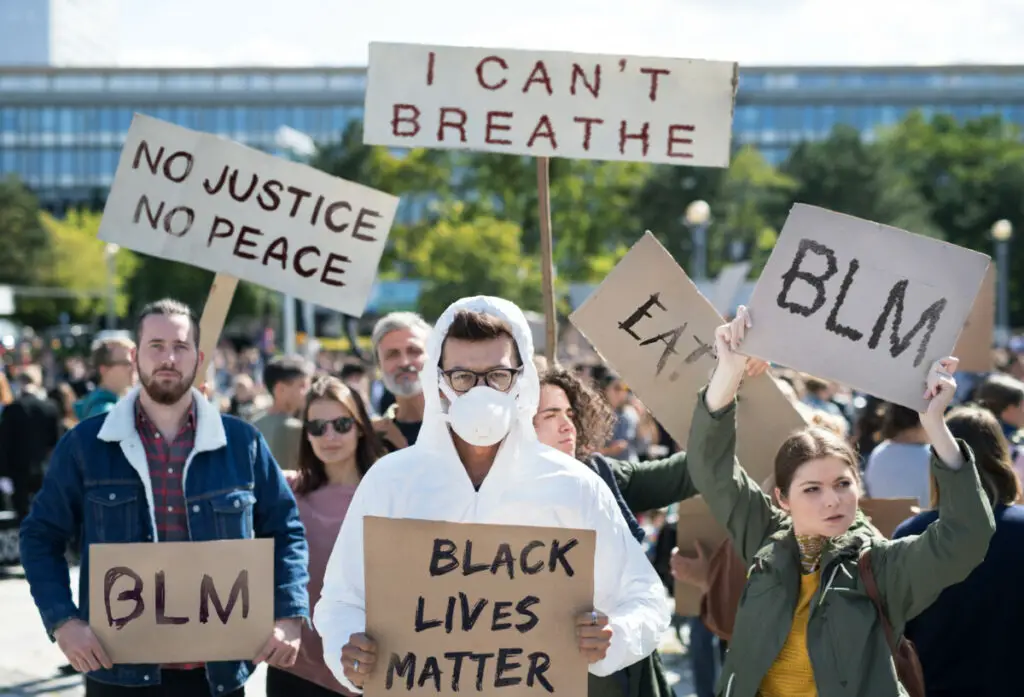 When George Floyd was killed in May of 2020, protests sprang up across the entire nation and Buffalo became a particularly noted city for those protests.
Over 1000 residents of Buffalo took to the streets to protest the unfair and heartbreaking death of George Floyd and protested outside city hall to demand change in the nation. Protestors hoped to influence the government to pass legislation to reform police procedures, as well as send a national message in hopes of preventing further murders like that of Floyd in the future. While the protest was initially peaceful, it soon turned violent in some areas.
After the mayor issued a curfew, protestors continued to stay outside after the curfew was to take effect. Eventually, an on-fire projectile was thrown through one of the windows at city hall. From there, several other various riotous acts took place over the next several days. A curfew took place every night, but many people disregarded them. One woman was even arrested after driving through a police barricade and injuring two officers.
The tensions between officers and protestors were high, and when police are the matter being protested, their presence tended to infuriate protestors further. A state of emergency was declared by the mayor in order to curb the violence taking place. A news story went national when a video of an officer pushing an elderly man to the ground went viral.
The intense feelings of liberalism that support the Black Lives Matter movement are still strong in the city today and continue to guide the thoughts and actions of the residents and government of Buffalo.
Buffalo Shooting
Another issue that has highlighted the liberal nature of Buffalo is the May 2022 shooting that tragically happened.
A young male, as an expression of racism, shot and killed 10 people while injuring 3 others. The shooting occurred in a supermarket in a predominantly black neighborhood, and all 10 who died were black. The 18-year-old shooter live-streamed the entire event and could be heard shouting racial slurs during the shooting.
The shooting received global attention and again brought protestors across America. Residents of Buffalo have since been calling for stricter gun laws and better police practices. As several other shootings took place across America, including the infamous Uvalde shooting, the liberal ideal of restricted access to guns has been brought forward in every city, and Buffalo has especially advocated for such practices.
Buffalo continues to mourn the hate crime and use their passion to make a change in the future.
Roe vs. Wade Protests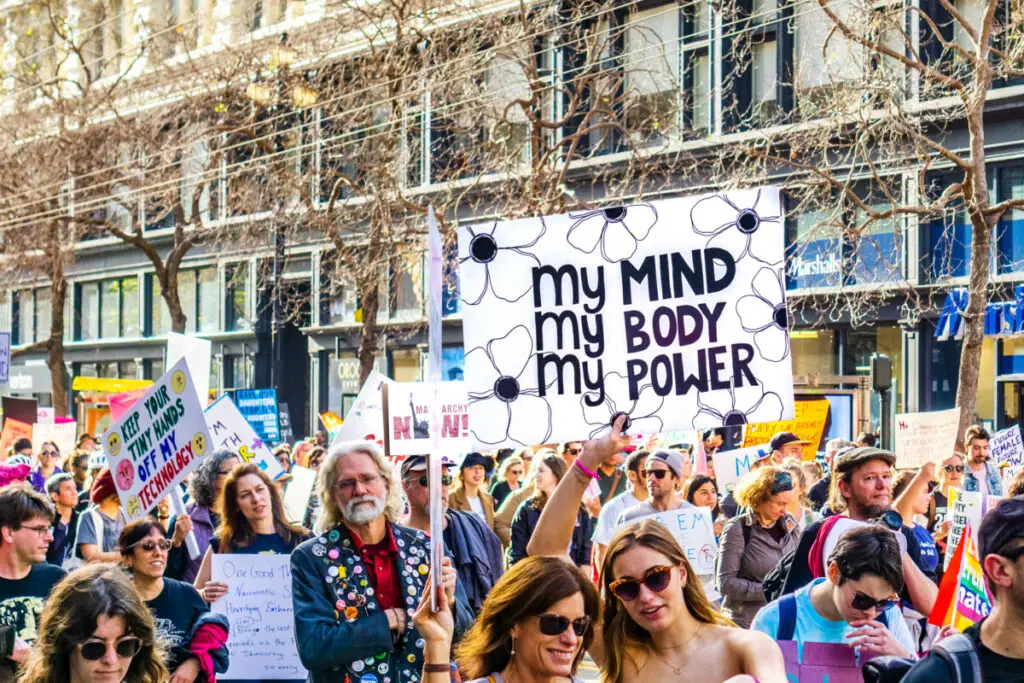 Unfortunately for residents of Buffalo, protests are far from over.
Only a few weeks after the terrible shooting in Buffalo, the Supreme Court overturned the famous Roe vs. Wade court case that made it illegal for states to make abortions illegal. Protestors again took to the street

at Niagara Square, an area becoming quite familiar with government protests, to show their dissatisfaction with the Supreme Court.
New Yorkers en masse are not at risk of losing the right to an abortion, as its liberal politicians have laws that make an abortion legal for residents, but several states across America are doing quite the opposite. States like Alabama and Louisiana have laws that now make it illegal for women to get an abortion, though the particulars of the laws vary by state.
Buffalonians are hoping to send a national message, just as they did with the Buffalo Shooting and George Floyd's death, in hopes of convincing others to join their cause and create change at the federal level.
Protestors sported many different signs, shirts, and slogans to highlight the argument they want to spread. "My Body, My Choice" and "Abortion Rights are Human Rights" are themes for the protestors who wished the Democrat-majority federal government would codify Roe vs. Wade.
Related Topics:
If you like the article above, here are some other similar articles you should check out!
9 Famous Celebrities Who Live in Buffalo, New York

Is there Public Transportation in Buffalo, New York?

17 Reasons Not to Move to Buffalo, New York