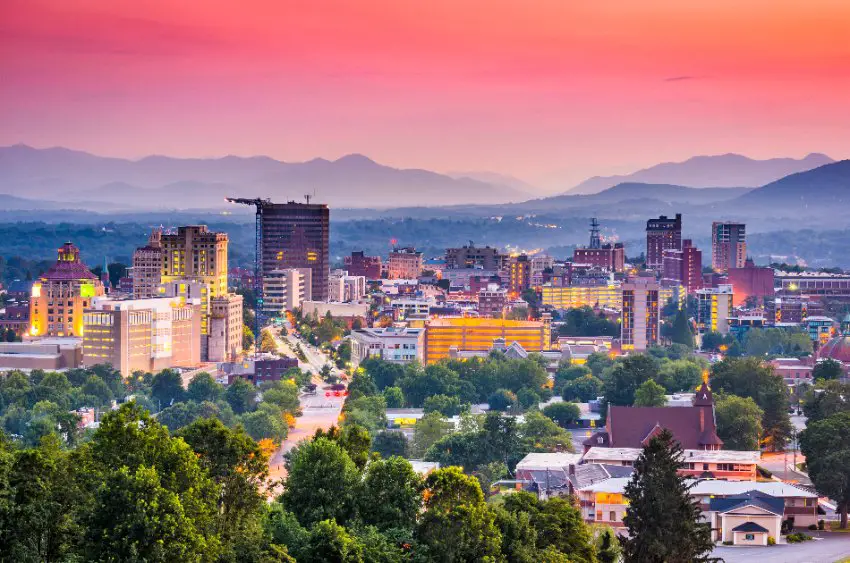 Asheville is a beautiful town in the Appalachian region of western North Carolina. Is Asheville a conservative city, especially given its proximity to North Carolina, which is very conservative?
Asheville, North Carolina is not a conservative city. Asheville is a very liberal city and has voted for Democrats during the past 4 presidential elections. One resident commented that the politics there are closer to Portland, Oregon than they are to their southern neighbors.
We're going to go over why Asheville isn't very conservative below, so keep reading if you want to find out more about the political opinions of residents of this city.
Information About Asheville, North Carolina
Population: 94,067
Demographic: White (non-Hispanic) 77.7%, Black 11.1%, Hispanic/Latino 6.7%
Median Household Income: $53,621
Asheville and the surrounding areas have been experiencing a lot of growth over the past several years. It's become a popular destination for those that love the mountains and want to get out of some of the bigger cities in places like New York and Florida. What many don't know, however, is that the area is also somewhere that people from these cities move to because of its strong Democratic presence among residents!
Over the last 3 years, from 2018 through 2021, the city of Asheville recorded a total of 27,752 financial contributions made to Democratic party and liberal campaigns

, raising a collective total of $2,369,837! This is more than 10 times more contributions and three times more in financial value than was received within the city for opposing Republican Party and conservative campaigns in Asheville over the same 3-year time span! Clearly, the population shows stronger support for the Democratic party, showing that Asheville is far from conservative in political views.
Federal Elections
Asheville has voted for the liberal candidate for office in the past several elections. In the 2020

presidential election, Buncombe County voted 59.7% for Joe Biden (D) and 38.6% for Donald Trump (R). In the primaries for the 2020 election, Bernie Sanders won the county. Bernie Sanders was considered the further left candidate in that race and was popular with younger liberals.
In the 2016 election, the county voted 54.3% for Hillary Clinton (D) and 40.1% for Donald Trump (R). They also voted for the liberal candidate in the 2012 and 2008 elections.
In the 2020 Senate race, Buncombe County voted for the liberal candidate 57.9% and 37.9% for the conservative candidate. The Republican candidate ended up winning the election statewide by a narrow margin.
The 2020 House race for North Carolina District #11 where Asheville resides was won by the Republican candidate, but Buncombe County, where Asheville resides, still voted 58.37% for the Democrat candidate.
Asheville has been a hotly contested

area during redistricting efforts for the next decade. The North Carolina General Assembly originally had Asheville split in two in order to benefit Republicans, but that map was shot down by the North Carolina court system. The case is about to be reviewed by the US Supreme Court. If the General Assembly wins, Asheville is likely going to be stuck with Republican representatives. If the state court's decision stands, they will have a better chance of voting a liberal representative into power.
Local and State Elections
While Asheville is a very blue city, North Carolina is more of a swing state that holds really close elections year to year.
Currently, the state has a Republican-controlled general assembly and a Democrat governor. In the 2020 election for governor, the county voted 61.95% for the Democrat Roy Cooper. In 2013 the state had a Republican governor, but the state has primarily had a Democrat in office since the early 1990s

.
From 1999 to 2010, North Carolina was completely controlled by Democrats, but the last few years have seen a Republican controlled general assembly. Asheville has 3 Democrat representatives in the State House currently and 1 Democrat and 1 Republican in the state senate.
The current mayor of Asheville is Esther Mannheimer (D) and the town has voted for mostly democrat candidates for the County Board of Commissioners

as well.
In the race for the 2022 mayoral election, Mannheimer is currently running for re-election with one of the main topics being the rise in homelessness in the city. Candidates have different views on how to tackle the problem and it's become a major subject of debate in the race. Both candidates consider themselves to be progressives.
Public Education
Public Education has become an important topic for conservatives in recent years.
While race relations and LGBTQ+ issues in school curriculums are a big topic in other states, North Carolina's issues with public education seem to mostly be with funding. Many schools in the state have been complaining that they are having trouble retaining teachers.
Currently, the state legislature is trying to add funding to their school voucher program, which allows some students to use funding in non-state schools. This is in line with the conservative case for school choice, which may be important for conservative parents.
Taxes
Asheville and North Carolina in general come in around the middle on taxes. It is neither a high-tax state nor a low-tax state.
North Carolina has a state income tax rate of 5.25% and no local income taxes.
Asheville's current property tax rate is

"42.89 cents for every $100 of assessed property." They're currently considering changing the rate to be standard across the area since currently, some neighborhoods have different tax rates than others. The change could see many people paying higher taxes soon. Overall, property taxes in North Carolina are fairly low. Property taxes are the largest source of income for Asheville.
Asheville's effective sales tax rate is 7%

. North Carolina has a rate of 4.75% while Buncombe county has a 2.25% sales tax on top of that.
Social Issues
Asheville made headlines back in 2020 when the city council voted for reparations for the city's black residents. The reparations are supposed to be for the city's past participation in slavery and racial discrimination. Recently, the committee

that will decide exactly how to implement the policy was chosen. It's also been decided that their efforts will be focused on 5 main areas.
Housing
Economic Development
Health
Education
Criminal Justice
Providing reparations to the black community is considered a liberal policy and this is one of the more liberal policies in the country on this issue.
Guns
Asheville, North Carolina is not a pro-gun city, but they are restricted by North Carolina state law from placing more restrictions on guns. Asheville's city council does have a dangerous weapon policy that essentially prohibits weapons

from being carried on any city property. You are not allowed to carry a weapon on city buses, city property, or city-owned or operated recreation sites. They also ban concealed carry permits on city property.
North Carolina requires a state-issued permit

to carry a concealed firearm for self-defense. Those permits can be obtained from the county sheriff's office after completing an approved training course. Open Carry is legal for anyone in the state without a permit.
North Carolina also requires a permit to purchase a handgun. In order to purchase a handgun, you need to either have a concealed carry permit or a handgun purchase permit from your local sheriff's office. This is much more restrictive than many other states that allow anyone over 21 to purchase a handgun.
North Carolina has no special restrictions on specific firearms or magazine capacity.
The laws in the state are conducive to gun ownership, however, with many states moving to constitutional carry laws where no permit is required, some conservatives may find issues with the permit restrictions. You will also find that many residents and officials in the city often do not like guns.
Abortion
Abortions are currently allowed in North Carolina up to the 20-week mark. Asheville has one Planned Parenthood abortion clinic in it that provides abortions in the area. They have also seen higher numbers due to people coming from surrounding states, much of which are restricting or banning abortion.
Residents of Asheville seem to largely support abortion and have held protests since the overturning of Roe v Wade, asking for the government to protect the right to have an abortion.
What Parts of Asheville are More Conservative?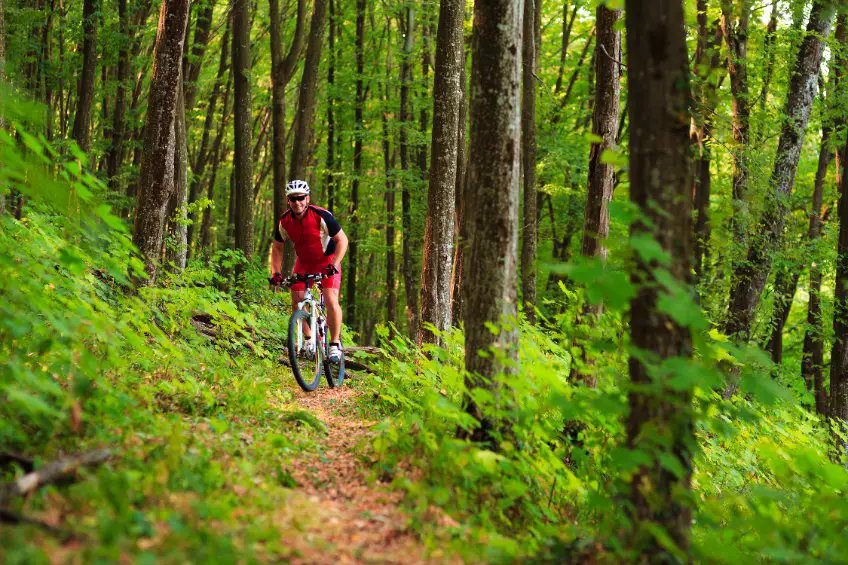 There are a lot of great reasons to live in and around Asheville outside of politics. It's a fast-growing town that is very popular with outdoorsy people. There are also situations where you might need to move for work or family. You can still find great spots to live if you're looking for more conservative neighbors.
Asheville is a very blue city, but it is surrounded by red towns and neighborhoods. Almost all of the towns to the west of Asheville are considered to be very conservative. Listed below are some neighborhoods you might consider living in that are around Asheville in case you are planning a move to the area.
Canton
Waynesville
Fletcher
Flat Rock
If you're looking for a great mountain town in the area, you might also consider moving to Knoxville, Tennessee to the west. Knoxville is on the other side of the mountain range and it is a very conservative city.