North Carolina is an incredible state filled with all sorts of climates, cultures, and creeds of people, and Raleigh is the convergence of all those lives. From artists to activists, athletes to race car drivers, Raleigh, and its surrounding towns make the home for some truly remarkable people.
1. Clay Aiken
Not only was Clay Aiken born and raised in Raleigh, North Carolina, but he also found his true passions serving in Raleigh and its surrounding communities. Aiken is best known for his singing career, which started on American Idol in 2003, but in the last few years has made a name for himself in philanthropy and state politics. In 2014, he was the Democratic front-runner for North Carolina's 2nd congressional district in the United States House of Representatives. Since losing to his Republican opponent, Aiken has taken to hosting political podcasts and increasing his sphere of influence in social advocacy and special needs awareness.
2. Mike Krzyzewski
Also known as Coach K, Mike Krzyzewski (pronounced Sha-shef-skee) has been the head coach of the Duke University men's basketball team for the last 41 years. His impressive record of over 1,000 wins with the university marks him as one of the greatest coaches of all time. He has lead Duke to 5 NCAA National Championship titles during his career.
Coach K was also the assistant coach of the United States Men's Basketball Team in the 1984 and 1992 Olympics, and the head coach during the 2008, 2012, and 2016 Olympic Games. He has five gold medals from each of those tournaments. The 1992 Olympic basketball squad, dubbed "The Dream Team," is regarded as one of the greatest teams of all time, and featured North Carolina-native Michael Jordan.
Because of the length of his career, Coach K has seen some of the prolific athletes in his day, including Christian Laettner, Seth Curry (also a North Carolina Native), and Grant Hill.
3. Michael Jordan
One of, if not the, greatest athlete of all time, Michael Jordan hails from North Carolina and calls it home to this day. Jordan attended the University of North Carolina-Chapel Hill where his basketball career took off. He owns part of North Carolina's professional basketball team, the Charlotte Hornets, and sits on their executive board. During his NBA career, MJ could be found playing 18-holes on the golf course, setting a precedent for the home he owns a few minutes south of Raleigh in a quiet golf community.
Michael Jordan's name can be found all over North Carolina. He is honored and revered all over the state but also is thoroughly involved in the society of the state. Michael Jordan Nissan is located in Durham, North Carolina, and there are several Michael Jordan Family Health Clinics around the state, which provide health care for rural and rural-adjacent communities all over North Carolina.
His alma mater, UNC-Chapel Hill, no doubt benefits from MJ's success. Jordan's attendance cemented UNC's reputation as a basketball powerhouse. They have won five NCAA National Championships since "Mike Jordan" made his appearance at the school– the 1982 title being Jordan's own with the university.
5. Dale Earnhardt Jr.
Another NASCAR legend, Dale Earnhardt Jr, and his father, the late great Dale Earnhardt Sr, are both North Carolina natives. "Junior," as he's known, still resides in North Carolina today where he lives with his wife and family. He actively retired in 2017, giving him more time to dedicate to his podcast, Dale Jr. Download, commentating for various raced and tournaments, and being a father to two young daughters.
Despite sharing the same name and career, Dale Earnhardt Jr did not grow up being very close to his father. His parents divorced when he was young, and Dale Sr was frequently gone building his successful racing reputation. His father's famous name didn't even win Junior much street cred in school. Their relationship was strained until about 1994 when Junior was named a driver for the Xfinity Series team. After years of a strained relationship filled with misunderstanding, Junior's success won his father's approval. Unfortunately, just a few years after Junior's career took off, Dale Earnhardt Sr died in 2001 on the last lap of the Daytona 500, in Dayton Beach, Florida.
Earnhardt Jr has won the Daytona 500 twice, which is five fewer than record holder Richard Petty, who holds the title of most wins in Daytona at seven.
4. Richard Petty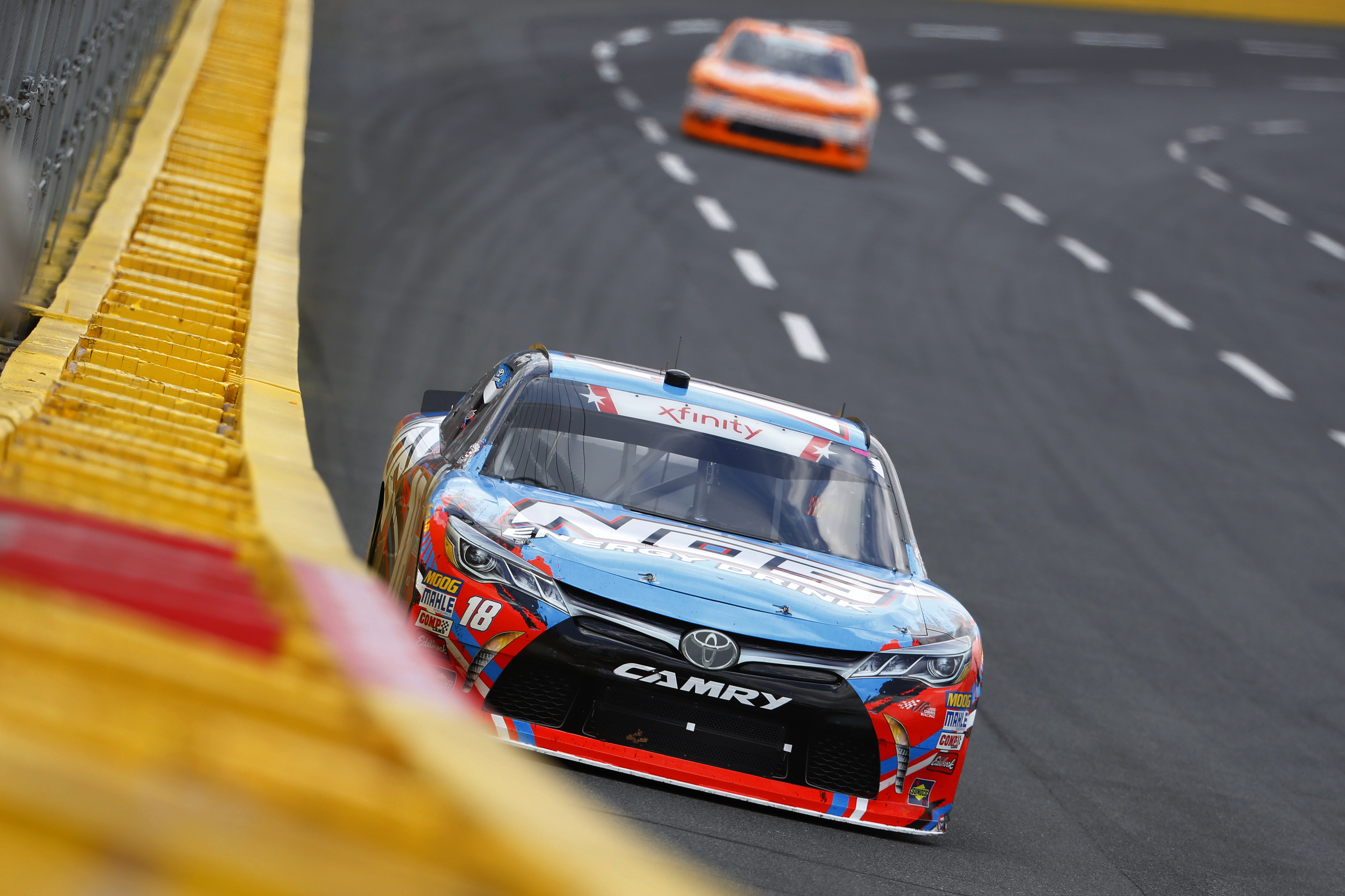 As "The King" of NASCAR, Richard Petty has had a profound impact on North Carolina and the success of the National Association of Stock Car Auto Racing, which was founded in Florida but has a renowned presence in North Carolina. Petty is one of the most winningest racers in the history of NASCAR, and, despite his ripe age of 83, he still remains heavily involved in the organization. He owns Richard Petty Motorsports, which races Erik Jones under Petty's original number, 43, which operates out of North Carolina. Petty's Garage is also in North Carolina and services global customers with a garage that modifies, restores, and repairs custom cars.
Petty is the most decorated of any NASCAR driver, and while his success has taken him is many diverse and foreign places, ha maintains that nothing compares to North Carolina. For Petty, it's a matter of family and the feeling of home–a sentiment that is reflected in the culture and history of North Carolina. Richard Petty became involved in racing because his father, Lee Petty, was a NASCAR driver himself. Lee won the first-ever Daytona 500 and held the record for most wins in the NASCAR series until his son Richard surpassed him. And then some.
6. Zach Galifianakis
Actor and comedian Zach Galifianakis spends much of his time traveling for movies and comedy specials, but when he's off the clock, he resides in North Carolina. Galifianakis also attended North Carolina State University, but never officially graduated. He cites his lack of commitment to the school and the rich culture of Raleigh as why he did not receive his degree. Nevertheless, whenever he is in town, he always will walk the East Campus of the university. Both his father and older brother attended NC State, so he grew up with a profound fondness for it, even if he didn't take his own education seriously.
7. Nicholas Sparks
Author Nicholas Sparks is a beloved resident of North Carolina. While he was born in Omaha, Nebraska, Sparks settled in North Carolina and uses it as a setting for many of his novels. Not only can you explore his town, but also take tours of the cities and towns he uses as inspiration for his books.
A number of his novels are set in the dreamy east coast of North Carolina, and a few of their film adaptations were filmed in NC. North Carolinians take great pride in their home and are eager to show off the charm that Sparks so brilliantly highlights in his novels.
Of the 23 books Sparks has released in the course of his career, 19 of them are set in North Carolina. A number of Sparks' novels are based on stories from his own family and their history. While the real-life stories didn't take place in North Carolina, the charming coastal and rural towns of this East Coast state make for the perfect backdrop to a heartbreaking romance.
8. J. Cole
Jermaine Lamarr Cole is a perfect representative of another crucial part of North Carolinian culture: Its rich military history. Jermaine Cole, a rapper whose stage name is "J. Cole," was actually born in Frankfurt, Germany while his father served in the U.S. Army. While still a child, he moved back to North Carolina and grew to know it as his home.
Despite moving to New York City early in his adult life to get a jumpstart on his rapping career, J Cole is still heavily involved in the culture of North Carolina. In the Black Lives Matter protests of 2020, Cole returned to his hometown to lend his voice to the cause. Additionally, he was recently honored with a mural in the University Hill area of Raleigh. The mural, painted by another North Carolina resident, pays homage to Cole's influence on the Southern state. That positive influence got him named "Tarheel of the Year" in 2019.
9. James Taylor
The famous singer of "Carolina in My Mind," James Taylor has been a resident of Chapel Hill, North Carolina, which is a suburb of Raleigh. Taylor's father acted as the Dean of UNC-Chapel Hill's medical school, keeping the Taylor family in the Chapel Hill area for much of James' life.
"Carolina in My Mind" was written in 1968 while Taylor was recording in London, England with The Beatles. It addresses Taylor's homesickness and longing for the familiarities of his state while he worked across the Atlantic Ocean. Calling to specifics of Carolinian life, "Carolina in My Mind" is a ballad that perfectly encompasses the beauty and warmth that can only be found in North Carolina.
Since the song appeared on his debut album in 1968, James Taylor has won 6 Grammy awards. He was also inducted into the Rock and Roll Hall of Fame in 2000, and the North Carolina Music Hall of Fame in 2009. The University of North Carolina-Chapel Hill established a permanent exhibit to honor Taylor and his music in the Chapel Hill Museum.
Related Topics:
If you like the article above, here are some other similar articles you should check out!
17 Reasons Not to Move to Raleigh (Voted by the Locals)

Best Internet Providers in Raleigh, as Voted by Over 50 Residents