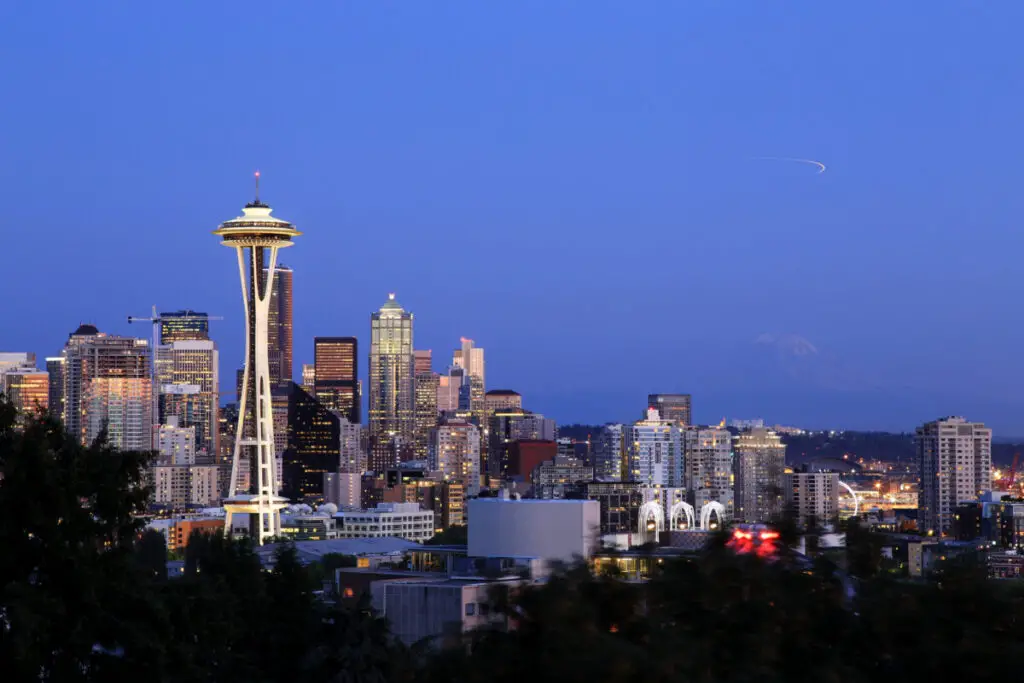 Seattle is known as the Emerald City due to the lush, forest greenery that surrounds it all year long. This beautiful coastal city is home to many famous celebrities. Take a look at our list to find out which celebrities call Seattle home, you might be surprised by some of them!
Bill Gates
Microsoft founder Bill Gates owns an extravagant mansion in Medina, a suburb of Seattle. Gates was born in Seattle and loves his hometown enough to have made it his primary residence as an adult. It took Gates seven years and $63 million to build the estate, which is named "Xanadu 2.0". Medina is also home to fellow billionaire Jeff Bezos, making this suburb home to some of the wealthiest people on the planet. 
The property is 66,000 square feet, and the massive home is filled with high-tech details like a pool with an underwater music system, and speakers are hidden behind wallpaper that allows music to follow you from room to room.
Anna Faris

Actress Anna Faris is known for her comedic film roles. Farris grew up in the Seattle area and attended school at the University of Washington where she earned a degree in English literature. Faris and her now ex-husband Chris Pratt bought property together in the San Juan islands of Washington. In spite of their separation in 2018, Faris reportedly still owns property there. San Juan Island was also the location of Faris' wedding to her new husband, Michael Barrett in 2021.
Chris Pratt
American Actor and ex-husband of Anna Faris Chris Pratt is known for his role in "Guardians of the Galaxy" and "Parks and Rec." Pratt wasn't born in Seattle, but his family did move to Lake Stevens as a child, and he attended school in Washington at Lake Stevens High School, where he was on the wrestling team. Although Pratt's primary residence is no longer in Washington, he still owns a farm in the San Juan Islands and is a huge fan of the Seattle Seahawks.
Jeff Bezos
Billionaire and Amazon founder Jeff Bezos own property in the same suburb of Seattle as Bill Gates. A few years after Bezos founded Amazon, he paid $10 million for what has been his primary residence for the past few decades. The property consists of two homes, one measuring 20,600 square feet and the other 8,300 square feet, which are situated on about 5.3 acres in the exclusive neighborhood of Medina. In 2010, Bezos began renovations on the property, which would add up to $28 million. Later that same year, Bezos bought the property next door

, a 24,000-square-foot house with an additional five acres, which was listed for $53 million at the time. Bezos still owns the property today.
Eddie Vedder
Seattle has a rich history of music and artistry, with many artists having grown up there and several bands having formed and started their early careers in the city. Eddie Vedder is the lead singer of the band Pearl Jam and was inducted into the Rock and Roll Hall of Fame in 2017. Vedder also currently lives in West Seattle

with his wife and daughters and has resided there since 1990. Despite his career as a rocker, Vedder reportedly enjoys keeping a low profile and being able to live a "normal life" outside of the spotlight.
Bill Nye
Back in the 1990s, Bill Nye starred in the most-watched children's educational show on television. Before he became popularly known as "Bill Nye the Science Guy," he worked in Seattle as an engineer for Boeing after graduating from Cornell. While working for Boeing, Nye helped to invent an important hydraulic component of the 747. Nye still lives in Seattle today, on Mercer Island. Nye also owns homes in New York City and Los Angeles.
Dave Matthews
Singer and musician Dave Matthews was originally born in Johannesburg, South Africa, and formed his band in Charlottesville, Virginia, but has chosen to put down roots in Seattle. Dave Matthews married Jennifer Ashley Harper in 2000, and together they have twin daughters, Stella Busina and Grace Anne who were born in 2001, as well as a son, August Oliver who was born in 2007. They have lived together in Seattle since the early 2000s.
Sir Mix-A-Lot
Anthony Ray, known as Sir Mix-a-Lot was born in Seattle. Ray is best known for his song "Baby Got Back," which reached number 1 on the US Billboard Hot 100 chart for five weeks in the summer of 1992. Ray also won a Grammy Award the following year for Best Rap Solo Performance because of the song. It is in Seattle where Ray first achieved stardom

, and he still lives in the city today as Seattle-based a songwriter and record producer.
Kurt Cobain
Nirvana frontman Kurt Cobain passed away in 1994 but still has strong connections to Seattle and Washington state. His childhood home is located in Aberdeen, Washington, which is about a two- to three-hour drive from Seattle. He spent 14 years in the home and lived there until he was about 20. Many fans have visited the house over the years.
Later in life, Cobain lived on Lake Washington Boulevard in Seattle, which is the house where his body was found on April 8, 1994.
During his life, Cobain was a famous Seattle musician, known as a leader of the 1990s grunge era, and was highly influential and involved in the Seattle music scene. Cobain's influence on Seattle musicians continues to this day.
Cobain was not buried after his death in 1994 since his body was cremated. His ashes were scattered in a memorial ceremony, but since the exact location has not been revealed to the public, fans will often visit his childhood home in Aberdeen or his home in Seattle to pay respects.
Other Celebrities Born in Seattle
Along with the list of celebrities who currently live in Seattle, there are also plenty of famous people who were born in this city and no longer live there. Here is a list of famous celebrities born in the Emerald City:
Jimi Hendrix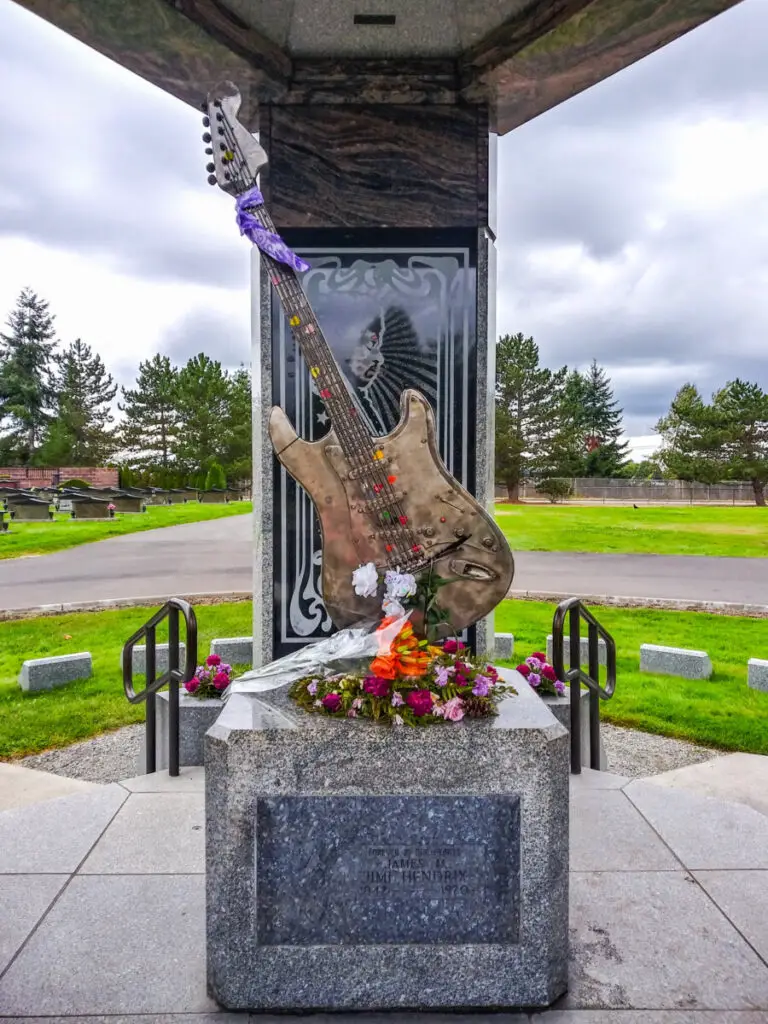 James Marshal Hendrix, known as Jimi Hendrix and one of the greatest guitarists of all time, grew up in Seattle and spent the first 18 years of his life there. Hendrix had a turbulent childhood, but Seattle and neighboring cities have dedicated many tributes to Hendrix including murals, statues, and museum exhibits that feature some of his possessions. Jimi and his parents, Al and Lucille, are buried 15 miles south of Seattle in Renton's Greenwood Memorial Park.
Dove Cameron
Cameron is known for her acting on Disney channel shows and movies like Liv and Maddie and Descendants as well as for her career as a singer. Cameron (born Chloe Celeste Hosterman) was born in Bainbridge Island, Washington, just a ferry ride away from Seattle. As a child, she attended Sakai Intermediate School on the island. It was years later at age eight that Cameron began participating in community theater productions at Bainbridge Performing Arts. At age fourteen, Cameron moved with her family to Los Angeles, California.
Jeffrey Dean Morgan
Morgan is an actor known for roles on Grey's Anatomy and The Walking Dead. Morgan was born in Seattle and grew up there, attending and graduating from Lake Washington High School in 1984. He also attended Skagit Valley College for a short time to pursue a career in basketball. Due to a leg injury, Morgan's hope of becoming a professional player was dashed, so he left college to pursue his other artistic interests such as painting and writing. While helping a friend move from Seattle to Los Angeles, Morgan decided to relocate to LA permanently in order to pursue an acting career.
Rainn Wilson
Actor Rainn Wilson gained widespread popularity through his role as Dwight Schrute on the show The Office. Wilson was born in Seattle in 1966. Wilson attended college in Massachusetts for a time before transferring to the University of Washington in Seattle, where he graduated in 1986 with a bachelor's degree in drama.
Carrie Brownstein
Actress, comedian, and musician Carrie Brownstein was born in Seattle in 1974 and grew up in Redmond, Washington. She is best known for her tv show Portlandia, which ran for 8 seasons. She attended Lake Washington High School for a time, and later transferred to The Overlake School for her senior year. After high school, Brownstein attended Western Washington University before transferring to The Evergreen State College. After graduating in 1997, Brownstein stayed in Olympia for three years before moving to Portland, Oregon where she still lives today.
Brownstein began playing guitar at 15 and has been a part of several bands including Excuse 17 and Sleater-Kinney.
Kenny G
Famous saxophonist Kenny G was born in Seattle in 1956. He was first inspired to play the saxophone after hearing a performance on The Ed Sullivan Show. He started playing the saxophone in 1966 at age 10.
Kenny G spent his early years in Seattle, attending school at Whitworth Elementary School, Sharples Junior High School, Franklin High School, and the University of Washington, all of which are located in his home city.
He played in Barry White's Love Unlimited Orchestra at age 17 and continued to play professionally while studying accounting at the University of Washington where he graduated magna cum laude.
Related Topics:
If you like the article above, here are some other similar articles you should check out!
13 Best Family Neighborhoods in Seattle

11 Pros and Cons of Retiring in Seattle

12 Reasons Not to Move to Seattle, Washington