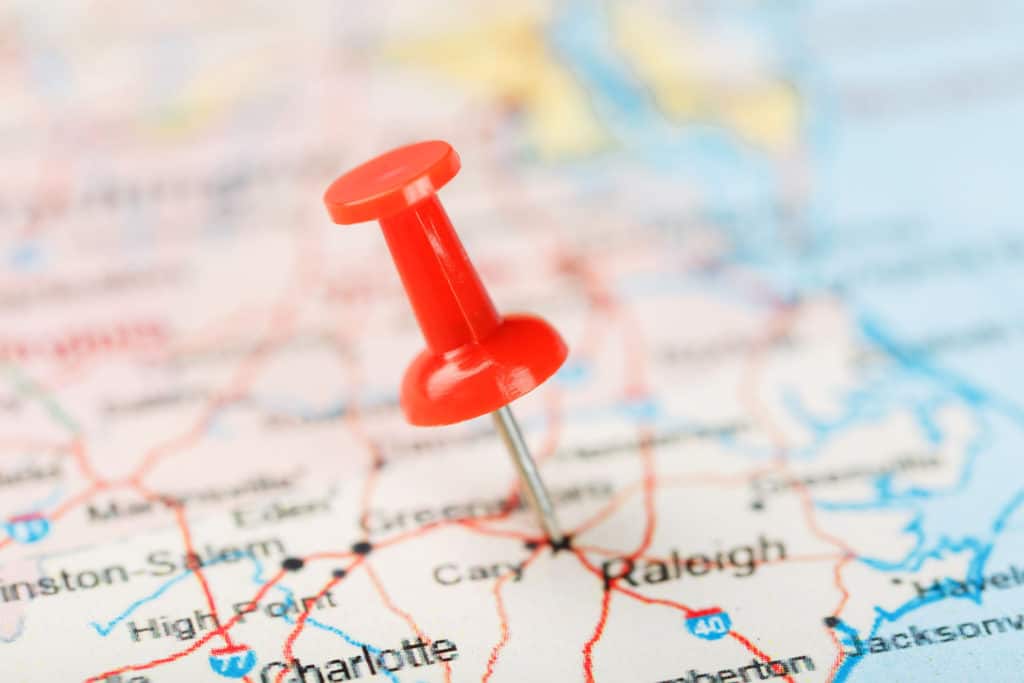 As the capital of North Carolina, Raleigh has seen some celebrities throughout the years. Many celebrities were born and raised in Raleigh, but only a few have stuck around.
Whether it be for the small-town lifestyle, family, or the trees, these celebrities still live in the Raleigh area today!
1. Clay Aiken
Most known as the runner-up on the second season of American Idol, Clay Aiken is a Raleigh native.
Aiken was born in Raleigh and still lives there today. He was raised in Raleigh and attended Leesville Road High School. During his early years, he spent his time singing and acting.
Aiken performed the National Anthem many times for the Raleigh IceCaps and the Carolina Hurricanes hockey teams.
During his high school years, Aiken worked at the local YMCA and found an interest in special education. His love continued to develop as he became a substitute teacher for a class of autistic students at Brentwood Elementary School in Raleigh.
Aiken continued his education at Campbell University and soon after transferred to the University of North Carolina at Charlotte (UNCC) to get a degree in Special Education.
It was at UNCC where Aiken started to work part-time as an assistant to an autistic boy, and the boy's mother encouraged Aiken to audition for American Idol.
Though Aiken placed second place in American Idol, it does not mean he has not been successful. Aiken's debut album Measure of a Man went multi-platinum, has done eleven tours in support of his other albums, and has appeared on Broadway in Spamalot as Sir Robin. Aiken is the fourth-highest-selling American Idol alumnus.
Even though he was busy touring, Aiken still finished his Bachelor's degree in Special Education.
Aiken still resides in Raleigh and has even run for congress. In 2014, Aiken ran for the US House of Representatives but lost to incumbent Renee Ellmers in the general election.
2. J. Cole
Jermaine Lamarr Cole is a well-known rapper and producer. His albums have reached number one on the US Billboard 200 and have broken other records for his music.
J. Cole has produced singles for Kendrick Lamar and Janet Jackson.
He also has a non-profit known as the Dreamville Foundation which helps the youth from his hometown of Fayetteville and "bridge the gap" so the youth can have better opportunities.
He has won a Grammy for Best Rap Song, a Billboard Music Award for Top Rap Album, and all five of his albums are certified platinum.
Born at an American military base in Germany, J. Cole eventually moved to Fayetteville, North Carolina with his mother and brother. He began rapping at age twelve and graduated high school with a 4.2 GPA. He got a scholarship to St. John's University in New York City and graduated with a 3.8 GPA.
J. Cole worked on his mixtapes as early as age fourteen. in 2010, he placed as one of the "Top Ten Freshmen" for XXL's Magazine, naming him as an up-and-coming rapper. His first album Cole World: The Sideline Story came out in 2011 and has released six albums since.
He currently lives in Raleigh with his wife and son and is frequently seen at Lifetime Fitness, a local gym, where he will take pictures with fans.
3. Scotty McCreery
Another American Idol alumnus, McCreery was born in Garner, North Carolina. His love for music started when his grandmother gave him a book about Elvis, who became his earliest musical influence.
McCreery attended Garner Magnet High School where he played baseball but also took part in school productions. He won a local singing competition and sung in his church choir.
At the age of sixteen, McCreery auditioned for the tenth season of American Idol. He won the competition and released his song "I Love You This Big," which entered the Billboard Hot Country Songs chart at number 32.
McCreery continued to make albums while also attending NC State University pursuing a Bachelor's degree in Communications.
In June 2018, McCreery married his childhood sweetheart Gabi Dugal and they live together in Raleigh.
4. Kristi Yamaguchi
Kristine Yamaguchi, known as Kristi Yamaguchi, is a figure skating Olympian. She participated in the 1992 Winter Olympics in Albertville, France, and got the gold.
In 2005, she was inducted into the U.S. Olympic Hall of Fame. To add to her list of accomplishments, she became the Mirrorball Champion in the sixth season of Dancing with the Stars.
Yamaguchi began ice skating as a child as a form of physical therapy for her clubbed feet. She was homeschooled for the first two years of high school to focus on her training but graduated from Mission San Jose High School in California.
In 2000, she married Bret Hedican, whom she met at the 1992 Winter Olympics as he played on the U.S. hockey team.
They currently live in Raleigh, NC where Hedican plays for the Carolina Hurricanes. They have two daughters.
5. Tyler Barnhardt
Actor Tyler Barnhardt is best known for his role as Charlie St. George in the television show 13 Reasons Why. He was born in Raleigh and was raised in a suburb of Charlotte.
He attended University of North Carolina at Greensboro's School of Music, where he earned a Bachelor's degree in theatre.
In 2016, he appeared on an episode of Turn: Washington's Spies which lead to his acting career. In 2019, he got the role of Charlie St. George in Netflix's 13 Reasons Why and is currently working on other projects.
6. David J. Burke
David J. Burke is an executive producer, screenwriter, and movie and TV director. He has produced Law & Order: Special Victims Unit, Wiseguy, and other shows.
Burke got his degree at Monmouth University and has won the Edgar Award for Best Television Episode Teleplay.
There is not much information about Burke, but his quiet lifestyle fits in with Raleigh's lifestyle of privacy and simplicity.
7. Evan Rachel Wood
Evan Rachel Wood is an actress, model, and musician and has won many awards. She has three Primetime Emmy Award nominations and three Golden Globe Award nominations.
Wood began acting in the 90s and made her big debut as a lead actress in Digging to China. She was only nine when she got the lead of this show.
From then on, she has been in many other films and shows such as Pretty Persuasion, The Wrestler, True Blood, and Westworld. She also voiced Queen Iduna in Frozen II.
Born to parents in the industry, Wood grew up in a theatrical home. Her mother is an actress, director, and acting coach, and her father is a singer, actor, playwright, and theater director.
Wood lived in LA for quite some time but moved back to Raleigh about five years ago to get back to her southern roots and houses with wrap-around porches.
8. Jeff Hardy
Jeffrey Nero Hardy is a famous professional wrestler and musician. He is best known for his work with WWE. Before signing with WWE, Hardy worked with his brother Matt, where they were known at "The Hardy Boyz." They were a tag team in wrestling matches.
Hardy has won six world championships, the 2008 WWE Championship, and has won the WWE Intercontinental Championship five times. When you add up all of his championships, he has twenty-nine under his belt.
At a young age, Hardy's mother died of brain cancer. He soon after picked up an interest in motocross and sports such as baseball and football. When he started to wrestle, he had to choose between football and wrestling, and he chose wrestling.
Hardy is currently a member of the band PeroxWhy?Gen. They have released three studio albums. Hardy is also a New York Times best-selling author for his memoir with his brother Matt, entitled The Hardy Boys.
After a very successful WWE career, Hardy has settled down with his wife of ten years and his two children in the Raleigh area.
9. Chris Daughtry
Christopher Adam Daughtry is a singer and songwriter. He is the lead vocalist and guitarist for the rock back Daughtry which he formed after placing fourth on the fifth season of American Idol.
Daughtry is the third most successful American Idol contestant and has been nominated for a Grammy for Best Rock Song for the song, "It's Not Over."
Even though he is a famous musician, he still resides in the Raleigh area. He grew up all over the state of North Carolina and his parents live in Virginia.
Daughtry auditioned for American Idol in Denver and made his way to the top four, only to be eliminated by Katharine McPhee. After American Idol, he was asked to audition for the band Fuel, but declined to form his own band.
Recently, he was named the runner-up on The Masked Singer.
Although Raleigh does not see as many celebrities as Los Angeles, it still has its share of famous people.
Many of them are previous American Idol contestants. Raleigh has a slower-paced lifestyle that offers privacy and relaxation. There is still a chance for a celebrity citing if you are looking close enough.
Related Topics:
If you like the article above, here are some other similar articles you should check out!
Best Internet Providers in Raleigh, as Voted by Over 50 Residents

17 Reasons Not to Move to Raleigh (Voted by the Locals)

9 Famous Celebrities Who Live in the Greater Raleigh Area