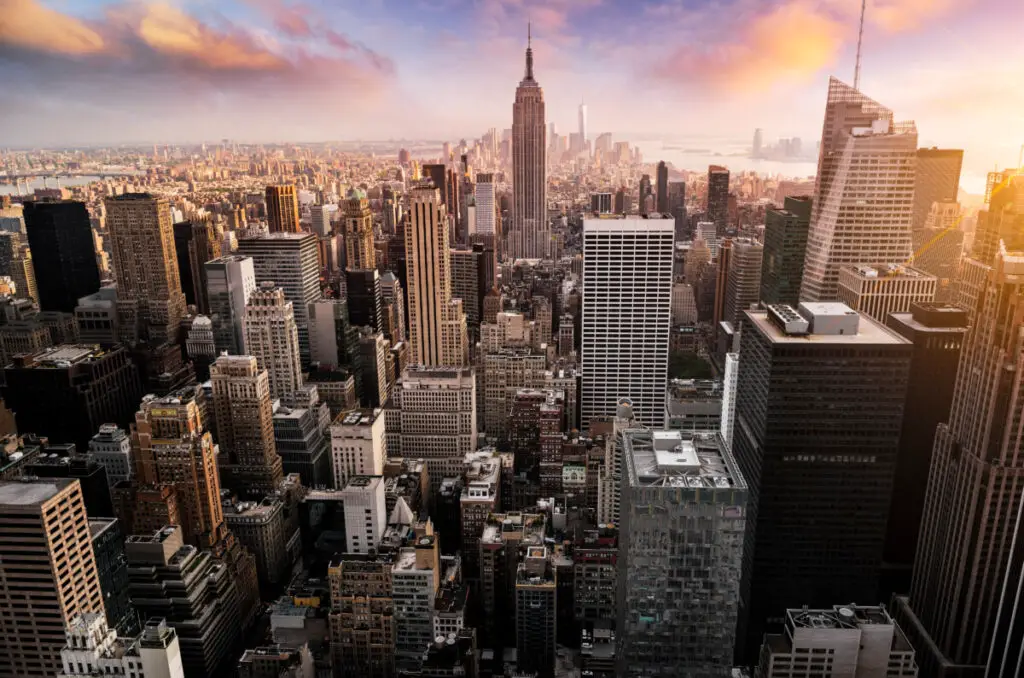 The stereotypical "big city" for American dreamers, New York City, "the Big Apple," has been home to many a celebrity and historical figure alike over the years. A center for culture, arts, music, and more, New York City remains a hub for people of all backgrounds. Many famous people who live there today confirm the hypothesis put forth by Sinatra, "if you can make it there, you can make it anywhere."
Walking around New York City today, who all might you run into in the city that never sleeps? Here are 9 famous writers, actors, songwriters, models, performers—celebrities!— who call New York home today.
Daniel Radcliffe
This actor, first made famous for his once-in-a-century role of Harry Potter, has done much more with his career since the end of the iconic series that launched him into stardom. Aside from continuing his calling as an actor, Radcliffe has also branched out to the stage, having been nominated for a Tony for his performance in How to Succeed in Business Without Really Trying— which he also performed a song from at the 2011 Tony awards. He has also performed in several other Broadway shows and has continued to hone his acting skills in films both large and small.
Today the native Brit calls New York's West Village his home, splitting his time between his London and New York residences. Radcliffe reports that he loves the feel of New York, stating
"I love just like, the neighborhood-y stuff, and like diners, and all the stuff we don't really have in England that I've become an obsessive, I guess an American-phile… I'm just like 'yes I love living here, this is the best!'"

-Daniel Radcliffe, LIVE Kelly and Ryan Show
Taylor Swift
Taylor Swift has been in the music business starting in 2007 and is still going strong as of 2022, having remained relevant throughout. She began her career at the tender age of 13 in the country music genre, and has since branched out into the pop and folk genres, each with great success. Many have applauded her as a genius lyricist, and Forbes magazine has called her "the queen of radio." Over her more than a decade long career, Swift has been applauded for her often complex and artistic lyrics, leading to many fans playfully dubbing her "the modern Shakespeare," with even several Buzzfeed quizzes devoted to guessing whether a line was by Swift or the Bard.
Today, her musical empire includes $80 million of real estate, including a luxury apartment and recently renovated townhouse in Tribeca. The 4-story townhouse which she bought in 2017 costs $10 million itself. It has been joked that with the total of her purchases, Swift owns pretty much the entire block.
Harry Styles
Since his start as teen pop-star and heartthrob in British boyband OneDirection, Harry Styles has gone on to be the most successful solo artist of the original group since the band's split in 2015. His discography includes Harry Styles in 2017, Fine Line in 2019, and Harry's House, set for release in May of 2022, along with several popular singles. He performed 2021 Grammys to much applause, and is lauded for not only his musical talent but also his non-traditional expression of gender, embracing both the masculine and feminine aspects of manhood.
Styles, like Radcliffe, also splits his time between London and NYC. Harry owns a $6.4 million apartment in Tribeca which he resides in when stateside. The 4-bedroom apartment is roughly 3,000 square feet, and reportedly is furnished with the artist's personal library. He recently graced the cover of Better Homes and Gardens magazine, in which he discusses the lessons he learned while confined during the COVID-19 pandemic, and the meaning of "home".
Brain Stokes-Mitchell
Dubbed "the last leading man," by the New York Times, Brian Stokes-Mitchell is a Tony award-winning performer famous for his rich, deep voice and charming personality. Boasting such stage roles as Man of La Mancha, Kiss of a Spider Woman, Ragtime, Much Ado About Nothing, Sweeney Todd, and many others, Stokes is a pillar of the Broadway family. The performer has also taken plenty of film roles, including the voice of Jethro in the acclaimed animated 1998 film "Prince of Egypt," about the life of biblical prophet Moses.
The beloved singer lives today above a Broadway theater— which is rather fitting. Notably, during the pandemic of 2020, Stokes serenaded the essential workers and citizens of New York with "The Impossible Dream," from his role in Man of La Mancha, out his window for 2 months straight while recovering from COVID-19. The New York resident continues to live in the NYC abode with his family when not performing elsewhere.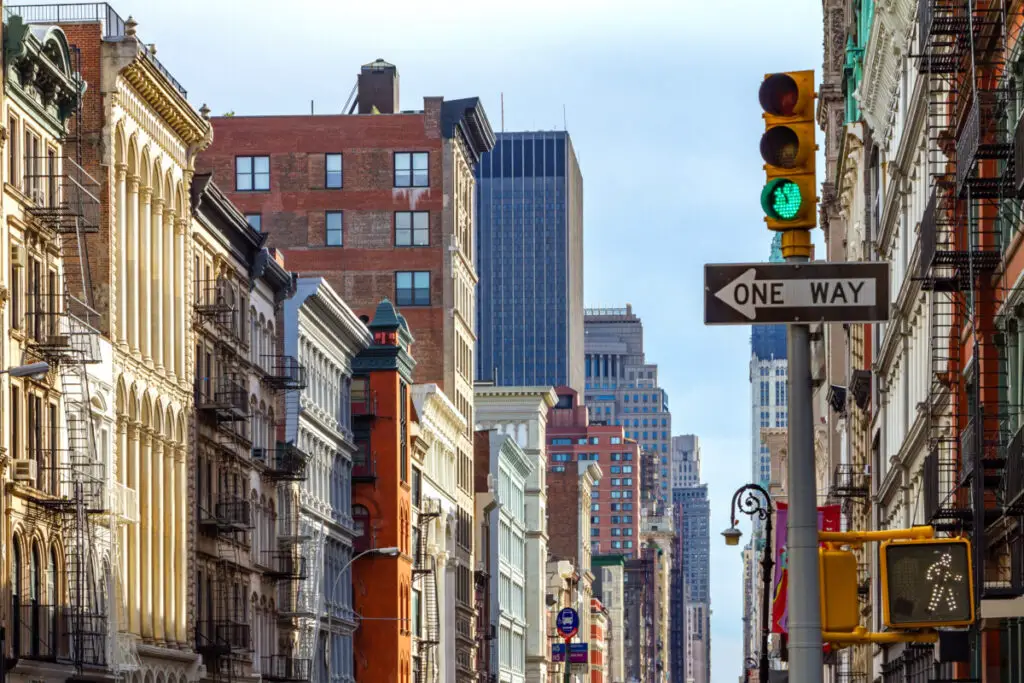 Trevor Noah
Trevor Noah is an award-winning comedian who has been nominated for 3 Emmys and currently hosts his own late-night talk show. The South African native is known for his uplifting and honest comedy, which he uses both to entertain and spread awareness for issues like race and poverty. In 2016, Noah released his first book, "Born a Crime: Stories from a South African Childhood," which is filled with "true stories, sometimes dark, occasionally bizarre, frequently tender, and always hilarious." Several of his comedy specials, including the 2016 show "Afraid of the Dark," are also shot at various locations in NYC.
The comedian currently lives in NYC, where he hosts the daily late night talk show, Tonight with Trevor Noah. He reportedly lives in a $10 million penthouse at former telephone building, Stella Tower. The two-story home is only four blocks away from the Eleventh Avenue studio where his show is filmed, and has excellent views of Manhattan.
Gigi Hadid
Gigi Hadid is an American supermodel. Having walked for such famous fashion labels as Versace, Fendi, Marc Jacobs, and Chanel, Hadid is one of the most successful and well-known models of her generation. In 2018, she was listed as one of the highest paid models in the business by Forbes magazine. She is also known for her turbulent relationship with pop singer Zayn Malik, with whom she shares a daughter.
The model lives in her 3-story townhouse at 10 Bond St. in NoHo, which she purchased in 2018. The residence is designed by Selldorf, and is sleek and shiny throughout.
Lady Gaga
Stefani Germanotta, more widely known by her stage name, Lady Gaga, is a born and bred New Yorker. Raised in the upper West Side, the singer became popular for her controversial lyrics and fast-paced dance pop. The flamboyant artist is also beloved by the LGBTQ+ community, sometimes called "Mother Monster," named for her speech taken from her song "Born this Way." She also was a speaker at the 2009 National Equality March for gay rights, pushing for equality in marriage rights for same-sex couples.
Though Gaga— whose name is taken from the Queen song "Radio Gaga"— owns several properties, including her large Bel Air mansion, she currently resides in a Central Park South apartment, which she reportedly rents for $22,000 a month, which is a whopping 11 times more than the rent she paid for her first NYC apartment, only $2,000. No matter what the stage in her career, Lady Gaga has always stayed close to the city, her first home.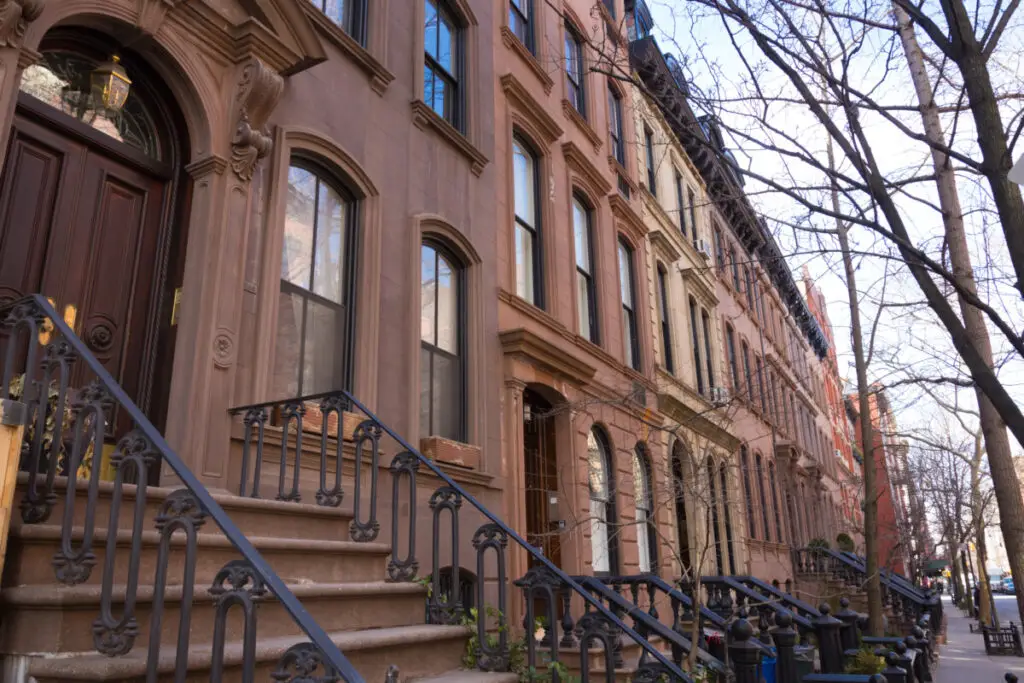 Hugh Jackman
Well-known for his action film role as Wolverine, Hugh Jackman is an Australian-born actor and musical performer. This well-liked artist is popular for his kind reputation and devotion to his musical stage career outside of his more famed tough-guy roles. Some of his musical filmography include the widely acclaimed film The Greatest Showman and the 2012 screen production of Les Miserables. Jackman has made a return to the stage, and audiences eagerly await his production of The Music Man on Broadway later in 2022.
Jackman lives in an 11,000 square foot penthouse in West Village with his wife, with whom he has been married since 1996. The luxurious home is reported to include a private gym, sauna, music room, wine cellar, and library. From their home, Jackman and family also apparently enjoy a fantastic view.
Tina Fey
Tina Fey is a popular funny woman— a talented actress, comedian, writer, and producer. This former alum of comedy television show Saturday Night Live (SNL) has been in the business since the late 90's. Over the span of her ongoing career, Tina Fey has starred in movies and television shows alike, frequently pulling double-duty as both an actor and writer, as is the case in her roles in film Mean Girls and tv sitcom 30 Rock. As of 2022, the actress takes more producing and writing roles, putting her years of experience to use in orchestrating excellent entertainment.
Like Jackman, Fey lives in New York City's West Village in a co-op building. Beginning in the 2020 pandemic, Fey began hosting some shows and interviews from home, giving audiences a peek into her private life and helping bring audiences everywhere a sense of togetherness as the nation muddled through the confusing and often scary global crisis.
Related Topics:
If you like the article above, here are some other similar articles you should check out!
13 Best Family Neighborhoods in New York City

Is There Public Transportation in New York City?

9 Famous Celebrities Who Live in Syracuse, New York