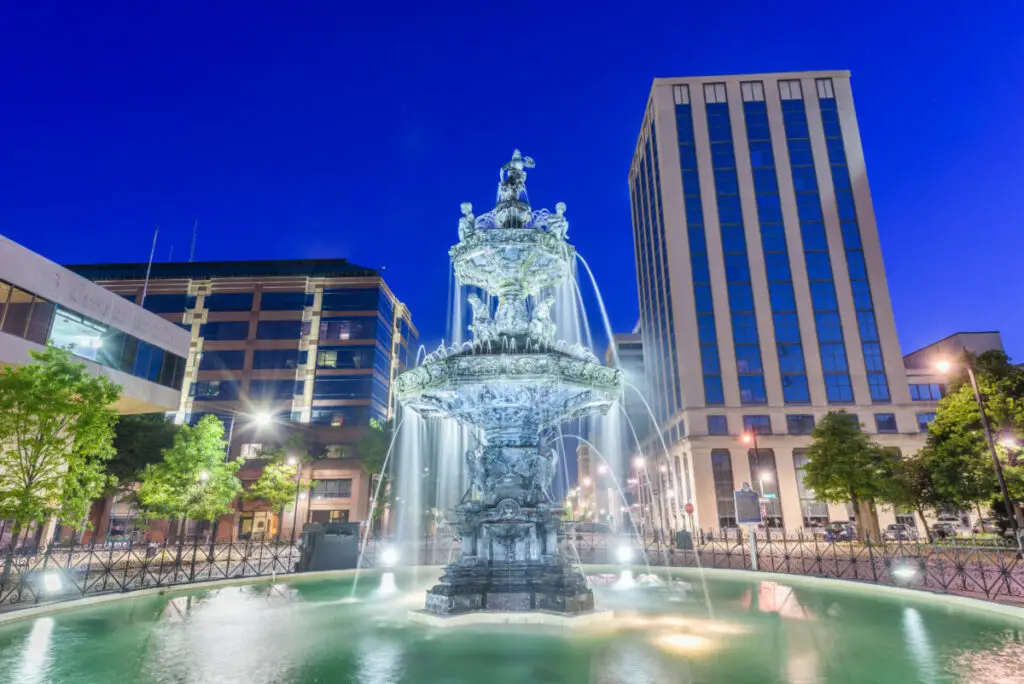 Montgomery, Alabama is a beautiful city with a rich history. As the Capital of the state, it also attracts many famous people from all over the country. Here are nine famous celebrities who are associated with the area.
Keep reading to find out more!
1. Octavia Spencer
Octavia Spencer was born in Mongomery, Alabama, on May 25th, 1970. She grew up in the area and made it through some difficult times like losing a parent at 13. She graduated from Jefferson Davis High School and then went on to graduate with a degree in English from the University of Auburn. After graduating, she was encouraged by one of her friends to move to Los Angeles to continue her acting career.
She did and she has been on the screen ever since. She is most well-known for her roles in The Help as Minny Jackson and Hidden Figures as Dorothy Vaughan. At one point, she bought out an entire theatre to run a showing of Hidden Figures so low-income families would get the opportunity to go see a movie in theatres. Octavia Spencer is the only African American woman to have been nominated for an Academy Award in back-to-back years, been nominated after she won, and is the second most nominated in history. She is a kind, skilled woman who clearly has deep roots that stem from Montgomery, Alabama.
2. Morris Dees
Morris Dees was born in Alabama but moved to Montgomery later in life. Morris Dees is a man that has accomplished a lot of good for people but has also received a lot of hate throughout his lifetime. He graduated Magna Cum Laude from the University of Alabama Law School and started his office in Montgomery. He originally started a marketing firm and defended a member of a racist group in a court of law. However, through a turn of events, a change of heart, and civil rights legislation being passed, he ended up selling his business and using the profit to create a law firm called the Southern Poverty Law Center.
This law center has been where his career and many of his good deeds have stemmed from. He helped desegregate the YMCA in Montgomery, on behalf of a mother who was sad her sons were not accepted. He later went on to bigger cases against racist organizations in an attempt to take them down. He found that he was able to get retribution of funds for his clients of a sizeable amount. This often made it so the group would become bankrupt, and would be forcibly disbanded. He disbanded the United Klans of America this way. He also has disbanded many neo-Nazi groups. He has received many awards for his efforts towards civil rights, has been given death threats due to his efforts, and has received some criticism on how he interacted with people in the law center. Regardless of his actions, his center is still thriving and helping people overcome inequality.
3. Katherine Webb-McCarron
Mary Katherine Ham was born on April 24th, 1989, in Montgomery, Alabama. She is known for her pageantry skills and her modeling career. She won many different awards, such as being a semi-finalist for Miss Georgia USA in 2008, Miss Alabama USA in 2012, and top ten in Miss America in 2012. What really started her modeling career was when a sportscaster pointed her out from a crowd as being beautiful. After the game, her popularity skyrocketed, and she gained thousands of followers overnight. She has appeared in a variety of settings from magazine covers to tv shows.
4. T. K. Thorne
T. K. Thorne is a remarkable woman who was born on April 17th. 1954, in Montgomery, Alabama. She was born at a time when civil rights were being fought for and there were many country events, such as the Selma to Montgomery Marches, the Montgomery Bus Protest, and the Bombing of the Sixteenth Street Baptist Church in Birmingham, Alabama. Through these experiences, she developed a huge desire to make a change in the world. She first graduated with a master's degree in Social Work Magna Cum Laude at the University of Alabama. From there, she became the first Jewish female police officer in Birmingham, made many changes in politics, and wrote many books.
The books she is most recognized for are Noah's Wife and Angels at the Gate. Her works also include some historical non-fiction about the events in Montgomery during the Civil Rights Movement. She has gone on many different lecture circuits at many Universities and is even part of the Alabama Women's Hall of Fame. Her impact has been wide and extensive. Alabama has always been her home.
5. Kathryn C. Thornton
Kathryn C. Thornton was born on August 17th, 1952, in Montgomery, Alabama. She grew up in the area and graduated from Sidney Lanier High School in Montgomery. She then attended Auburn University, where she graduated with a degree in Physics. She continued her studies at the University of Virginia and got her PhD. in Physics.
She used her degree as a physicist in her early career. In May 1984, she was selected by NASA to become an astronaut the following July. She has been on four different flights into space. Her total hours out in space are around 975 hours. About 21 of those hours were outside of the vehicle. She was inaugurated into the Astronaut Hall of Fame in 2010. She now enjoys retirement with her family and loved ones.
6. Tarvaris Jackson
Tarvaris Jackson was born on April 21st, 1983, in Montgomery, Alabama. He is a renowned football player who started honing his skills in the area. He played as a quarterback at Sidney Lanier High School in Montgomery. After he graduated, he went on to play for the University of Arizona as a quarterback. Although he got a medical redshirt his freshman year at the University of Arizona, he transferred to the University of Alabama soon after. During his senior year, he was highly valued by professional teams. He ended up being picked in the second round of the NFL Draft for the Minnesota Vikings. This was a major surprise for him and other professionals, but they considered him a gem just waiting to be polished.
He played many seasons with the Vikings, but ultimately found success with the Seahawks. He helped them win the Super Bowl and the next year helped them become a runner-up. After this, the Seahawks decided to let him go for a younger player. He left the league and became a coach for the University of Alabama. He now works as a quarterback coach for the University of Tennesse.
7. Lisa S. Jones
Lisa S. Jones was born on April 1st, 1974, in Montgomery, Alabama. In her childhood, her father started an ice cream business. His example inspired her to look into starting her own business. After graduating from Alabama A&M University with a degree in Business Administration. She also took some time and studied at the Tuck School of Business at Dartmouth. After her mom passed away, she decided to step out of working for others and create her own business. She started EyeMail, which allows videos to be embedded directly into the email. Her business is considered one of the most innovative companies in 2021 and is continuing to make big impacts worldwide.
8. Blake Percival
Blake Percival might not have been born in Alabama, but he made it his home later in life. He grew up in Panama City, Florida, but once he joined the army began to move around. During one of his stations, he was in Montgomery. After he retired from the Army, he went on to be a police officer in West Virginia and Montgomery, Alabama. In 2001, he was hired to work for the United States Investigations Services as an investigator. He worked there from 2001-2011 when he was fired for not making his coworkers commit a type of fraud. He told the authorities and ended up winning the case. After that, he worked as a Magistrate in Montgomery and is now in Washington running a law firm that specializes in whistle-blowing cases.
9. Ashley Longshore
Ashley Longshore was born in Montgomery, Alabama. In her early childhood, she was exposed to a variety of art forms including jazz, ballet, voice, theatre, and piano. This caused her artistic passion to be started, and she is now known for her artwork. Her artistic abilities are all self-taught. She often takes inspiration from Picasso and his work. Her first big break was when her art was showcased in Twilight: Breaking Dawn Pt. 1. From there, she emerged as an up-and-coming artist. She has since been featured in Vogue, had to pop up art exhibitions and even partnered with big businesses in designing packaging. Just this year, a 25,000-dollar grant that is allowed for artists of all types was named after her.
These nine celebrities are just a small few of the people who have fallen in love with the area. The people in the area are incredible and the city has so much life to it. There is no place like Montgomery!