While you might not know where Montecito, California is, you certainly will know about many of its residents. Montecito is a city northwest of Los Angeles. While it is still close to Los Angeles, it is far enough out of the city that it feels a bit secluded.
The area is extremely beautiful with the ocean on one side and steep mountains on the other. A collection of some of the most famous people in Hollywood, as well as many other celebrities, live in this city. Listed below are 9 famous celebrities who live in Montecito, California.
1. Prince Harry and Meghan Markle
Not many areas can claim to have members of royalty among their residents, but Montecito, California can. Prince Harry is the younger son of Prince Charles and Princess Diana and is a member of the British Royal Family. Duchess Markle is an American citizen who married Harry in 2018 and became a member of the royal family. Before her marriage, she was an actress best known for her role in the TV show Suits, which she was a member of for seven seasons.
After the couple stepped aside from official duties with the royal family, they moved to Montecito in 2020. They and their two children now live in a home in this beautiful neighborhood. Meghan was born and grew up in Los Angeles, so their home allows them to be close to her roots. It also allows them to live close to one of the couple's friends, who we will talk about below.
2. Oprah Winfrey
The friend in question is Oprah Winfrey. She and the couple are very close, with the couple coming onto her show to talk about their experience stepping aside from the royal family as well as the reasons why they felt like it was necessary. Besides this, Oprah is best known for her television show The Oprah Winfrey Show, which she hosted for 25 years. Besides her work on this show, she has also worked as a television producer and an actor.
She is also one of the first celebrities on this list to live in Montecito. She owns several homes, with several being in Montecito. She bought her first home in the area in 2001 and it has remained one of her primary residences, even several years later. She has even bought homes that were owned by other celebrities on this list, but more on that later.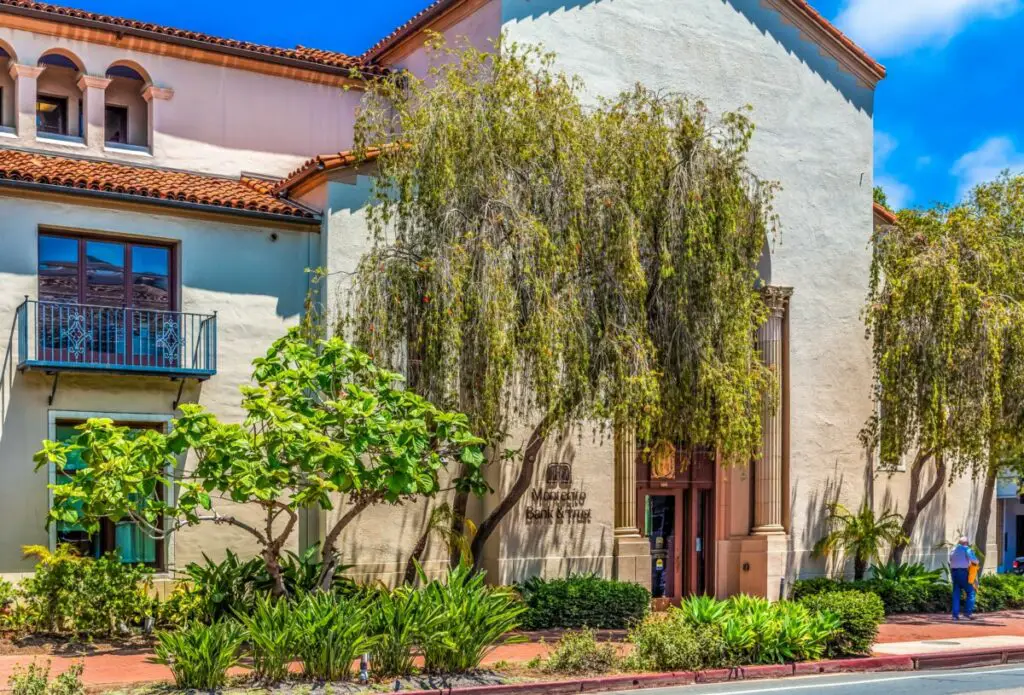 3. Adam Levine
Adam Levine is the best-known member of the pop-rock band Maroon 5. The group was formed in 2001 and has released several albums that have become gold and platinum. Adam is the lead vocalist of the group and has helped to write some of the band's most popular songs. Maroon Five has won 3 different Grammys for their music.
Levine also worked as a judge on the TV show The Voice for nine seasons. His team won the show three of the nine years. Levine is one of the latecomers on this list, only moving into Montecito in 2021. He was born and grew up in Los Angeles, but only recently moved north to the prestigious celebrity area of Montecito.
4. Jeff Bridges
On the other hand, we have someone who has lived in Montecito for years. Jeff Bridges is one of the first celebrities to move into the area before the city exploded as a location for the super-famous. Jeff Bridges is a well-known actor that has a career that spans several decades now. During his career, he has won an Acadamy Award as well as two Golden Globes.
You might recognize Bridges for films like Crazy Heart (which is the film he won his Academy Award for), The Contender, and Iron Man. He has been such a prominent actor over the years that he is considered to be one of the youngest actors to be nominated for an academy award as well as one of the oldest to win the award.
In 2019, Bridges sold one of his Montecito homes to Oprah, which she added to her real estate collection. He and his wife still live on a ranch in Montecito. Having been born in Los Angeles, Bridges have never moved too far from where he started.
5. Ellen Degeneres
The next person on the list is another family name celebrity, adding to the list of people that live in Montecito, California. Ellen has become a prominent name in a variety of fields but might be best known for her work for shows on television. Ellen's first major role was on the show Ellen, and she parlayed the success of that show into The Ellen Degeneres show, which she ran for 19 years. The second show earned her 33 daytime Emmy awards. You may also know her as the voice actor for Dory in the movies Finding Nemo and Finding Dory. She has also hosted the Emmys twice.
Ellen and her wife Portia have lived in Montecito for several years. They have become locally known for buying and selling houses in the area every couple of years. In 2022, they sold the home they were living in and bought two others in the area. While they might be moving every couple of years, the couple has shown no signs of leaving the city of Montecito.
6. Ariana Grande
In a bit a turn away from TV show hosts we have our next resident celebrity, Ariana Grande. Grande has become known for her music and singing, but her celebrity status started much earlier than that. Ariana first rose to prominence with her role on the Nickelodeon show Victorious, which she followed up with her first album Yours Truly in 2013. Since then she has released a total of 6 albums, all of which have been given platinum status.
Ariana Grande has grown to be one of the largest and most popular pop singers in the world today. With her albums and singles, all becoming chart toppers, winning two Grammy awards, and earning 27 Guinness World Records, Ariana is one of the most talented singers on the market today. In June 2020 she bought her home in Montecito, California, and has lived there ever since. Her home even hosted a "micro wedding" to her husband in 2021.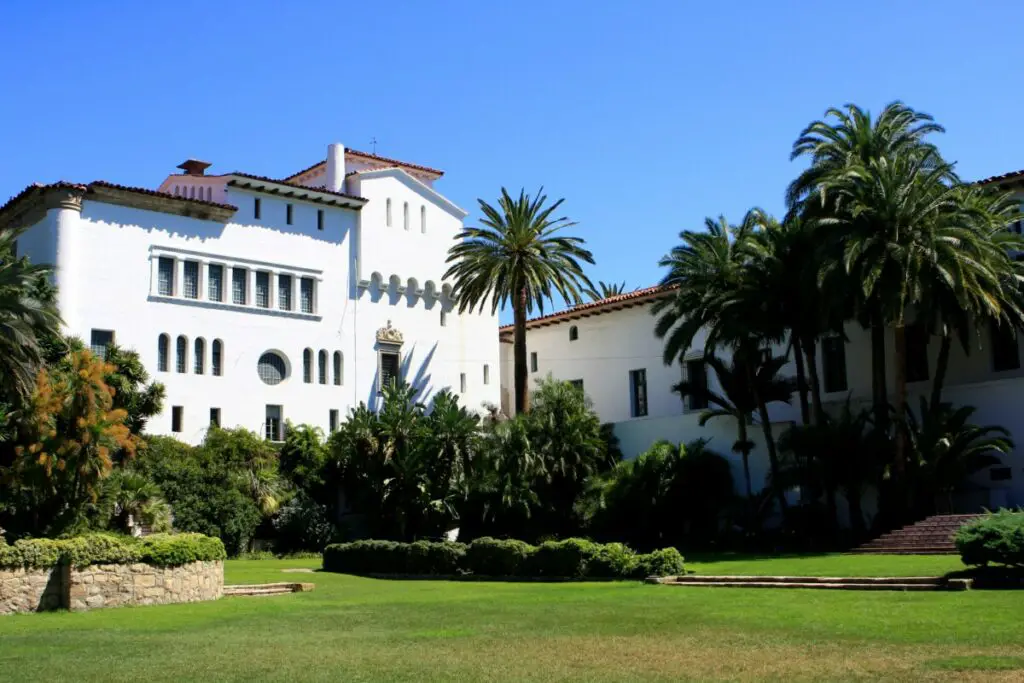 7. Rob Lowe
Like Jeff Bridges earlier we have another actor here who has had success both in the past, but also in current projects he is working on. This actor is Rob Lowe. Those of you who are a little bit older may recognize him as Sam Seaborn from the TV show The West Wing. He worked in this role for four seasons in which he was nominated for a Primetime Emmy award, as well as two golden globes.
Those of you who are a little bit younger might recognize him from a different TV show. That show would be Parks and Recreation, where he played the role of Chris Traeger. Lowe has also branched out from acting into producing and directing films and TV shows. In 2020 Rob Lowe bought not just one, not two, but three homes in Montecito. The cost was over 47 million dollars. With multiple homes in the area, Rob Lowe can be considered a late, but prominent celebrity resident of Montecito, California.
8. Gwyneth Paltrow
Another prominent figure that we need to add to our list is Gwyneth Paltrow. She is another actress with a variety of experiences. As an actress, she has won an Acadamy Award, a Golden Globe, and a Primetime Emmy Award. Some of her early films were heavily noticed like Seven and Emma, but her first big film was Shakespeare in Love. She won her Academy Award for her portrayal of Viola in this film.
After becoming a mother, Paltrow reduced her work as an actress. Marvel fans may recognize her as Pepper Potts from a variety of Marvel movies. She played this role from 2008 until 2019. She and her husband bought two homes in the area in 2016 and have been working ever since to expand and build upon these sites. While she is a famous actress she isn't quite as big a name as royalty or the next name on our list.
9. George Lucas
Our final celebrity on our list is George Lucas. He is best known for his work as the director of Star Wars. However, he has many other claims to fame. He also created and directed the Indiana Jones franchise with Steven Speilburg, as well as founding the media company Lucasfilm, which he later sold to Disney. Lucas's work on the Star Wars franchise helped to spur a new interest in science fiction and modern blockbuster films.
George Lucas was among the first celebrities to migrate from Los Angeles to Montecito. In 2010 he bought a home in the area that he tore down and rebuilt. He later bought another home in Montecito in 2019 for almost 30 million dollars. Though it seems a little odd, George Lucas is among one of the longest-tenured residents of Montecito on this list.
Related Topics:
If you like the article above, here are some other similar articles you should check out!
17 Reasons Not to Move to Oakland, California

17 Reasons Not to Move to Slab City, California

13 Best Family Neighborhoods in Fresno, California