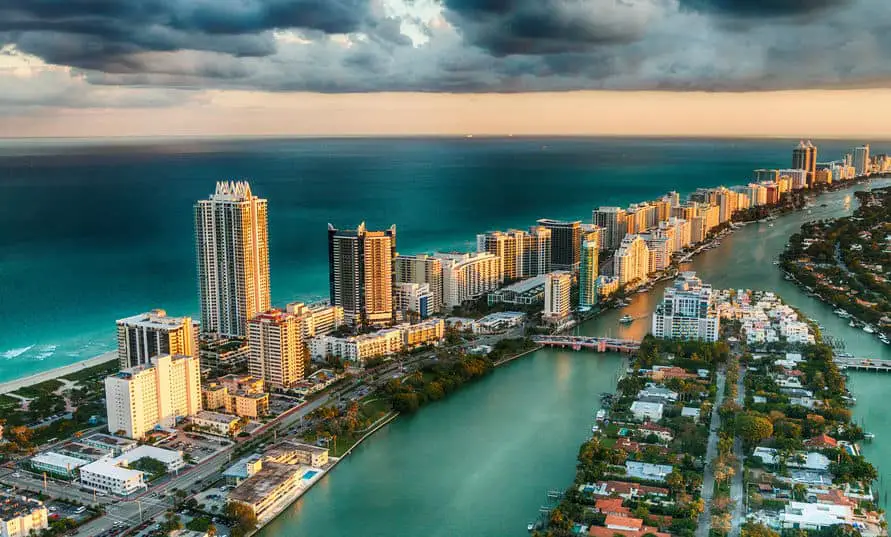 Miami, Florida is a destination location known for its sparkling pristine beaches, wild nightlife, and most of all, the celebrities who live there. Whether you are visiting the crystal waters and warm sands of Miami Beach, or live here year-round, Miami is a wonderful place to find celebrities.
It's no secret that Miami real estate is highly sought after because people want to be near all the action in the Magic City of Florida, and celebrities tend to agree. 9 A-List Celebrities that live in Miami are:
Oprah Winfrey
This wildly successful talk show host has been cited as the richest African American woman in the 20th century, and she shows it with her $88 million dollar "Promised Land Estate". It covers more than 70 acres and is complete with a mansion of 23,000 square feet. Oprah is truly a shining example of the American dream and a story of making it big from nothing. People love the queen of media because she is just so relatable and fun to listen to. Those who hear her story are struck with the hope that they to can make it big and be an inspiration to others. This woman is a role model for countless women of color around the world.
She has it all and is aiming even higher, Oprah is considering running for president in 2024. If you are vacationing in Miami or are lucky enough to live there, be sure to hit up Thompson Miami Beach where Oprah often visits with her golden retrievers, Luke and Layla.
Shaquille O'Neal
Shaquille O'Neal, a 324 lb professional all-star basketball player who is over 7 feet tall, is known for being a four-time NBA championship winner and sports analyst. Shaquille captured the hearts of many young aspiring basketball players and he continues to live and work in Miami as a police officer. His ultimate goal was to be a member of the Miami Beach Police force to honor and protect his beloved city. Shaq is truly an example of staying humble in a situation where it would be easy to let fame and money get to your head.
This all-star has dedicated himself to hard work and living his best life while boosting others with his larger-than-life heart. He has a famous 28 million dollar mansion on Star Island in Miami. Shaq spends his time at exclusive celebrity clubs like the LIV and Prime 112. Perhaps if you stick around in those areas, you will run into this local legend.
Matt Damon
Spending time in the Magic City of Miami may grant one of your wildest wishes, running into Jason Bourne (Matt Damon) on the beach! Matt Damon lives in a $21 million dollar seaside mansion in Miami with his lovely wife Luciana Bozán Barroso, their four daughters Alexia, Gia, Stella, and Isabella. They're also joined by their rescue dog, a Chihuahua named Carlos.
This big-shot actor is one of the most well-known Hollywood stars of all time due to his starring role as Jason Bourne in the Bourne Franchise. This franchise earned a massive 3.2 billion dollars at the North American Box Office. This makes him one of the most successful actors ever to hit the screen.
Crobar is one of the most popular clubs in Miami and it's where this Hollywood star met his forever sweetheart Luciana. Matt Damon frequents the pristine beaches of the Miami coastline and the pumping nightclubs, but is truly a home-loving father at heart, spending much of his time in his private beach mansion.
Dwayne Johnson
Dwayne "The Rock" Johnson seems to love the beach life because he's made his home in a sprawling seaside estate in the party capital of the east coast, Miami Florida. Dwayne Johnson is a jack of all trades in the world of entertainment. He's already been a professional wrestler, a college football star, an actor, and a producer all at only 49 years old. The Rock played for the University of Miami in 1990-1995 and was a revered champion on his team. Dwayne Johnson earned his stage name of "The Rock" in the wrestling ring and it has stuck around through his other professional endeavors.
Dwayne lives with his little family consisting of his wife, Lauren Hashian, and their three daughters Simone, Jasmine, and Tiana in the gorgeous Southwest Ranches area of Miami. Being the current highest-paid actor in Hollywood for 2021, this 6'5 movie star is truly a sight to see when visiting the Shore Club. If you're lucky, you might even see him with his adorable little French bulldog, Hobbs.
Camilla Cabello
Camilla Cabello is a singer-songwriter who hails from the nearby city of Havana, Cuba. Her hit single "Havana" was the path to fame for this native Cuban woman who took the world by surprise with her vivid beauty and passion for rhythmic Cuban-pop hybrid style music.
Fans are going wild over recently announced lovebirds Camilla Cabello and Shawn Mendes are looking for a place to call home in the warm, coastal Miami area. Shawn and Camilla both have written songs dedicated to their love for each other and the warm coastal area of Miami including "Seniorita", "Treat You Better", "All These Years", "Roses" and many more they are yet to reveal.
Cabello is somewhat of a local to Miami due to spending a great deal of time working on her music in the Miami area and she now wants to put down roots in the area with her partner, Shawn. Camilla and Shawn love a good old pizza and movie date at the world-famous Lucali pizzeria on Bay Road near the beach.
Pharrell Williams
If you have seen listened to the radio anytime since 2010, then you are definitely familiar with Pharrell William's Song "Happy". Pharrell Williams made it big with his music track "Happy" but his true passion is writing Hip Hop and R&B tracks. He was featured on Daft Punk's single "Get Lucky" which won the record of the year at the 56th Grammy Awards.
You are most likely to see Pharrell Williams at his Goodtime Art Deco Hotel on 6th street. This grand hotel is truly a monument to entrepreneurship with its over 260 lavishly decorated rooms and boasts 100,000 square feet of magical artistic fun for your family to enjoy.
LeBron James
Capturing the hearts of aspiring basketball players and fans alike since 2003, you know his name whether you like it or not – LeBron James calls beautiful Miami, Florida home. LeBron James, Dwayne Wade, and Chris Bosh all played for the Miami Heat and were an unstoppable force in the four championships they won together. James now plays for the LA Lakers but still visits his 12,000 square feet Miami hometown mansion in the off-season.
LeBron is often caught at the Komodo Lounge, a highly exclusive club that will take more than your ID to get into. It may not be easy to run into him at his favorite haunt, but you never know! Maybe try visiting the downstairs restaurant, which is easier for the public to access. Make sure you're ready to pay for an expensive meal though!
Jason Derulo
This pop star's popularity has been on the rise ever since his hit single "In My Head" in 2009. Derulo has sold over 30 million copies of his music over the last decade and is continuously producing more. His most recent hit "Take You Dancing" has hit the top charts and has inspired an upbeat atmosphere among his fans in this time of seclusion and quarantine.
Jason Derulo moved to Miami in 2016 and bought an enormous 3 million dollar mansion with 7 bedrooms, 9 bathrooms, a private music studio, a ballroom, and a private pool. It's located in the luxurious gated neighborhood of Coconut Creek.
Jason and his girlfriend, Jena Frumes are expecting their first child soon, and he is very excited to see what this new chapter of his life brings in the Magic City of Miami. This A-lister can be found at the trendy new Juice Bar in Showfields, called YesJuice.
Flo Rida
This rapper's stage name is literally representative of the home state of Miami, Florida. Flo Rida is a big name in the wonderful city of Miami and throughout the world due to his Hip-Hop empire. This artist has sold over 100 million copies of his music, making him one of the most well-known singers of all time. On top of this, his break-out song "Low" sat on the top charts for over ten weeks when first released in 2007. With a net worth of over 30 million USD,
Flo Rida enjoys the quiet peace of his million-dollar Miami mansion, also in Southwest Ranches, which he decorated to honor the Miami Heat, his favorite team of all time. When he's looking for a little fun and adventure, Flo Rida is found all over the wild Miami nightlife scene enjoying his fame and money.
The celebrity scene in Miami is alive and well. It's full of celebrities and action, and the city doesn't show signs of changing anytime soon. Who knows? If you make it big someday, maybe you'll end up joining the vibrant Miami celebrity scene as well.
Related Topics:
If you like the article above, here are some other similar articles you should check out!
11 Pros and Cons of Retiring in Tampa, Florida

Moving to Florida vs Maryland: 17 Things to Consider

17 Reasons Not to Move to Winter Garden, FL (Voted by the Locals)