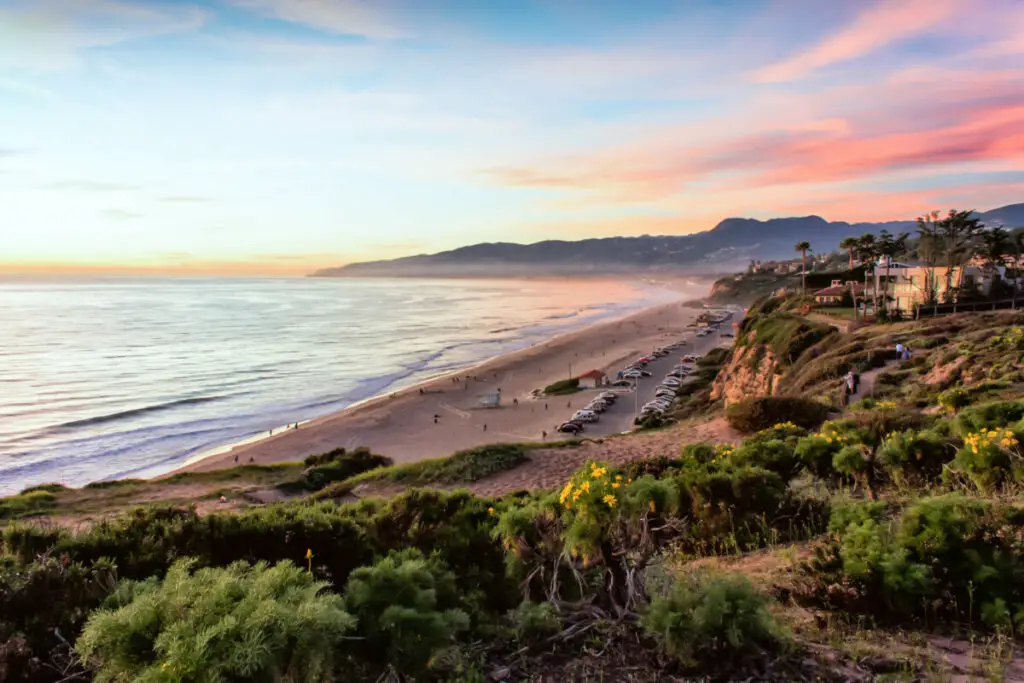 The beautiful city of Malibu is just west of Los Angeles, so it's no surprise that a ton of celebrities own property so close to the Hollywood hub. This city has actually become known for its high number of celebrity homes and many scenic beaches. This part of California is right next to the ocean, with amazing beaches and ocean views. Here is a list of 9 celebrities who live or own property in Malibu.
9. Ellen DeGeneres
Ellen DeGeneres has made a name for herself as one of the most famous daytime television hosts ever. She started off as a comedian

and had her own sitcom from 1994 to 1998 before becoming the host of The Ellen DeGeneres Show. The show ran for 19 seasons and had more than 3,200 episodes. DeGeneres has won more People's Choice Awards than any other person with 20 awards.
Before she became such a well-known star, she was a student at the University of New Orleans where she majored in communication studies. She left after one semester. She worked many jobs like waitressing and house painting while also doing stand-up comedy at clubs and coffee houses. It was a few years later that her stand-up comedy career took off, and in 1984 she was named the Funniest Person in America by Showtime.
DeGeneres is also known for her voice acting. She provided the voice of Dory in Finding Nemo and Finding Dory, which has made her voice recognizable among children and adults alike.
DeGeneres purchased a 4,100-square-foot Malibu beach house from Brad Pitt in 2011 for $12 million.
8. Paris Hilton
Paris Hilton is a well-known heiress and socialite who gained an immense amount of fame following her reality TV show The Simple Life, which she starred in along with childhood friend Nicole Richie. Paris is is the great-granddaughter of the founder of Hilton Hotels, Conrad Hilton. She has taken her family fortune and made a name for herself as a businesswoman. Her perfume line alone has made her a revenue of several billion dollars!
Hilton spent much of her youth split between living in Beverly Hills, the Hamptons, and Manhattan. Hilton owns multiple properties across the country and purchased an 8 million dollar oceanside Malibu home with now-husband Carter Reum.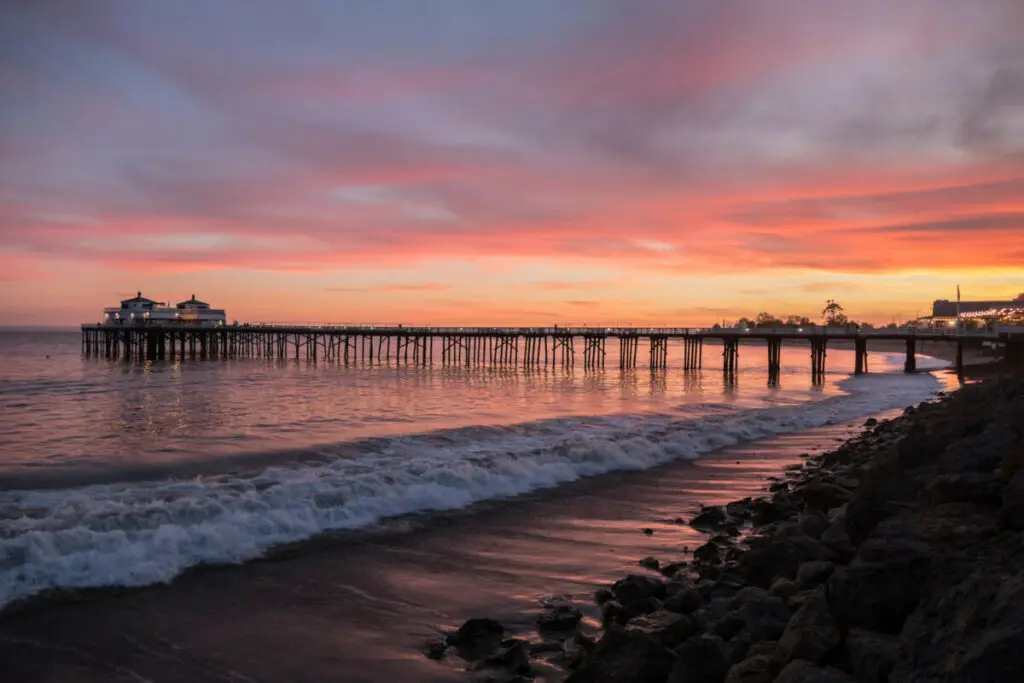 7. Robert Downey Jr.
Robert Downey Jr., one of the highest-paid actors in the world, has become a household name all around the world thanks to his role as superhero and genius Iron Man. He has appeared in 10 Marvel movies

as Iron Man since taking on the role. To the dismay of many fans across the globe, Downey made his final appearance as Iron Man in 2019 in the film Avengers: Endgame.
Downey is originally from New York, but he and his wife have made California their home, and it is where they've decided to raise their two kids together. They reportedly spent seven years

building their energy-efficient, custom mansion in Malibu.
6. Dustin Hoffman
Dustin Hoffman's career has spanned several decades, his film debut being in 1967. He has starred in nearly 50 films since the beginning of his career and has been widely praised for his method acting skills. He has won two Academy Awards, one for Kramer vs. Kramer, in which he stars alongside Meryl Streep, and also for Rain Man, and has been nominated for an Oscar for 5 other roles. That's 7 nominations total!
Hoffman became known early on for his role as Benjamin Braddock in The Graduate, for which he received one of his Academy Award nominations for Best Actor. Very impressive, considering that this was Hoffman's first major film role!
Hoffman owns property in Malibu

and the Hollywood Hills.
5. Halle Berry
Before becoming the well-known actress she is today, Halle Berry

started her career as a model. She was involved in several pageants and was even the first runner-up in the Miss USA pageant. She also came in 6th in the Miss World pageant of 1986. She began acting in the 90s, and her breakthrough role was in a 1992 film with Eddie Murphy called Boomerang.
Berry quickly became a successful actress and made a name for herself as one of the highest-paid actresses of the 2000s. She won the Academy Award for Best Actress in 2002 for Monster's Ball. Berry has appeared in dozens of films since her Oscar win, like X-Men, Kingsman: The Golden Circle, and John Wick: Chapter 3.
Berry owns a mansion by the sea in Malibu, where she lives with her two kids, Maceo and Nahla. The home is reportedly worth $8 million

and has four bedrooms, five bathrooms, an elevator, a pool, and a hot tub!
4. Matthew McConaughey
Matthew McConaughey had been acting since his breakout role

in the 1993 film Dazed & Confused. After his breakout film, he starred in a few historical dramas and the science fiction film Contact. It was in the early 2000s that McConaughey established himself as a leading man in romantic comedies. It was during this decade that he starred in The Wedding Planner, How to Lose a Guy in 10 Days, and Fool's Gold.
McConaughey won the Oscar for Best Actor in 2014 for his portrayal of AIDS patient Ron Woodroof in the film Dallas Buyers Club. He also received a lot of praise for his role in the science fiction film Interstellar.
McConaughey owns property in Paradise Cove

, Malibu, a mobile home park that is known as one of America's most expensive trailer parks. Paradise Cove has been home to other big names like Pamela Anderson, Minnie Driver, and Betsey Johnson.
3. Bill Murray
Actor and comedian Bill Murray

is another famous name who lives in Malibu. Murray began improvisational comedy in the early 70s, and he made connections with stars like John Belushi when he moved to New York in 1974. His connections in the comedy world eventually helped him land a spot on Saturday Night Live. Murray appeared on SNL for three seasons from 1977 to 1980.
Murray has a lovely little beach home on Malibu Road, right by the ocean. He splits his time between his Malibu home and his home in Charleston, South Carolina. He also has a property in Valley Center, near Los Angeles.
2. Cher
Cher is a California native

who is a sort of triple threat as an actress, singer, and tv personality. Cher knew she would be famous one day even from a young age, and says she spent a lot of time thinking about her life as an adult when she would be famous. She dropped out of school to move to Los Angeles with a friend.
She and her then-husband Sonny Bon received a lot of popularity in the 1960s for their duet "I Got You Babe," which was the number one song for three weeks on the Billboard Hot 100. Cher is known for being a strong woman in a male-dominated industry who paved the way for a lot of other women in the entertainment industry.
Cher is also known for her philanthropy, outspoken political views, social activism, and support of LGBTQ+ rights. Cher's personal experiences with the LGBTQ community have helped her to become an outspoken advocate for their rights. Cher's oldest child Chaz came out as a lesbian at age 17, which caused Cher distress at first, but she eventually came to accept her child's sexual orientation. Chaz later come out as transgender in 2009.
The primary focuses of her philanthropy have been protecting vulnerable children, veterans' rights, and anti-poverty initiatives. She is also an outspoken advocate for HIV/AIDS prevention.
Cher's Renaissance-style mansion

is 20,000+ square feet and is now worth a reported $40 million dollars. The home is located in Benedict Canyon and is where she and Sonny Bono lived together after they purchased the home in the 1970s. They later sold the home to Eddie Murphy for nearly $6 million in 1988.
1. Danny Devito
Danny Devito is another actor, director, producer, and screenwriter with an impressively long career that spans several decades. One of his earliest roles

was in One Flew Over the Cuckoos Nest in 1975. Early on in his career, Devito regularly collaborated with director Tim Burton and appeared in several of his films, including Big Fish and Batman Returns.
Devito is a little less known for his work as a producer, but he has produced several successful films like Matilda, Pulp Fiction, Erin Brockovich, Gattaca, and Garden State.
He is also known among younger generations for his voice acting in children's films like The Lorax, Smallfoot, and Hercules.
Danny Devito owns a Malibu

beach house with his wife Rhea Perlman, who he starred alongside in the film Matilda as the titular character's neglectful parents.
This list is only a small fraction of all of the celebrities who live in Malibu or have lived there at one point. So, are any of your favorite celebrities on this list? Do you know any other famous residents of Malibu, past or present? Let us know in the comments!
Related Topics:
If you like the article above, here are some other similar articles you should check out!
Is There Public Transportation in Santa Barbara, California?

13 Best Neighborhoods in San Bernardino, California

9 Famous Celebrities Who Live in Anaheim, California