It doesn't surprise me that famous people have visited Las Vegas to get their kicks, but it does make my jaw drop when I found out how many celebrities live there! If you happen to come across these stars among the city's glittering lights I hope you'll have a chance to get an autograph. There are lots of famous people who have connections to Las Vegas, but below are 9 of the most popular celebrities you might run into.
1. Celine Dion
"The most important thing I can give to my son is my true values. Whatever choice he makes, I want him to assume his responsibilities and achieve what he wants – and be happy. For me to be able to give my happiness to my son, I cannot achieve better than that."

-Celine Dion
Famous both in Canada and in the US, the singer Celine Dion has lived in Vegas since 2002 with her husband René Angélil. She has performed for several years at Caesars Palace. Born on March 30, 1968, in Charlemagne, Québec Celine Dion was born as the 14th child. Her family as a whole shared their passion for music and even performed as a group around her hometown, making Celine Dion a performer at a young age. Though her native tongues are English and French, she has also performed in Spanish, German, Japanese, Italian, and Mandarin Chinese.
From writing her first song at age 12, Ce n'était qu'un rêve, to performing nearly 2,000 shows since 1982 in Las Vegas, this legendary songstress is a shining star that will never burn out. She has even performed as an opening singer for Pope John Paul II during 1984 when she was 16. One of her biggest moments was performing in front of 3.5 billion people when she sang at the Atlanta Olympic Games. Recently her first English-language album, Courage, debuted as No.1 November 30, 2020 on the Billboard Hot 100 Chart.
2. Donny Osmond
"My father instilled in me the attitude of prevailing. If there's a challenge, go for it. If there's a wall to break down, break it down."

-Donny Osmond
As half of the famous brother-sister duo, Donny performs a country-rock-and-roll show with his sister at the Flamingo since 2008. This makes them not only one of the longer show runs but also an iconic show in Vegas. It is known that Donny himself even proclaimed that Las Vegas "really is my second home."
With Donny being the eldest born in 1957 and Marie in '59, Donny Osmond got his first start when he was 5 with his older brothers on The Andy Williams Show in 1963. He was also featured in two episodes of old cartoon classic, Johnny Bravo. He would go on to perform in roles on Broadway such as, Gaston in Beauty and the Beast, Joseph in Joseph and the Amazing Technicolor Dreamcoat, and Little Johnny Jones.
Donny's second passion is home decor with his wife Debbie Osmond. They run a successful home decor business, Donny Osmond Home, with designs being what he grew up with as he states on the company's website.
3. Marie Osmond
"If you're going to be able to look back on something and laugh about it, you might as well laugh about it now."

-Marie Osmond
From a long career of talk shows, acting, and singing, Marie Osmond is still active to this stay from performing since 1962. With over 9 albums in both country and pop genres, she also starred in two broadway musicals in The King and I and The Sound of Music. Marie has also written eight books with her first, Behind the Smile (2001) and her last, The Key is Love (2013).
She also swept the judges off their feet when she came in third place in the US Dancing With the Stars 5th season. Lastly, she is the co-founder of the non-profit organization, Children's Miracle Network. It was founded in 1983 to raise money for children's hospitals in North America.
4. Vince Neil
"I think the world is ready for some rock 'n' roll. Some real-time guys that play their own instruments, write their own songs, and sing the music and have a good time doing it."

-Vince Neil
The creator of the Off The Strip Poker Tournament, Vince Neil, has done some pretty crazy stuff in his lifetime. He lives in Las Vegas and has launched lots of successful ideas. He has launched his own brand of Tequila, Rockin' Tequila, founded a foundation for various children's illnesses (the Skylar Neil Memorial Fund), had a small role in 1989's Police Academy 6: Under Siege, and opened a line of clothing(Outlaw and Bad Bones).
He was also involved in a low-budget movie that was received well on Netflix called The Dirt. Today if you visit Vegas, check out his Tatuado inside Circus Circus Hotel or Tatuado Wild Side Tavern. He still performs to this day and you can still see Niel perform live at the Coral Head Music Festival.
5. Wayne Newton
"You have to go through those mountains and valleys – because that's what life is: soul growth."

-Wayne Newton
Wayne Newton, also known as Mr. Las Vegas, has performed in Vegas since 1958 and laid down his stardom roots. With a brand like that, it's easy to see why he still lives there! Besides having his own pool, spa, and guest houses, in his main mansion he has a room specifically catered to his exotic animal pets.
Newton decided to become a musician after a fateful day his parents took him to see the Grand Ole Opry when he was four. He then learned the piano, guitar, steel guitar, and when he six he was already performing on the daily radio. Newton also posted a bail for Dana Plato after the child star had a bad run and in March 1991 she robbed a video store for $200.
The two actually never knew each other but after a $13,000 bond was paid, it was clear Newton sympathized for her as his manager said, "He's seen what this industry has done to people. This industry takes a terrible toll on children." Some other interesting facts about Newton include: having a nun as a governess for his daughter, he requires Coors Light for all his shows, and his song, "The Letter" was inspired by his lifelong friend, Elvis Presley.
6. Penn Jillette
"The purpose of art is to collide the intellectual and visceral together at the highest speed possible."

-Penn Jillette
While the two don't live together, Penn Jillette and Teller have been inseparable performing partners. One interesting fact is that Jillette resides in a candy-colored compound customized to the architectural style that's inspired by Pee Wee's Playhouse.
Penn Jillette is known for his comedy magic duo show, with lifelong performing partner, Teller. Other occupations of Jillette include being a writer, actor, inventor, juggler, comedian and musician. Out of the eight books he's written, one of which includes a New York Times Bestseller, God, No!: Signs You May Already Be an Atheist and Other Magical Tales. Jillette is not only known for his advocacy of atheism, but also his espousing crusade of scientific skepticism, the First Amendment, and free-market capitalism.
A few of his projects on television include: dancing with professional dancer, Kym Johnson in Dancing With the Stars, hosting a game show, Identity, on NBC during 2006-07 and a bi-weekly show on Revision3, Penn Point. As a musician, Jillette as an upright bassist and often accompanies jazz pianist Mike Jones, who also opens for Penn and Teller's Las Vegas show. Lastly, he has a few unique roles in film such as: Penn & Teller Get Killed (1989), Fantasia 2000 as himself, Toy Story (1995) as the Buzz Lightyear TV commercial announcer, and Fear and Loathing in Las Vegas (1998).
7. Teller
"…Sometimes, magic is just someone spending more time on something than anyone else might reasonably expect."

-Teller
Raymond Joseph Teller legally changed his name to "Teller" and is a fellow writer, producer, and longtime performing partner of Penn Jillette. His home residence in Vegas is like a magician's playground, complete with magic mirrors and hidden doors.
Some of his interesting facts include his trademark of never speaking when performing with Penn using many facial expressions as a supplement. He was an English and Latin teacher at Lawrence High School in Mercer County, New Jersey and is known to have published essays in the New Yorker magazine.
He is known to be a talented painter, plays the vibraphone, and appeared on The Simpsons only speaking five lines making it a rare performance. Like Jillette, Teller is also a staunch atheist. Teller got his Star on the Hollywood Walk of Fame for Live Theater in April 2013 and even landed an iconic role in The Big Bang Theory as Amy Fowler's Dad in season 11.
8. Criss Angel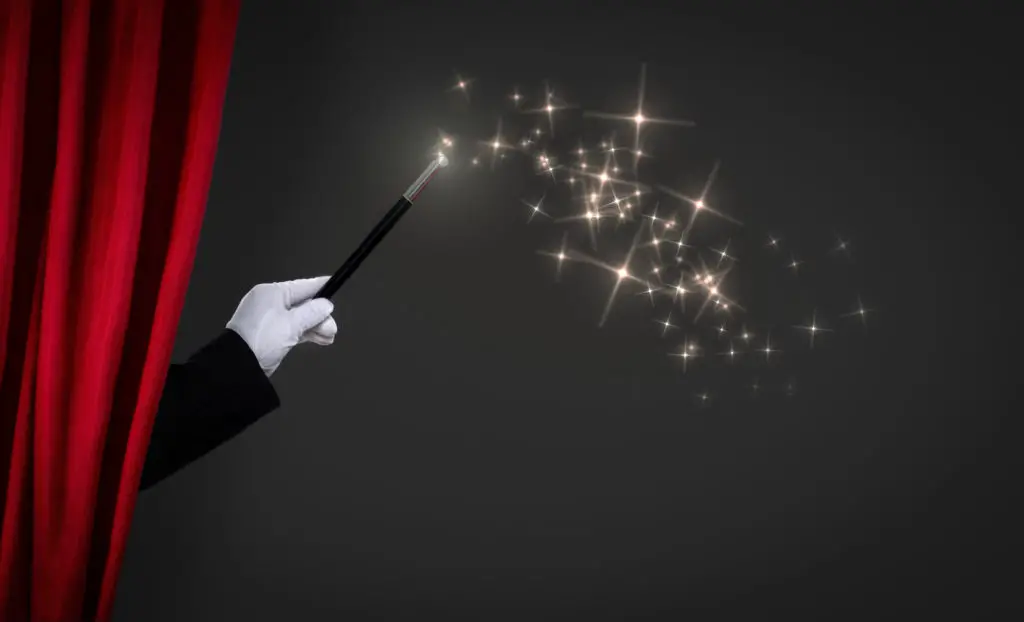 "When the mind, body, and spirit work together, I believe anything is possible."

-Criss Angel
To put it bluntly, producer and actor Criss Angel is a Rubix cube of cool. His luxurious mansion and three-and-a-half acres sit nicely on a mountain overlooking the strip that has the name, Serenity, as inspired by a Tuscan castle. It's complete with priceless sculptures, fountains, and a room to store his avant-garde national car and motorcycle collection.
Criss Angel Mindfreak was Angel's TV series dating back to 2005. Angel had a brief appearance on Discovery's The Science of Magic (1997) and is the only magician to win the Merlin Magician of the Year award twice in 2001 and '04. Some other interesting facts are he has a cat named Hammie, is friends with Cameron Diaz, and has two personal heroes, Harry Houdini and his father.
Lots of magicians and comedians made their home in Vegas, and you still have a chance to see him perform live as Criss Angel. He regularly does his live show "Believe" in Las Vegas.
9. Nicholas Cage
"I think what makes people fascinating is conflict, it's drama, it's the human condition. Nobody wants to watch perfection."

-Nicholas Cage
To escape the LA paparazzi, Cage moved his family to Las Vegas to live a simple life. But even before residing in Las Vegas he already had films that won him an Academy Award. The actor is best known for his roles in Face/Off, Leaving Las Vegas, Next, and The Rock.
With over 106 movies, and 17 producing roles under his belt, Nicholas Cage is a beloved wise-cracking actor who is well-loved. Being a comic lover as well, Cage bought a copy of Action Comics #1 that was then stolen from his home until it was retrieved from a storage locker 11 years later. This moment is still seen as a "divine providence" to Cage though he sold the comic for the then-record of $2.1 million.
Cage even bought a pyramid tomb! The tomb is empty but stands in St. Louis Cemetery No. 1 in New Orlean reading a Latin maxim, "Omni Ab Uno" meaning "Everything from One." It is speculated that Cage will be buried there as he purchased twin plots with the pyramid over them. Cage has also slept in Dracula's castle, accidentally bought a stolen dinosaur skull, and to channel his inner horror, he bought the most haunted mansion in the world (the LaLaurie Mansion in New Orleans) just to write his horror novel.
Related Topics:
If you like the article above, here are some other similar articles you should check out!
17 Tips for Moving to Las Vegas Without a Job

9 Famous Celebrities Who Live in Las Vegas, NV

17 Reasons Not to Move to Las Vegas (Voted by the Locals)