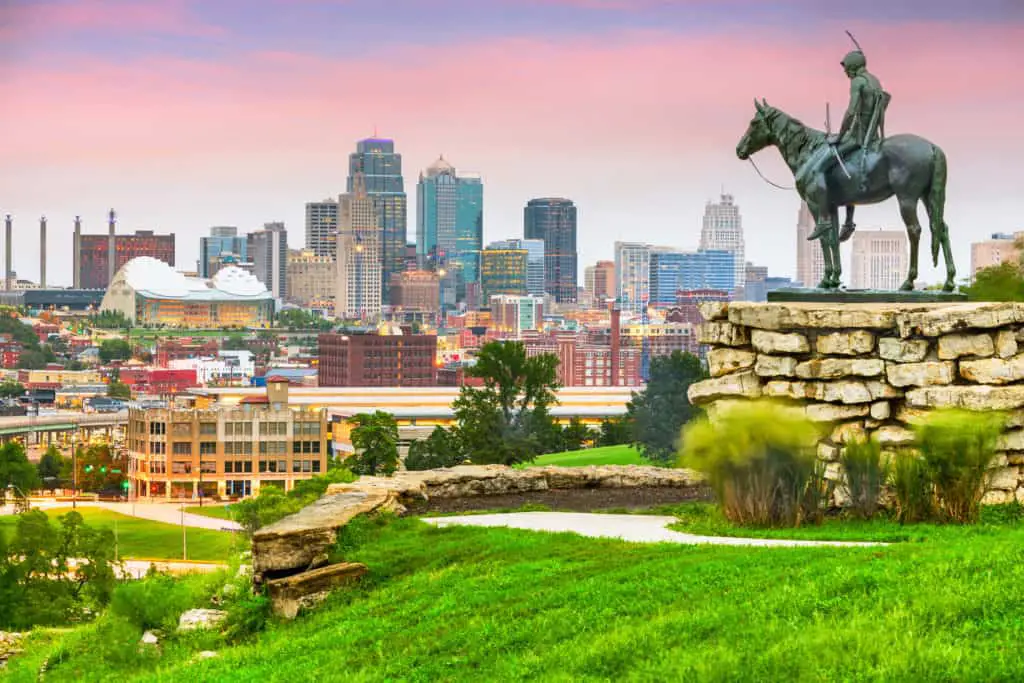 While I was never lucky enough to meet any of these cool fellow Kansas citizens while I was living there, the following writers, musicians, actors/actresses, and more, were all raised in the City of Fountains. So many amazing people were raised in this area that I could go on and on with this list. But for now, we'll keep it short and sweet and talk about 9 famous residents of Kansas City.
1. Dianne Wiest
This famous actress is best known for her role in the 1990 movie Edward Scissorhands. She plays Peg Boggs, the character who brought the main character Edward to her family's house to stay. Dianne was born in Kansas City in 1948 and was raised there until she discovered her passion for acting in high school.
Originally, Wiest had plans to become a ballerina. She studied ballet abroad in Germany and was an exquisite dancer. However, after she joined a couple of plays in her high school, she knew what her true calling was: Acting. She appeared in many plays throughout the years after she graduated college until she made it to Broadway. Her first film role was in the small 1980 movie It's My Turn. Since then, she has shown up in many Woody Allen movies and has had an impressive movie career.
(Source: Britannica)
2. Ellie Kemper
Ellie Kemper is a TV star who plays big roles in shows such as Erin Hannon in The Office and Kimmy Schmidt in the Unbreakable Kimmy Schmidt. In 1980, Kemper was born in Kansas City, MO where she began her acting career. She's been in numerous movies and shows throughout her life and is constantly gaining more comedic, memorable roles.
Her most famous role is as the front desk secretary in The Office. She remained in the show from seasons 5 through 9. In high school, she often favored the comedic roles in the plays and she kept developing that skill throughout her career. Currently, most of her roles are in comedies or as the comedic relief character. In this humble writer's opinion, she plays all her roles very well!
3. Gretchen Rubin
Gretchen Rubin is a famous self-help book author and, while she may currently be based in New York, was born and raised in KCMO. Her most popular works are "The Happiness Project", "Outer Order, Inner Calm", "The Four Tendencies", and "Better Than Before". Each of these ranked on the New York Time's bestseller list and have sold around 3.5 million copies worldwide. She is currently working on her podcast, "Happier with Gretchen Rubin" where she discusses the concept of happiness with her sister. Here is a quick taste of the thought-provoking advice she gives:
Often, if there's something that I want to do, but somehow can't get myself to do, it's because I don't have clarity. This lack of clarity often arises from a feeling of ambivalence – I want to do something, but I don't want to do it; or I want one thing, but I also want something else that conflicts with it.

Everyday Power
Rubin seeks to uplift and improve the lives of people. She is seeking, researching, interviewing others, and documenting what it means to be happy and how others can obtain it. Her books give incredible insights that inspire the readers to make changes in their lives for the better.
(Source: Gretchenruben.com)
4. Don Cheadle
For all of the Marvel Cinematic Universe (MCU) fans out there, you'll probably already know who this is. Donald Frank Cheadle, Jr. (known as Don Cheadle) was born in Kansas City, MO in 1964. He plays a superhero character named James Rhodes (nicknamed Rhodey) who is known as War Machine/The Iron Patriot. This character was first introduced in 2008's Iron Man.
Besides Marvel movies, he has been in the award-winning film Hotel Rwanda, where he plays the hotel manager, Paul Rusesabagina. This movie is a gripping story about the genocide in Rwanda that informs those who have little idea of what it all entailed. He's a talented actor, and you should expect to see him in a lot more media moving forward.
(Source: Britannica)
5. Charlie Parker
Jazz is the staple music genre of the Midwest and Charlie "Bird" Parker was Kansas City's best-known jazz musician. He was born in 1920 and was a huge inspiration to all future musicians. The Charlie Parker Music site stated this about Parker's influence:
During his short life, Parker changed the course of music. Like Louis Armstrong, Duke Ellington, Miles Davis, and John Coltrane, he was a pioneering composer and improviser who ushered in a new era of jazz and influenced subsequent generations of musicians, writers, and artists. Jazz historian Martin Williams judged that Parker influenced "everyone." In 1965, jazz pianist Lennie Tristano observed that, "If Charlie Parker wanted to invoke plagiarism laws; he could sue almost everybody who's made a record in the last ten years."

Charlie Parker Music
Parker gave this city the gift of music unlike any other and it touched the hearts of so many people. He is truly an iconic Kansas City celebrity.
6. Walt Disney
Everyone's favorite cartoon franchise first began in Kansas City, MO. Walt Disney moved to Kansas City in 1922 where he opened his "Laugh-O-gram Films" office. This studio got smaller and smaller until he eventually was just working on these laugh-o-grams in his home basement. He soon became bankrupt and felt like he could go no further with his animation work and nearly gave up altogether. However, as he worked, he would feed crumbs to the mice around him. These little pests became the inspiration Walt Disney needed to create the iconic character, Mickey Mouse.
Disney used this character to entertain people all over town which got him back on his feet and gave him the push he needed to create the animation powerhouse that we know today. Kansas City currently has many buildings devoted to the history they share with Disney including the Thank You Walt Disney, Inc. museum.
(Source: Thank You Walt Disney, Inc.)
7. Janelle Monáe
Janelle Monáe is a multi-talented celebrity who was born in Kansas City in 1985. She is an actress and singer/songwriter who sings futuristic pop and rap music. Her most popular album is titled "The ArchAndroid" and features songs like Suite II Overture, Faster, and Cold War.
Monáe is slowly branching out into more movie roles and has played smaller roles in movies such as Rio 2. In 2016, she got a role in the award-winning film Hidden Figures. She played the role of historical figure Mary Winston-Jackson, one of the African-American women who took the U.S. to the moon. Her other major role was in the 2016 movie Moonlight. Monáe played Teresa who helps comfort the main character through his difficult childhood. She played this role beautifully and while maintaining the duality embedded in the purpose of the character.
(Sources: jmonae.com, Biography)
8. Paul Rudd
Here's another one for the Marvel movie fans; Paul Rudd, who played the superhero character Ant-Man, moved to Kansas City, MO when he was in high school and grew up there. In the MCU, he starred in his own movie called Ant-Man. He then got a sequel, Ant-Man and Wasp, and appeared in many others.
Rudd got his first big break as the character Josh in the 1995 film Clueless. Along with the many Marvel movies he has been in, he has also been in The Perks of Being a Wallflower, Anchorman 2: The Legend Continues, and a few episodes of the TV show Parks and Recreation. He is a hilarious celebrity that can make anyone laugh no matter the role or setting.
Rudd also is a kind soul that tries to put good back into the world. He has done small acts of kindness to his fans, like handing cookies out to people waiting in line to vote during the 2020 election, encouraging them all to hold on a little more even though it was pouring rain.
(Source: The Famous People)
9. Cathy Runyan-Svacina
To end this list, I have put my childhood hero and Kansas City celebrity, Cathy Runyan-Svacina. Cathy currently holds the world record for the largest collection of marbles and currently resides in KCMO. To me and the other neighborhood kids, she was always known as "The Marble Lady". Cathy's life has been devoted to her individuality and putting a spark of joy in everyone's lives. Her gravel driveway had pretty, little marbles mixed in for anyone to scoop up as they walked by. She had a slide in her underground home for groceries or (if you asked politely) a quick ride down the stairs. She frequently hosts events where she teaches at-risk children how to play the game marbles and teaches them how to have good, wholesome fun.
When I was a little girl, my family could not afford Christmas presents one year. Cathy Runyan-Svacina was my mom's best friend, so she knew our financial struggles all too well. On the night of Christmas Eve, there was a sharp knock on our door. There, on the ground, was a pile of wrapped gifts addressed to me and my five siblings with no note or even a trace of who sent them. Christmas morning, as my brothers, sisters, and I were tearing ravenously through the presents, my mother noticed that one of the boxes had an address stamped with the name Cathy Runyan-Svacina.
Not only is she a hero to community, but she's also great and generous friend. Kansas City is proud to have her.
Related Topics:
If you like the article above, here are some other similar articles you should check out!
17 Reasons Not to Move to Kansas City, MO (Voted by the Locals)

17 Reasons Not to Move to Heber City, Utah

17 Reasons Not to Move to Russellville Alabama