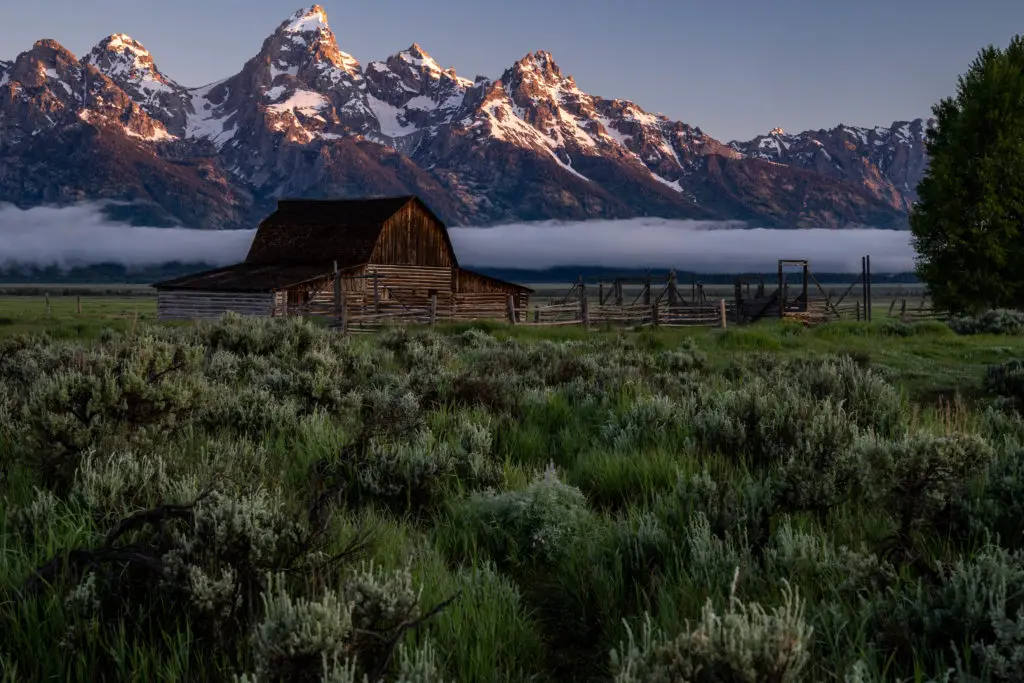 The rich and famous have been flocking to Jackson for many years now, even before it became a stomping ground for tourists.
Even though the western community of Jackson Hole, Wyoming can only boast of a little more than 10,000 people, it can boast of a disproportionately large number of celebrities.
This is probably due to the fact that Jackson Hole, especially today, has very limited space for residential property. That means that the privacy people living there enjoy is hard to find anywhere else. It also might be because the price tag attached to most of the properties are ones that only the rich and famous can afford.
1. Kanye West and Kim Kardashian
It's no secret that these days the Kardashian-West family have been spending quite a bit of time in Jackson Hole.
West purchased a ranch made up of 4,500 acres for $14 million in September of 2019. Two months later he also purchased another ranch made up of 6,500 acres for another $14 million, both about 75 miles away from Yellowstone National Park.
Working alongside architects James Turrell and Claudio Silvestrin West plans to create a safe haven for his Yeezy Campus, the ultimate goal being "to create spaces that allow humans to maximize our potential, to take us outta the box."
Besides its beauty, West stated that he chose Jackson Hole to be able to work with experts to create an eco-friendly area, using farming techniques such as hydroponics, aquaponics, passive energy.
Essentially it would pick up where his previous company, DONDA, (named after his late mother) left off. DONDA aimed to become "a design company which will galvanize amazing thinkers in a creative space to bounce their dreams and ideas" and, eventually, "to make products and experiences that people want and can afford."
For a tour of Kanye's vision for his Jackson Ranch, click on the video below:
2. Harrison Ford
Actor Harrison Ford and his wife, Calista Flockhart, have famously called Jackson Hole home for many years.
Ford bought an 800-acre ranch in Jackson Hole, Wyoming in the 1980s. Half of his property has since then been donated by Ford as a nature reserve. Nestled by the Snake River, his ranch is a hotspot for migrating wildlife like elk and mule deer, bald eagles, and cutthroat trout.
"I think we all get something set in our heads early on. And the first time I saw Jackson Hole, I said, 'This is the place that's been in my mind all the time.'"

landreport.com
Today he can be found flying both fixed-wing planes and helicopters and donating his time and skills to the Young Eagles program.
On two notable incidences, he has also helped local authorities with several search and rescue attempts for hikers lost in the forests that surround Jackson Hole.
3. Sandra Bullock
Famous for being America's sweetheart, Sandra earned her fame and wealth by starring in a large and diverse portfolio of films, ranging from Speed to Miss Congeniality, to The Blind Side.
Today, she spends time in her many different properties, including her 1,750-acre property in Jackson Hole, Wyoming that includes a ski house and an equestrian center.
Just last year Bullock was seen dancing with another A-lister, Jennifer Aniston, who she had run into at a bar on New Year's Eve.
Although she does not live here year-round, you might be lucky enough to spot her when you make your next trip to Jackson as she loves the area when she's not busy filming.
4. Travis Rice
Named #13 on Snowboarder magazines list of the 20 most influential snowboarders of the last 20 years, Travis Rice is known for being "'the Paul Revere' of the big mountain freestyle movement."
He also has been featured in more than 20 snowboarding films, bringing the sport more notoriety.
Travis Rice also was named "the best contemporary snowboarder in the world" by Red Bull, with who he has created snowboarding competitions that feature other professional sportsmen.
To watch Rice and other snowboarders film some daredevil jumps for the film The Natural Selection click on the video below.
Born in 1982 in Jackson Hole, Rice learned how to ski from his father, who was a member of the Jackson Hole Ski Patrol and later was turned on to the world of snowboarding.
Living in Jackson is a great place to practice as he has proved over and over again on the slopes.
5. Julia Louis-Dreyfus
Known primarily for her role as Elaine in Seinfeld, Julia Louis-Dreyfus has been traveling to Jackson Hole since she was 14 years old.
Since then she has purchased real estate there and frequently takes vacations there when in need of a break from Hollywood. When asked why celebrities are flocking to Jackson Hole, in particular, she stated that:
"We might be a remote mountain community, but this small town has no shortage of things to do. There are multiple cultural organizations, such as the National Museum of Wildlife Art, Grand Teton Music Festival, Center for the Arts, TedXJacksonHole, and the Jackson Hole Wildlife Film Festival. Traveling artists and groups like the New York City Ballet and world-renowned cellist Yo-Yo Ma perform here on a regular basis.  Jackson Hole has more non-profits per capita than almost any other community."

wakeupwyo.com/
Seems like everyone loves this beautiful place.
6. Former Vice President Dick Cheney
Serving as Secretary of Defense for President George H. W. Bush from 1989 to 1993, and later served as Vice President under George W. Bush from 2001 to 2009 has gained fame for being cited as "the most powerful vice president in American history."
Dick Cheney first moved to Casper, Wyoming as a child, and then later found his way back to the west to attend the University of Wyoming.
Today he is famous for hosting political gatherings at his Wyoming home and going out to eat at the Snake River Grill, in Jackson Hole.
7. Nikki Sixx
Motley Crue's bassist Nikki Sixx recently relocated to Jackson Hole with his family and has taken to Instagram to show off the view from his backyard which includes a pool and plenty of Wyoming mountains.
Sixx is reportedly spending his time in Teton County "writing a book, writing a musical, and looking forward to the Cruë's next world tour."
"Being relocated in Wyoming most of the time, I am feeling reconnected to some new creativity already."

"These mountains, the wide-open spaces, the people and the wildlife is grounding to me."

cowboystatedaily.com
8. Bradford Lund
Bradford Lund, grandson to the animator and businessman Walt Disney calls Jackson Hole home every now and then in Eagle South Fork, his family's 110-acre ranch.
Purchased in the 1980s by his father, Lund wishes to keep the property as untouched as possible, possibly as a conservation area for wildlife, which is perfectly befitting the spirit of the National Parks that surround Jackson.
"It's a really beautiful river-bottom property along the Snake River, so it's always very green. It has a lot of beautiful ponds," Hawks said. "It's got big beautiful cottonwood trees like you would see in Casper, only it's a lot greener because it's just so wet here."

trib.com/
It's not so surprising that Disney also hosts an Adventures by Disney in Wyoming, where visitors can horseback ride, whitewater raft, and "Feel your spirits soar in this land filled with natural wonders!"
9. Jimmy Chin
Jimmy Chin, known for his work in photography, filmmaking, and his pro climbing abilities, lives part-time in Jackson Hole with his wife and children.
He is known as a professional athlete for The North Face since 2003 and enjoys spending his time traveling across the world doing any number of outdoor activity including mountains. This also includes creating documentary films about his adventures.
His biggest projects were filming Meru, where Chin and two other climbers successfully ascended a previously unconquered 4,000 ft wall on Meru known as Sharks Fin. The film was so well made it later went on to be Oscar-nominated.
His later projects included Free Solo, which documented the life of Alex Honnold, who in the film successfully climbed the 900-meter vertical rock face of El Capitan in Yosemite National Park, without the use of ropes.
Having escaped to Jackson fifteen years ago to become a ski bum, Chin became found a home and never left. He was often found traversing the Teton mountains, from the Grand Teton to the Middle Teton, to the South Teton all in one day.
Of the dangers he faces going up mountains and treacherous terrain, of which Jackson is the least dangerous, Jimmy stated that:
"We spend so much time worrying about risking too much, and much less time about risking too little."

"Maybe we're [mountain athletes] wired differently being on the edge more, but risking too little is the greatest risk of all. To not fully live because of fear is not what I consider a life well-lived."

Jimmy Chin
To see more of Chin and his fantastic filming style, click on the video below.
Related Topics:
If you like the article above, here are some other similar articles you should check out!
17 Reasons Not to Move to Jackson Hole, Wyoming

17 Reasons Not to Move to Cheyenne, Wyoming

Is Cheyenne, Wyoming a Liberal City?