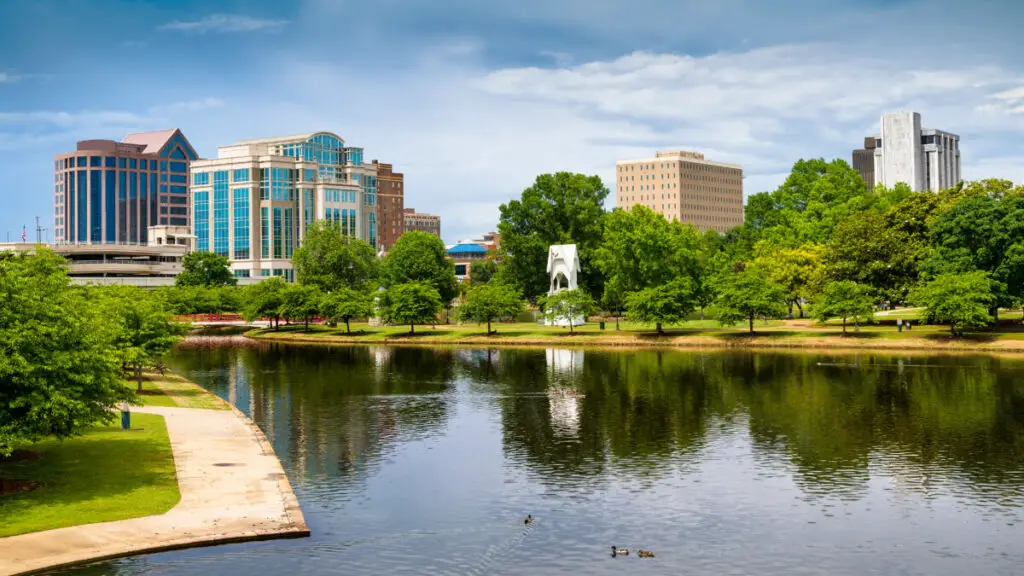 Huntsville, Alabama is a place that is rich in modernity and also has some famous moments in history. Beyond the NASA space station there, there are also so many people that have made their own impressions on various aspects of popular culture. Here are nine celebrities that have a connection to Huntsville, Alabama!
1. Debby Ryan
Debby Ryan, otherwise known as Deborah Ann Ryan, was born on May 13th, 1993, in Huntsville, Alabama. She has become a huge actress and singer. In her childhood, she moved around due to her father being in the military. However, she first started performing professionally at seven years old in Germany. Her first big hits were in Barney and Friends, The Longshots, and The Suite Life on Deck. She has had a long-standing relationship with Disney that has developed through many different productions, like Jessie, Radio Rebel, and 16 Wishes.
Outside of her parts on several different shows, she has done many other things like start her own band. Her band is titled The Never Ending. She has also spoken out against domestic violence, competed on different shows for charity, traveled to other countries to do charity work, and might be working on a fashion line. She is trying to use her fame for good, which is remarkable!
2. Caitlin Carver
Caitlin Carver was born in the surrounding area of Huntsville, Alabama. As she was growing up, she began doing many different skills such as many different sports, dance, and gymnastics. In high school, she discovered her love for theatre as well. Before she became a big actor, she mostly utilized her dancing abilities and was a professional dancer for a while. She can be seen in some videos for Beyonce and Pitbull. She also has had some guest roles in different big shows, such as Glee, Nashville, Parks and Rec, Twisted, Chicago Fire, and many others. She also was cast in a lead role in Paper Towns and many other movies and shows. She is a remarkable actress.
3. Felicia Day
Felecia Day was born and raised in Huntsville, Alabama. She is an incredibly smart, hardworking, and creative person. She has many talents. One of them is acting. She began acting when she was seven as Scout in To Kill a Mockingbird. She continued her studies throughout her childhood and performed nationwide as a singer and dancer as well. She was homeschooled off and on and graduated high school at 16 as valedictorian. She was also a remarkable player of the violin and ended up getting a full-ride scholarship to the University of Texas in Austin. She graduated at nineteen and began her career.
She continued to act in many different shows and movies, like Vi in Buffy the Vampire Slayer, a lead role in a movie called June, and a few other voice-acting opportunities. She has also begun a web series called The Guild, which is all about what it is like to be a gamer. This show has won many awards such as a Streamy Award. Through this show, she has also written and produced music like (Would You Date My) Avatar. She also starred in a web musical called "Dr. Horrible's Sing Along Blog" as Penny. The amount of talent and the number of accomplishments she has is remarkable, both on and off-screen.
4. Christine Auten
Christine Auten was born on May 7th, 1969, in Huntsville, Alabama. Her main skills are found in voice acting. She has done many English voiceovers for animes with different companies including Funimation, Sentai Filmworks, and ADV Films. She also has been an ADR Scriptwriter and ADR Director. She is most recognized for her role as Esdeath in Akame ga Kill. She also has voiced characters in shows like Fullmetal Alchemist, Lady Death: The Movie, and East of Eden. She is continually being hired and voicing new roles. The most recent thing she has been cast in is Shenmue.
5. Cully Hamner
Cully Hamner was born on March 7th, 1969, in Huntsville, Alabama. He grew up in the area and graduated from Albert P. Brewer High School in Somerville, Alabama. After high school, he went on to work in the comic book industry. His first big piece worked on was Green Lantern: Mosaic. In his professional career, he has worked for almost every single comic book company there is. He has done most of his work for DC comics. Some of the other big comics he has done include Black Lightning, Blue Beetle, and Red.
Red was a comic that he drew and created with writer Warren Ellis. It was so well done that Summit Entertainment decided to make a film based on it called RED. It made 21.8 million on screen. Thus, a sequel has been made and a third was under discussion. It also gained a TV show. He still continues to make comics and help design different characters today.
6. Margaret Hoelzer
Margaret Hoelzer was born on March 30th, 1983, in Huntsville, Alabama. While she grew up there, she loved to swim and was incredible at it. She swam and coached with the Jones Valley Recreation Association and swam on the Huntsville High School swim team. Auburn University soon accepted her onto their swim and dive team, and she excelled in school and in the pool. She got a degree in Psychology with a minor in criminology. She also began to travel around the country to get the best coaching. Through her training, she became a good enough swimmer to qualify for the Olympics twice.
She went to the 2004 Olympics and competed in the 200-meter backstroke. She placed fifth at the Olympics. In 2008, she went and qualified for three different events: the 200-meter backstroke, the 100-meter backstroke, and the 4 X 100-meter medley relay. She actually broke the record on the 100-meter backstroke at 2:06:09. She placed bronze in the 100-meter backstroke, silver in the 200-meter backstroke, and silver in the 4 X 100-meter medley relay. She is an incredible swimming competitor.
7. Michael Luwoye
Michael Luwoye was born on December 19th, 1990, in Huntsville, Alabama. He was a first-generation immigrant whose parents are from Nigeria. As a child, he was known for being artistic and creative. He went to high school at Lee High School. In high school, he invested time into learning and understanding music theory and composition. He did well in school and found a love for theatre during his junior year of college.
Once he became interested, his abilities and roles dramatically increased. In college, he played Othello in the play by the same name, he played Queequeg in Moby Dick, Hud in Hair, and Jud in Show Boat. After he graduated from the University of Alabama, he moved to New York and quickly found his way on stage. He has had many roles in regional and off-Broadway theatre. He also auditioned for Hercules Mulligan in Hamilton and got the lead role in the show. He was the first black man to play the lead. He has made huge amounts of impact on the role, as he went and played the role for over 2 years. He now continues to shine on stage in different capacities and roles.
8. Gerald McCullouch
Gerald McCullouch was born on March 30th, 1967, in Huntsville, Alabama. He found fame and success at a young age. His acting, singing, and directing career began when he was 16 years old. He got a job singing at Six Flags Over Georgia. After that, he went to school in Florida to get a degree in musical theatre. Unfortunately, he was in a car accident that made him switch priorities.
He went straight into the acting field after he recovered. He has a variety of roles and different skills he has developed in his career. He has recurring roles and guest roles on TV shows such as FYE!, Law and Order: Special Victims Unit, Chicago Med, Bones, and House M.D. He has also played Christ in Jesus Christ Superstar and done stand-up at a world-renowned event in LA. He has also written and directed some shorts and films as well. Gerald McCullouch is an incredible actor and artist in many aspects of the theatre industry.
9. Paul McDonald
William Paul McDonald was not born in Huntsville but was raised there. He graduated from Huntsville High School after being a wide receiver and being in the Wizard of Oz. After his time there, he went on to start a band that was called Hightide Blues, now known as The Grand Magnolias. They moved to Nashville, Tennessee, and began to get more traction. The act that helped bring the band into the light was when he went onto American Idol. He made it pretty far and got an eighth place. This started his solo career as well.
It is clear that there are some bright hidden gems in Huntsville, Alabama. I bet there are even more coming just around the corner!