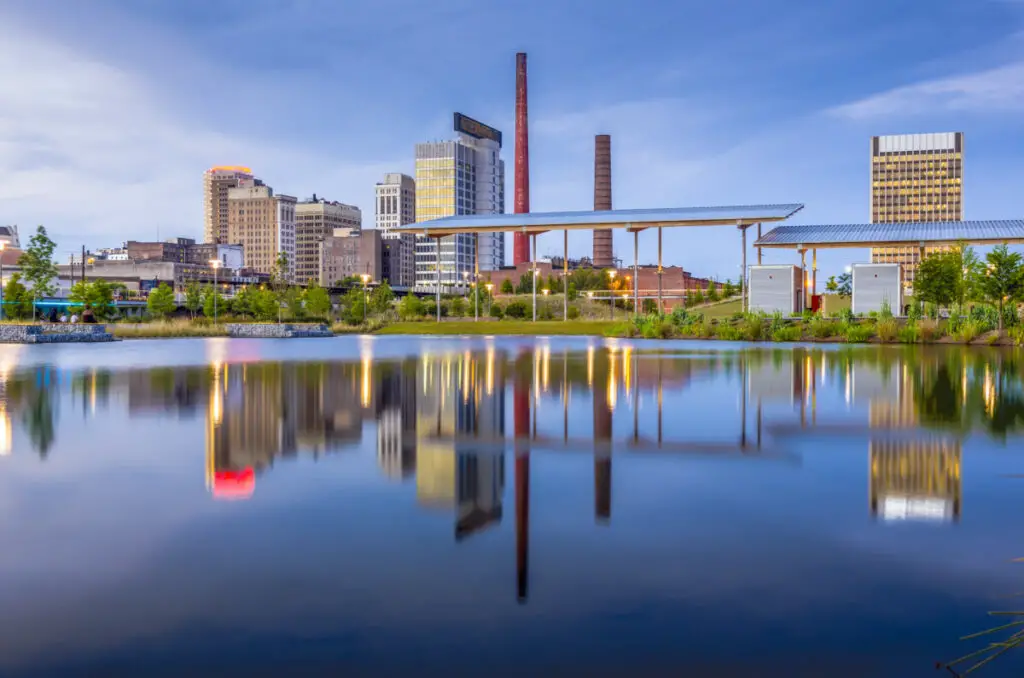 Hoover, Alabama is a cute city that is green and lush. But there are also some amazing people that grew up and aspired to fame in this gorgeous place. Here are nine people from Hoover, Alabama who have made the big leagues.
Keep reading to find out more!
1. Taylor Hicks
Taylor Hicks was born on October 7th, 1976, in Birmingham, Alabama. He and his family moved to Hoover when he was only eight years old. He had a rougher childhood that caused him to delve into his love for music. He bought a harmonica in Bessemer and taught himself how to play. He also taught himself how to play the guitar and organ by the time he was nineteen. Through his musical adventure, he found out he has perfect pitch. He also joined a cover band.
After high school and some time in college, he joined a different band called Passing Through and played with them for a little bit. He quit the band and ended up recording an album named In Your Time before he moved to Nashville, Tennessee. He attempted to start his music career there but found little success. However, once he moved back to Alabama, he found much more success. His brother convinced him to try out for American Idol. He won the fifth season. Ever since then, he has skyrocketed in music success.
2. Marlon Humphrey
Marlon N. Humphrey was born on July 8th, 1996, in Hoover, Alabama. He grew up in the area and ended up playing football at Hoover High School. He did remarkably well in high school as a cornerback. He was titled a USA Today All-American twice and named for the All-State Selection three times. In his senior year, he was considered a five-star prospect and received nine different offers from schools considered the best for college football. He accepted to play at the University of Alabama.
He only was at the collegiate level for two years. During his time, he helped them win their 16th national championship. He also got Freshman All-American rights. The next season, he also did really well. This caused him to leave the college level and go into the National Football League. He was immediately scooped up by the Baltimore Ravens and has been playing with them since 2017. He has been a starting cornerback for them and has continued to be an incredible asset to the team.
3. Mike Kelon
John Michael Kelon was born on January 31st, 1948, in Opelika, Alabama. However, he played football at Berry High School in Hoover, Alabama. He was a skilled linebacker who was able to play at the collegiate and professional levels. He was drafted into the National Football League in 1970 by the Miami Dolphins. He played with them for seven years and was a part of a historical play in the league, during a game nicknamed The Sea of Hands. He was part of the defense that tried to stop the Oakland Raiders from getting additional points. He was part of a tackle and near fumble, however, the Dolphins lost and lost their winning streak in 1974. He also helped them win two Super bowls.
He is now living in Birmingham with his wife and around his family. He has loved and remained in the area for a long time.
4. George Pickens
George Malik Pickens Jr. was born on March 4th, 2001, in Hoover, Alabama. He is another example of a high-class football player. He played at Hoover High School where he was a wide receiver and collected some incredible stats. He had 69 receptions and 16 touchdowns. He was considered a five-star prospect and had some wonderful prospective offers. He accepted the offer to play for the University of Georgia.
He immediately was given the opportunity to play on the field as a wide receiver. He got 8 touchdowns and 49 receptions in his first collegiate season. He continued to play with them until he got an ACL injury that knocked him out for the majority of the 2021 season. After that season, he decided to leave the collegiate level a little early and go into the professional league. He was picked up by the Pittsburgh Steelers for the 2022 season. He is incredibly young, thus his nickname is "The NFL YoungBoy".
5. Ryan Pugh
Ryan Pugh was born on December 4th, 1988, in Hoover, Alabama. He is known for his career in Football, both on and off the field. At the collegiate level, he has played as a center for Auburn University. During his time playing there, he was selected for the All-Southeastern Conference. After he played with them, he was made a coach for them in 2012. Ever since then, he has been a coach at a variety of colleges like Virginia Tech, Cincinnati, Brigham Young University, Troy University, and Abilene Christian University. His coaching abilities are treasured in Abilene, Texas currently, and might return to Alabama at a future date.
6. Chris Richards
Chris Richards is an amazing soccer player that has traveled and played with many different professional clubs. He was raised in Hoover, Alabama, and played at the Hoover Soccer Club for a decent amount of time. He then auditioned for the FC Dallas Academy in 2016 but didn't make it. So, he played with the Houston SC until he was accepted in 2017 and signed a contract with FC Dallas in 2018.
Due to an opportunity to go to a 10-day camp for FC Bayern Munich, he was offered the opportunity to play with them for a year. He has continued to play internationally and first appeared in the International Cup in 2018. He has been a starter for FC Bayern Munich for a while and has been praised for his ability to pass and do aerial moves. He has been a pivotal part in helping the team succeed in many matches. He now is signed for Crystal Palace FC and is known for his soccer abilities worldwide.
7. Sidney Spencer
Sidney Spencer was born on March 7, 1985, in Hoover, Alabama. She is an incredible basketball player and has been for a long time. She began to be noticed while she was playing for Hoover High School. She has been awarded several different types of awards, such as Alabama Miss Basketball, All-American, Adidas All-American, and All-State in 2002-2003. She also broke many records for the high school in points, rebounds, and blocks.
After high school, she was accepted to play for the University of Tennessee as a shooting guard and small forward. In 2003, she joined the team. In her first year, she performed incredibly well and was eventually chosen for the All-SEC Freshman Team. She was able to get massive amounts of points in most of her games, including games against Auburn, Duke, and other highly-ranked Universities. She played with the University until 2006. While she was there, she was able to be on the SEC All-Academic Honors roll every semester. She has made a lasting impact during her time there. From there she was drafted into the Los Angeles Sparks. She also played for New York Liberty and Pheonix Mercury. Her athletic abilities are incredible.
8. Rush Propst
Rush Propst is someone known for his coaching abilities for many different schools. In his high school years, he was a football player that was known for his abilities as a wide receiver and defensive back. He played a season at Jacksonville State University as a non-scholarship player and went on to get a degree in Physical Education. Once he graduated, he became a high school coach for many different schools such as Cleburne County High School, Cherokee High School, Asheville High School, Hoover High School, and many more.
Before his time at Hoover High School, he had developed a lot of success and skills in coaching. He was able to lead his alma mater high school to win their only state championship. After over a decade of coaching, he went on to coach at Hoover High School, where he helped them win 110 games and 5 State Championships. They even ranked in the nation's top 25 schools for several years during his tenure. While he was there, he did receive a lot of criticism for having an extramarital affair that caused him to resign. However, he has continued to coach at other schools since then.
9. Josh Chapman
Josh Chapman was born on June 10th, 1989, in Birmingham, Alabama. He attended Hoover High School on the Football team. In fact, Rush Propst was one of his coaches. Propst described him as the best defensive lineman in the high school's past. He was given the offer to play football at Alabama and took it over any of the other offers he received. After playing at the collegiate level, he began to play on the professional level for the Indianapolis Colts for three years. He is now one of the coaches at the University of Alabama.
Hoover, Alabama is an incredible place with even more incredible people. The potential for people in Hoover is unlimited.