Washington D.C. is not just our nation's capital, it is also the city that many famous celebrities have called home. Although some of these celebrities no longer live in Washington D.C., it will likely always have a special place in their hearts.
We have listed 9 celebrities that have called Washington D.C. their home at some point in their lives below.
9. Marvin Gaye
Marvin Gaye

, who is also known as the Prince of Soul, was born in Washington D.C. in April of 1939. His father, Marvin Gay Sr., was a cross-dresser and a pastor. Unfortunately, Marvin Gay Sr. was abusive to both his children and his wife, but most especially to Marvin Jr. Because Marvin Jr. loved to sing, his mother, Alberta, encouraged his love of music. Marvin Jr.

added an 'e' at the end of his last name for his stage name in order to discourage rumors about his sexuality as well as to distance himself from his father.
When Marvin Gaye

eventually made it big as a solo artist, he bought a house for his parents and moved them to Los Angeles. Gaye was struggling with depression and substance abuse and later moved in with his parents. One day, Jr. and Sr. got into an extremely heated argument, which resulted in Marvin Sr. shooting and killing his son.
Three years after his death, Marvin Gaye was inducted into the Rock 'N' Roll Hall of Fame.
8. Dave Bautista
Audiences may best recognize Dave Bautista

as the lovable maniac, Drax the Destroyer from Marvel Cinematic Universe's Guardians of the Galaxy. Before adopting this now iconic role, Bautista traveled along a rough road.
Bautista

was born in Washington D.C. and grew up in one of its roughest neighborhoods. He witnessed 3 homicides on his front lawn before the age of 9. At the age of 17, Bautista was living on his own. He worked as a bouncer for a while before getting arrested for getting into a fight with 2 patrons of the club he worked at. He was sentenced to a year of probation.
After he finished his probation, he started training to work as a wrestler and eventually was brought on to WWE, where he became a heavyweight champion. Bautista gained the nickname The Animal soon after he joined WWE. He won World Heavyweight Champion 6 times before quitting WWE in 2014. He temporarily returned in 2019 but was only making a guest appearance. It seems that he has now turned his career towards acting, which many fans have been happy about, as they enjoy the works that he has acted in.
7. Bill Nye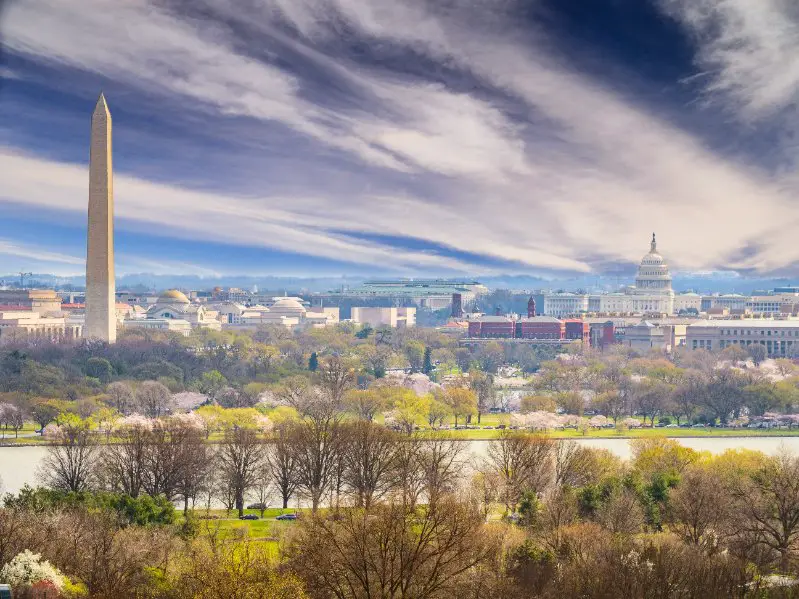 Bill Nye

was born and raised in Washington D.C. but left to attend Cornell University, where he became a mechanical engineer. He worked for Boeing in Seattle while also occasionally participating in standup comedy. He left in 1986 to pursue comedy full time. He started off working as a writer and sometimes actor in a local sketch comedy show Almost Live!, and it was on this show that he initially started doing the comedic science experiments that he is now somewhat known for.
Bill Nye the Science Guy, the show that most people know Nye from, was green-lit for its pilot episode in 1993, and it ran until 1998. The show won 19 Emmy Awards and launched Bill Nye

into Icon status. Since the show's original screening, Bill Nye has become a name synonymous with having fun with science.
6. Goldie Hawn
Goldie Hawn

was born in Washington D.C. in 1945. Her mother was Jewish and owned a dance school, and her father was a presbyterian. Goldie took after her mother and fell in love with dancing. Before becoming a movie star, Goldie worked as a professional dancer and even ran her own ballet school.
She first entered the national spotlight as a cast member in the sketch comedy show Rowan & Martin's Laugh-In. From there, she rose to stardom and remained fairly big for 3 decades. She was married and divorced twice and has been in a relationship with Kurt Russel since 1983. She is the mother of actors: Kate Hudson, Oliver Hudson, and Wyatt Russel.
Goldie

also started the Hawn Foundation, which is an organization that works to help educate underprivileged children.
5. Kellyanne Conway
Kellyanne Conway was Donald Trump's Campaign Manager in 2016 and was selected by President Trump to serve as his Senior Counselor during his time in Office. Kellyanne is the first woman to ever successfully run a US Presidential Campaign. Prior to serving as Trump's Campaign Manager, Conway also did a stint as President and CEO of the Polling Company (WomanTrend division

).
Conway resigned as Counselor to the President in August of 2020 following large amounts of controversy surrounding her and possible ethics violations. There was also a public argument with her teenage daughter, who threatened to seek legal emancipation from her mother. Conway currently resides in Washington D.C.
4. Victor Ekpuk
Victor Ekpuk

is a Nigerian-American artist who is based out of Washington D.C. He utilizes many different mediums and is inspired by the ancient Nigerian communication system, Nsibidi.
Throughout his career, Ekpuk has had his work displayed in numerous prestigious collections, and some of them include:
Smithsonian National Museum of African American History and Culture
Smithsonian National Museum of African Art
Boston Museum of Fine Art
The World Bank
Bank ABC (Arab Bank Corporation) in the Kingdom of Bahrain
Kiran Nadar Museum of Art in New Delhi
Elizabeth Miller Sculpture Center
Hood Museum
Krannert Art Museum
Newark Museum
United States Art in Embassies Art Collection
3. Frank Wright
Frank Wright

was a painter and professor who loved documenting Washington D.C. Due to his more realistic style of art, his art didn't gain much notoriety at first, as more abstract art was in style at the time.
In 1981, he had a display at the Kennedy Galleries which finally started to get him noticed. In that same year, he got a solo museum exhibition entitled "Frank Wright: Paintings 1968-1980" at the Corcoran Gallery of Art

in Washington, D.C

, which was on display from June 13 until July 19. He was even commissioned by the House of Representatives for a portrait in 1998.
Starting in 1970, he taught drawing and graphic art at George Washington University until retiring in 2015. Frank Wright

passed away in 2020, leaving behind his wife of 65 years, one daughter, and 220 paintings.
2. Jeff Bezos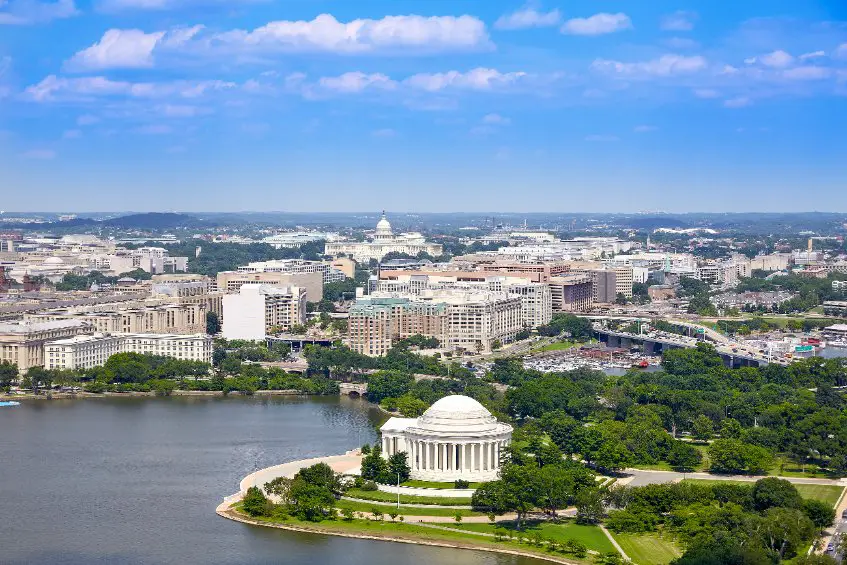 Jeff Bezos

is the Founder, former CEO, and current Executive Chairman of Amazon. He originally started Amazon out of his garage in 1994. The company has since grown to be worth several billion dollars. The site started out as a book-selling site but eventually grew to be what is now the most well-known form of e-commerce in the world.
It was in 2005 that Amazon first started to really expand past its original "virtual bookstore" identity. In 2007, Amazon released the first Kindle, which led to them opening up the e-book market as well. Then, in 2010, Amazon also started to produce its own movies and tv shows.
The Covid-19 Pandemic increased Amazon's worth even more due to the rise in at-home shopping due to people attempting to maintain social distancing. From 2018-2021, Bezos was listed by Forbes

as the richest man in the world. Elon Musk overtook Bezos in 2022, putting Bezos in the number 2 spot for the richest man in the world.
From 1993-2019, Jeff Bezos was married to Mackenzie Tuttle. After their divorce was announced in January of 2019, reports were leaked that Bezos had been having an affair. Bezos called out members of the media for attempting to blackmail him with nudes that he discovered were leaked to them from his lover's brother.
One of Bezos' favorite homes is located in Washington D.C.
1. Barack Obama
Barack Obama was born and raised in Hawaii. After graduating first from Columbia University and then Harvard Law School, he served on the Illinois State Senate, and then in 2004, he was elected as the state Senator for Illinois.
Barack Obama

was the 44th President of the United States of America and the first African-American President of the United States. This appears to be a pattern for Obama, as he became the first African-American President of the Harvard Law Review during his time attending Harvard Law School.
Obama

served 2 terms as President. He was first elected in 2008 and again in 2012. After completing his second term as President, Obama chose to continue residing in Washington D.C.
He and his wife Michelle have two daughters. Barack and Michelle met at the Chicago law firm of Sidley Austin, where he was working as a summer associate; she was the lawyer assigned to be his advisor. The two got married in 1992. After Barack graduated, the two of them moved to Chicago, where he worked as a civil rights lawyer and a professor at the University of Chicago Law School.
In 2009 Barack Obama was awarded the Nobel Peace Prize.