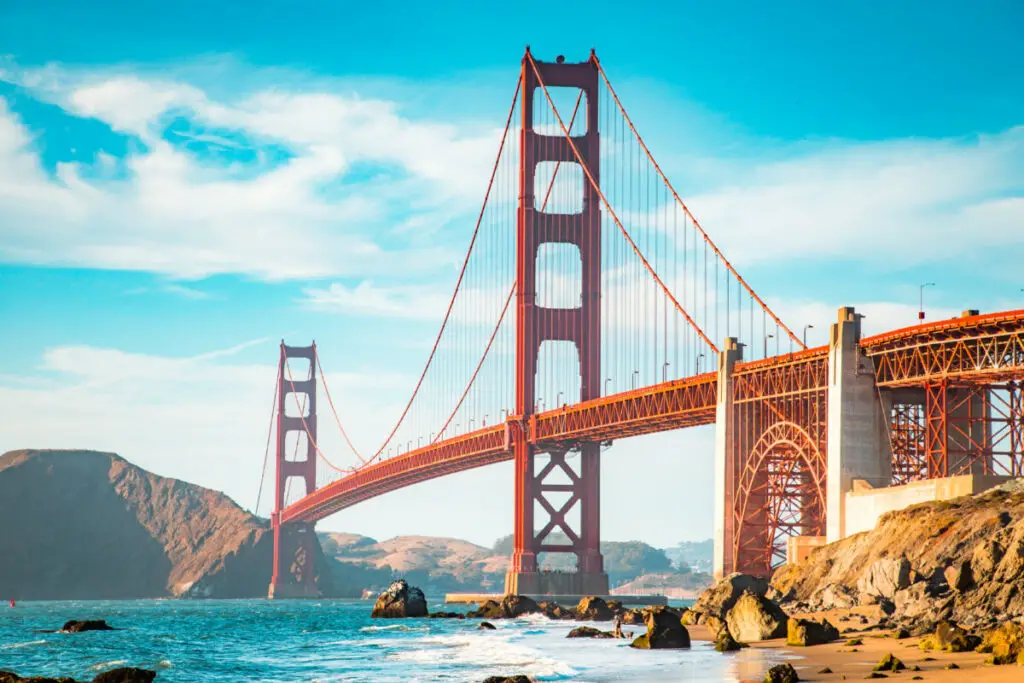 Focused primarily on the rights of the individual, liberalism is a political and moral philosophy prevalent in many major cities throughout the United States of America. Even in states where the majority of voters are conservative, research indicates that there is a positive correlation between the population of a city and its inclination toward liberal patterns and policies. In each of these liberal cities, voters demonstrate favor toward organizations and candidates that target issues of social justice, prioritize secularism, and regulate economic activity.
1. San Francisco, CA – Population: 883,255
Renowned as a major social and cultural hub, this bay area city has been referred to as America's most liberal place to live. Distinguished by diverse demographics and a large population of college graduates, San Francisco's liberal politics can be attributed to groups that tend to vote democratic. Though it is a popular tourist destination and traffic can be heavy, locals love San Francisco for its fair summer weather, rich culture, and historical landmarks.
2. Washington, DC – Population: 714,153
A close second to San Francisco, Washington, DC is the United States' second most liberal city. Washington, DC is noted for its history of progressivism, accessibility to minority activism, and current liberal political leadership. Containing the country's capital building as well as the White House, not to mention a smattering of Smithsonian and memorials, this city is rich with culture and education. There are plenty of places to learn, explore, and get involved!
3. Seattle, WA – Population: 776, 555
As the largest city in the state of Washington, Seattle is the ideal balance of urban sophistication and stunning natural landscapes. From sports and business to art and adventure, Seattle is a fantastic place to live. This west coast city is also reported to be economically family-friendly, making it a great place to raise children in a liberal setting. Fun fact: Seattle is home to the headquarters of Amazon, so delivery jobs and associated convenience stores are in abundance!
4. Oakland, CA – Population: 440,981
Oakland is another California city that attracts liberal-minded citizens, with an impressive array of social and public services. Locals residing in this east bay region are encouraged to get involved with political and recreational organizations, which makes it an appealing location to old and young liberals alike. The city is teeming with life, as it is California's busiest trading port, and prospective residents should be aware that the average cost of living in Oakland is fairly high compared to nearby cities.
5. Boston, MA – Population: 695,506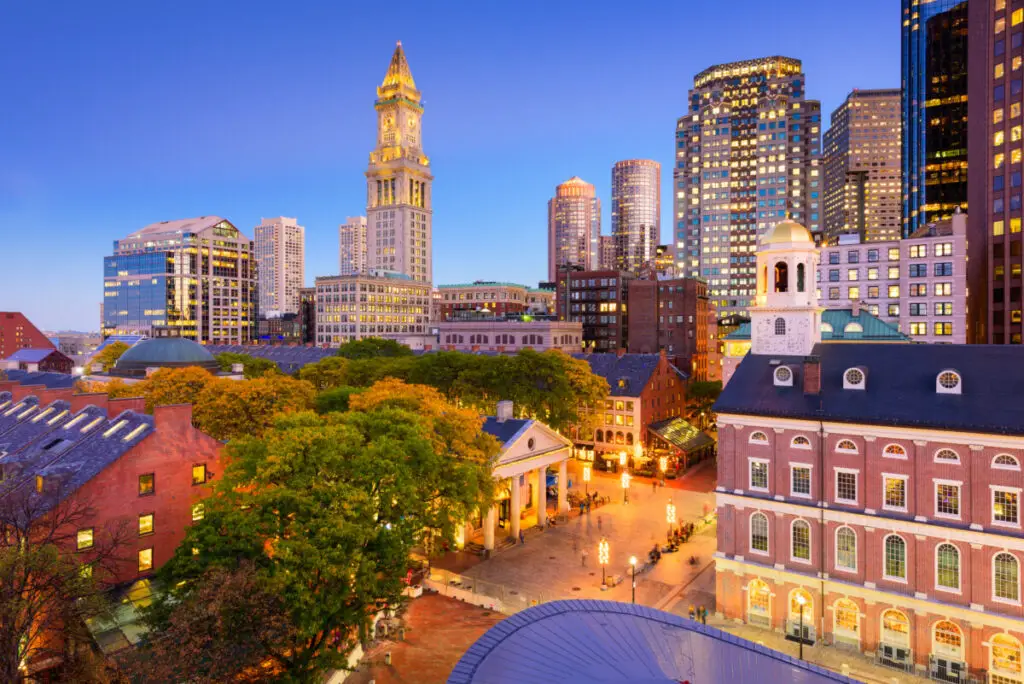 Bustling with festivals, vacation getaways, and historical sites, Boston is a vibrant city. Boston is also distinguished by its acclaimed universities, like Harvard and MIT. For liberals seeking a prestigious education in one of America's most historic cities, this area is rich with educational opportunities.
6. Minneapolis, MN – Population: 439,012
Minneapolis is a thriving metropolis of residential neighborhoods and new businesses. Located directly alongside the Mississippi River, Minneapolis is a melting pot. Residents of this urban paradise enjoy access to major sporting venues and some of the country's finest multicultural cuisine. Notably, the city council consists of 12 Democratic members, a Green party member, and two black transgender members. Though the city is rife with racial tensions, it continues to focus on social justice programs and is one of the most welcoming states to refugees.
7. Detroit, MI – Population: 664,139
Michigan's largest city, Detroit is committed to increasing levels of employment, support for citizens struggling with poverty, and investing in city services and infrastructure. Currently, ARPA is being spent on improving Detroit's neighborhoods, which would make it an attractive place for liberals to settle down. Detroit is also America's largest city that sits along the Canadian border; with Canada being ranked as one of the most accepting countries in the world for immigrants, Detroit becomes a major area of cultural and international crossings.
8. New York City, NY – Population: 8,804,190
Perhaps America's most famous city, New York City—the Big Apple, the City that Never Sleeps, The Empire City, America's City—is also the country's most densely populated city. In fact, it's the largest metropolitan area in the world based on its urban area. New York has a significant influence on the culture, media, fashion, academia, economy, and politics of the country. For liberals who enjoy being in the thick of the hustle and the bustle, there's no better place.
9. Buffalo, NY – Population: 254,290
Making a major comeback in recent years, Buffalo has transformed from a city known for its frigid weather and equally chilling crime rates to a city thriving with revitalized boutiques, hotels, historic buildings, neighborhoods, and schools. Buffalo is also reported to be one of the best places to live in New York because it presents increasingly accessible educational and career opportunities. On top of all that, Buffalo has an affordable cost of living which, considering its rapidly growing population, is as impressive to homebuyers as it is attractive.
10. Baltimore, MD – Population: 575,584
Baltimore is a unique place for liberals to live because it is an independent city, meaning that it does not belong to any of Maryland's counties and stands as its own publicly recognized political entity. This area is heavily influenced by its proximity to Washington, DC, and is also home to the famous Johns Hopkins University. Local leaders are dedicated to enhancing and increasing employment opportunities and providing handicapped citizens access to public transportation. Interestingly, Baltimore has more monuments and historical buildings than any other city in the nation.
11. Chicago, IL – Population: 2,679,082
Known as "The Windy City," Chicago is the largest city in Illinois and the third-largest city in America. Like Oakland, the culture of Chicago is heavily influenced by the fact that it is a major hub for trading and, as home to about a dozen of America's fortune 500 companies, generates some of the highest GDP in the world. Recently, Chicago has been committed to reproductive rights, public health services, and preserving and promoting the culture of its native people. The city is located in a major area that native American peoples recognize as their homeland, and current political leaders are making an effort to recognize those Nations in a more inclusive community.
12. Portland, OR – Population: 662,549
Much smaller than cities like New York and Chicago, Portland offers its citizens a beautiful blend of urban and natural environments. Portland is known for being an extremely green city, meaning that its citizens are environmentally conscious. It's common to see people riding bikes, jogging, recycling, gardening, composting, perusing whole foods stores, or strolling around farmers' markets. And while the city is a pretty typical blend of generations, locals report that the overall atmosphere is distinctly millennial: casual, laid back, reserved, and obsessed with plants.
13. St. Paul, MN – Population: 310,368
When it comes to highly rated healthcare, environmental quality, recreation, and culture, St. Paul is one of America's top cities. The free business environment cultivates a quality of life almost as distinct as the "Minnesota Nice" stereotype. Located across the Mississippi River from its twin city, Minneapolis, St. Paul is quieter and more economically oriented toward its parks, educational system, and downtown areas. It's a great place to find a job, befriend the neighbors, and settle down.
14. Austin, TX – Population: 1,011,786
Few people would initially assume that a city in Texas could be defined as liberal, but Austin certainly makes the cut. With its rolling hills, country, oaks, signature beer, and booming economy of tech businesses, Austin is one of the best cities in the United States for prospective homebuyers. In 2019, Austin was ranked—for the third time in a row—the best place to live in America. To further seal the deal, Austin is the greenest city in Texas, a haven of trees and vibrant landscapes amidst the Texan desert heat.
15. St. Louis, MO – Population: 294,890
Another city bordering the Mississippi River, St. Louis is home to an impressive spread of booming businesses, major universities, baseball teams, the world-famous Gateway Arch, and dozens of historical American figures. The weather is fairly humid, but the scope of outdoor activities is practically limitless, from art galleries and a local zoo to botanical gardens and outdoor restaurants. Compared to other cities, the cost of living in St. Louis is considerably more affordable, which makes it a fantastic option for liberal citizens seeking economically accessible healthcare and housing.
16. Philadelphia, PA – Population: 1,585,008
Philadelphia, the "City of Brotherly Love" gives residents all the benefits of a big city with the added charm of a small-town atmosphere. If New York and Washington, DC are too overwhelmingly populated for your personal taste, Philadelphia is the perfect place. Close to major cities and travel sites but not quite in the thick of things, Philly residents get the best of both worlds. In recent years, around 80% of citizens in the Philadelphia area have voted Democratic in presidential elections, making it a great place for liberal-minded people to work and live together.
17. New Orleans, LA – Population: 388,424
The birthplace of jazz music and annual host of Mardi Gras, New Orleans is undeniably fabulous. This stunning city attracts hundreds of thousands of visitors each year, which maintains the New Orleans reputation of open-mindedness and acceptance of all backgrounds and lifestyles. Whether you're there for the family-friendly attractions or the one-of-a-kind nightlife, New Orleans never ceases to impress and entertain.
18. Los Angeles, CA – Population: 3,983,536
Home to Hollywood, some of America's most prominent pop culture, and major BLM and LGBTQ+ movements, it's no secret that Los Angeles is one of the most liberal cities in the world. The warm weather and progressive thinking attract millions of American citizens to live in this city, continually adding to its ethnic and cultural diversity. LA is especially known for attracting aspiring artists, actors, and musicians, so if that's your scene, this is your place. And there's no denying it: In & Out Burger just tastes better in LA.
19. Pittsburgh, PA – Population: 299,718
Voted one of America's best places to live, Pittsburgh is tremendously welcoming to bohemians and entrepreneurs alike, making it easy for citizens to get involved with the community. For liberals looking to buy a home rather than rent a pricey apartment, the cost of living here is far more reasonable than in larger liberal cities. Young adults living in Pittsburgh also report feeling supported as developing professionals, and immensely enjoy participating in nonprofit organizations and community initiatives.
20. Denver, CO – Population: 749,103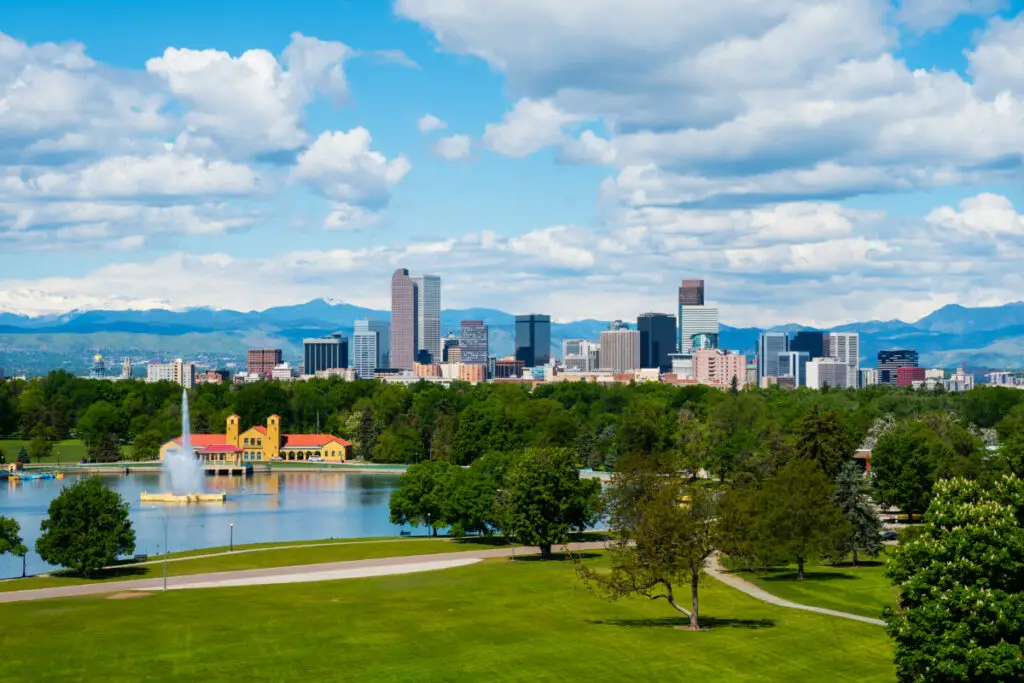 Denver, the "Mile High City," is the ideal home for those who love outdoor adventure. Nestled in the majestic Rocky Mountains, the sophisticated city not only earns its nickname through its stunning location but also through its ever-elevating culture of acceptance. Residents rave about the enriched family life they enjoy by living in Denver since the diverse neighborhoods and accessible outdoor beauty of the area make it a fantastic natural playground for people of all ages and interests.
21. Las Vegas, NV – Population: 644,594
Last but not least, Las Vegas is a city of endless entertainment and carefree living. Catch a show at the Cirque Du Soleil, stroll along the world-famous strip, or relax with friends in one of the countless casinos and entertainment centers. This sunny desert city is definitely a major tourist and vacation spot, but that doesn't mean it isn't a great place to settle down permanently. Unfortunately, the Las Vegas school system has long carried a poor reputation, but many neighborhoods surrounding the big city are affordable and fairly private, giving families a comfortable lifestyle alongside the thrilling vibrancy of one of America's most popular cities.
If you're considering moving to any of these areas, be aware that, according to Tausanovitch and Warshaw's "Representation in Municipal Government," liberal cities collect more taxes and spend more than twice as much per capita as conservative cities. That being said, it also means that local political leaders are more likely to act quickly and substantially on the wants and needs voiced by the people, which can have major appeal to liberals looking for a place where they can not only live comfortably but also get involved and be heard politically.
Related Topics:
If you like the article above, here are some other similar articles you should check out!
Is Boise, Idaho a Liberal City?

Is Billings a Liberal City?

Is Dallas, TX a Liberal City?