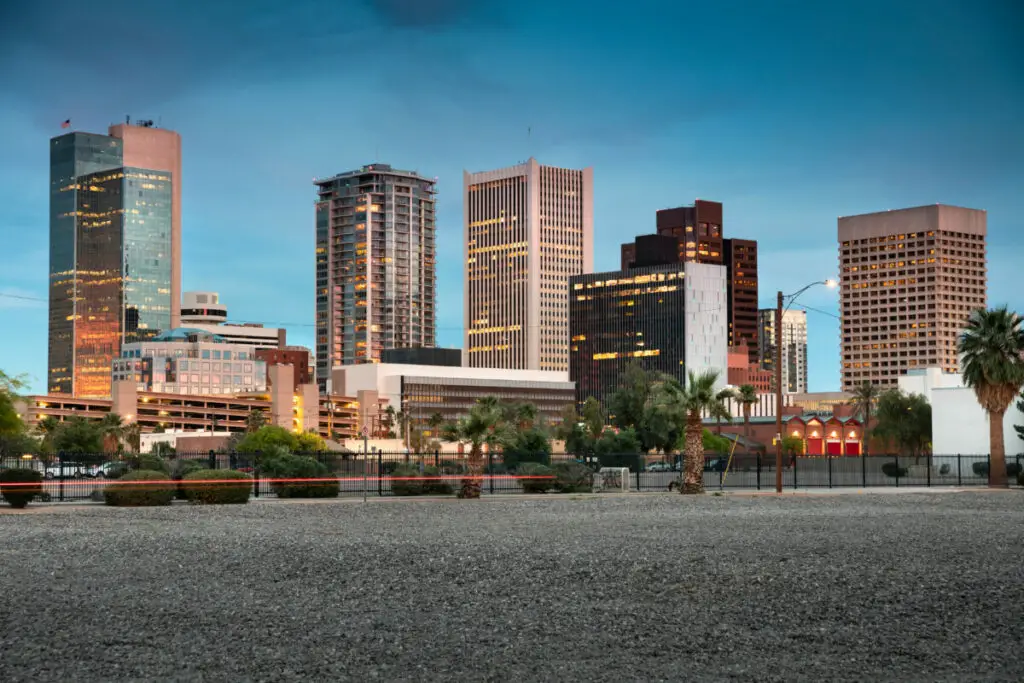 Scottsdale, Arizona is one of the nicest and prettiest cities in the Phoenix Valley. It is such a great place to live and comes with a lot of perks. Scottsdale is clean, fun, and safe.
Read on to learn the 17 reasons you should move to Scottsdale and why it is such an amazing place.
1. Family Friendly
One of the nicest things about Scottsdale is how family-friendly

it is! This city has been labeled as a great place for retirees

, but in recent years, more and more families are moving here with young children. The amazing schools draw people in and are one of the aspects that make it a great place for kids.
The best schools in Scottsdale are Great Hearts Academy, BASIS Scottsdale Primary, Anasazi elementary, Chaparral High School, and Cocopah Middle School. Scottsdale provides a lot to do for families, like going to the park, zoo, aquarium, and more! The city is also super safe, so kids can go out and have a good time without parents having to worry too much.
2. Strong Economy
Scottsdale has a great economy. It has repeatedly been ranked as the city with one of the top markets for business performance, job growth, and culture. Business culture is super important here, and the city takes care of its workers.
Taxes are very low in Scottsdale, and it's a great place to look for a job. There is a wide variety of professions and lifestyles. The unemployment rate is shockingly low at just 2.9%, which is well below the national average. Most people live comfortably, and poverty is not really an issue in Scottsdale. The average income is $51,000 annually, which is double the national average income of just $25,000.
3. Job Market
With such a strong economy, Scottsdale has a surplus of jobs and career opportunities. It has been ranked as one of the best places to find a job in the United States. There are over 25,000 businesses in Scottsdale and 20% of Arizona headquarters are in this city. Scottsdale has over 6,400 job opportunities every year so finding a job should be easy. If you are looking for a new career or job, look no further, because Scottsdale is the perfect place for you.
4. Luxury Living
Scottsdale is probably the nicest city in Arizona. You can find a lot of luxury here whether it be in homes, shopping, or entertainment. It has the most 5-star hotels and restaurants in the country. It is a popular place for tourists, but luxury also draws in residents who look for the finer things in life.
While Scottsdale has luxurious areas there are affordable living accommodations and entertainment options as well.
5. Perfect Location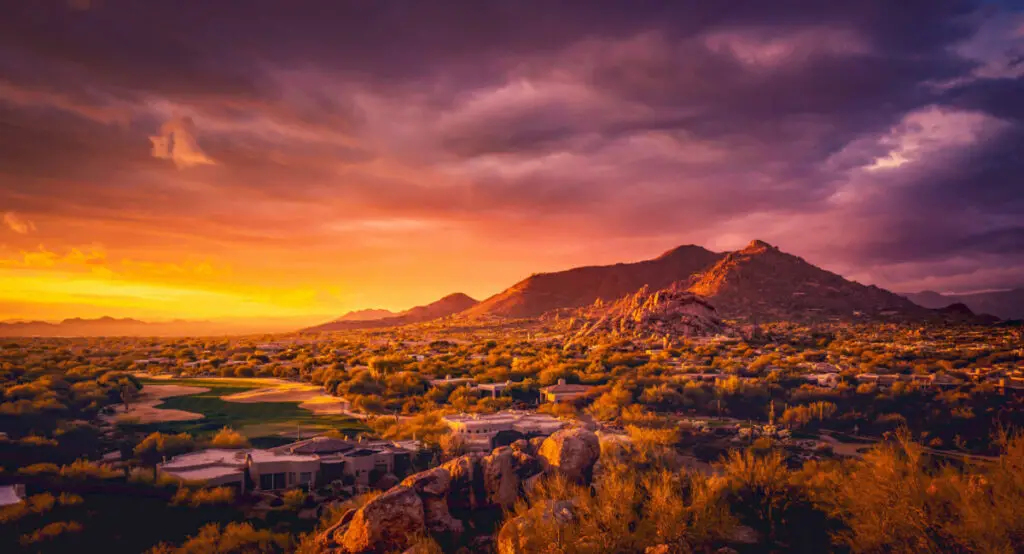 Scottsdale has a great location and not only because of the beauty. The city borders Pheonix so if you work there, commuting is super quick and easy. The average commute is only 22 minutes long. Not only is Scottsdale close to the hub of Arizona, but it is also close to other major locations as well. Mexico is a 4-hour drive, the Grand Canyon is 3 hours away, and Los Angeles is only 5 hours away.
If you love to travel Scottsdale is the perfect place, it's decently close to some great locations nearby. There is also the Phonix Airport just 15 minutes away if you're looking to travel.
6. Housing
Scottsdale has a wide range of housing options, and it's likely you will be able to find what you want if you move to this city. It is a great place for real estate and investment. Right now, homes are in high demand as more people move to Scottsdale. Homes are pretty affordable, as the average price is about $525,000.
The neighborhoods are super nice and diverse as well. The communities tend to be welcoming and open to all kinds of people. Most neighborhoods come equipped with parks and sports courts so they are great for kids. In recent months, homes are selling faster and faster, so start looking as soon as possible if you want to move to Scottsdale.
7. Clean
For such a big city, Scottsdale is surprisingly clean. Most of the areas in the city are clean and well-maintained. Waste management does its job well and residents get to live in a clean and safe city. There is a lack of graffiti, trash, and rundown buildings.
Parks are clean and great places for families and kids to have fun without worrying about lurkers and dangerous areas. Scottsdale is held to high standards. The city itself is modern but still has a natural beauty and charm that people love.
8. Fun Downtown
If you're looking for a good time and night out, Scottsdale is the perfect place. There is so much to do here, and the nightlife is amazing

. The city is going for a live-work-play lifestyle and has housing right in the center of downtown, close to dining and shopping.
Scottsdale continues to grow and expand with more clubs, and activities. Scottsdale Fashion Square is the best place for shopping with stores like Dillards, Neiman Marcus, and Barneys New York. Downtown also expresses the art and culture in the city. The best places to eat in Scottsdale are Cafe Monarch, Weft and Warp, FnB, and Citizen Public House.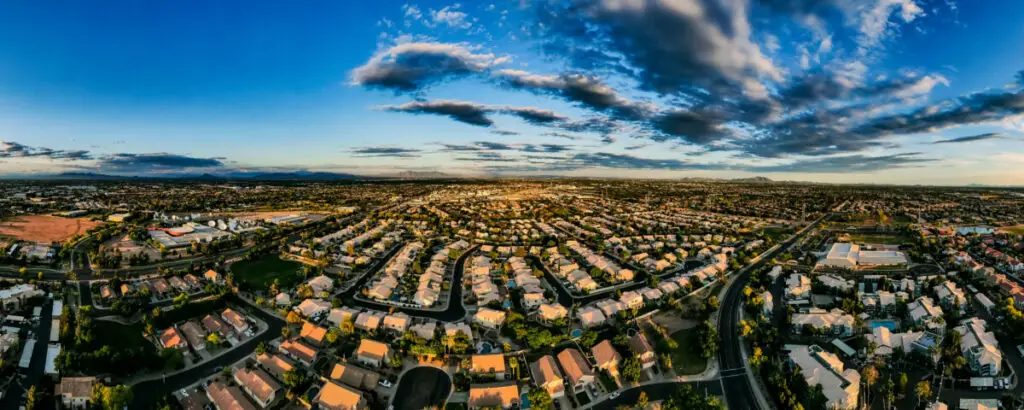 9. Arts and Culture
Scottsdale is a lot of fun, and one of the best things about it is the art and culture. You can see the culture through art all over town. There are quite a few museums and attractions to visit. We recommend going to the Center for Performing Arts, Museum of the West, and Fiest Bowl Museum.
Scottsdale has places for classic art as well as modern and contemporary. You can find all kinds of art styles here like paintings, statues, and exhibits. If you are a fan of art, this is the place for you, as you will be gladly welcomed into the community.
10. 5-Star Dining
As you can tell by now, Scottsdale is a super fun place to live and has some of the best restaurants in the country. There are about 790 restaurants and the city has amazing chefs. Scottsdale has a wide variety of places to eat from diners to 5-star luxury restaurants. The top places to eat are Cafe Monarch, Talavera, and Eddie V's Prime Seafood.
Culture is also expressed through food, and you can find restaurants that serve Mexican, America, Italian, and Korean food! You will never struggle to find a new place to dine with the hundreds of great options in Scottsdale.
11. Entertainment
If you're looking for a good time, look no further. Scottsdale knows how to have fun and there are activities for people of all ages and interests. As I have mentioned, dining is a great place to spend your time, and there are a lot of restaurants to try in this city. You can also view art at the many galleries and museums.
There is a surplus of things to do, but the most recommended are Midevieil Times Dinner and Entertainment, Light and Bark Candle Co., and Lighthouse ArtSpace. You can also do things outside, but I'll go into more detail about that later. Overall, there is plenty to do for all ages, whether you're single or have a family with children.
12. Golf
Another way to spend one's time is by golfing. Golf is a big deal in Scottsdale, and there are a ton of luxury courses here. There are over 300 golf courses to visit, and most of them are well-kept and updated often.
Golfing has been popular here since the 60s, and the culture continues to live on. It has become a stomping ground for professional golfers, and Scottsdale courses are considered some of the best in the world. 6 of Scottsdale's golf courses made the top 100 list, and some people call it the gold capital of the United States. If you love golf, you will have a great time living here.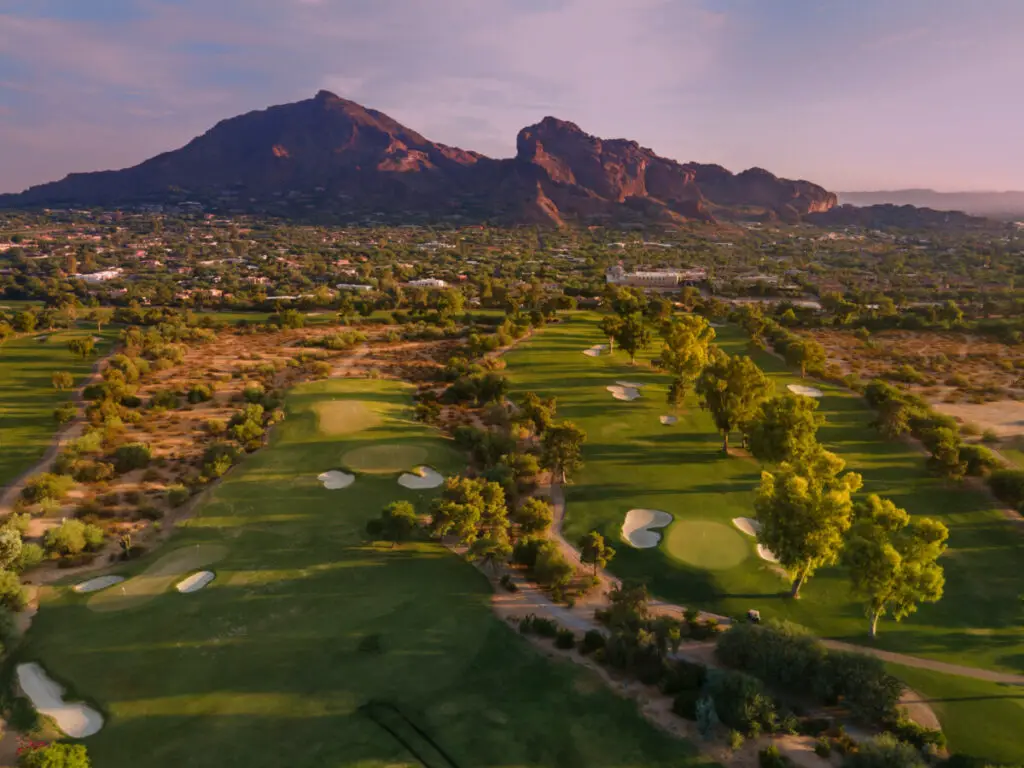 13. Sports Scene
Sports are a big deal in Scottsdale, so if you are a fan, you will fit right in. Golf is definitely the most popular sport, and people come from all over the world to watch the Pheonix Open. Baseball spring training is one of the best times of the year. There are a lot of games to go to, and as someone who has been, they are extremely fun to attend!
College football is also a big deal, and the city is very passionate about its teams. Some sports teams in Scottsdale are the Arizona Diamondbacks, Arizona Cardinals, Phoenix Suns, Phoenix Coyotes, and the Scottsdale Scorpions.
14. The Great Outdoors
Scottsdale is a beautiful city. There are plenty of opportunities to get outdoors and spend time in the sun. Scottsdale can get pretty warm over the summer, but the weather is perfect for going outside from September to May.
This might be surprising to some, but there are also ways to spend time on the water in the middle of the desert. Scottsdale has canals, rivers, and lakes where you can swim, jet ski, boat, and more! There are also parks, trails for walking and biking, and sports courts all over the city. The best outdoor activities are Arizona Helicopter Experience, Scottsdale Adventure Tours Jeep Tours, and Rainbow Ryders Hot Air Baloon company.
15. Stellar Parks
Scottsdale knows how to get its residents outside and the amazing parks are one of them. The parks and recreation department in the city is excellent. There are 45 miles of trails for jogging, biking, and walking. The city wanted to turn some areas into apartments and industrial zones, but the parks and rec department said no and instead turned the land into parks, fields, and trails.
The best park in this city is Chaparral Park, which has over 100 acres of land. Another fun one is McCormick Stillman Railroad Park, where you can find a carousel, playgrounds, a train museum, a gift shop, and ice cream. If you love being outdoors and in nature, this is the perfect place for you.
16. Nice Weather
While Arizona can be unbearable in the summer, the rest of the year is perfect. So many people in Scottsdale own houses in the valley to use during the fall, winter, and spring months. It is a truly beautiful time of the year, and the hot summers are worth it. It starts cooling down in September and doesn't get extremely hot again until May.
You can still spend time outside in the winter and all you will need is a light jacket. The average temperature in the winter is 68 degrees Fahrenheit and the low is only 35 degrees Fahrenheit. You don't have to worry about any snow or blizzards. Even the summers are nice because you can spend time out at the pool or go to a waterpark.
Scottsdale also has a lack of natural disasters. Monsoon season happens in the fall, which means that it rains and thunders for a couple of months, but if you live in this city, you won't experience anything worse than that. The average amount of rainfall is only about 11 inches a year.
17. Landscape
Some people might not know this, but Arizona is actually a very pretty place, and Scottsdale is one of the prettiest cities in the state. It is newer and wealthy, so the city itself is nice and well-maintained. While the buildings are beautiful, Scottsdale has natural beauty as well. The desert can be an amazing place and Scottsdale has some pretty great views.
The city is surrounded by mountains, so anywhere you look, you can see their silhouette in the distance. Arizona is also known for its stunning sunsets, and trust me, they never get old. The sky turns gorgeous, yellows, reds, and purples. You can also find wildlife in Scottsdale like coyotes, deer, raccoons, owls, and javelinas. Overall, it's a pretty place.
Scottsdale, Arizona is such a great place to live. The city is beautiful, has some amazing golfing, highly rated schools, and so many fun activities. You won't regret moving to the welcoming and innovative city of Scottsdale.