Are you thinking about moving to Montgomery, Alabama? Are you still considering the pros and cons of this move but need a few more pros to win you over? If you are finding yourself in this situation, this article can help you find some more reasons to make the move to Montgomery.
To learn more about some of the reasons you should move to Montgomery, Alabama, keep reading.
1. Affordable Southern Experience
Living in Montgomery is fairly inexpensive to begin with and if you are on a budget and looking for a way to fulfill all your dreams of getting the true experience of living in the South. Living in Montgomery, Alabama as opposed to other places in the U.S. or even Alabama, is 17% less expensive. If you are tight on money or are wanting to live a more simple, inexpensive lifestyle, Montgomery is a great place to be able to do that. In addition to that, the job market is also booming and there are job opportunities everywhere in just about every field you can think of, so work would not be an issue to find.
2. Welcoming Community
If you are looking for a community that is warm and welcoming and will treat you like family, the community in Montgomery will do just that. With a population of over 200,000 people, there will always be someone you can call and reach out to if and when you need help or just a cup of sugar from your neighbor. True Southern hospitality can be experienced in the Montgomery community. In addition to that, it is so easy to make friends and genuine connections with your neighbors so don't be shy and go introduce yourself and you will instantly have a new friend or two, if not they will stop by soon enough.
3. Consistently Pleasant Weather
One of the many reasons the locals love living in Montgomery is because of the consistently pleasant weather they experience there throughout the entire year. If living somewhere especially cold doesn't quite sound that appealing to you, but the warmth and mild winters are what you are looking for, then Montgomery weather will give you exactly what you are wanting. The summers are hot and sunny and the winters are mild and not as frigid as in other places in the U.S. The one caveat is that it rains a substantial amount, so if you really despise the rain that might be something to consider.
4. Variety Of Restaurant Options
You will surely find some good Southern home cooking in Montgomery both in local's homes and in a number of local restaurants. While there are obviously your basic, well-known chain restaurants, there are also some local restaurants that pride themselves on serving some of the South's most famous and beloved comfort foods. If you love comfort food but have never been to the South and want to try some authentic Southern cooking, many of the restaurants in Montgomery will be able to provide that for you if you move there. Once you try their cooking you'll never want to move anywhere else again.
5. Highly Respected Colleges & Universities
If you have children in high school who are graduating soon and are looking into different colleges and universities, Montgomery is home to several highly-respected colleges and universities that they maybe should consider. If they are already attending any of these universities, then this would be a great excuse for moms and dads to move and be closer to their kids. Some of these schools include HBCU, Alabama State University, Huntington College, and more. If you are interested in studying business or speech pathology Faulkner University would also be a good school to consider if you are graduating.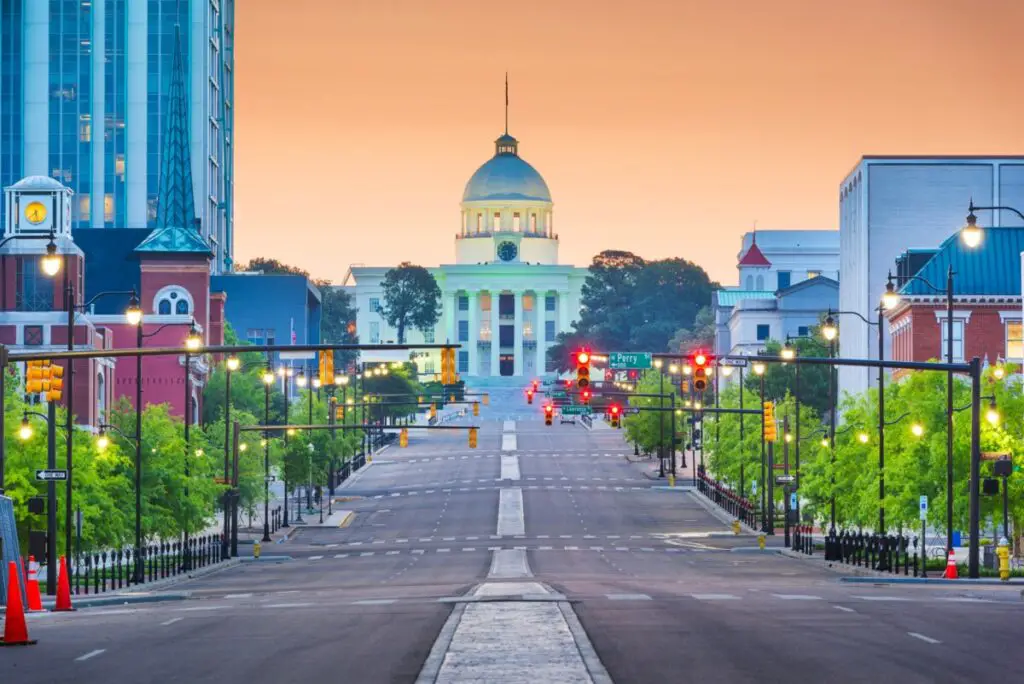 6. Neverending U.S. History Sites
Montgomery is truly a city where history lives on. There are so many significant moments and people in history that have happened and lived here that if you are someone who loves and appreciates history, specifically U.S. history, then Montgomery is the place for you to thrive and relish in the rich history that can be found here. Some of the popular historical sites that can be found here include the Civil Rights Memorial, the Rosa Parks Museum, the Alabama Department of Archives and History, the Scott and Zelda Fitzgerald Museum, the National Memorial for Peace and Justice, as well as the state capitol.
7. Unique Riverfront Experience
Most people have never had the pleasure of living near a riverfront and therefore have been denied the experiences that come with living near a riverfront. In Montgomery, you can walk along the Alabama river and have tons of available activities. These activities include going to a baseball game, going on a riverboat cruise, listening to a local band at the amphitheater, or taking your kids to the local splash pad that is near the river as well. If none of these activities sound particularly exciting to you, you can also walk or ride bikes with a gorgeous view of the Alabama river if that is more your speed than all these events.
8. Multiple Neighborhood Environments
Montgomery has tons of residential areas that are both active and blossoming, as well as those that are under construction that is in high demand with so many new people moving into town. That being said, one of the benefits of having so many neighborhoods to choose from when moving to Montgomery is that because each neighborhood will have its own feel and environment you can choose what kind of environment you would like to live in and if that doesn't end up working out there are other neighborhoods and places for you to try. This can help you not feel so pressured to pick the right one the first time.
9. Home To Tons Of Civil Rights History
History lovers will not only love Montgomery for its many historical landmarks and museums but also for its abundant civil rights history in particular. Some of the civil rights history sites you can visit include the Freedom Rides museum, the Rosa Parks Museum, the Dexter Parsonage Museum, the Civil Rights memorial, the Legacy Museum, and the National Memorial for Peace & Justice. All of these sites and museums are dedicated to various events, people, or movements during the Civil Rights Movement and are open to public visits. If this is important to you, then this is a great reason to move to Montgomery.
10. Sports Fans Live Here
If you are someone who is an absolute sports fanatic and are wanting to live in an area that has sports fanatics just as passionate as you are about sports. Some of the popular sports in the Montgomery area include college football and minor league baseball teams. If have heard of Alabama you have most likely heard that those who reside in the state have a strong preference is War Eagle or Roll Tide, meaning do they support Auburn or Alabama? If you moving to Montgomery, it would be in your best interest to make a decision and stand by it so you can answer when those questions come.
11. The Arts Are Respected & Encouraged
If you don't enjoy sports as some of the locals in Montgomery, that is just fine and doesn't mean you can't come and enjoy all the other parts of the culture the city has to offer. Just as passionate as sports fans are for local sports teams are others passionate about the many mediums of art that are created and displayed in the city. Some of these local art exhibits include the Scott & Zelda Fitzgerald Museum, the Hank Williams Museum, and the Montgomery Museum of Fine Arts. You can also enjoy shows at the Montgomery Performing Arts Center like seeing the Montgomery Ballet and more shows of the like.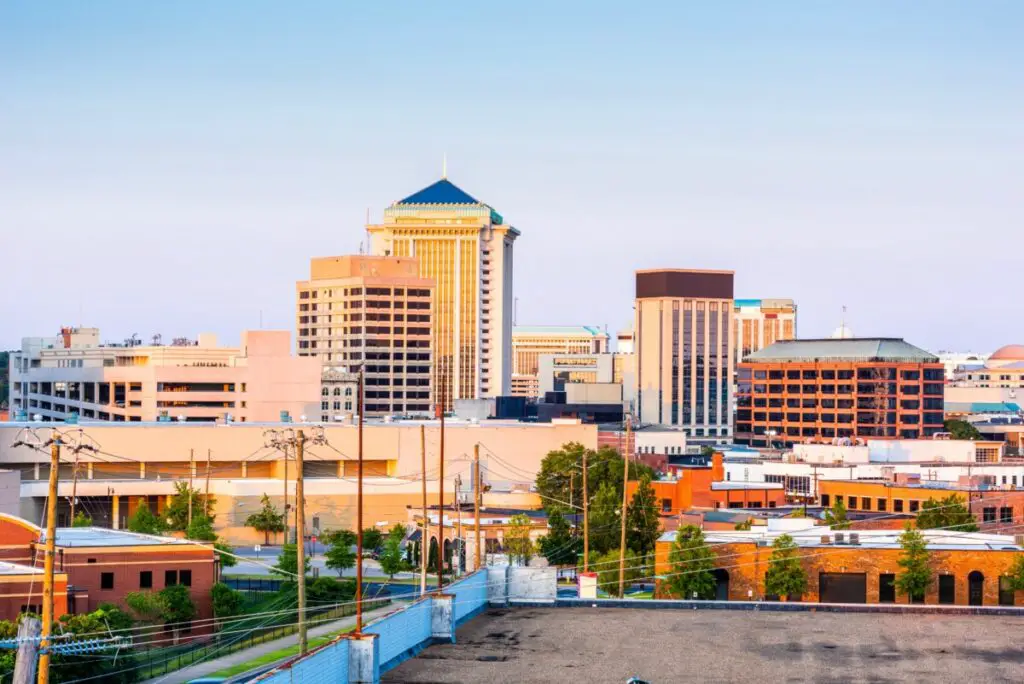 12. Numerous Outdoor Recreation Opportunities
For those who are neither sports fans nor art aficionados, there are tons of outdoor recreation activities for those who prefer to spend their time outside and get to be one with nature. If you like to walk and take your dog out for an adventure, the Blount Cultural Park is a great open space to do that. You can learn how to chicken farm at EAT South. One of the best places to play golf in the area is Gateway Park, and you can even bring your kids to play at the park that is there also. The running and biking trail at Lagoon Park Trail is extremely popular for its seemingly endless trails to spend miles running or biking.
13. Housing Market Is Fairly Inexpensive
If you are really wanting to move into a house, but are worried about the market being too high for your budget and having to settle for a subpar apartment for the prices to decrease, don't worry because the housing market in Montgomery is fairly inexpensive and isn't that hard to buy a house as it might be in other places around the country. To give you an idea of how inexpensive purchasing a house there really is, to buy a house in Montgomery for less than what is the typical selling price of most average, standard apartments in most of the Northeast. If that isn't a major selling point to move, I don't know what is.
14. Family Friendly Activities Galore
For those who have young kids and may be worried about having a lack of activities to entertain and keep their kids occupied, there are tons and tons of family-friendly activities that will keep both you and your kids busy for hours. Some of these activities include visiting the Montgomery Zoo, W.A. Gayle Planetarium, the Museum of Alabama, Old Alabama Town, and the Moo-seum. There are some activities that your kids may not be interested in and that's okay, you can start with the ones that they are most excited about and hopefully, that will warm them up to wanting to do more new things around town.
15. Montgomery Annual Festivals
Because the community is welcoming and so close to one another, there are tons of community events and festivals throughout the year that the public loves to participate in every year. Some of the festivals include the Flimp Festival where you can create art on the street with other members of the community, Beer tasting is another popular festival activity. You can participate in the annual Selma to Montgomery Bike Ride to commemorate the Selma to Montgomery March. During the holiday season, there is a three-day long huge Christmas market where a lot of people love to do their Christmas shopping.
16. Nightlife Is Always Exciting
Even if you don't consider yourself an avid nightlife person, the nightlife in Montgomery will change your mind. There are so many options for things to do that there is something for everyone to enjoy. If you love interactive activities, there are a few escape rooms to try out. If you love beer and yard games, Common Bond Brewers would be the perfect place for you to spend a couple of hours on the weekend catching up with your friends. If you love live music, 1084 Jazz & Blues would be the best spot for you to enjoy a few drinks and relax to some chill live music either on a solo date or with a couple of your close friends.
17. Close Proximity To Larger Cities
If you are thinking of moving to Montgomery from a significantly larger city, then you may be feeling sad or worried to live somewhere that doesn't have as many amenities or such as other larger cities. The good news is that Montgomery is in close proximity to some other larger cities including Auburn, Birmingham, Dothan, and Mobile, all of which are in Alabama still. Atlanta and Columbus, Georgia are close by as well as Jackson, Mississippi and Tallahassee, Florida. That being said, don't let living in a slightly smaller town and community stop you from coming and enjoying all that Montgomery has to offer.