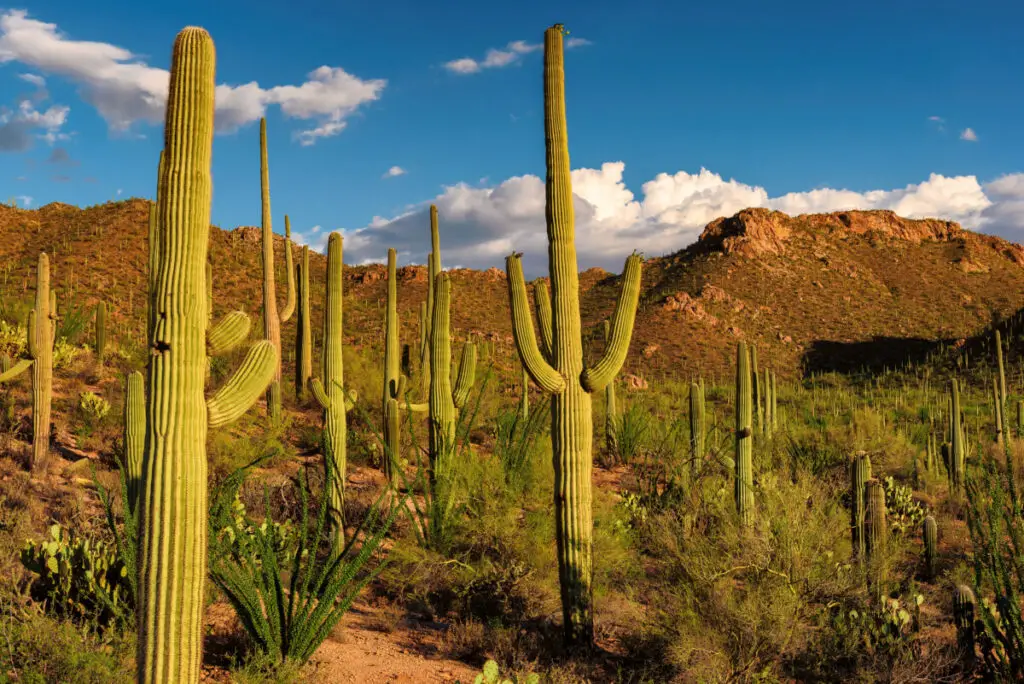 Mesa, Arizona is the second-largest city in the Phoenix area and the third-largest city in the state of Arizona. It is a city full of adventure, heat, culture, heat, opportunity, and did we mention the heat? Despite what you might hear about the summers, Mesa is actually an excellent place to live for many reasons.
Here are 17 reasons why moving to Mesa might be a good option for you.
1. City Layout
Travel to any city in the east and you will find a common pattern when it comes to the city layout. The streets are tight, and the buildings are pushed together and follow no pattern of what goes where. You can walk down a street and have the option of turning right, left, or mid-left, only to turn again in 10 feet to a completely different street.
Mesa was built upon a grid system that was specifically designed to be easy to navigate and understand. Main streets run parallel and perpendicular to one another in approximately 1-mile increments, at the end of which you will find a stoplight.
Neighborhoods follow a similar pattern, with parallel streets and perpendicular streets and a few twists or turns for one reason or another. As for the house lots, most neighborhoods have 1-acre increments that have been split into four equal lots. Each lot is where a single house was set in. Some houses might take up two lots, some even more.
This layout is much easier to navigate and understand than most other city layouts, making it one of the best things about living in Mesa.
2. Weather
How in the world can 100+ degree weather in the summer be a reason anyone would want to move to Arizona? But as someone who grew up riding their bike in 101-degree weather, let me explain.
While the summers of Mesa can be sweltering hot, the citizens are no strangers to it and know how to counteract the heat. You could say they are experts on it.
Public pools are a popular summer destination, that is if you or your neighbor down the street already does not have a pool in the backyard. Most, if not all, houses are equipped with air conditioning. Any public building such as schools, stores, shops, and libraries all have air conditioning units as well. Along with AC, there are plenty of water fountains that line parks, playgrounds, malls, and public buildings. Most school playgrounds have shaded playground equipment or play areas to keep kids cooler at recess.
But the best part about Mesa weather is that there is no snow to deal with in the winter. No plows are required to clear the streets, no mounds of snow piled up on the sidewalk making it impossible to walk, and (best of all) no potholes that form in the middle of the street. Winter in Mesa typically has highs of 60 degrees Fahrenheit and lows of 32 degrees Fahrenheit. You might see frost in the morning, but you will never see snow.
3. Schools
Mesa Public Schools is the school district that serves the greater Mesa area, having 82 different schools that provide schooling for over 64,000 students, making it the largest school district in Arizona, based on enrollment numbers. There are 55 primary schools, 9 junior high schools, 6 integrated high schools, and a few alternative schools that all fall under MPS.
When it comes to test scores, the combined average of the district is slightly below the national average. However, there are several schools that consistently score above average in all levels of schooling.
Outside of MPS, there are available options such as charter schools like Heritage Academy and ASU Preparatory Academy-Polytechnic High School. There are also many private faith-based schools.
Along with elementary, junior, and high schools, Mesa is also home to multiple college choices in multiple fields, including:
Mesa Community College
ASU Polytechnic Campus
East Valley Institute of Technology
Chandler-Gilbert Community College-Williams Campus
A.T. Still University
Northern Arizona University-Mesa
Benedictine University
Upper Iowa University
Arizona College
Carrington College
DeVry University
Pima Medical Institute
CAE Phoenix Aviation Academy
University of North Dakota Flight School
4. Public Services
When it comes to the public services and companies of Mesa, you can find no better.
There is weekly trash, recycling, and green bin pick up. It is provided even on holidays and with no worry about snow and plows, there is little reason for them to skip a day. They are prompt every week.
They recently installed a Monorail that provides clean and fast transport through the greater Mesa area, along with a bus system for long transport needs. There are also sidewalks along most major roadways, providing for bikers and walkers.
5. Businesses & Jobs
Mesa is a constantly growing city. Growth means job opportunities. Mesa provides many incentives and programs

that are designed to promote small businesses to start and grow.
"Arizona is considered one of the best states to start a new business. It has a business-friendly economic and tax environment that helps businesses do well."

Forbes Advisor
6. Location
When it comes to the general location, Mesa is located in an excellent location. It is in the middle of several other cities, such as the state capital of Phoenix, and the cities of Chandler and Gilbert. These cities provide for more needs in shopping, business, travel, or activities, such as the Phoenix Zoo and the Hale Theater.
A large, well-maintained, freeway system stretches across the area, allowing for quick and easy travel from Mesa to Gilbert to Queen Creek.
7. Outdoor Activities
Within Mesa, there are many activities that the outdoor folk will enjoy.
Starting with the hiking trails. Hiking is a popular pastime both in and just outside of the city. Hawes Trail and Usery Mountain Regional Park both have beautiful views and excellent options to hike, whether you want a challenge or just a simple nature walk. In the city, there is the Sun Circle, which is perfect for walking, biking, and dog walking.
To add to the hiking, Hawes Trail also possesses biking trails. Desert Trails is another option for more adventurous bikers. The city itself is built with bikers in mind, with sidewalks and trails maintained and available for use.
There are over a dozen golf courses and country clubs if you fancy a stroll around the green. And if you have kids, there is mini-golf available, along with water-park fun at the Golfland Sunsplash.
8. Museums
If the great outdoors is not your cup of tea, there are other options. The Mesa Arts Center, or the MAC, is a 4-in-1 center that has classes, shows, events, and a museum all in one. The MAC is always changing, so be sure to check the website often for anything that might catch your interest. Another option for shows and entertainment is the Mesa Amphitheater.
The Arizona Museum of Natural History is also located in Mesa. It is an excellent location for young children and is a popular destination for school field trips. There is also the i.d.e.a Museum, which is built specifically for kids to promote creativity and the arts.
9. Public Libraries
There are 3 Mesa Public Libraries are located throughout the city. They are all quite large in both selection and resources. There are computers, classes, books, magazines, DVDs, and friendly staff to help with anything you might need. These include computer classes, English classes, and studying for Citizenship Tests, all needed in the community.
Two branches have THINKspots, which provide training and equipment for sewing, 3D printing, laser cutting, and filmmakers.
10. Sporting
If you are a sports fan, I have excellent news for you. It does not matter which sport you are a fan of, Mesa has you covered.
For baseball fans, Mesa serves as the spot for both the A's and the Cubs' spring training. Adding in the fact that Mesa's neighbor Phoenix is home to the Arizona Diamondbacks, you have both on and off-season covered.
Along with the D-backs, Phoenix is also home to the Phoenix Suns (basketball), the Arizona Cardinals (football), and the Phoenix Coyotes (hockey). Yes, the state of Arizona has a National Hockey Team, and the local rink offers classes and a junior league for kids to join.
11. Zero-scape
Friendly reminder that Mesa is a desert. It can be easy to forget when most of the city is covered in pavement, sidewalks, and buildings. As such, any residents that insist upon having a front lawn are insane and will most likely end up with dead grass or a lawn made of weeds.
The more common approach when it comes to landscaping is rocks. Some may see that as a drawback, but honestly, it can be a relief for many homeowners. No lawn means you do not have to worry about mowing and lawn care, and you save money on water because you do not need to water your rocks.
Along with the rock-covered yard, residents will plant various types of cacti and desert flowers to bring back that beautiful desert feel, all of which require very little water.
12. Year-round Gardening
However, maybe you are not a fan of rockscapes. In that case, perhaps I can interest you in year-round gardening. There is no snowfall to worry about when it comes to your vegetables and fruits. Winter gardens, summer gardens, spring gardens, and fall gardens are possible in Mesa.
Mesa is home to many orange, lemon, and grapefruit trees. In my backyard, we had 3 orange trees and a grapefruit tree. My grandparents have lemon and orange trees in their backyard that provided fresh lemonade and orange juice whenever they were in season.
13. Culture
Arizona is one of the southern border states of the United States. As such, Arizona's history and culture get some inspiration from our southern neighbors. The very name of the town, Mesa, is the Spanish word for "table". Along with the city name, you will find street names, businesses, restaurants, architecture, and art that take inspiration from the rich history and culture that has developed over the years.
14. Housing
Houses in Mesa are excellent when it comes to square footage.
Something you may notice if you walk through the city is that most homes are one-story. There are some exceptions, but there are few houses that have second stories or basements. Second stories get very hot in the summer, so unless you want to shell out a lot of money on air conditioning, most home builders avoid them.
As for basements, while they are useful to have when it comes to avoiding the heat, digging into the stone-hard ground of the desert is difficult and expensive. As such, neither is a general feature, meaning you need to make each foot of space count.
Arizona homes range in size and style, giving you plenty of options whether you are looking for a starting house, a home to grow in, or a home to spend the rest of your life in.
15. Infrastructure
When most of your water comes from either the occasional rainfall, underground rivers, or rivers that are located miles away, it is important that your water is properly treated. Mesa provides clean and treated water for all residents. There are 3 separate water treatment plants that serve Mesa's residents. The process is not complicated but is lengthy.
The 3 plants combined produce almost 200 million gallons of water per day. As a bonus effect, fluoride treatment is the last part of the process, meaning that when you drink water from the tap, you are treating your teeth with a little fluoride bath.
The electric grid in Mesa is also one of the best-made grids in the state. The longest power outage I remember having was 15 minutes long. Generally, the power would flicker out and then immediately turn back on, even when there was a monsoon happening outside. SRP was the company we had, and they have recently been given an award

by J.D. Power.
16. Retirement Community
Mesa is home to a large retirement community, especially during the winter. They are called snowbirds because they are people escaping from the snow that covers most of the United States. Some stay all year round, making Mesa a popular place for retirement homes and retired couples or individuals. The surrounding businesses know this and have many senior discounts available in restaurants, museums, and theaters.
17. Family Oriented
With everything above, you can see how Mesa would be an excellent place to raise a family. It is home to good schools, job opportunities, places to go as a family and for entertainment, and an excellent place to just grow up in general. There are little leagues, classes for kids, museums for education, and parks in almost every neighborhood.
I have fond memories of growing up there, swimming in the neighbor's pool, riding my bike up and down the street, and chasing my cousins around the park. Mesa is an excellent place for families to settle.