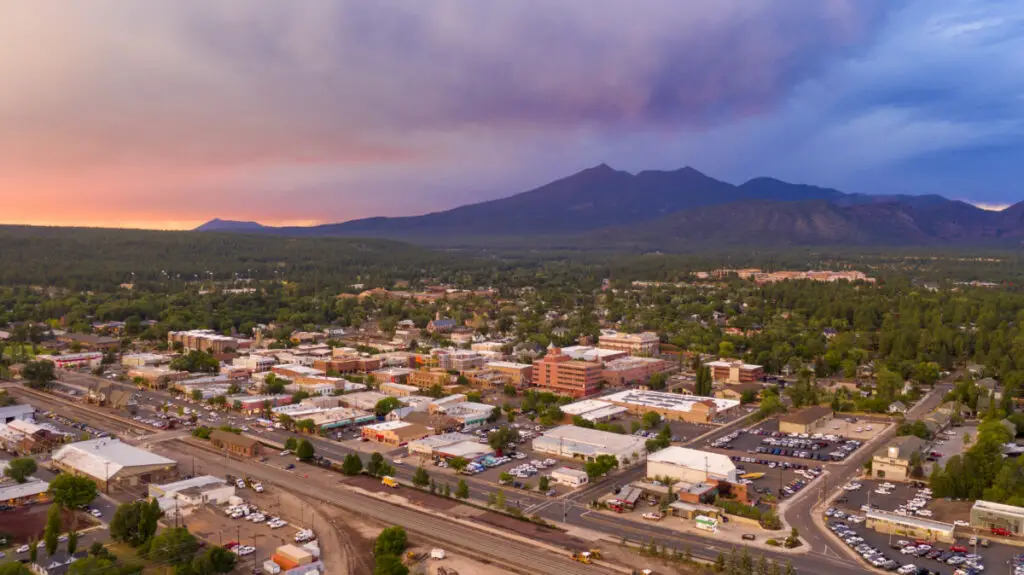 I lived in the Phoenix valley for over 18 years and was always extremely excited to travel up north and spend time in Flagstaff. It is a beautiful city with so much to do and some fantastic views. One would be lucky to call Flagstaff home and get to experience all that it has to offer.
Here are 17 fantastic reasons why you should consider moving to Flagstaff, Arizona.
1. Active Community and Culture
Because Flagstaff is so beautiful year-round and there's so much to do, its residents tend to be on the active side. This city has some of the most beautiful weather and scenery I have ever seen. My family has a cabin nearby and we love driving into town and discovering new things to do. The culture has a "granola" feel to it, and you can always see people out hiking, riding bikes, etc. Whether you're a tourist or a permanent resident, you will never be bored living in Flagstaff.
2. Diversity
Another bonus about living in Flagstaff is the diversity. There is a place for everyone here and the community always has its arms open, welcoming all kinds of people.
The population is currently at 79,000

, which is a little on the small side, but it continues to grow daily. In just 2 years, the population went up by nearly 3%. Most of the population is white (about 77%), and Native Americans make up about 8% of the population, which is the most in any city in the U.S. Flagstaff is close to reservations, so it makes sense that a lot of Native Americans would live there.
3. Friendly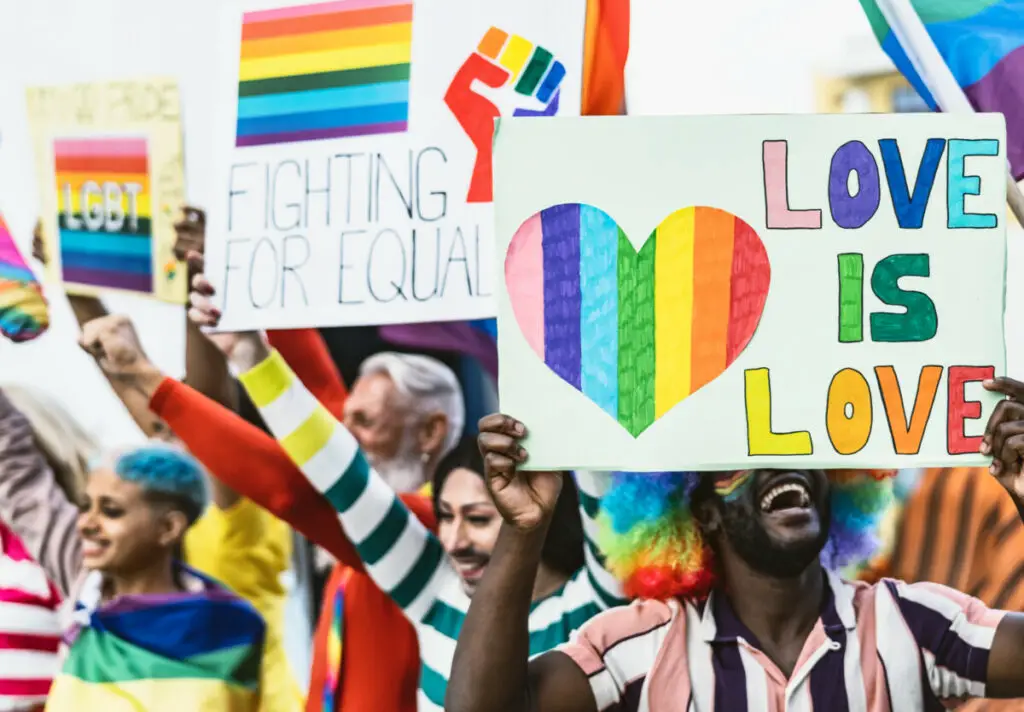 I don't know if it's something in the air but Flagstaff residents tend to be super nice and friendly. Maybe it's because they live in such a great place. Because it is so diverse, there is a place for everyone and no one is an outcast here. I have seen a lot of support for the LGBTQ+ community and the BLM movement.
Whenever I visit the city, the workers are nice and even just people on the street are almost always friendly. You will often see everyone with a smile on their face. The community and environment are so positive, and this helps one live a better and more fulfilled life.
4. Plenty of Outdoor Activities
Flagstaff is a great place if you like spending time outside. The weather is always nice and it's surrounded

by mountains, forests, and lakes. Hiking and camping are super popular in this city and I have done both. It also has 117 miles of biking trails to explore and great places for camping.
I have been to the Walnut Canyon National Monument many times, and it is so much fun every time. There are some amazing views and hikes for all ages. There is also the Flagstaff Extreme Adventure Course. I have done this a couple of times, and it is a ton of fun. It's an obstacle course way up in the trees with zip lines, slides, and more. The city really takes advantage of its beauty, and there are ample opportunities to get outside.
5. All 4 Seasons
Yes, a city in Arizona can get all 4 seasons, and it actually snows here! Flagstaff is at an elevation of almost 7,000 feet, so it can get pretty cool in the winter. Summers are perfect here, and it doesn't get nearly hot as it does in the Phoenix Valley. Temperatures range from 80 to 90 degrees Fahrenheit in the summer months. In the fall, leaves change color and the city is bathed in vibrant reds and yellows.
The temperature is usually around 60 to 70 degrees Fahrenheit from September to November. Winter gets pretty chilly, but it's not as bad as in other places in the U.S. The temperature usually stays around 45 degrees Fahrenheit during the day and can drop down to 17 degrees Fahrenheit at night.
Flagstaff gets about 100 inches of snow a year. It turns into the picture-perfect Christmas town with all the lights and white snow. In the spring, it warms back up to about 72 degrees Fahrenheit, the flowers pop back up, and the trees get their color again.
6. Beautiful Weather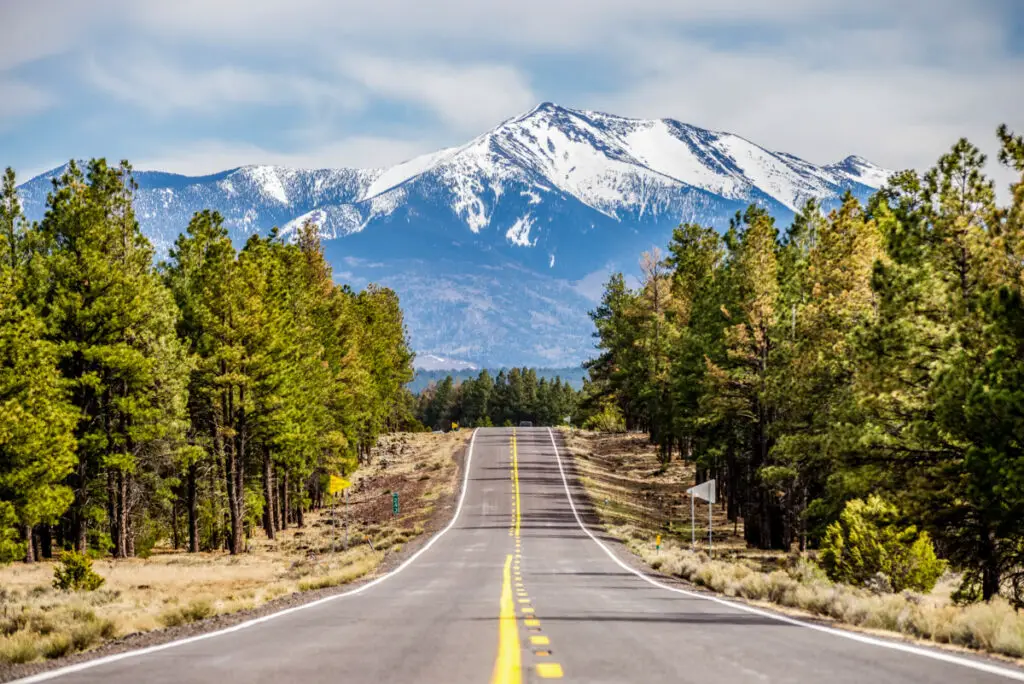 Flagstaff has phenomenal weather, and it was always a nice break when my family and I escaped the valley heat and traveled north. It is sunny most of the year and gets about 21 inches of rain a year and 100 inches of snow. There aren't really any storms or natural disasters (except for the recent fires) that residents have to worry about. Flagstaff is an extremely safe place with good views to accompany the even better weather.
7. Location
Flagstaff has a truly pristine location. It's up in the mountains, so it has great weather and is super close to National parks both in Utah and Arizona. It is only a few hours from Utah and the Phoenix Valley. You know you're close when you see and smell the green Pine trees and the magnificent mountains with snow visible at the peak.
There are a few freeways that go right through Flagstaff, so traveling is very easy and convenient. There is a lot to do close by, and you can easily visit Bearizona, Las Vegas, and Sedona. Overall, it just has the perfect location for traveling, sightseeing, and weather.
8. Forest
Flagstaff is a beautiful place, and the forests certainly add to it. Whenever my family and I go to visit we always know we're close when we can see and smell the pine trees. My mom always comments on the smell, and it's one of her favorite scents.
Forests are a ton of fun to explore and camp in. You can often see brightly colored wildflowers and even critters like squirrels and bluebirds. Flagstaff takes its forests very seriously. Anywhere you go, you can see the tall, magnificent trees.
9. National Parks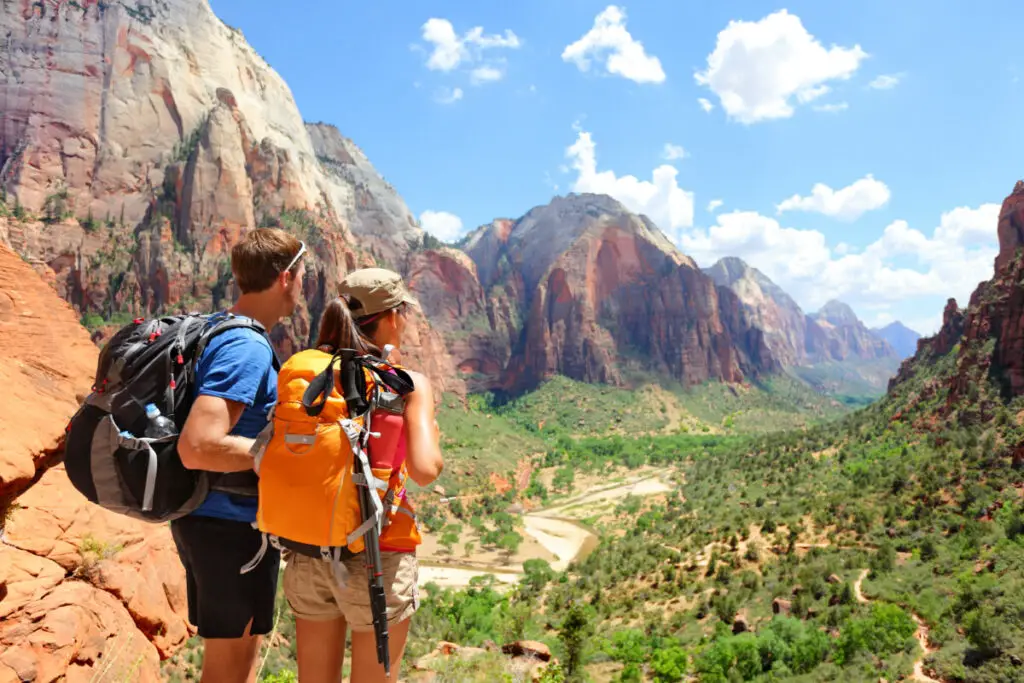 Flagstaff has a great location and is super close to a ton of National Parks

and other fun places. There is Zion, Bryce, and Lake Powell just to name a few. My family and I love going to Zion and the Grand Canyon. It can be a fun day trip where you can explore, look at some beautiful views, and go on a hike. We also love Snowbowl, which is a local ski resort with some great slopes. If you like the outdoors and want to check a few national parks off your bucket list, Flagstaff is the place for you.
10. Employment Opportunities
Flagstaff is continually growing and with growth comes new opportunities for jobs and careers. Education is very important here, and over 44% of residents have bachelor's degrees. It's a college town, home to NAU, and a lot of students end up staying here.
The city itself focuses on education and research. Flagstaff was recently called "Americas First STEM Community". With such an emphasis on education, there are plenty of jobs available, and it's a great place to start new or even work on your education and towards a new career.
11. Good Schools
Flagstaff is home to some great public schools, so if you have school-aged children, this is the place for you. Arizona has a bad reputation when it comes to schools but it actually has some of the best schools in the country and has an overall grade of an A-.
Flagstaff high school is the best school in the city with a graduation rate of 95%. As I stated earlier, education is very important to residents, so schools have access to great teachers and curriculums. Students are well prepared for college after they graduate high school. Overall, there are 34 elementary schools, 22 middle schools, 20 high schools, and 41 private schools. There are plenty of options to choose from when deciding which schools to send your children to. Most of them have a rating of 8 or 9 out of 10.
12. NAU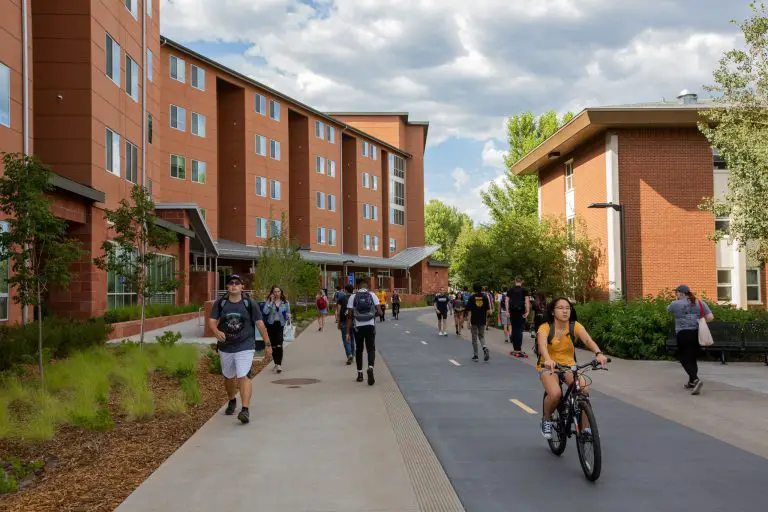 Northern Arizona University is a great university. It was ranked #317 in the nation, and Flagstaff was in the top 20 best college towns in the entire country. It's a medium-sized university, so it's not too overbearing and intimidating, but there are plenty of majors and programs to choose from. They are very inclusive and friendly to all. Tuition for in-state students is $12,000 and out-of-state is $27,000.
"Flagstaff's beautiful scenery, world-class attractions and historic downtown are a draw for visitors, students and entrepreneurs alike," said Heather Ainardi, director for the Flagstaff Convention and Visitors Bureau. "Northern Arizona University is a huge part of Flagstaff's character, and the city and university work hand-in-hand to create an environment that encourages all of these groups to select Flagstaff as their destination of choice."

– The NAU Review
13. Great Neighborhoods
Flagstaff has some fantastic neighborhoods. My mom grew up in Flagstaff and loved her childhood home. We have family members that plan to stay in their neighborhood forever because they like it so much. The top 5 neighborhoods are Kachina Village, University Heights, Pine Canyon, Downtown, and Cheshire.
My family stayed in Kachine Village a couple of years ago in the cutest little cabin. This neighborhood is a suburb of Flagstaff that is about 10 minutes away from Downtown. It's a mixture of homes and cabins and it carries the outdoorsy feel of Flagstaff into your home life. The other neighborhoods all have beautiful and affordable homes. It's a great place for families and children, as Flagstaff is a super safe and friendly city.
14. Environmentally Friendly
Flagstaff cares a lot about its environment and the beautiful nature surrounding it. They call it a green city

, and residents do a lot to keep it clean. Flagstaff operates a Sustainability Program

that encourages recycling and reducing pollution. There are four sections of the program: Waste Prevention, Resource Conservation, Climate Adaptation and Management, and Quality of Life.
The city is super clean, so it's clear that these efforts have helped. The American Lung Association named Flagstaff the Cleanest US City for year-round particle pollution. It also became the first World's first International Dark Sky City.
15. Food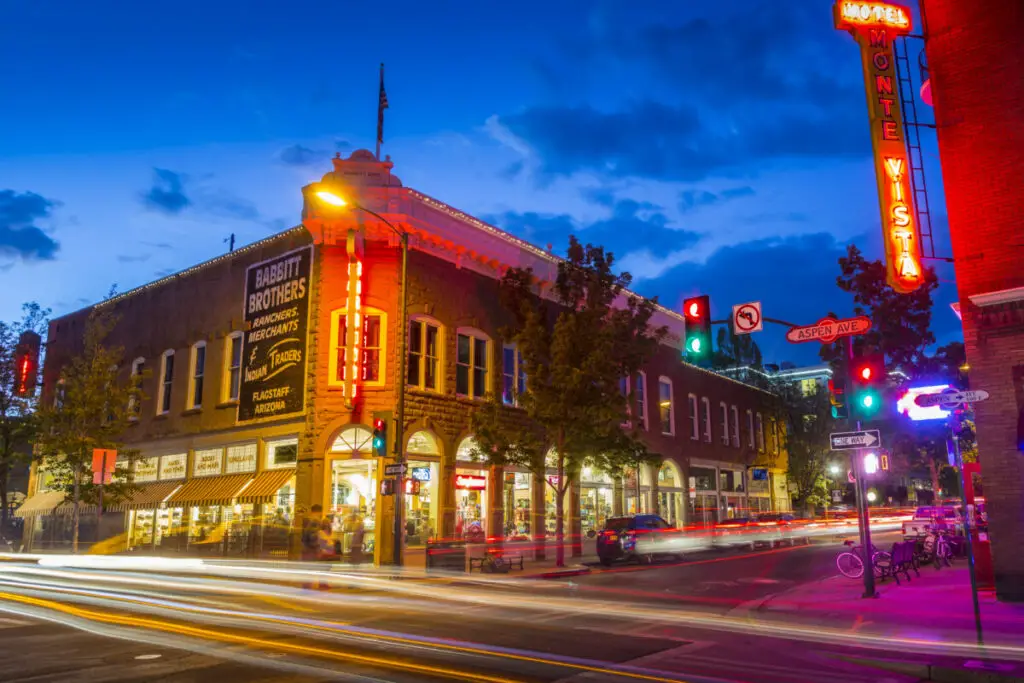 Flagstaff has some of the best food I have ever eaten. The food is surprisingly diverse, and there are countless options. You can get British food, crepes, Mexican food, fresh pastries, delicious steaks, and so much more.
Some of my favorite restaurants are Horseman's Lodge, Wildflower Cafe, Cornish Pasty, and El Tapatio. One of my favorite things to do when in town is to eat out and try new restaurants. Downtown is a lot of fun with all its quirky cafes and bakeries. New businesses are popping up all the time, and it's a great place for a fun night out or when you're wanting to try something new.
16. Safety
Overall, Flagstaff has a grade of B- when it comes to safety. Violent crime rates are a little higher than the national average, but property crimes are much lower. The rates line up with Arizona's averages, so it's no different from other cities in the state. For every 1,000 people, there are 374

violent crimes and 186 property crimes reported annually.
I visit Flagstaff many times a year and have never felt that I was in danger. I trust the city and have never heard of anyone having a problem there.
17. Downtown
Downtown Flagstaff is one of the best downtown areas in the state. There is so much to do, and it's a great place for going out on the weekend. There are lots of restaurants for dining and bars for hanging out. Flagstaff also has a few movie theatres. There is also the Flagstaff Mall, which has shops like Claires, Dillards, Bath and Body Works, Vans, and a food court. Flagstaff loves to show off its artsy side with art galleries, quaint book shops, and little cafes.
Downtown is a great place to walk around and find something new every time you go.
"The combination of college students; free-spirited, outdoor, mountain culture; small, local businesses; and amazing weather makes for a vibrant downtown."

– Flagstaff.com
Flagstaff is one of my favorite places in the whole world, and I think it would be a great place to live and settle down. It's breathtakingly beautiful, safe, has great schools, and has plenty of activities to do in your free time. Flagstaff has so much to offer, and anyone would be lucky to call this city home.