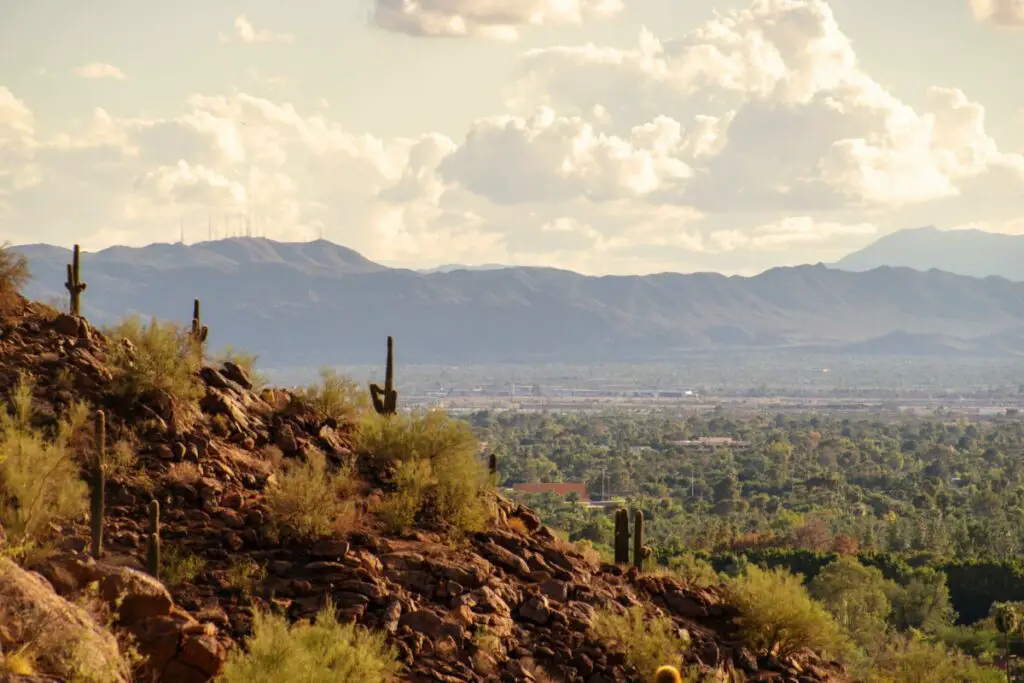 Arizona is the third-fastest growing state in the country, increasing by nearly 100,000 residents from 2020 to 2021. Pheonix is at a whopping 1.6 million residents, so when making the move to Arizona, families will choose less populated cities such as Gilbert, Mesa, Chandler, Scottsdale, and, of course, Tempe.
Here are 17 things you need to know about Tempe, Arizona, and what reasons may hold you back from the move.
1. Extremely High Crime Rates
Tempe is known for being a bit sketchy. According to crimegrade.org

, Tempe has an "F" grade for its overall crime. It states that a crime happens every 33 minutes on average in Tempe, Arizona and that your home is 300% more likely to be robbed with no security system.
An "F" grade means that the rate of crime in the city is much higher than the average US rate. Tempe is in the 5th percentile, meaning that 95% of US cities are safer than this one. You have a 1 in 7 chance of being a victim of a crime in the north neighborhoods of Tempe. Nearly 90 crimes happen per 1,000 residents per year. However, it's northern Tempe that holds the most danger, and southeast Tempe is considered the safest. Overall, Tempe is considered one of the most dangerous

suburbs in the nation.
2. Drug Use
Tempe is known for its sketchy residents and drug use. Tempe has high theft rates, but it also has a high drug rate. In 2018, Tempe was facing an Opioid health emergency. Nearly 1,000 people died from an overdose in 2017 in Tempe

, which was 74% higher than the overdose rate in 2012.
You can relate to Tempe as somewhere similar to Salt Lake City, Utah. There are a lot of homeless people, theft, and people asking for money for food but using it for drugs later. If drug use is a concern for you or your family, there are other Arizona cities that will fit your needs better than Tempe.
3. High Theft Rates
In conjunction with high crime rates, a startling number that you need to look at before moving to Tempe is specifically the theft rates. In 2020, there were 5,464 larceny reports

or personal theft reports. In 2021 that number increased by more than 1,000 reports. There were 6,628 reported personal theft reports in the year 2021, and that's only the reported cases.
I had one connection who was in a gas station and had her phone pickpocketed from her. Luckily she was able to track her phone, but she found it in the arms of a homeless resident and the whole experience made her really nervous. She is a college student at the University of Arizona. It can be hard being a single girl living in Tempe because those are the people that are most targeted for theft.
Be careful out there if you move to Tempe, Arizona! You will need to buy a great lock and a high-tech security system if you want you and your belongings to stay safe.
4. High Poverty Rates
Tempe itself is not poor, but there is a higher percentage average of those below the poverty line in comparison to the rest of Arizona. 18.5% of Tempe's population is considered in poverty and the median household income sits comfortably at $60,000 a year.
Whether you are concerned about being in poverty or not, it's important to know that a good portion of Tempe residents struggle financially. The poverty rate is one of the highest in the Pheonix-Metro area.
5. Not Recommended for Older Citizens
Because of these high crime rates, Tempe can be dangerous for younger families. But that's not all – Tempe has a high population of young adults, so the culture is artsy, funky, and college centered. This can make those who are older feel out of place.
About 30,000 residents of Tempe are between 20 and 24 years old (16.2% of the population) and nearly 48,000 residents are 25 to 34 (24.4% of the population). This means that about 40.6% of Tempe's population is under the age of 34. Because of the heavy college culture and younger citizens, Tempe leans liberal politically

, which isn't a bad thing, but if you are conservative, you may feel out of place.
Only 4% of residents are aged 55 to 59 and 4.3% of residents are 60 to 64 years old. Residents 65 to 74 years old make up 7.2% of the population at 14,000 residents, but that is still the minority within age groups. For someone that is more conservative, needs a bit more quiet and part of the older demographic, a town like Gilbert or Mesa will be a better fit for you than Tempe.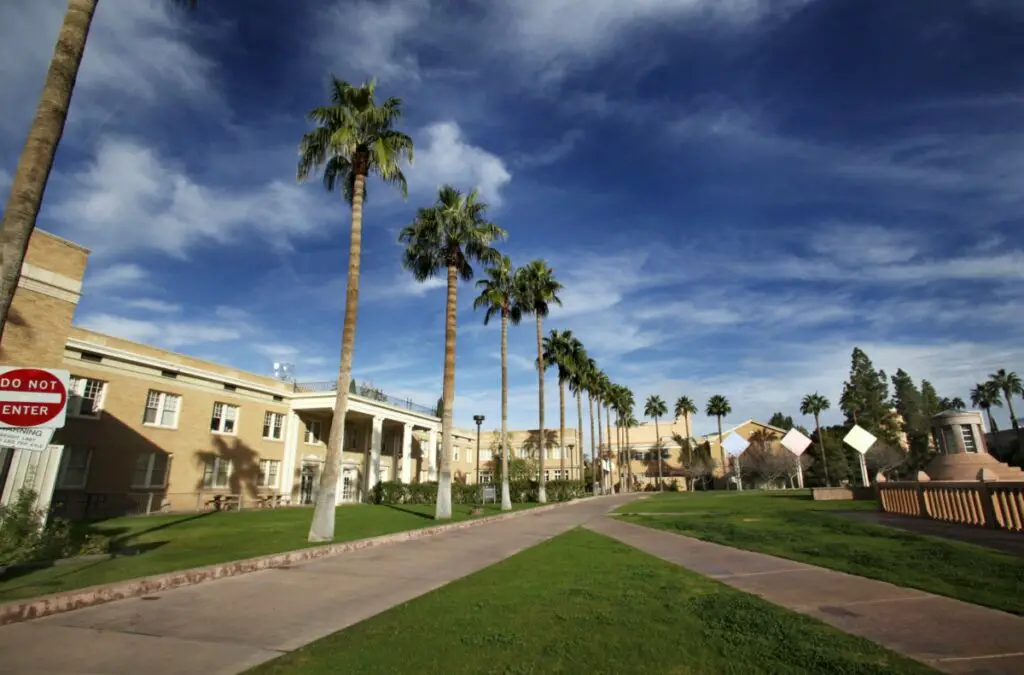 6. Not Family Focused
Speaking of young families, the public school system in Tempe is not as fit for young children as the school system in cities such as Gilbert or Mesa, which are extremely family centered with charter and private schools on every corner. Tempe, Arizona has more of a college atmosphere, which can be hard for younger kids looking to fit into a fast-paced city.
7. Arizona State University
If you're not an Arizona State fan, you won't be happy in Tempe. Arizona State University has a B+ rating and costs an average of $8,174 per year. The food and campus received an A- grade, but safety is what brought Arizona State's score down, as its safety score is B-.
The school itself is a good one, but Arizona State University had the top undergraduate enrollment in the fall of 2020 at 63,142 students

. This overwhelming undergraduate population is a reflection of the congestion of Tempe. There are nice, high-quality parts of Tempe and even Arizona State University, but there are just so many people that the city and university can feel extremely congested and cause you to feel claustrophobic.
8. College Town
Because of Arizona State University, college kids are everywhere. College kids or towns can bring drunk drivers, no place to park, and a sometimes unhealthy obsession with one university. The truth is, while Tempe is a big city, at heart, it's still a college town. As I said before, there are higher populations of young adults compared to older residents, but likewise, only 2.7% of the population are between the ages of 10 to 14, which are even lower numbers than the number of senior residents.
Tempe is young adult-centered, and if a college atmosphere is bothersome to you, steer clear!
9. Rising Housing Prices
If you are a college student and want to live outside of dorms, you will find that housing is quite pricey. The average rent is $1,919 per month

, not including fees and utilities, and the median house value is $491,710

. Additionally, Tempe is listed above

the national average for the cost of living. This doesn't help with the issue of poverty that I talked about earlier.
10. Urban Sprawl
Because Pheonix is just next door and has a population of 1.6 million residents, a large number of people will trickle into the neighboring towns, and Tempe is the biggest victim with 184,361 residents in 2020

and 191,607 residents in 2022

. This city's population has increased by 2.09% since 2010.
A huge concern for Tempe residents is urban sprawl. Urban sprawl is the rapid growth of cities or towns. It is usually characterized by homes lived in by one family, single-use zoning, and reliance on your own car for any transportation. This kind of lifestyle may indicate yours and while typical for American residents and convenient, it is harmful to the environment.
And that's not all – as mentioned before, Arizona is the third fastest growing state in the country

. The state received 100,000 new residents from 2020 to 2021. If lots of people and city life are worrisome to you, Tempe will not be a comfortable new home.
11. Lots of Traffic
Thanks to urban sprawl, there is a high reliance on private car transportation. More cars equal more traffic, making it difficult to get from point A to point B. Tempe is also a grid city, which generally makes it take longer to get places.
I lived in Utah where cities are centered around the Wasatch front and Interstate 15. In reality, everything is in a line and I can get to cities 20 miles away in 20 minutes.
In Arizona, I worked somewhere that was 15 miles away and had to be at work at 7 am. Because of the grid system, it took me 45 minutes to get to work each morning. It really is hard to get places in Arizona, and this is my biggest irritation with the state.
12. Poor Public Transportation
It's hard to get past traffic, but on top of it, if you need a quick ride, you can rely on Uber to get you there. Public transportation in Tempe is not reliable and you will definitely need a car while living here. If you can't drive or can't afford a car, you will be out of luck and have to pay a lot of money for rideshare services to get around the city.
If you're a student at Arizona State University, you're in luck. It is known to have really useful and efficient public transportation. However, if you're using public transportation that is not part of the school system, it's unreliable. That is a hard deal not only for those looking for a daily commute but also for dealing with waiting for a late bus in 110-degree Fahrenheit weather. In Tempe, the only dependable route is Route 72

. However, even that route can be limited in space.
13. Getting Too Crowded
On top of unkept neighborhoods, expensive housing, high taxes, and poor traffic, Tempe is becoming overpopulated. It is growing at a rate of 1.03%. While this is not an outrageous number, the city atmosphere, large college undergraduate population, and high poverty rates are sensitive to any amount of growth. When I visit Tempe, it feels congested, busy, and overpopulated. This is a big turn-off for buyers that are looking into Tempe.
14. Higher Taxes
Because Tempe is so overpopulated, there is a lot of upkeep that needs to go into play. Unfortunately, that is reflected in city taxes. Taxes are 8.1% in Tempe, and while not the highest of state taxes such as Tucson, it is something to take into consideration and could be a reason why you should not move to this desert city.
15. Smelly Water
The water doesn't smell good in Tempe, Arizona because a type of blue-green algae

gets into Arizona's water reservoir system every year, causing the water to have an "earthy" or "musty" smell. If you like drinking clean water that doesn't really smell like anything other than water, which doesn't have a strong smell, you don't want to move to Tempe. If you do move to this city, you will likely have to purchase a good water filter to feel comfortable with drinking the water.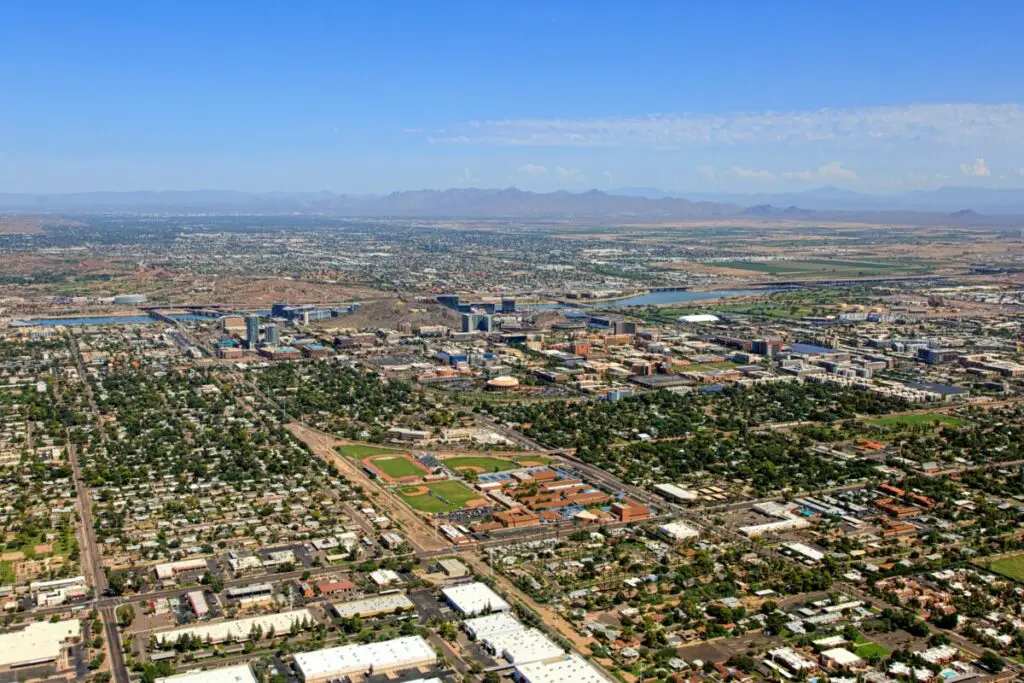 16. Sweltering Heat
Sweltering heat means weather that is extremely or uncomfortably hot

. While the heat in Arizona is dry and not humid, it is still really really hot here. This may seem like a given, but I'm not talking about 85-degree Fahrenheit weather in the summer and sunny days on end. I am talking about 110-degree Fahrenheit weather from June to September, alongside monsoon season.
The monsoon season in Arizona begins June 15th and ends September 30th

. It is a period of time full of rain and moody thunderstorms that typically happen in the middle of the night. If you live in the Tempe area, don't be surprised if you get a "severe monsoon" warning on your phone multiple times a week. When I first moved here and first heard extremely loud thunder in the middle of the night, it was kind of scary!
17. Desert Bugs
This comes with almost all Arizona cities, but this desert location has a special selection of creepy crawlers, including scorpions, snakes, spiders, cockroaches, and flies. Arizona really is the United State's little Australia! As someone with an extreme bug phobia, it has been hard to live in Arizona and encounter some creepy bugs.